Zucchini Raspberry Cake with Lemon Cream Cheese Frosting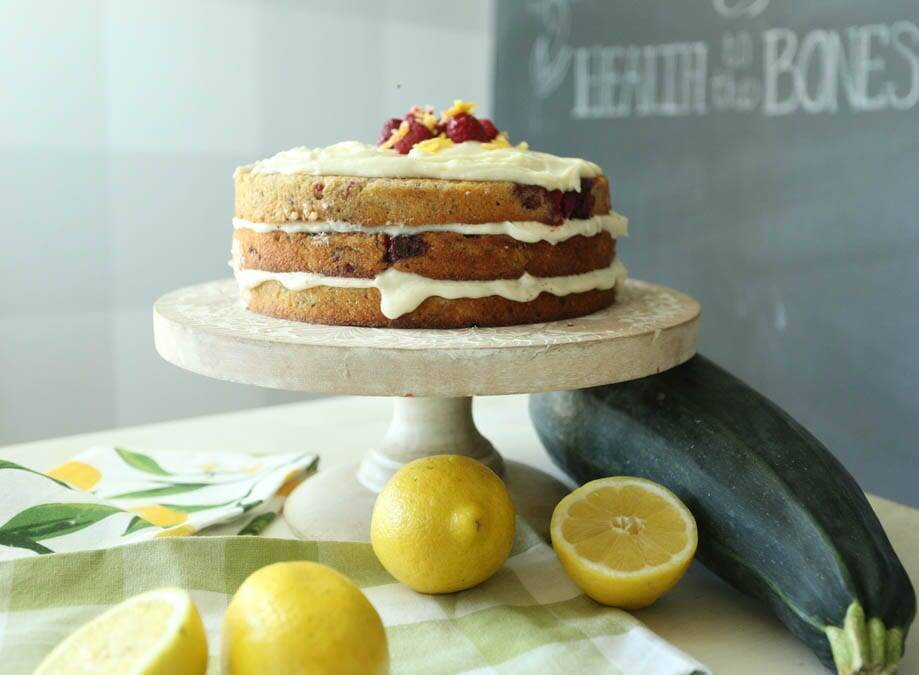 Zucchini raspberry cake, with lemon cream cheese frosting is my favorite way to use up extra zucchini! And let's be honest, if you are growing zucchini at all, you've got extra! This post was done in collaboration with Zulay Kitchen and contains affiliate links.
Last week I shared a white chicken zucchini lasagna recipe, now as promised is a zucchini dessert! This time of year calls for zucchini being snuck into just about every meal!
This cake is dense, more like a muffin or bread, but so incredibly yummy! This is perfect for a special occasion or just a special weekend dessert. I hope you give this cake a try and enjoy it as much as we do!
This recipe is highly adapted from many other online recipes for zucchini blueberry cake.
Shred the Zucchini
If I am making a recipe with zucchini, I like to use up a lot of it! Recipes that call for one or two cups of zucchini aren't using enough in my opinion. Three cups is the minimum for me. I want it to be packed with zucchini!
For this cake I use my food processor and shred up three cups of zucchini. It makes the cake a bit dense, but moist. Also, a recipe will often call for draining your zucchini. I suppose if you had a very moist zucchini, you might want to drain it a bit, just by wringing the extra liquid out. I did not do that with mine as it wasn't an overly juicy one.
Healthier Ingredients
For this cake, I use Prairie Gold white whole wheat flour. I also use organic evaporated cane sugar. If you can get farm fresh eggs and organic or homegrown berries that is even better. For the frosting I use organic powdered sugar.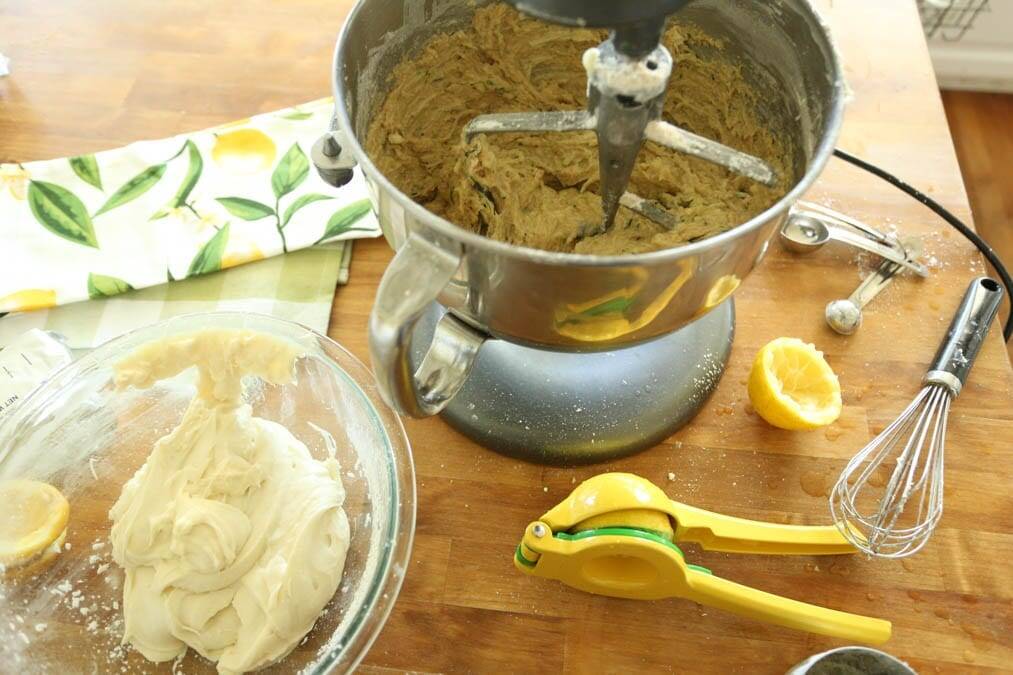 Fresh Lemon Juice
Fresh squeezed lemon juice is a must for this recipe! The little squeezable bottles are just not the same, and will not give the best flavor! Zulay recently sent me this amazing little hand held lemon/lime squeezer. It is a dandy little tool. It is made of metal, so I see it holding up for years. The design is much easier to use than the old plastic juicer I had. The juice comes out with very little effort. I really enjoy using it.
Zulay is offering you all a 10% discount on any product from their site with code THEEVERYDAYFARMHOUSE10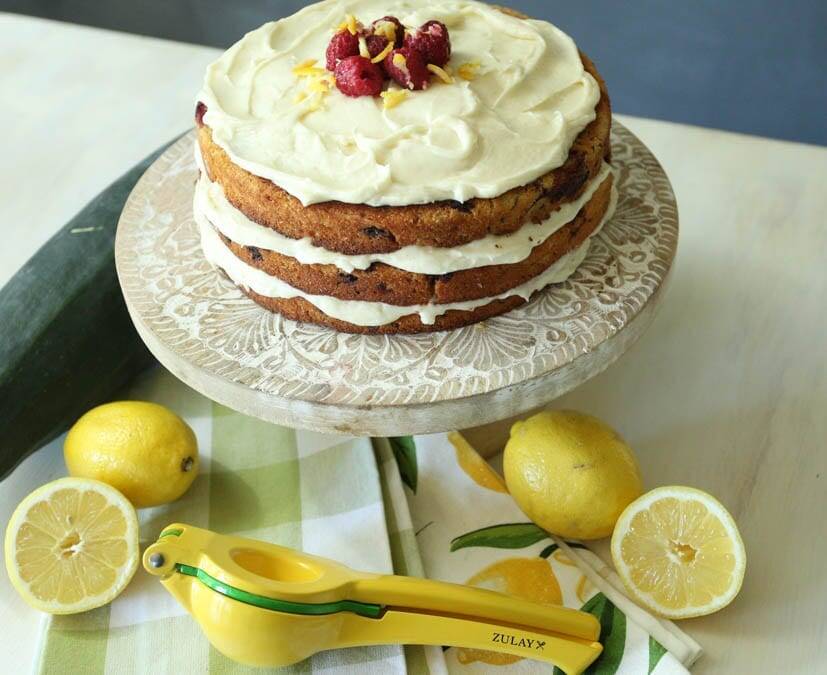 The Frosting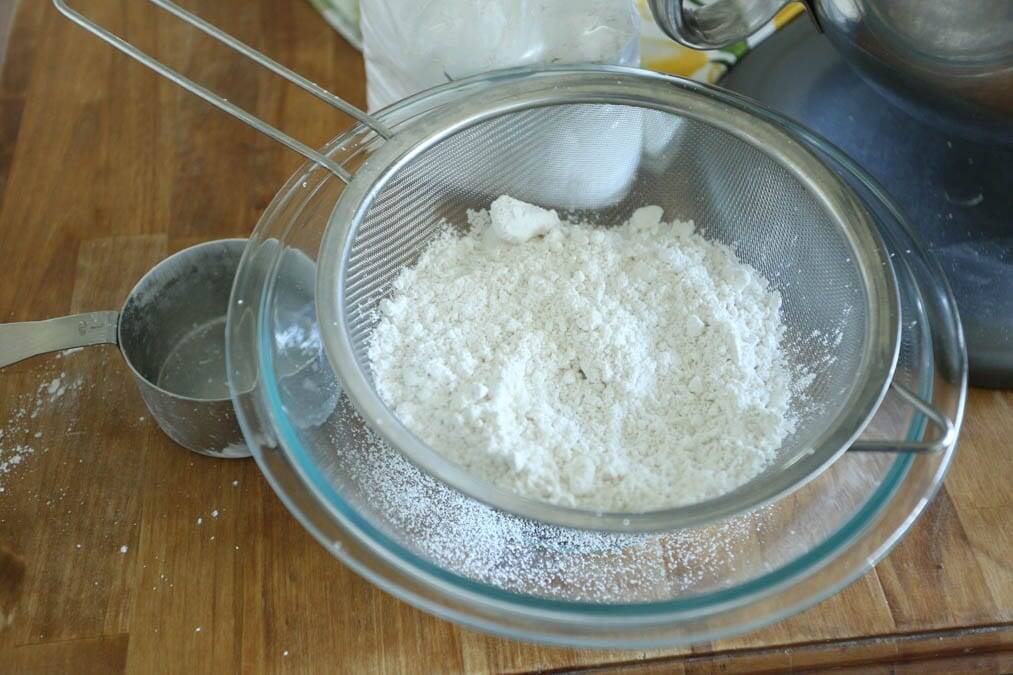 I love this cream cheese frosting. It is very adaptable. If you want lemon cream cheese frosting, just add in the lemon, if you want vanilla, add that! It is also just fine to leave it plain! I use this frosting for carrot cakes as well.
Make sure you let the butter and the cream cheese soften at room temperature before you start mixing. This will make the frosting smooth and silky. Plus it's much easier on the mixer!
Did you know that if you don't have powdered sugar on hand, you can use a blender or food processor to turn granulated sugar into powdered sugar?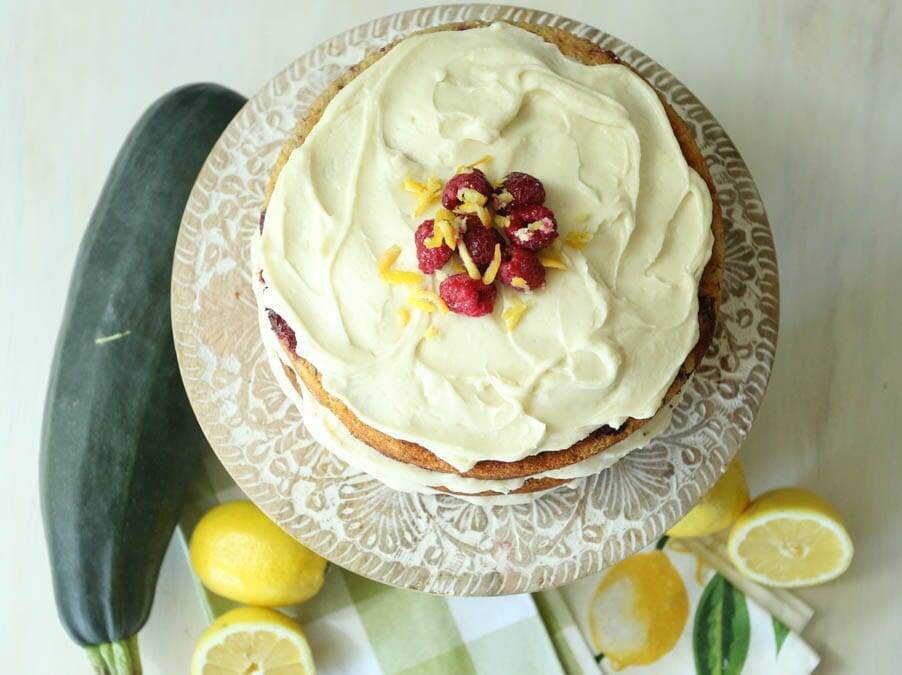 Making the Zucchini Raspberry Cake
I like to use a stand mixer for just about everything I bake. It just makes it so much easier. I love my kitchen aid for everything, from cookies to bread. This recipe follows the standard order of operations for cakes. Mix the zucchini and the wet ingredients first. Next add in all of the dry ingredients. I don't bother mixing the dry ingredients together in a separate bowl.
When making a cake, you should mix for about two minutes, this helps to created a fluffier and higher cake. Gently stir in the raspberries to avoid smushing them.
Spray your pans and then pour the batter in. Bake for about 35 minutes at 350 degrees. Let cool completely (unlike me) then frost. For a naked cake, only frost between the layers and leave the sides bare.
Printable Recipe for Zucchini Raspberry Cake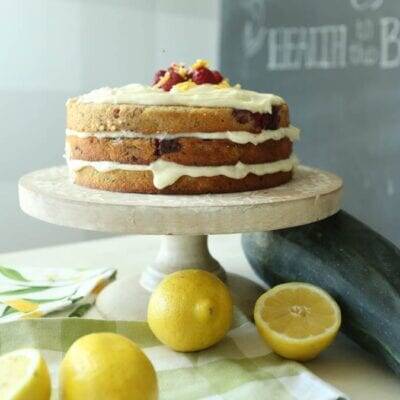 Zucchini Cake with Raspberries and Lemon Cream Cheese Frosting
A dense and moist cake perfect for using up extra zucchini.
Ingredients
3

Cups

Shredded Zucchini

Squeeze out extra liquid if needed

3

eggs

1

Cup

Oil

I use melted butter

2

tsp

Vanilla

2

Cups

Sugar

I like organic evaporated cane sugar

3

Cups

Whole Wheat Flour

If you have a coarse flour, you should maybe use half white mixed in. Prairie Gold White Whole wheat is a very light and finely ground wheat flour. That is what I use.

1

Tsp

Salt

1

Tsp

Baking Powder

¼

Tsp

Baking Soda

2 ½

Cups

Fresh or Frozen Raspberries

2

Tbs

Lemon Juice
Lemon Cream Cheese Frosting
1

8 oz pkg

Cream Cheese

½

Cup

Butter

2-3

Tbs

Lemon Juice

Depending on how lemony you like it

4

Cups

Sifted Powder Sugar
Instructions
Set the frosting ingredients out to soften while you make the cake. Preheat the oven to 350°. Shred the zucchini. A food processor makes this quick and easy. Mix the zucchini, eggs, oil, vanilla, sugar and lemon juice. Add in the combined dry ingredients. Flour, baking powder, baking soda, and salt. Mix on medium speed for about two-three minutes. Gently stir in the raspberries. Don't over mix, otherwise, your raspberries will be smooshed, and your cake will be pink. Spray two or three round 9" baking pans with non-stick baking spray. Fill them equally. If using three pans, bake for 30-35 minutes. Two pans may take a bit longer to bake through. Let cool, frost and enjoy.
Frosting Instructions
Put your softened cream cheese and butter in a mixing bowl. Mix together until creamy. Slowly add in the sifted powdered sugar one cup at a time. Add in the lemon juice and mix until fluffy and creamy. To make a naked cake, frost only between the layers, not the sides.

Enjoy!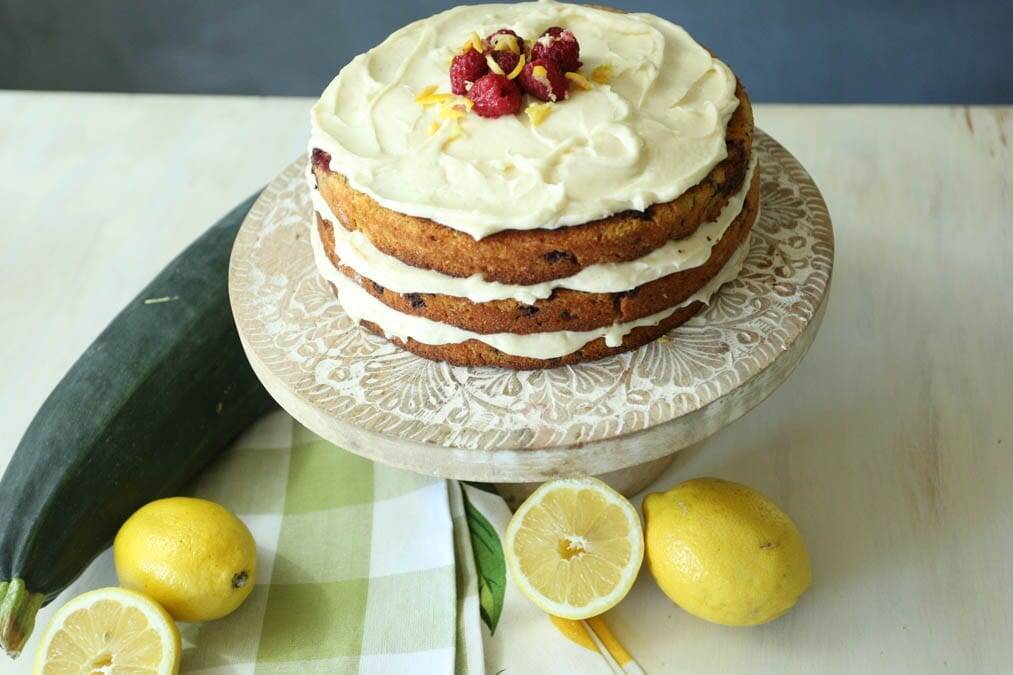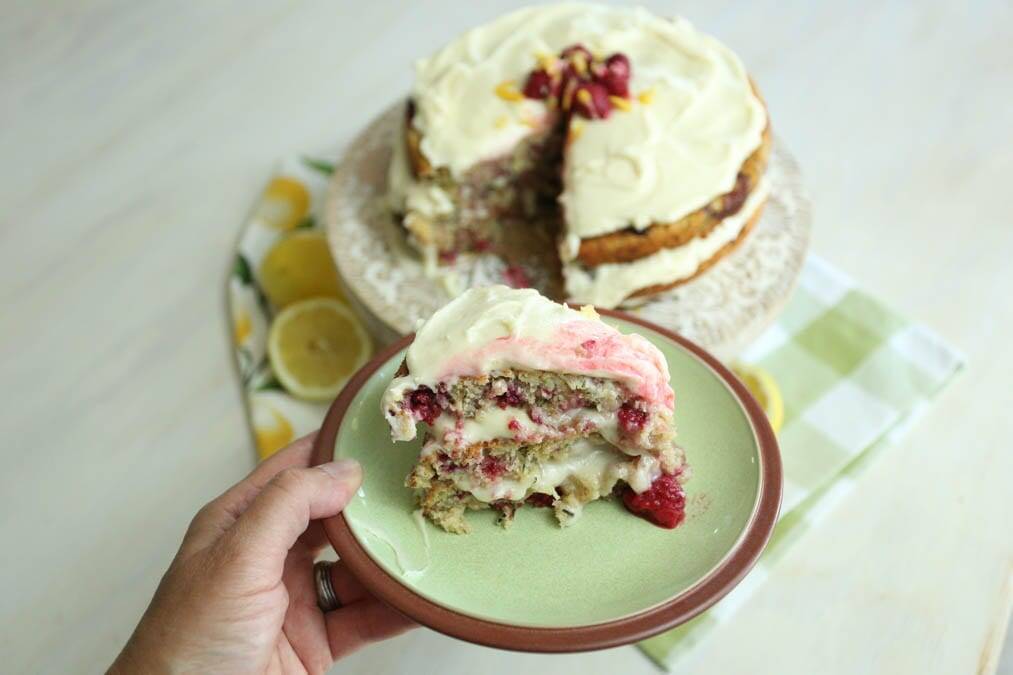 Want More From Scratch Desserts?
Pin for later!