How to Make Povitica | Potica | Povatica Bread
Making Povitica is a fun Holiday time activity and makes a great neighbor or friend gift! Povitica, Potica, or Povatica, whatever you call it or however you spell it, it is a delicious, sweet Croatian nut roll.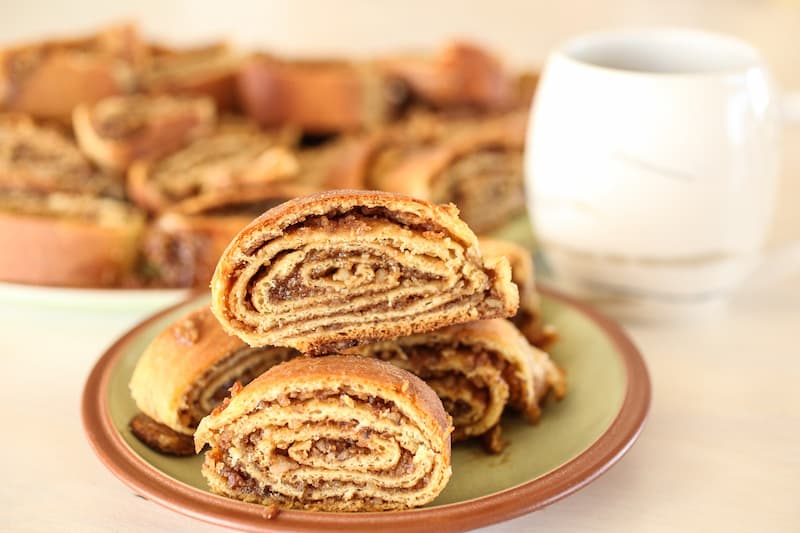 This post contains affiliate links
What is Povitica?
Povitica (pronounced pov-e-tee-za) is a nut roll, popular in much of Eastern Europe. Most people had a recipe unique to their own family that they loved to share at Christmas time. Essentially it is a sweet dough rolled very thin and spread with a sweet nutty cinnamon filling and rolled up.
I grew up in Kansas City, Ks. near Strawberry Hill. This is where the famous Strawberry Hill Baking Company used to be located. We also had a family friend that makes Povitica every year, they bake theirs in a loaf pan, a little differently than I do, but it is wonderful! Baking povitica is a bit of an art, many people have their own unique ways of shaping the loaves or what fillings they put in it!
I'm not sure where I first tasted Povitica, but I LOVE it! Now I love making povitica bread!
Tips for Making Povitica
A marble rolling pin makes all the difference. I always had trouble rolling my dough thin enough, until I got a marble rolling pin.
Also, if the dough is wanting to spring back as you roll it, just take little 30 second breaks let it rest and then roll
Wheat flour makes the dough a little tougher to work with. If like me you insist on using wheat flour, use Prairie Gold White Whole Wheat and also mix in a bit of white flour as well.
Try to cut the rolls the exact length of your pan so that the ends touch, this will help to keep the filling from spilling out when it cooks.
You really need an electric chopper or a food processor to get the nuts fine enough.
An offset spatuala makes spreading the filling much easier.
Step 1 for Making Povitica
Mix the ingredients and let the dough rise for about an hour or until doubled in size. Clear off a large section of the countertop for rolling out the dough. The finished dough will be nearly 2 feet by 3 feet.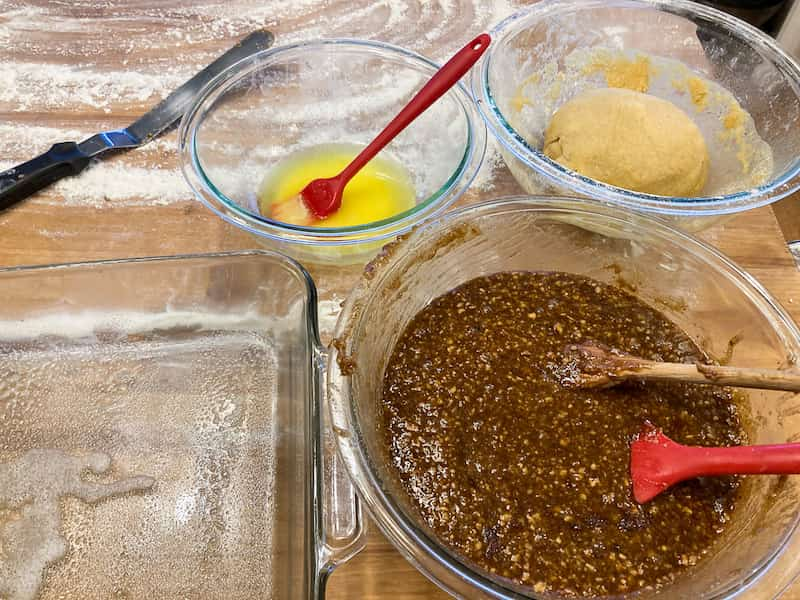 Step 2 for Making Povitica
While the dough is rising make the filling. Grind or chop your walnuts (or pecans if you prefer) until they are extremely fine. Melt the butter, sugars, and other ingredients in a medium saucepan on the stovetop. Mix in the nuts. Stir until all ingredients are incorporated. Split this in half between two bowls and set aside.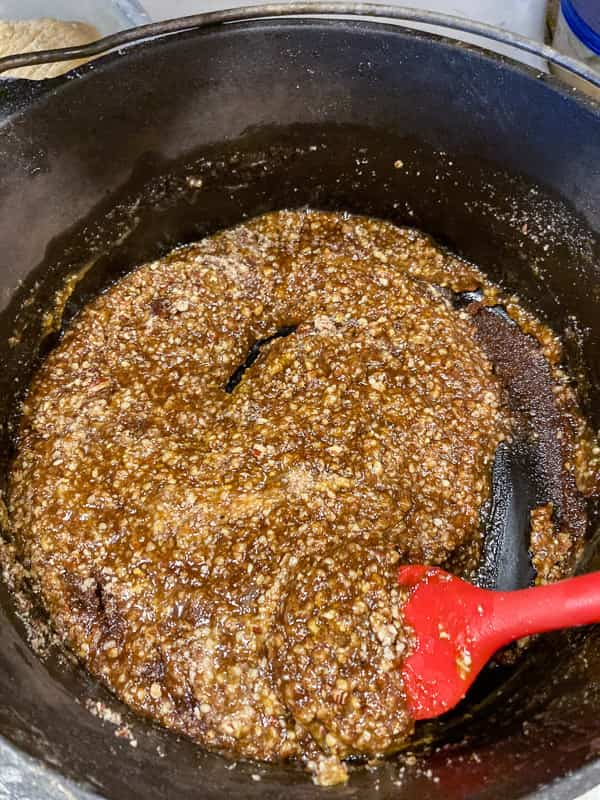 Step 3 for Making Povitica
Punch down the dough, cut it into two pieces, and shape the first lump into a rectangle. Begin rolling the dough until it is super thin, like so thin you can almost see the counter under it. The finished dough should be approximately 2'x3′
Step 4 for Making Povitica
Now that your first lump of dough is spread out thin, gently spread the filling from end to end covering every single spot of the dough.
Next, roll the dough up into a very long loaf, starting at the long end. Go slowly and get someone to help you if you can.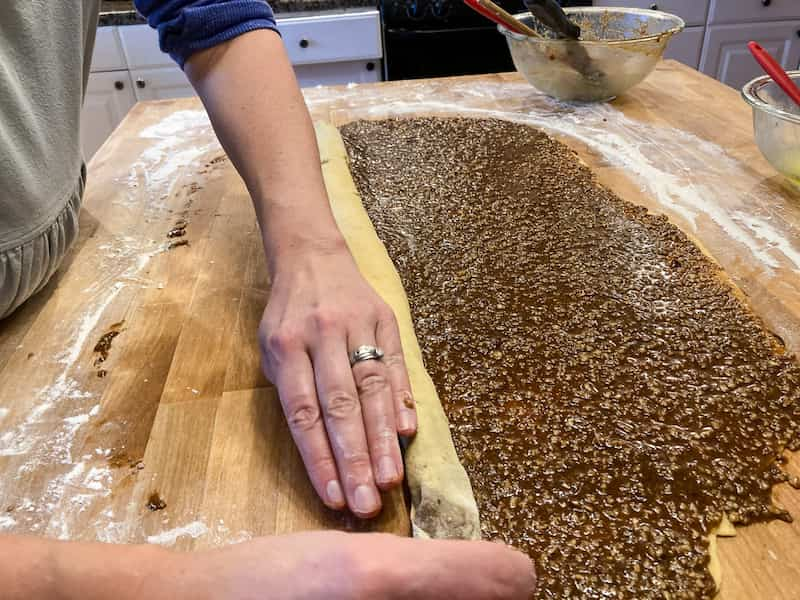 Step 5 for Making Povitica
Now that the dough is rolled up, use your greased pan as a guide and cut the loaf into three or four pieces. Whatever size will fit snugly in your pan. Place the rolls into your prepared pan, seam side down.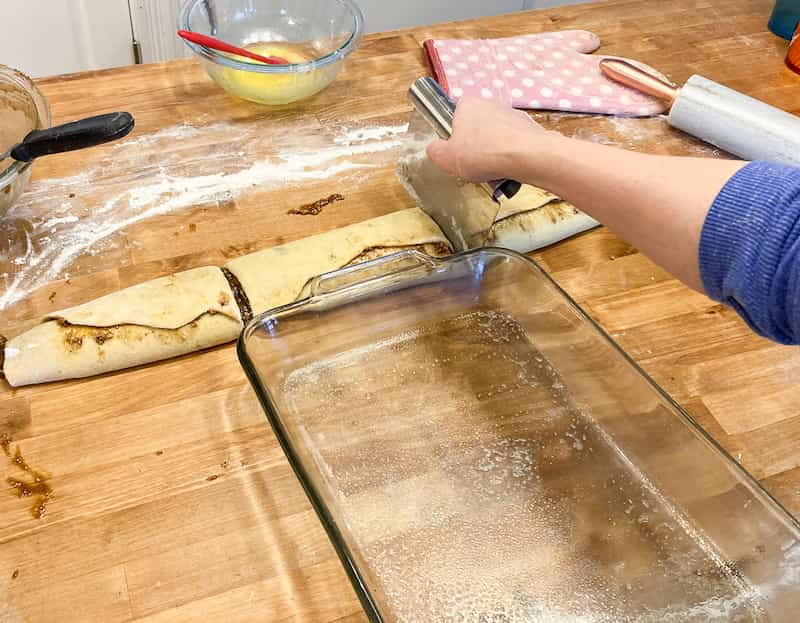 Step 6 for Making Povitica
Brush the loaves with melted butter and place them in the preheated oven. Bake for 30 minutes or until golden brown. Brush with melted butter again after removing from the oven. Don't worry if some of the filling has spilled out. Just scrape it up and eat it…a bonus of making povitica bread!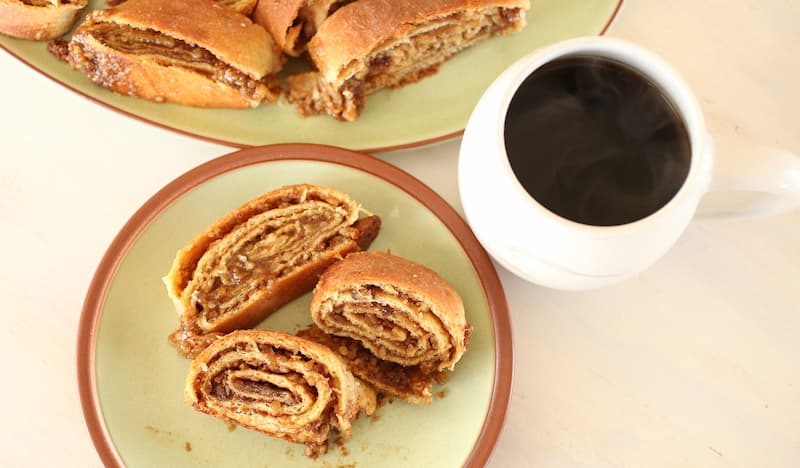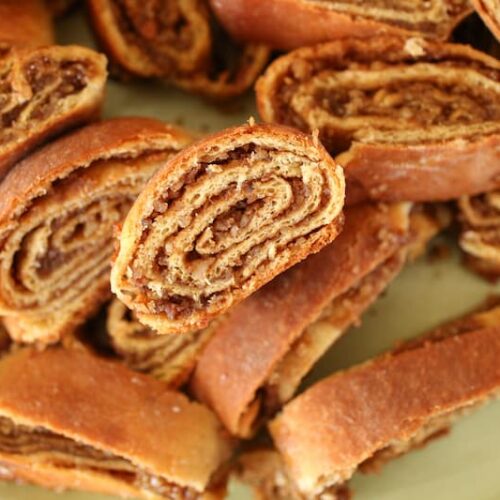 Povitica Bread
A Sweet Croatian nut roll. Perfect for the Holidays.
Equipment
A large cake pan

A Heavy Rolling Pin

A Food Processor, Grinder or Handy Chopper
Ingredients
3

eggs

room temperature works best

4-4½

cups

Flour

I use Prairie Gold Whole Wheat, white is also fine. If you are using a coarse whole wheat flour, you will need to do half of it with white flour or the dough will be very difficult to work with.

4½

tsp

yeast

1½

cups

milk

⅓

cup

sugar

I use organic evaporated cane juice

⅓

cup

butter

1

tsp

salt

3-4

Tbs

Melted butter

This is for brushing on the rolls
Filling
6

eggs

8

cups

ground walnuts or pecans

2

cups

brown sugar

2

sticks

butter

melted

4

tsp

vanilla

⅕

tsp

salt

2

Tbs

cinnamon
Instructions
Dough
This recipe yields six to 8 rolls depending on how long your pan will accomodate.

Set your eggs out to get to room temperature, otherwise set in a bowl of warm water.

Mix two cups of flour with the yeast.

In a small saucepan, melt ⅓ cup of butter, then add the milk, sugar, and 1 tsp salt. Test the temperature, it should be around 120°. If it is too hot, let it cool to between 110°-120°

I use a stand mixer with a dough hook for mixing dough. Add the liquid to the dry ingredients. Begin to mix, slowly add in each egg. After this is well mixed, begin to add another 2-2½ cups flour. The dough should be smooth and elastic, not too sticky to handle.

Place the dough in a greased bowl and set aside in a relatively warm spot to rise for about an hour or until doubled in size.

Once doubled, punch the dough down and split it into two equal lumps.

On a well floured surface, take the first half and shape it into a rectangle. Next, using a heavy rolling pin, (a marble one works very well). Begin to roll your dough extremely thin, each lump should be rolled to approximately 2'x3' give or take. If the dough wants to spring back, just take 30 second breaks and keep rolling, eventually it will yield to you! Roll side to side, and then roll the other direction trying to keep that rectangle shape.

Take one bowl of filling and spread it evenly over the entire surface of the dough end to end.

Next, starting on the long end begin to slowly roll the dough. Go slowly and try to make it as neat as possible.

Once it is rolled into a long log shape, use your pan to measure how long to cut each roll. Depending on the size of your pan, you may get three or you may get four out of each log.

Nestle them into the greased pan. The ends of the rolls can touch the sides of the pan, but the rolls themselves shouldn't touch each other. They can be close, but not touching. They need space to rise as they cook.

Repeat the process for the other lump of dough and bowl of filling.

Brush the rolls with melted butter. Place in a 350° oven and bake for 30 minutes or until golden brown.

Remove from oven and brush with butter again.

Allow to cool slightly and then cut into slices to serve. Otherwise, wrap each cooled loaf individually and give as gifts to friends and neighbors! Enjoy!
Filling
Grind or chop the nuts until they are very fine. In a medium saucepan over medium heat, melt the butter. Once the butter is melted stir in the brown sugar, eggs, cinnamon, vanilla, salt, and nuts. Split this between two bowls and set aside.
Is Making Povitica Bread in Your Future?
Let me know if you give this a try and if you love it! Tag me on IG or leave me a comment here!
Here are a few more yummy bread recipes!
Simple and Easy Cinnamon Twists
Pumpkin Bundt Cake With Streusel Filling Recipe
Pin to Your Bread Board!