Raspberry White Chocolate Cheesecake Recipe
Raspberry White Chocolate Cheesecake is really simple to make and the results are decadent! Make this for a special treat and everyone will enjoy it!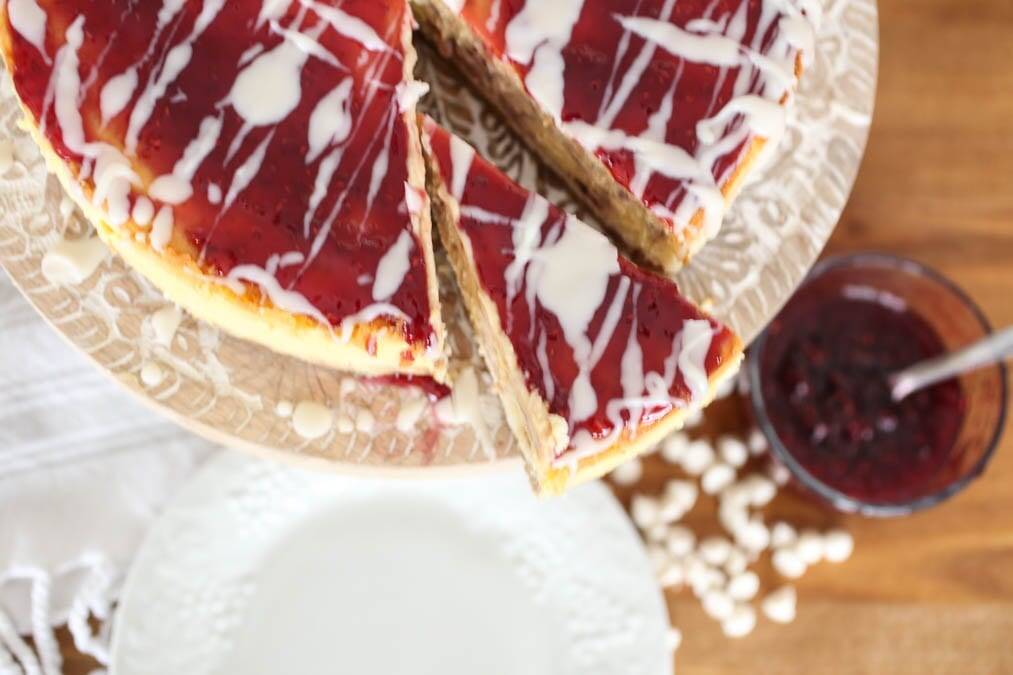 This post contains affiliate links.
Jump to Recipe
Is Cheesecake Difficult to Make?
I always thought that cheesecake was hard to make. I thought there was some secret society of cheescake makers where they held all the top secret infomation on baking cheesecake at home. Elite bakers that never forgot to put baking powder in their muffins or those who have never scraped a cake out of the pan after they realized they forgot the oil. Not that I know anyone like that.
My husband often told me of one of these elitists at work. He would bring in cheesecake once a year. Apparently he is worshipped as a cheesecake god of some sort. This year I decided that I wanted his secrets, I wanted to rise to the level of cheesecake guru. I tentatively asked for the recipe and all the secrets…hopeful that he would hand it over without me having to give him our firstborn.
Surprisingly, he shared the recipe and when I looked at it I found nothing that required any special skillset or anything that even a novice couldn't pull off. The ingredients are minimal and other than a springform pan, there isn't anything special required! Although I did discover one secret that prevents any cracks in the top of the cheesecake. Which apparently is an insult to the cheesecake elite!
Here's the One Secret for Preventing Cheesecake Cracks
First of all, if a cheesecake cracks, it's not the end of the world and it will still taste every bit as good as an uncracked cheesecake. If you are embarrassed by the crack, just cover the top with raspberries or whatever you please.
Moisture in the oven is the key. I am giving you some tips, and the pans I used are highlighted and clickable. So, I nestled my cheesecake pan inside of a bigger pan and then placed that in a big roasting pan of water. This keeps any cheesecake grease from dripping in your oven, and it keeps it moist and eliminates cracking. There, now you are worthy of the cheesecake society!
Another tips is to have all of your ingredients at room temperature.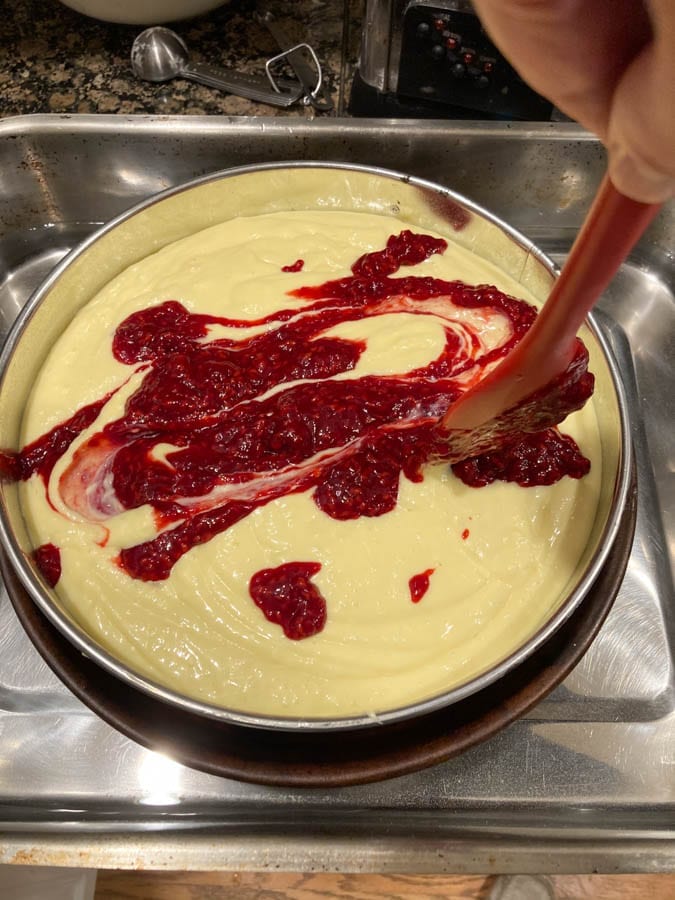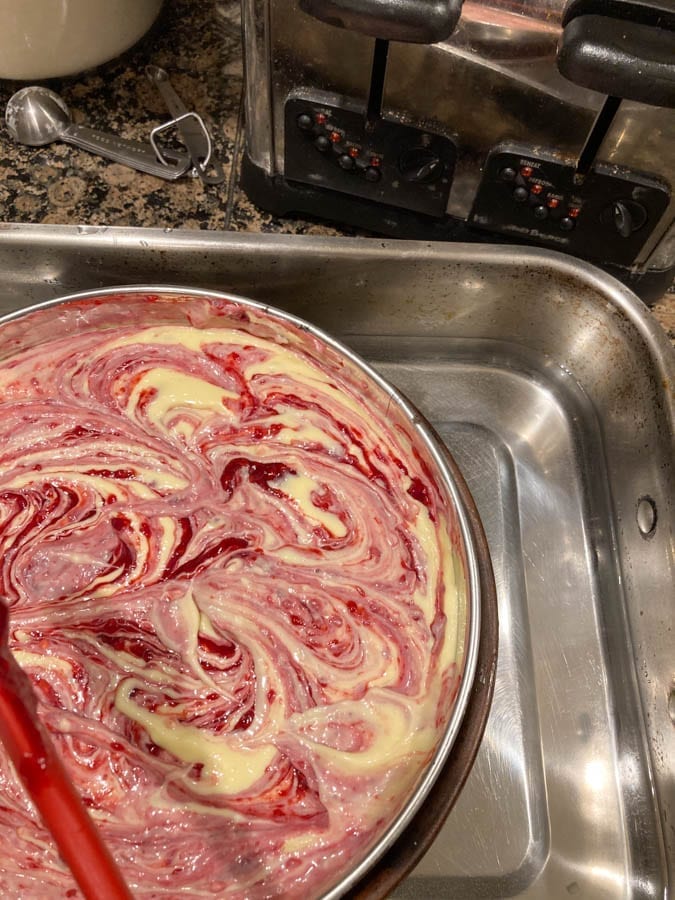 Raspberry White Chocolate Cheesecake
I am sharing a white chocolate cheesecake recipe however, you can go any direction you want with it. You can do graham cracker crust like I did or you could do any other type of cookie crust that you would like.
If you wanted a toffee cheesecake, just add bits of toffee instead of the white chocolate and raspberry. If you want strawberry swap that out for the raspberry. In the mood for lemon? You could swirl in lemon curd in place of the raspberry. The sky is the limit!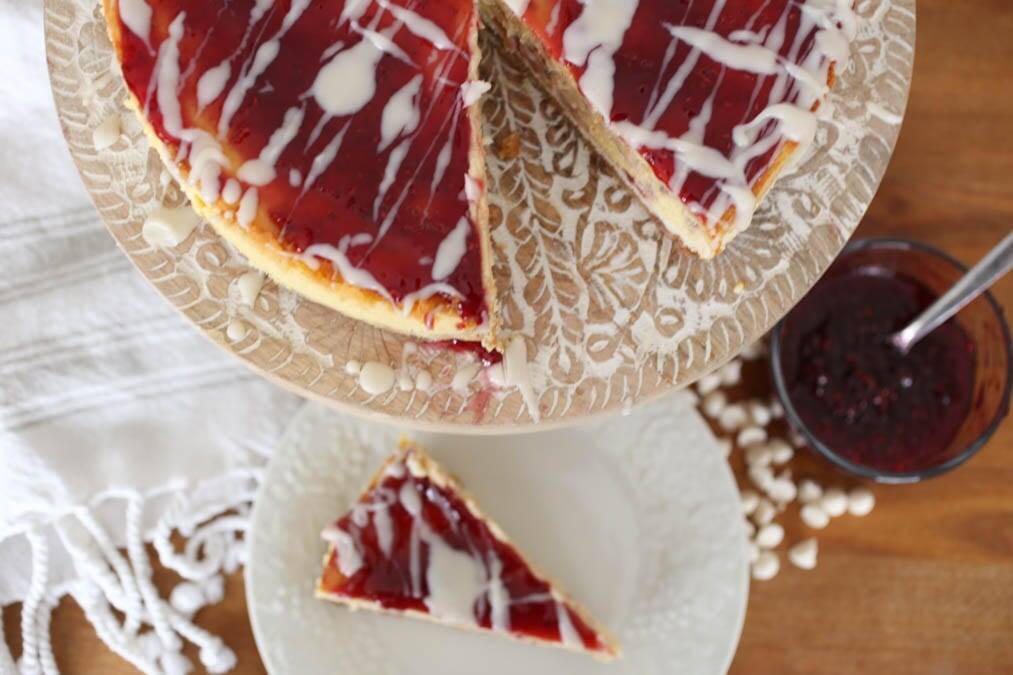 Need Help with Meal Planning?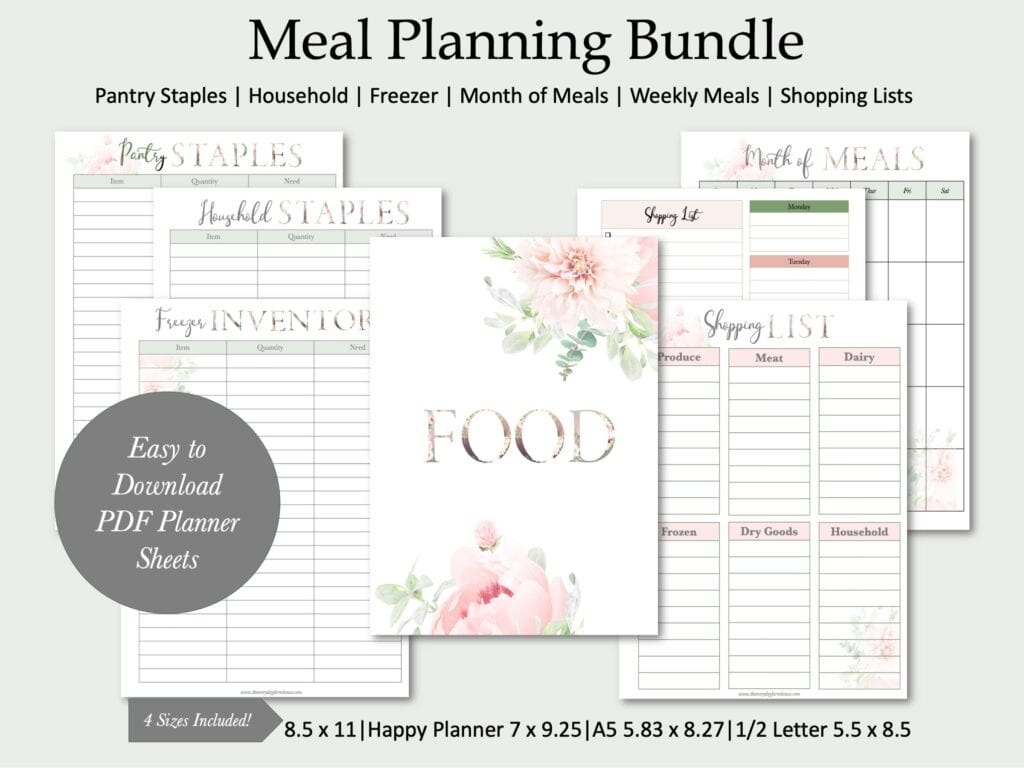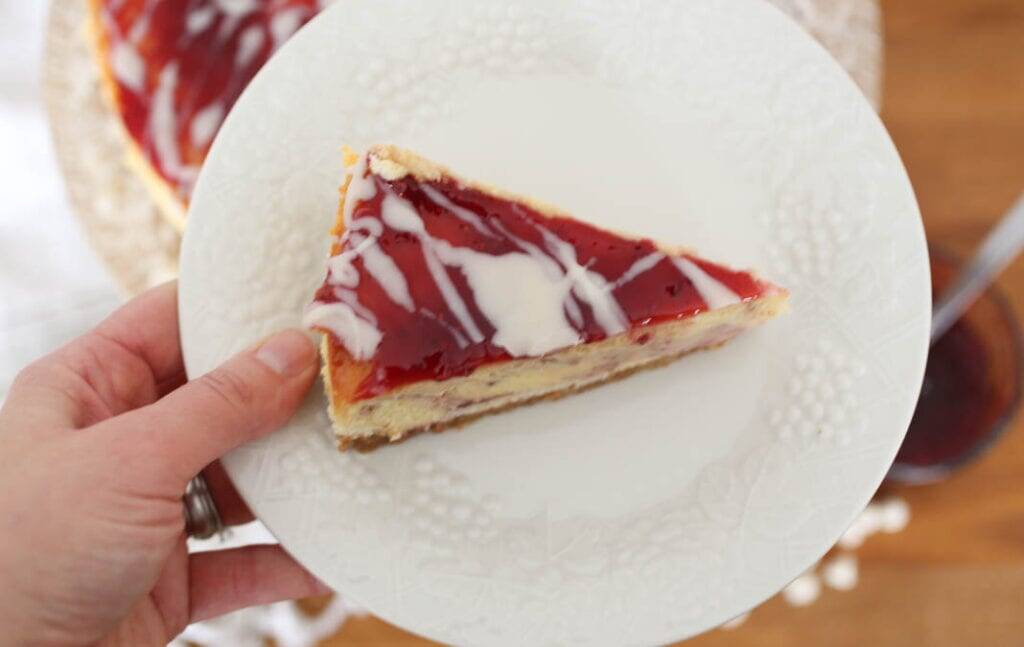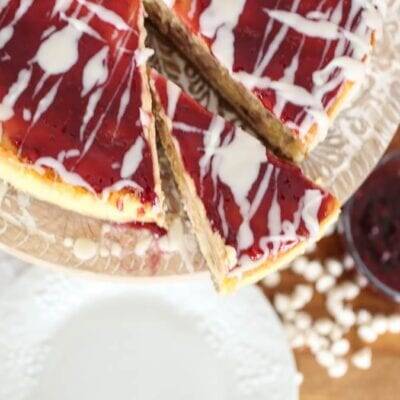 Raspberry White Chocolate Cheesecake
A delicious and simple recipe for a Raspberry Swirl Cheesecake with White Chocolate
Ingredients
1½

Cups

Crushed Graham Crackers

¼

Cup

Brown Sugar

8

Tbs

Melted Butter
CheeseCake
4

Pkg

Cream Cheese (8oz pkg)

I have tried generic and Philadelphia. This is one case where the generic brand is NOT as good. The Philadelphia Brand Cream cheese makes a superior cheesecake.

5

Eggs

1 ½

Cups

Sugar

1½

Tsp

Vanilla

2

Cups

White Chocolate Chips

1

Tbs

Heavy Cream
Raspberry Swirl Sauce
12 oz

Frozen or fresh raspberries

½

Cup

Water

2

TBS

Sugar

I use organic evaporated cane sugar

1

TBS

Corn Starch or Arrowroot Powder
Instructions
Melt the butter in a bowl, add in the crushed graham crackers and sugar. Mix and press into the bottom of a foil-lined springform pan. I wrap foil around the round plate of the pan and wrap it around the bottom. This makes cleaning easier.
White Chocolate
Melt the chocolate chips with the Tbs of cream. This can be done in the microwave or in a double boiler. If microwaving, heat in 30 second increments so as not to burn it.
Cheesecake
Let the cream cheese soften and come to room temperature. In a stand mixer add the room temperature cream cheese, sugar, vanilla, melted white chocolate and the 5 eggs. Mix well with the paddle attachment. If you don't have a stand mixer, a handheld mixer will work as well.
Raspberry Swirl
In a medium saucepan add the raspberries, mix the water, sugar, and cornstarch in a measuring cup. Pour the mixture over the raspberries and cook for 5 minutes until thick.

If the seeds bother you, you can strain this through a mesh strainer. This is rather time-consuming. I just leave the seeds in, and they don't bother us at all.
Combining the Cake and the Raspberry Sauce
Pour half of the cheesecake batter into the pan with the crust. Drop several spoonfuls of the raspberry mixture into the batter. Pour the remaining batter over the raspberry layer. Then drop spoonfuls of the remaining raspberry sauce over the top. Using a rubber spatula, swirl the batter and raspberry mixture around and make a pretty pattern.

Place the cheesecake in another larger pan like a cake pan. Then place the cake and the pan in a roasting pan of water. Bake at 350° for one hour fifteen minutes. The middle will likely still be a bit jiggly, refrigerate for 8 hours.
Pin to Your Dessert Board!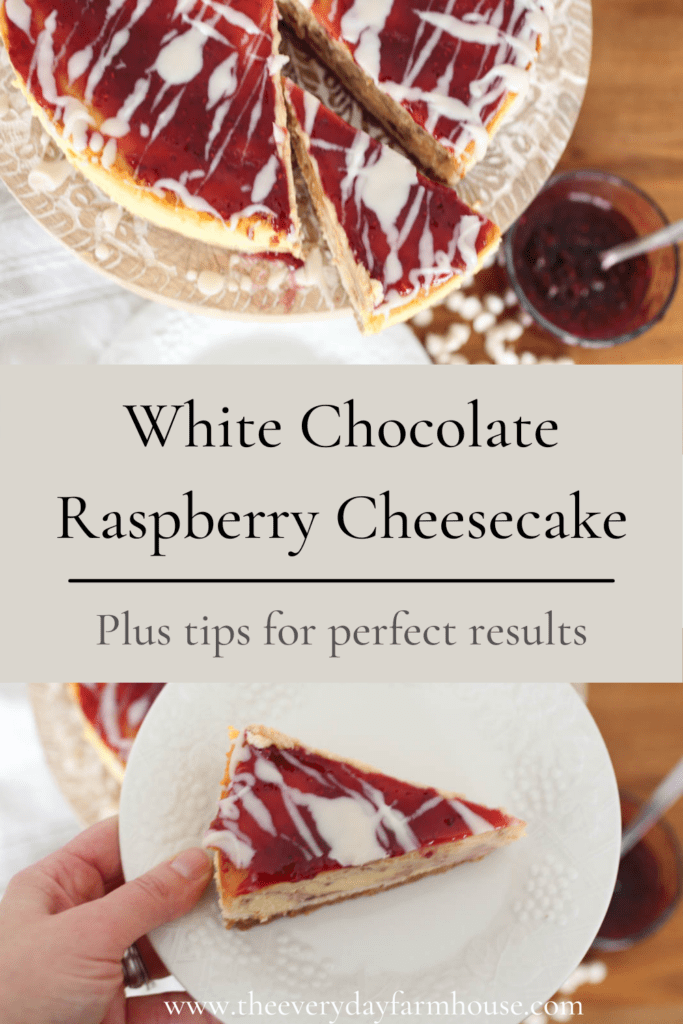 Want More Dessert Recipes?
Cranberry Harvest Pie–Perfect for the Holidays
Father's Day Treat–Fresh Strawberry Pie
Pumpkin Bundt Cake With Streusel Filling Recipe