Five Favorite Hearty Soup Recipes for Fall and Winter
These are my favorite tried and true hearty soup recipes to get us through the fall and winter! This post may contain affiliate links.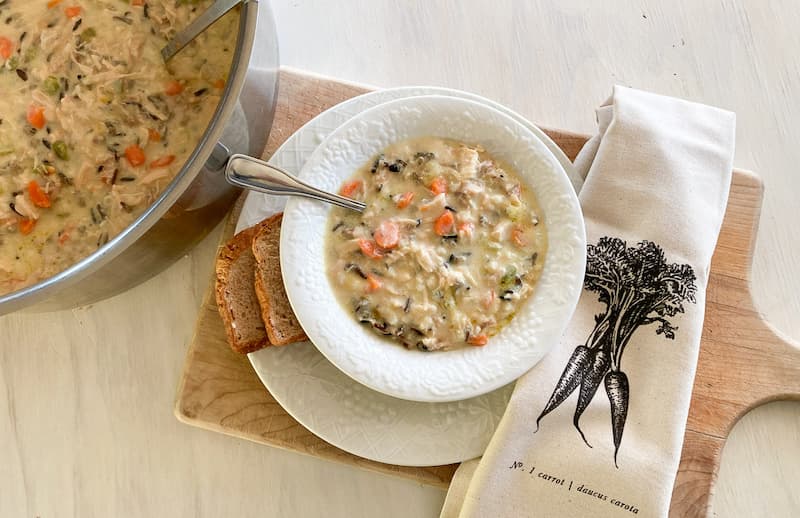 I have told you before that soup is my love language. Some people write poetry or songs to show love, others buy gifts, some give of their time or show acts of kindness, and then there's me…I make soup. If I have invited you to my home and made you a pot of soup, just know that I love you! Here are my favorite soup recipes.
Comforting Winter Soups
These five soups are served on repeat all throughout the season at our home. Nothing makes an ordinary weeknight feel cozy like a big pot of soup. I always make a huge pot of soup so that we can have leftovers for lunches.
Everything you need is in a hearty pot of soup, it really is a satisfying meal. Add a salad and some bread and it's practically gourmet! Ha!
Tips for Making Soup at Home
Please remember that making soup is not an exact science, it's more of an art in my opinion. Taste your soup as you go along, if you think it needs more garlic, add more, maybe you like it thicker or thinner than my recipe yields. You can always add more broth or milk to the creamy soups. If you want it thicker, whisk in a bit more brown rice flour. Refine the art of making soup!
For the recipes that call for rice, it is really best to cook the rice before adding it to the soup. When you just toss the dry rice in, it absorbs so much of the liquid that it often looks more like a casserole than soup. I've done it because I have felt like it is too much trouble to cook the rice separately however, I almost always wish I had just cooked it first. I always cook rice in the Instant Pot. It's super easy and it comes out great. Equal parts water and rice, press the rice button, and let it do its thing. The only time I have had problems is if it sits on warm for a long time, then it gets a bit sticky.
Also, I love using brown rice flour for thickening soups. It yields a much better-tasting broth. The results are silky and smooth plus you can add extra in without having to cook it with the butter first. You can just add it into the soup and it whisks right in. Also, it is gluten-free if you are concerned with that.
Creamy Homemade Potato Soup with Bacon
This soup is my kids' favorite soup recipe of all time. All children with fall or winter birthdays request this soup for their birthday meal. It is hearty and satisfying.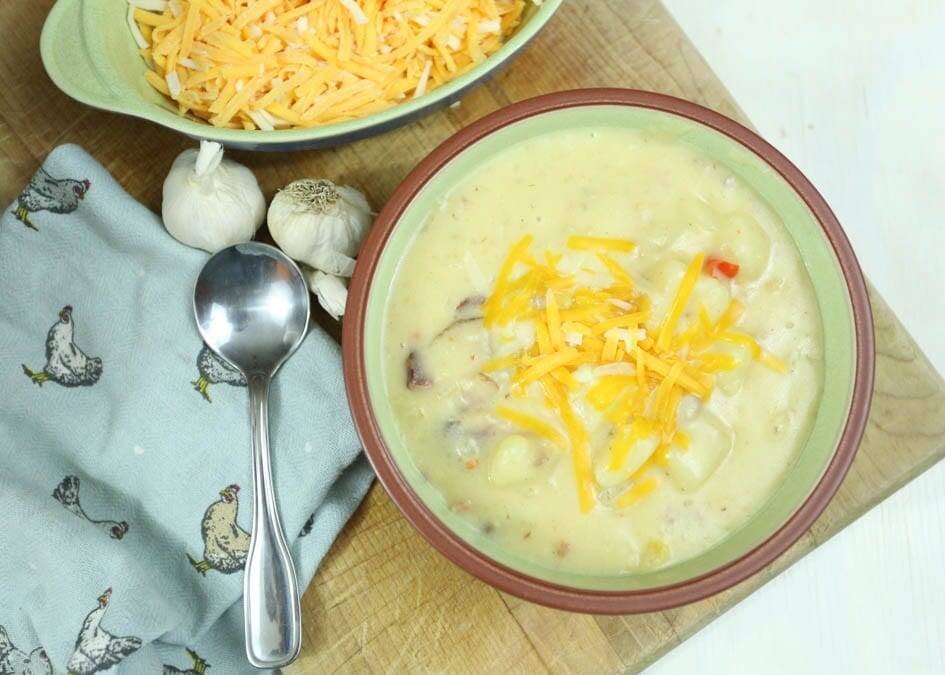 New England Clam Chowder
This is not my recipe, this New England Clam Chowder is from Mel at Mel's Kitchen Cafe. I love nearly all of her recipes. I make this soup exactly as described with a few exceptions. Of course, I multiply it by three. Then I add extra potatoes to stretch it farther. I also don't buy as many jars of clam juice as she recommends, I just reserve all the juice from the cans of clams. Lastly, I really prefer the minced clams over the chopped clams. Canned clams are a bit chewy and while my 10-year-old son loves that about them, I find them more appealing chopped smaller. This soup is a crowd-pleaser for sure!
Stuffed Pepper Soup
I love love this soup. It is truly easy to make, comes together quickly, and is also a crowd-pleaser. Here is my recipe for it, it makes a lot so feel free to half the recipe.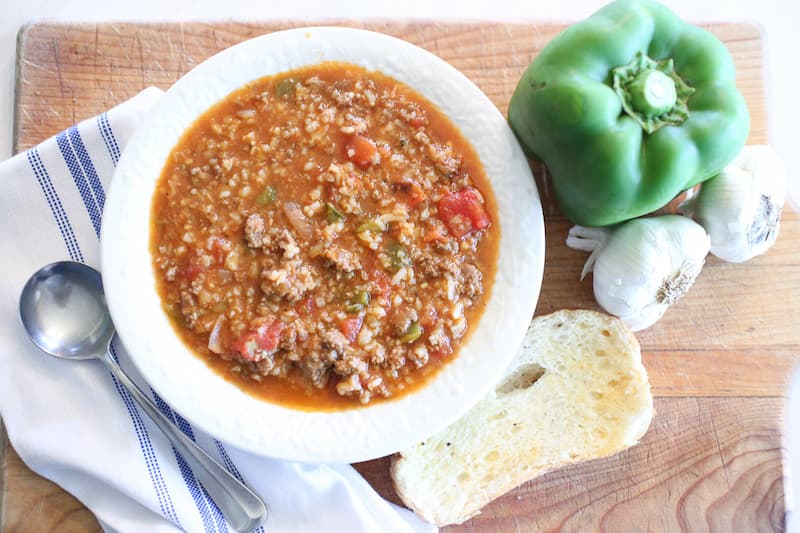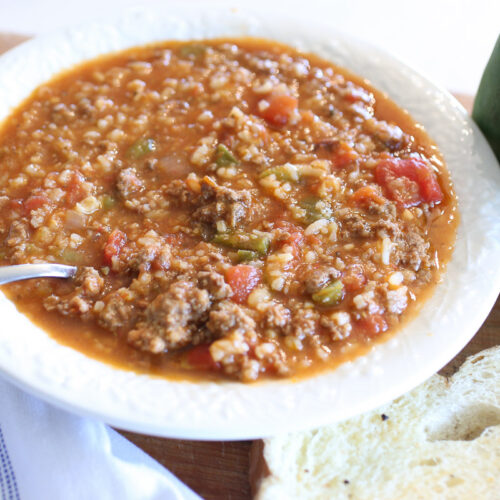 Stuffed Pepper Soup
A delicious and hearty soup, perfect for a crowd.
Ingredients
3

lb

Ground Beef

1

lb

Italian Sausage

2

Chopped onions

2-3

Chopped Green Peppers

Depending on size you might want two you might want three

1

head

minced garlic

1

28oz

Can Crushed Tomatoes

1

28oz

Can Diced Tomatoes

keep the juice with it

4

Cups

Beef Broth

2

Cups

Rice

1

Tbs

Italian Seasoning

2

tsp

garlic salt
Instructions
Brown the ground beef and sausage in a large pot. Add the Italian seasoning to the meat. Next chop the onions, garlic and green peppers. Add to the pot and cook until tender. Meanwhile, cook two cups of rice. Once the veggies are tender, add in the beef broth, the crushed tomatoes, and the diced tomatoes. Once the rice is done, you can add that in as well. Season with garlic salt. Let the soup simmer on the stove for 30 minutes. Serve and enjoy!
Notes
I have added the rice into the soup uncooked.  It works, however you would need to add extra liquid as it really soaks it up.  I really think it works better and the consistency of the soup and the texture of the rice is better if you cook it separately.  I love to cook rice in the Instant Pot.  Simply add equal amounts of rice and water and hit the rice button.  It's easy and turns out very well.
Italian Tortellini Soup
When I first posted this on my blog, I had a complaint from someone that the recipe wasn't very made-from-scratch or homestead-ish. I get that, and I agree it isn't. However, even people who do cook from scratch and raise their own food need an easy win from time to time! I do use our own pork sausage raised on pasture from our own pigs in this recipe. So, in my mind that makes up for the frozen tortellini! Also, if you use your own canned tomatoes, chicken bone broth, and frozen spinach from your garden…well I'd say that's pretty homemade!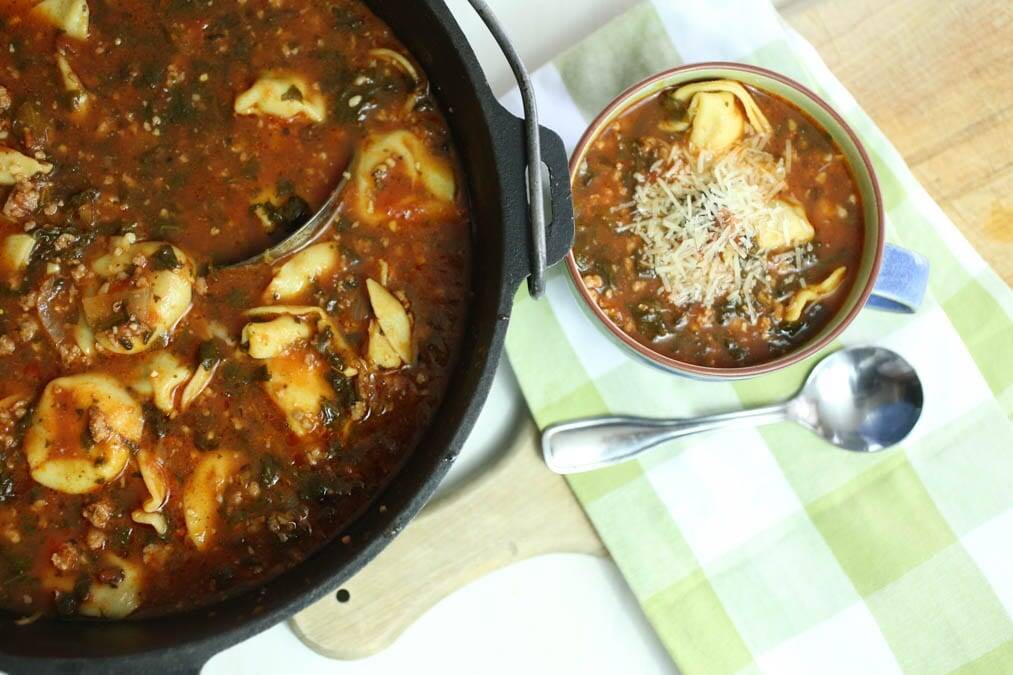 Creamy Chicken and Wild Rice Soup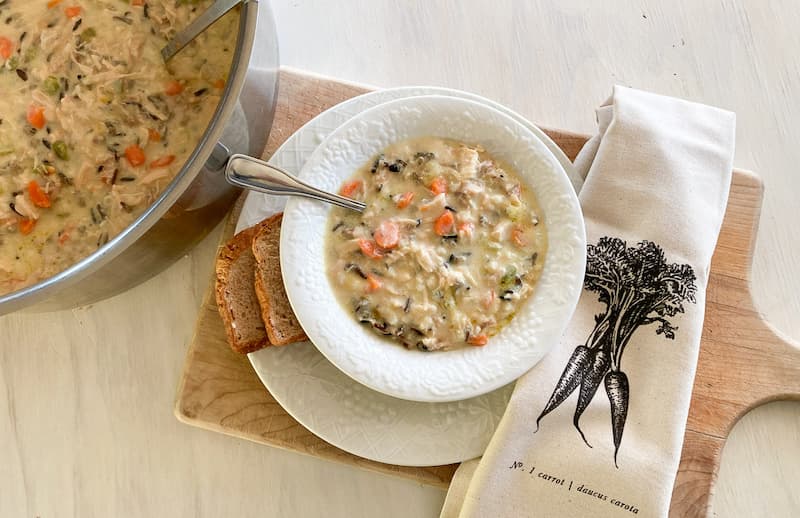 I use a whole chicken when I make this soup, however, you could certainly substitute rotisserie chicken or chicken breasts…it just won't be as tasty! I always use a whole chicken when I cook. We raise them and freeze them whole. The broth and flavor from a whole chicken add such a rich flavor to your meals.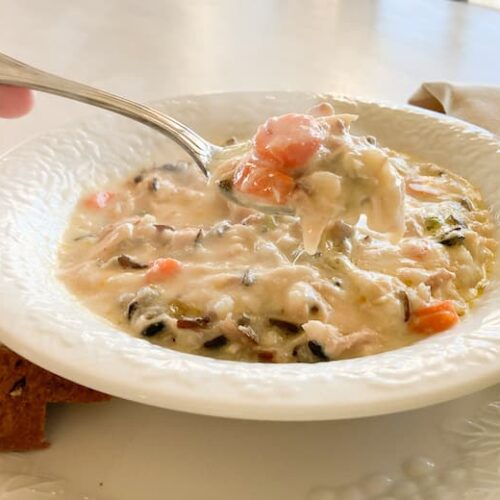 Creamy Chicken and Wild Rice Soup
A perfect weeknight meal tasty and hearty.
Ingredients
1

whole(3-4 pounds)

chicken

If cutting up chicken breast or the equivalent, you will need about 4-5 cups of chicken.

1

whole

chopped red pepper

you can use other colors of pepper if you don't have red

2

stalks

celery chopped

4-5

whole

carrots chopped

1

whole

onion chopped

4

cloves

garlic minced

1

stick

butter

1.5

cups

brown rice flour

6

cups

chicken stock/broth

Use what is left from the Instant Pot or from the boiled chicken. If there isn't enough, add water and use the chicken base or boullion to add flavor.

1

TBS

chicken base

1 ½

Cups

Wild Rice

The rice should be cooked before adding to the soup

½

Cup

Basmati Rice

Any rice will do, I just like the Basmati with the wild rice

2

tsp

garlic salt

6

cups

Whole milk
Instructions
Cook a whole chicken in the Instant Pot with 2 cups of water. When the chicken is done, debone it and chop it into bite-sized pieces. Reserve the liquid left from the chicken. If you don't have an Instant pot, you can boil the chicken in a large stockpot, make sure you reserve the broth when you remove the chicken to debone and cut it up.

In a large pot, melt the stick of butter, add the chopped onion, pepper, celery, carrots, and garlic. Cook until the vegetables are tender, about 10 minutes. While the veggies are cooking, cook the rice separately. Once the veggies are tender, add in the 1 ½ cup of brown rice flour. Using a whisk, whisk it around and then slowly pour in the 6 cups of milk and reserved 6 cups of broth. Cook until it is thickened and smooth, about 10 minutes. Add in the cooked chopped chicken, and the cooked rice. Let the soup simmer for another 15- 20 minutes. Serve and Enjoy!
Notes
I have added the rice to the soup uncooked.  This will work, however, much of the liquid will be absorbed and make the soup too thick.  Also, the rice texture is just better when you cook it separately.  It is really best to cook it first.
I often cook my chicken in the Instant Pot rather than boiling it.  Mainly because I can throw a frozen chicken in there and have it done in about an hour.  The broth is also very flavorful from the Instant Pot.  When cooking a frozen chicken, it is 10 minutes for every pound and at least 1 cup of water.
I hope you try at least one of these yummy favorite soup recipes this winter! Show someone you love them with a big pot of hearty homemade soup!
Need Help With Menu Planning? Check Out My Planners in My Shop!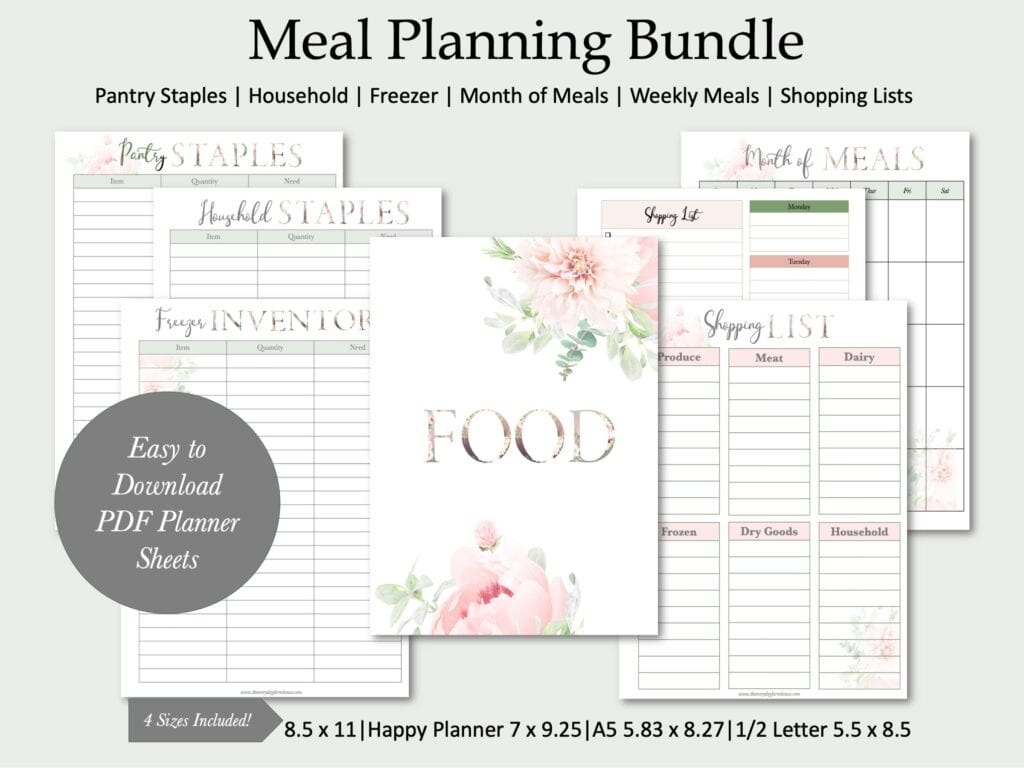 Shop this Post
How About a Pretty Apron to Wear While you Make Soup? Visit My Shop!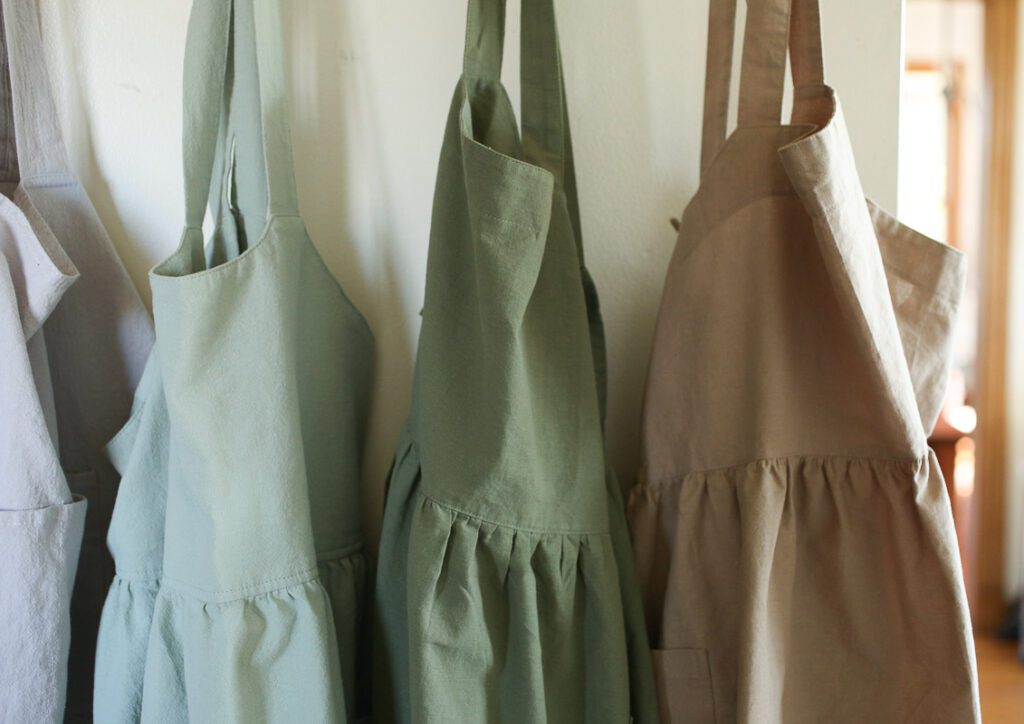 Pin to Your Recipe Board!