Aunt Michelle's Cherry Nut Bundt Cake
Cherry bundt cake with nuts and almond flavor is easy to make and a Christmas crowd-pleaser. This is of course my adaptation of my aunt's recipe.
At the bottom of the post are a few more bundt cake recipes as well!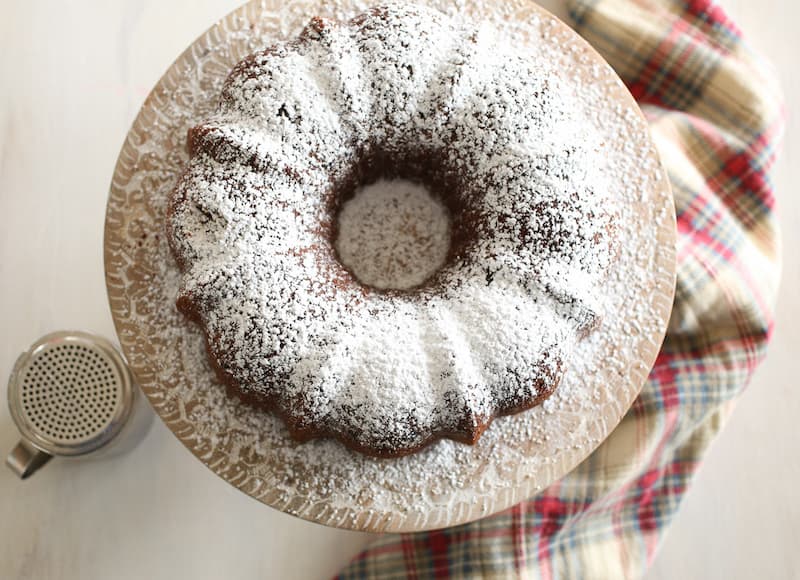 This post contains affiliate links
Jump to Recipe
A Nostalgic Cherry Almond Bundt Cake
Don't you have those specific foods that make you think of Christmas? I'm sure that nearly every family has something memorable that they enjoy during the Holidays. Maybe it's a pie, or special candy, maybe it's the ham or the stuffing. Whatever the case those things play a major role in making the holidays feel complete.
For me, it's cherry nut cake. My aunt Michelle always made a few cherry nut cakes at Christmas time. She gave them to neighbors or special nieces 🙂 The smell and the flavor just make me think of Christmas. If you are looking for a new recipe to add to your Christmas dessert table or if you want something festive to give to your neighbors, this Cherry Bundt Cake is definitely worth a try!
Healthier Cherry Nut Cake Without Maraschino Cherries
The original recipe called for maraschino cherries. If you've ever looked into what's actually in a jar of maraschino cherries, or how they are made, you will likely never buy them again. After a little research, I decided that I would not use jarred maraschino cherries for my cake anymore. Without going into all the details, I will tell you the cherries are bleached and then the red color and corn syrup are added in. Blech!
I researched making my own version of maraschino cherries but first decided I would go the simple route…surprising I know. I simply bought sweet dark frozen cherries, and added nothing to them, just thawed them a bit and chopped them up. It turned out pretty good.
However, it wasn't like I remembered. Next, I chopped up the cherries and added 1/2 cup sugar and about 1/3 cup water in a saucepan. I cooked the cherries for about 5 minutes, just until they were thawed and there was a nice cherry syrup forming. I added this to the cake just as I would have added a jar of maraschino cherries. This was perfect! My taste testers agree! Now, the cake is a bit healthier!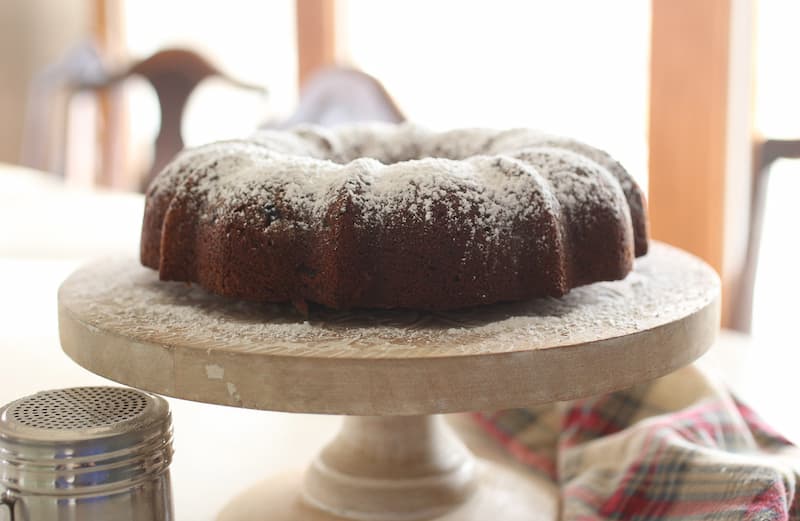 A Few Notes for Making Cherry Nut Cake
Chop the nuts fairly coarse, they don't need to be tiny
Use any nut that you like, walnuts, pecans or almonds are good! I used pecans because I prefer them.
Chop the cherries large as well, halfs and quarters are perfect
Let the cherries thaw for about five minutes before chopping, they are actually easier to chop when they are starting to thaw but are still firm.
The batter will be fairly runny and kind of pink, don't be alarmed
Don't skimp on the powdered sugar topping!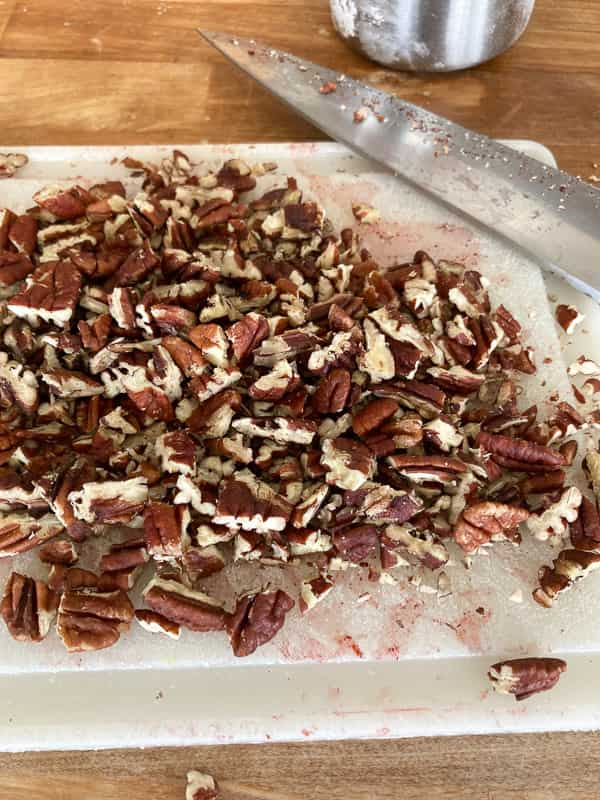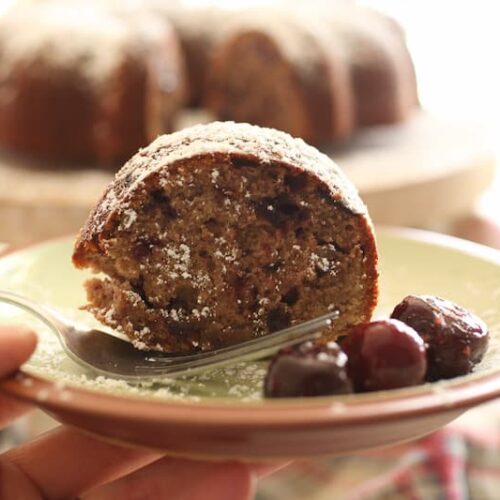 Cherry Nut Bundt Cake
A dense and sweet cake, perfect for sharing during the Holidays!
Ingredients
2

Sticks

Butter

softened or melted completely

2

Cups

Sugar

I use organic evaporated cane juice

2

Cups

Flour

I use Prairie Gold Wheat Flour

4

eggs

2

Cups

Dark sweet frozen cherries

Chopped in half or quarters and cooked for about 5 minutes in 1/2 cup sugar and 1/3 cup water.

1

Cup

Chopped Nuts

I like pecans however, walnuts or almonds would be good as well.

1

Tsp

Vanilla Extract

1

Tsp

Almond Extract

Optional, I have made it with and without. If you like almond flavor then use it. It's not my favorite so I often omit it.
Instructions
Spray a bundt pan with non-stick spray or grease and flour it. Cream together the softened butter and sugar, slowly add one egg at a time. After beating well, add in the flour, the vanilla and almond extracts, and lastly the cherries with all of the syrup and the nuts. Mix completely.

Pour batter into a prepared bundt pan. Bake at 325° for 50 minutes, checking at 40 minutes. A knife or toothpick should come out clean.

This cake is dense and does not rise very much as it doesn't have baking powder or soda. Don't be alarmed, it is supposed to be dense.

Liberally sprinkle the top with powdered sugar. Enjoy!

Add the chopped cherries ½ cup sugar and ⅓ cup water to a saucepan and cook for about 5 minutes.
Notes
The flour I use is a very light wheat flour, I use it in place of white flour in nearly all of my recipes.  The results are always good.   If you are using a coarser wheat flour, you may want to use half whole wheat and half white in order to get the results you want for a cake.  Or you could always just use white flour if that is your thing.
Shop this Post

Pin this Cherry Nut Bundt Cake to Your Cake Board!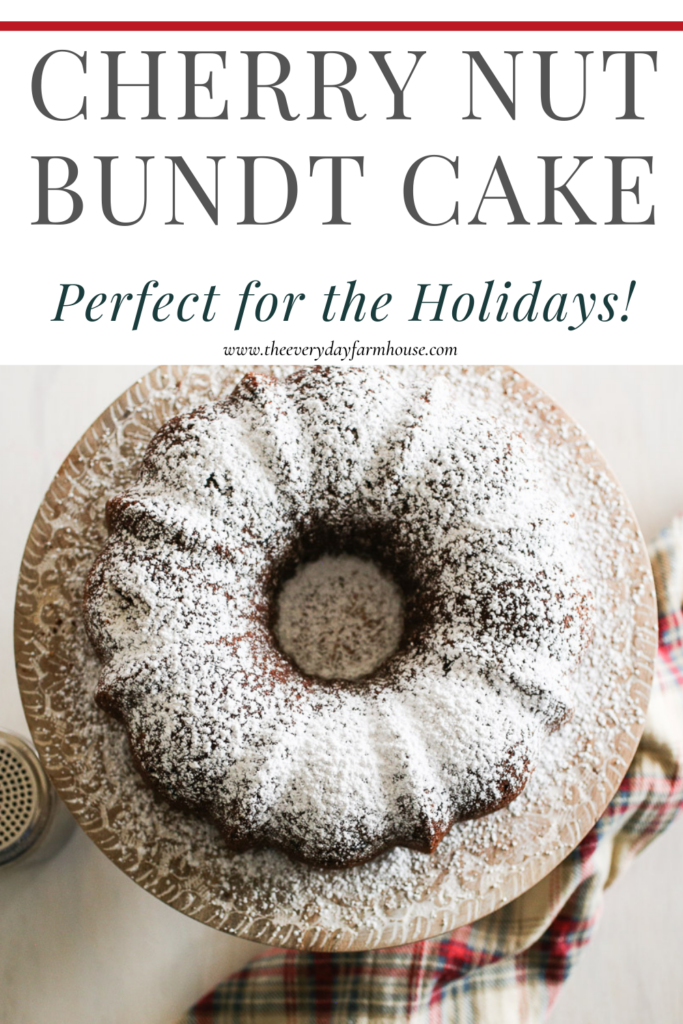 Love Bundt Cakes? Here are a Few More!
Pumpkin Bundt Cake With Streusel Filling Recipe
Healthy Lemon Bundt Cake from Scratch
Pink Lemonade Mini Bundt Cakes