Recipe Oatmeal Pancakes for a Crowd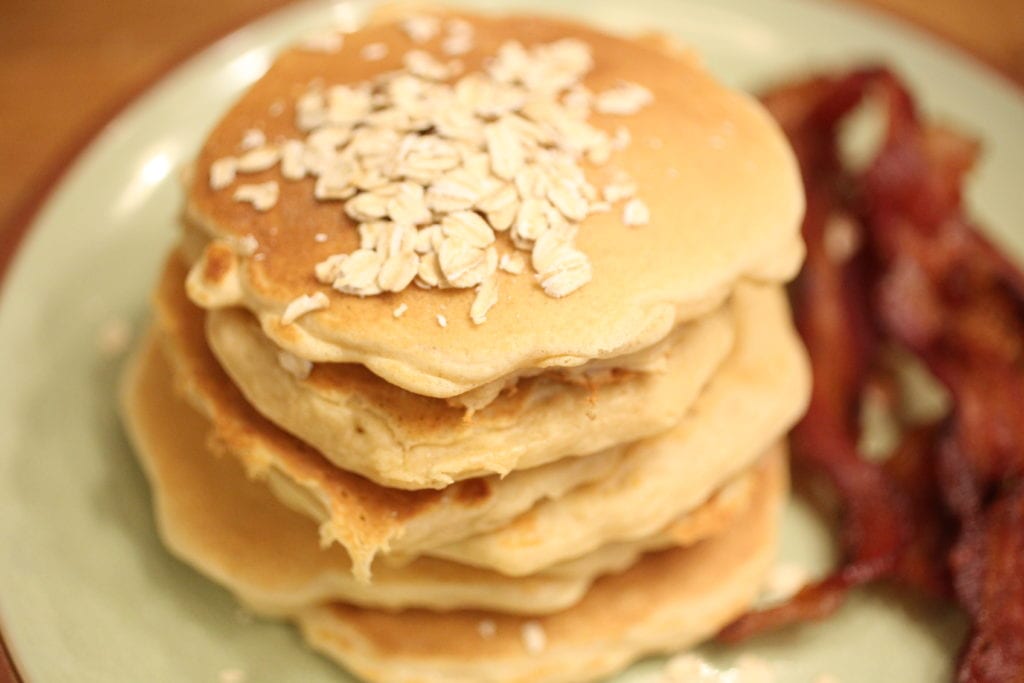 Saturday mornings are my kids' favorite. Throughout the week, breakfast is pretty simple. The older kids cook for themselves on these days–egg sandwiches and the like. I do oatmeal a couple of days a week. Sometimes they have refrigerator oatmeal, sometimes they eat cereal. But on Saturdays the kids cook breakfast with Daddy. So special…oh and they get coffee! Big times! This recipe for Oatmeal Pancakes has been our go-to for 16 years. It came from a church cook book that we received as a wedding gift. The only modification are that we multiply it by four, and we use whole rolled oats and whole wheat flour rather than quick oats and white flour.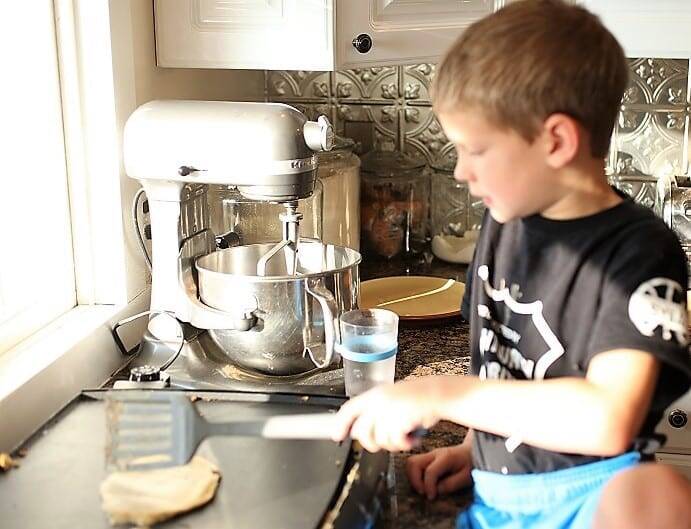 Home grown bacon, fresh eggs, and made from scratch pancakes drizzled with real maple syrup. It's these simple little meals and rituals that help make up the memories of a happy childhood. The best part is that my husband is the most patient person I know. He lets the kids do most of the mixing and cooking of the pancakes. Guess what? It's a lot messier that way! That's okay though. By letting them do most of the work, he is doing far more than just making pancakes!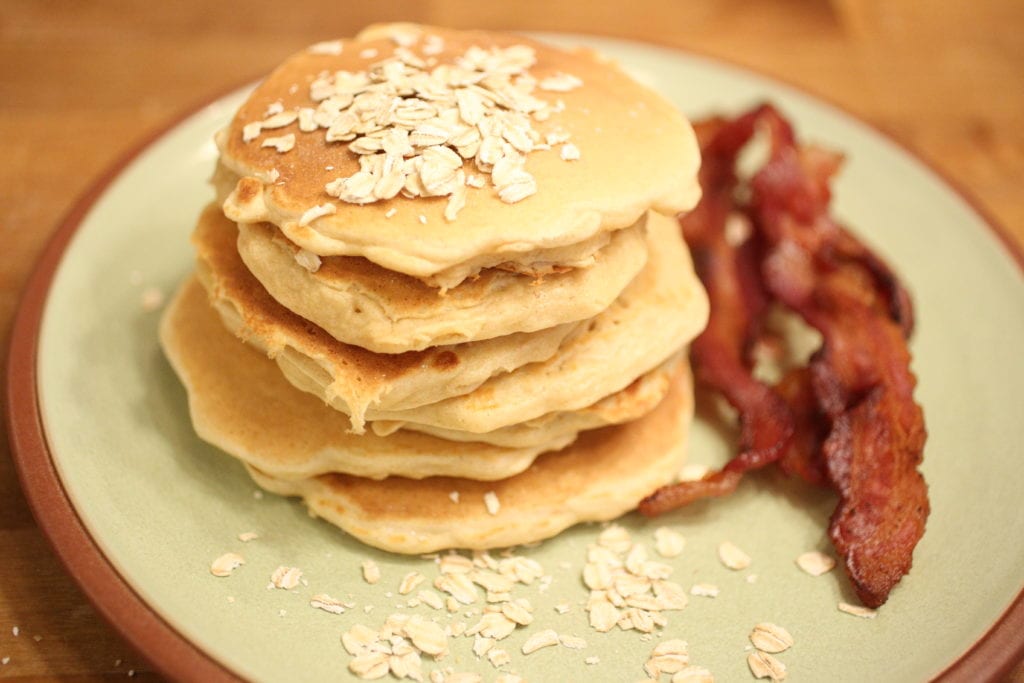 Don't they look good? Pancakes made from a mix, or with white flour, are far less nutritious than pancakes made from whole grain and oats. Also, the healthier pancakes will be more filling and tasty! I hope you give these a try, and enjoy starting your day together as a family! If you don't need a mass quantity of pancakes, just divide the ingredients by 4.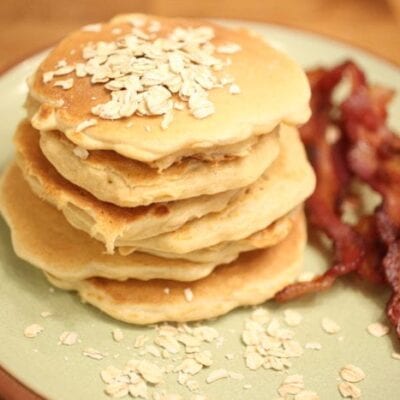 Wholesome Oatmeal Pancakes for a Crowd
Wholesome and filling oatmeal pancakes. These are a family favorite. Made with whole rolled oats, they are nutritious and yummy.

Ingredients
3

Cups

Oats

whole rolled

6

Cups

Milk

whole raw if you can get it

8

Eggs

farm fresh if possible

1

Cup

Oil

we use coconut

5

Cups

Whole Wheat Flour

4

TBS

Raw sugar

organic evaporated cane

4

TBS

Baking Powder

2

tsp

Salt
Instructions
The first step is to soak the oats. The original recipe called for quick oats, but we don't buy those, so we use whole rolled oats. I will give you an order of operations here, but don't worry if everything just gets dumped in a bowl and mixed. They will be fine!

First soak the oats in the milk in a separate bowl for 10 minutes. Preheat your griddle to about 325 degrees. In the meantime, whisk together all of the dry ingredients. After the oats have soaked, mix in the eggs and oil. Combine the wet and dry ingredients and stir well. Use a 1/4 cup measuring cup and pour your pancakes on the griddle. Flip them when the top starts to bubble and the underside is golden brown. Cook the other side, remove from the griddle, and place on a sheet pan to keep them warm in the oven while the others cook.
Butter them up, pour on a bit of maple syrup or fruit topping and enjoy!

Notes
My husband claims that you cannot mess up pancakes. I believe he may be right. I have eaten these with no oil added, or no salt. Simply by a child overlooking the ingredient or deciding that it wasn't important!
Pin for Later!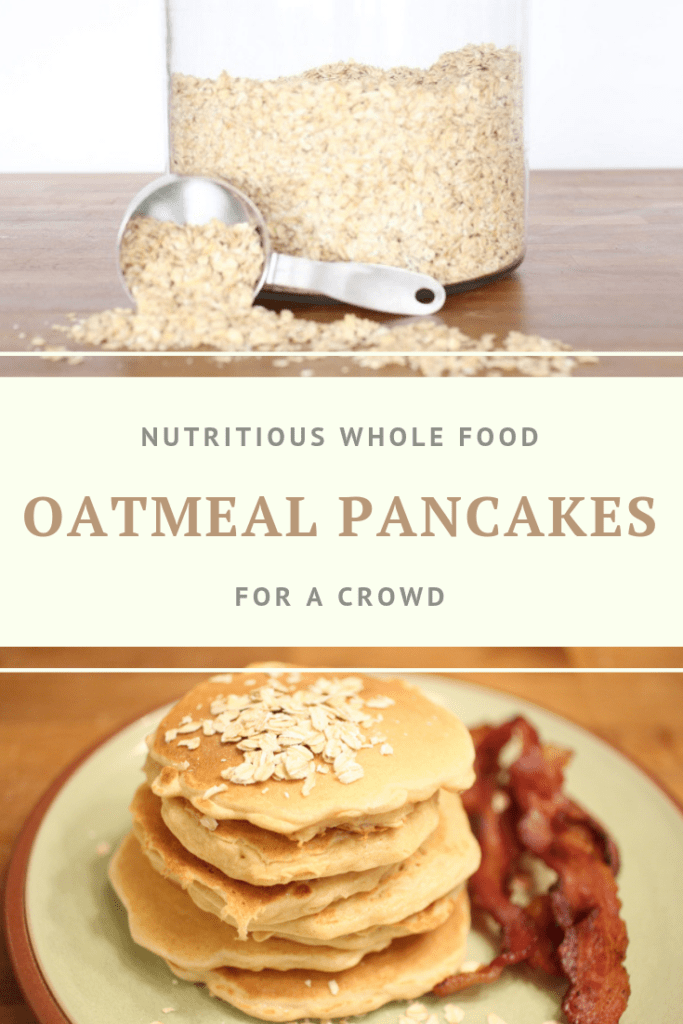 Amazon links for helpful tools


We bought this griddle a year or so ago, and have been very pleased with it…it really is big!