Sourdough Flatbread Recipe | Pita Bread
This sourdough flatbread recipe is simple to make and comes together quickly. Sourdough flatbread is versatile and will take your lunches up a notch!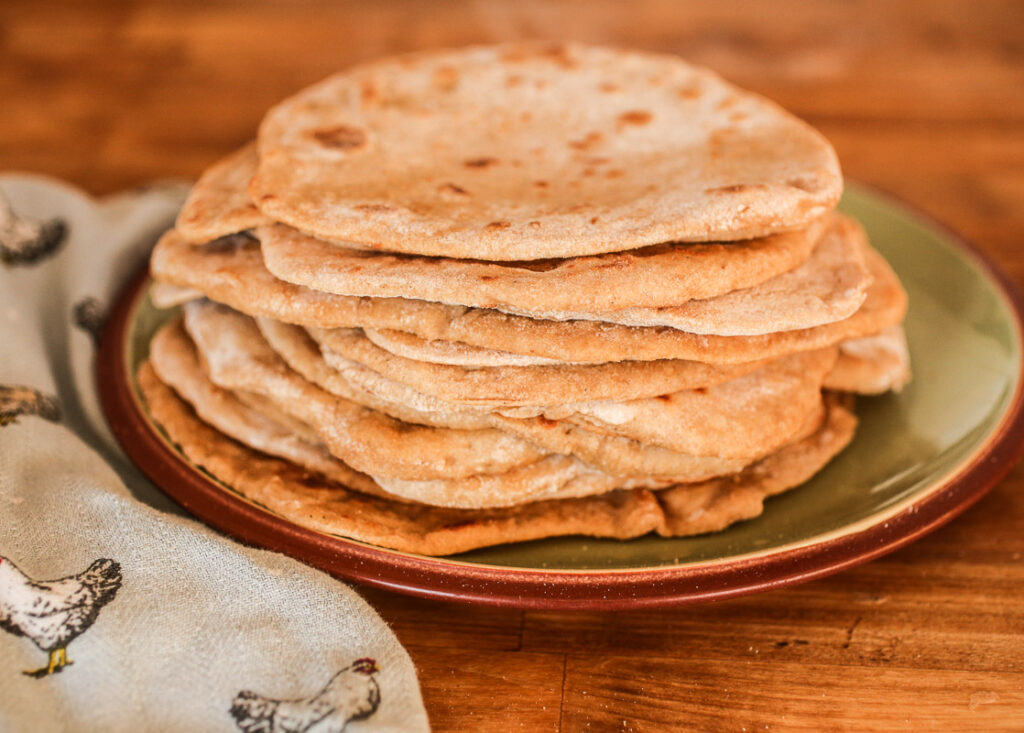 What is Flatbread?
Flatbread is one of those things that nearly every culture has it's own version of. Whether it's naan bread in India or tortillas in Mexico and Central America. This flatbread is more of a Pita Bread that you would typically see served with a Gyro. Although it is incredibly versatile and you can use it in so many ways!
How to Use Sourdough Flatbread?
We use flatbread in many different ways. Here are a few ideas for ways to eat your sourdough flatbread.
With a Gyro, this recipe from Mel at Mel's Kitchen Cafe is a good one!
Flatbread Pizza- my kids are wild about these! Simply spread pizza sauce, mozzarella cheese and the toppings of your choice on the sourdough flatbread, then place under the broiler in your oven until they are melty and golden.
Cut into triangles and use to dip in hummus or guacamole.
We love it for dipping in soup as well
Eat it plain!
A great side for curry chicken, this recipe is similar to the one I make
Use it in place of bread for a sandwich
How to Make Sourdough Flatbread
My kiddos love making flatbread. There is something fun about the process, plus it's just so tasty!
Make the dough
Using starter or starter discard, mix the ingredients and make the dough. At first, this will look like any other bread dough, maybe a bit stickier. If you find that it is too sticky, add another 1/4 cup of flour. I use wheat flour, but any all-purpose or white flour will do. Using a stand mixer, knead all the ingredients together.
Let the Dough Rise
If you are using active starter, the dough will rise quickly and easily, if you are using discard, it may take a couple of hours or more. It doesn't really need to double in size, it just needs to get a bit fluffy.
Divide the dough into Small Portions
It makes the process go a bit faster if you have several dough balls ready to roll out.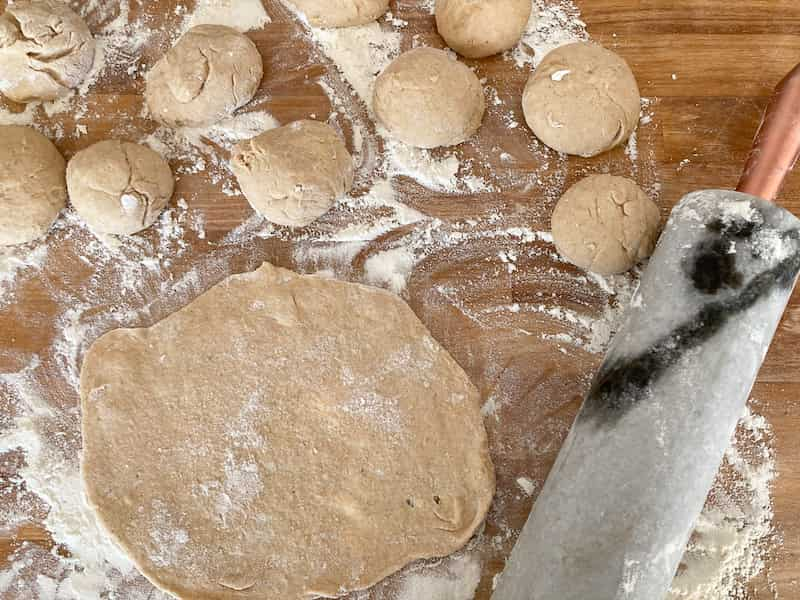 Roll the Ball into a Flat Disk
Using a rolling pin, flatten the ball into a disk or a pancake. It shouldn't be so thin that it tears, probably about 1/4″ will do.
Cook the Flatbread
Place the flattened disk on a hot cast-iron skillet or griddle that has been greased with butter, olive oil, or whatever you like to use. When you cook the first side it should bubble up like a pancake only with larger bubbles. When it starts to bubble and when the underside begins to brown nicely, it is ready to flip. Usually just a few minutes. Flip it over and cook the other side.
Serve and enjoy!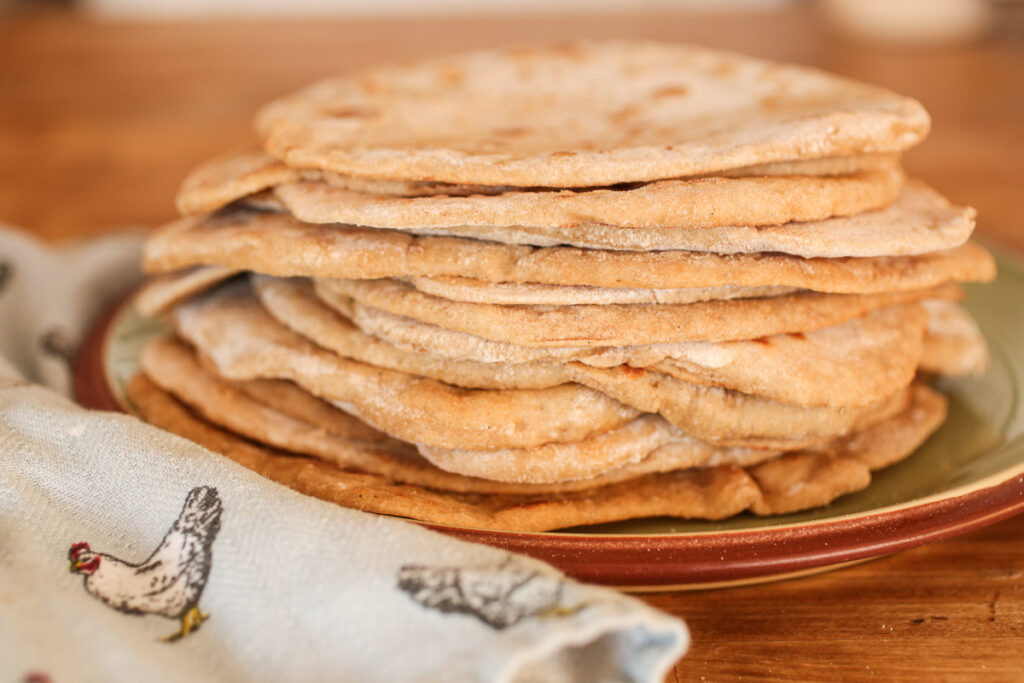 How Long Can you Store the Sourdough Flatbread?
You can place leftover flatbread in a zipper bag and store it for up to five days at room temperature. You could also make up a huge batch of flatbread and freeze it. Then you can pull it out and heat it up in a cast-iron skillet for a bit. You could also heat it up in the oven at a low temperature.
Printable Recipe Card for Sourdough Pita Flatbread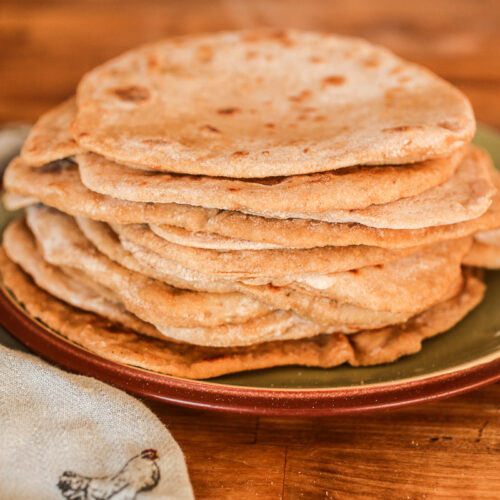 Sourdough Flatbread | Pita Bread
A quick recipe for sourdough flatbread, can be made with sourdough discard or active sourdough starter.
Ingredients
1

Cup

Starter or Discard

2¼

Cups

Flour

May need up to ¼ cup more if the dough feels too sticky

1

TBS

Olive Oil

½

Cup

Milk

1

tsp

sugar or sweetener of choice

½

Cup

water

½

tsp

Garlic Salt or plain salt

butter or olive oil for greasing the skillet
Instructions
Mix all ingredients together in a stand mixer using the dough hook. If you do not have a stand mixer, you can mix by hand and knead by hand as well.

Grease a bowl and set the dough in a warm spot to rise for about 2 hours. The dough may not double in size but it should get fluffy.

After the dough has risen, divide the dough into small balls. Heat a griddle or cast-iron skillet to medium-high heat.

Roll the balls two or three at a time into a flat disk, about ¼" thick. Grease the pan or skillet with butter cook the flattened disks until it starts to bubble up, similar to what you look for on pancakes. When the bottom side gets nice and brown and when there are bubbles on top, you are ready to flip and cook on the other side. Just a few minutes for each side.

Once both sides are brown and bubbly, your flatbread is ready! Enjoy!

Note: For whatever reason, it seems that the first one I cook doesn't bubble as well as the following ones. Maybe the skillet isn't hot enough at first, I am telling you this so that if you have a similar situation, don't think you have failed, just keep going!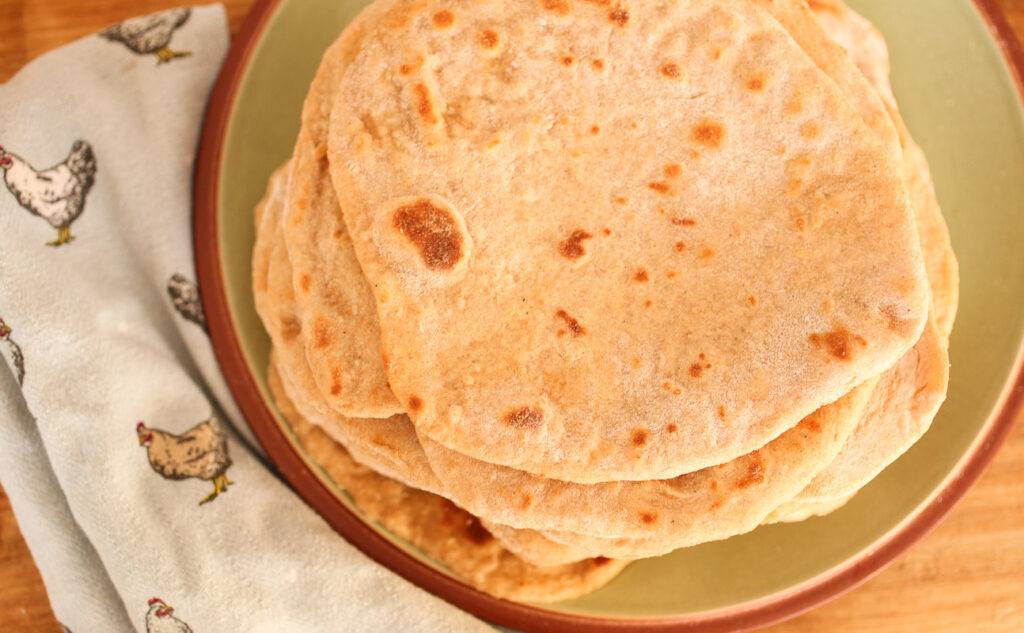 Love Sourdough Recipes? Here are a Few More!
Whole Wheat Sourdough Sandwich Bread Recipe
Crusty Sourdough Whole Wheat Rolls | Easy Crusty Rolls Recipe
5 Best Beginner Sourdough Bread Recipes
Sourdough Starter Recipe | Simple Easy Sourdough Starter Step by Step
Need Help With Meal Planning?
Check out my shop for printable planners to help with all things homemaking!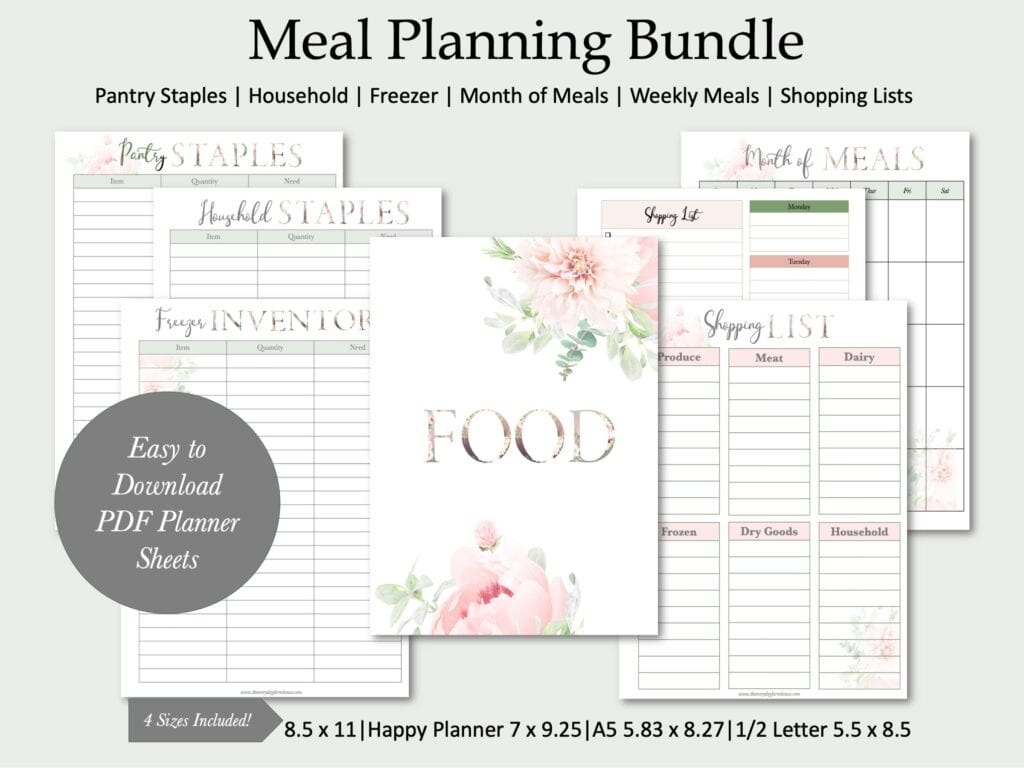 Pin to Your Sourdough Board!