Whole Wheat Sourdough Sandwich Bread Recipe
Whole wheat sourdough sandwich bread is hearty, healthy, and delicious. A simple recipe that can come together in one day. No overnight rise is required.
This post contains affiliate links.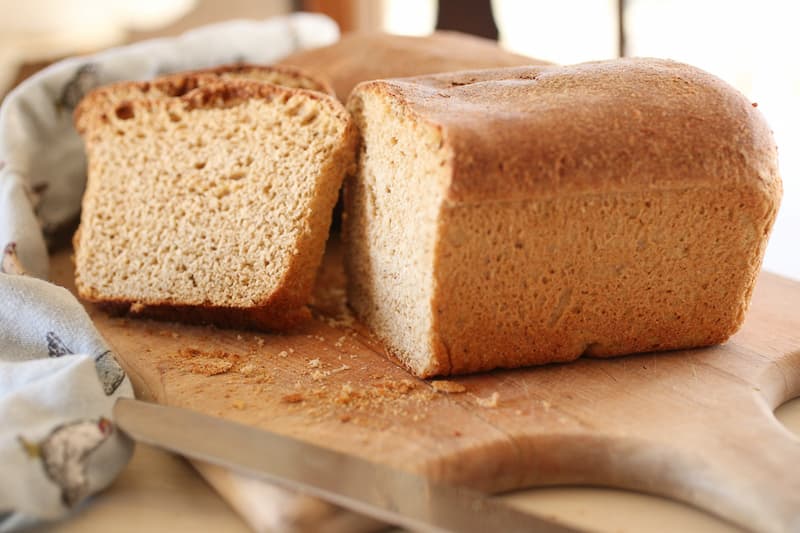 Recipe Card for Wheat Sourdough Sandwich Bread
This is the flour that I use. I get a lot of questions about it. Of course, you can likely find it cheaper somewhere else, I am just sharing this so that you can see what it looks like.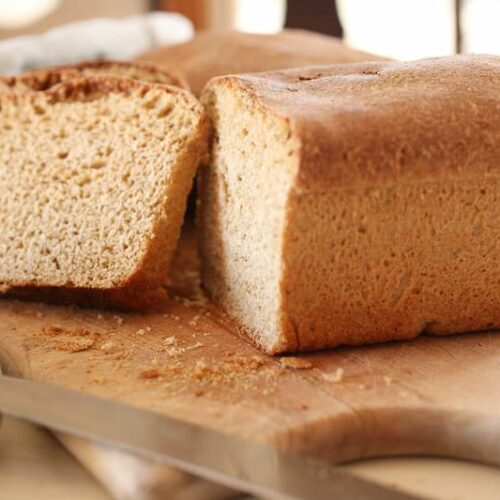 Whole Wheat Sourdough Sandwich Bread
A hearty, healthy, and delicious sourdough bread. Comes together in one day.
Equipment
Stand Mixer

Helpful, but not required
Ingredients
1½

Cup

Sourdough Starter

Active, mature and bubbly

6

Cups

Whole Wheat Flour

I use Prairie Gold, it is a fine, light flour. If your wheat flour is coarse, use half white flour as well.

½

Cup

Milk

4

TBS

Honey or Brown Sugar

3

tsp

Salt

4

TBS

Melted Butter or Oil

1¼

Cups

Water

2

eggs
Instructions
Mix the sourdough starter, flour, milk, honey, salt, butter, water, and eggs. Using the dough hook, mix the ingredients until combined. After fully combined let the dough rest for 10 minutes.

Next, knead the dough for approximately five minutes until the dough is fairly smooth and not sticky.

Grease the bowl around the dough, and place it in a warm area to rise for 3-4 hours. It should get puffy and nearly double in size.

After the dough has risen, cut it into two pieces and shape into loaves. Place in greased bread pans and allow to rise again in a warm spot for 3-4 hours. (If you need more time, you can put the loaves in the fridge overnight for the second rise).

After the second rise, preheat the oven to 350°. You can gently rub the tops of the loaves with flour and place them in the oven. Bake for 30 minutes or until nice and golden brown.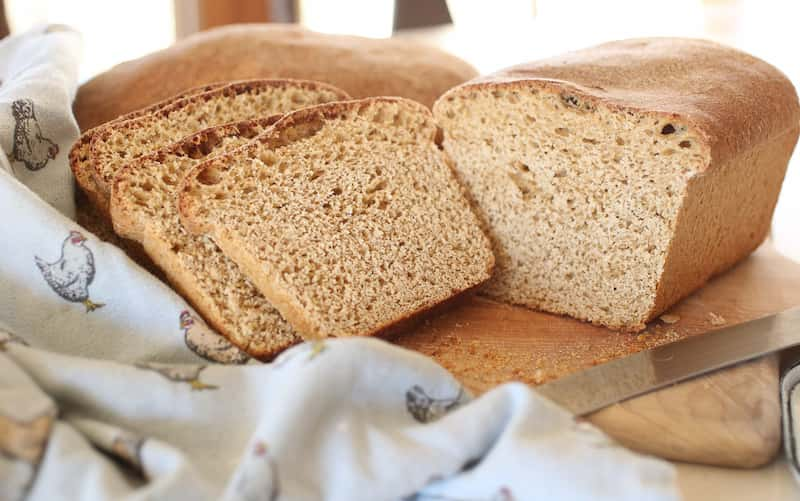 Make Your Dough
The dough behaves more like a yeast dough than a sourdough dough. It is fairly stiff and not very wet, it is a relatively dry dough.
Start in the morning with an active bubbly starter, either feed it early in the morning or the night before. It should have been fed 4-8 hours prior to use for the best activity.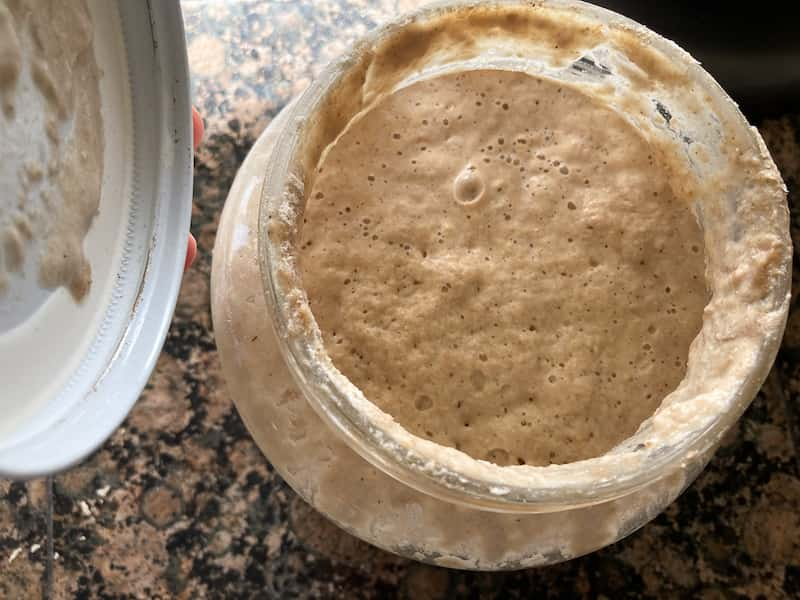 Next, add all of the ingredients to the bowl of a stand mixer. While a stand mixer is not essential, it sure makes bread-making and all baking easier. If you are on the fence about whether it is worth the investment, I wholeheartedly say yes! It is worth it! This is the one I have.
You can of course mix by hand or you can use a bread machine for the mixing part if you have one of those.
I simply put all of the ingredients in the bowl and using the bread hook I start mixing. After the ingredients are incorporated, I let it rest for 10 minutes.
After the 10 minute rest, I turn the mixer on about two and let it knead the dough for close to five minutes.
Once the dough is kneaded, you can grease the mixing bowl a bit and let it do its first rise in it. If you can find a nice warm spot, the first rise should take 3-4 hours. The dough should get quite puffy, close to double in size.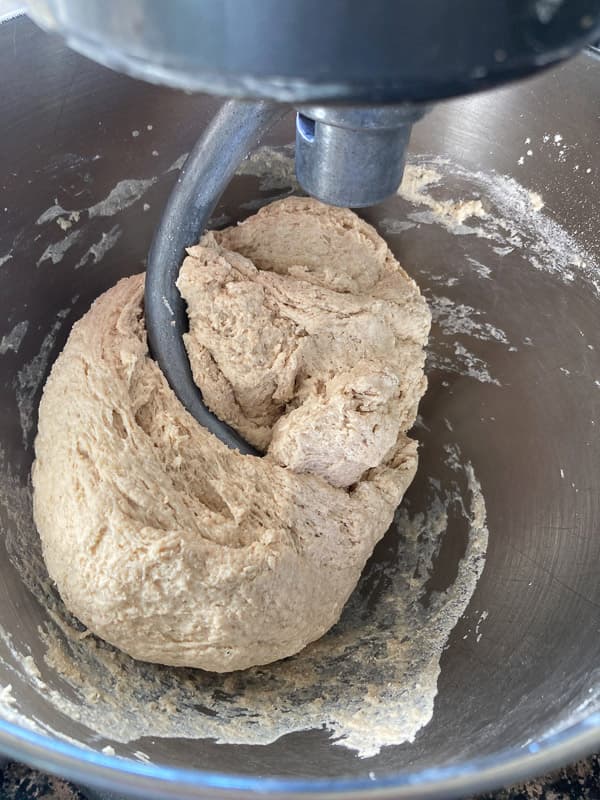 Shape the Dough and Let Rise
After the first rise, split the dough in half using a sharp knife or a bench scraper. Shape each portion into a loaf. Try to tuck the seam up on the underside. Place in a greased loaf pan and let rise in a warm spot for another 3-4 hours. I put mine near the woodstove and it rises perfectly.
You can then dust the top with flour to give it a professional bakery look, or you can totally forget to do that as I did. Bake at 350 degrees for about 30 minutes or until nice and golden.
Remove from the oven leave in the bread pan for no more than five minutes, then remove to a cooling rack. Enjoy! This wheat sourdough sandwich bread makes excellent toast!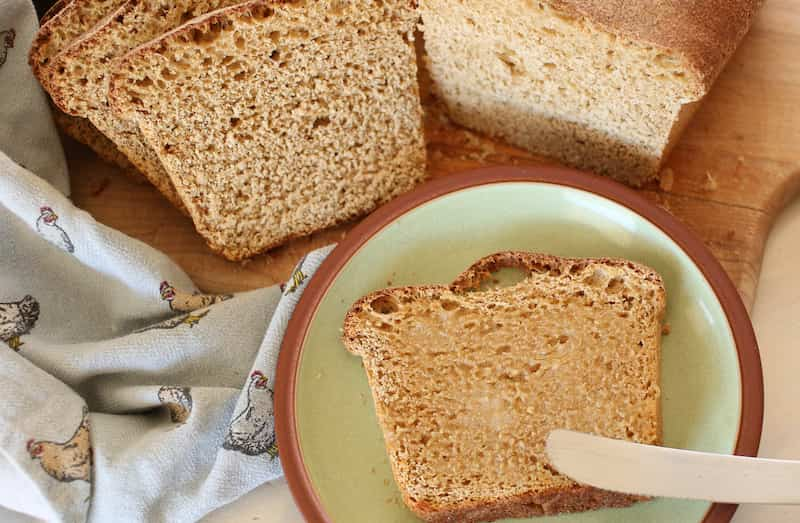 Helpful Tools

Want More Sourdough Recipes?
Crusty Sourdough Whole Wheat Rolls | Easy Crusty Rolls Recipe
5 Best Beginner Sourdough Bread Recipes
How to Reactivate a Dried Sourdough Starter
Did You Know We Have a Shop?
The sweetest aprons, kitchen towels, and planners are in my shop!
Pin to Your Sourdough Board