Handmade Farmhouse Chargers and Napkin Rings
This post was done in collaboration with Surebonder, all ideas and opinions are my own.
I am a fan of fancy, or I guess I should say extraordinary! I like to make everyday things special. Pretty tables are my favorite, right after a white couch with lots of handmade pillows. Making ordinary things pretty puts a smile on my face, and I think helps me to be a more cheerful Mama. However, setting a pretty table can cost a pretty penny right? Depending on how long you have been reading my blog, there is something you may not know about my life…are you ready? I have ten children! Yikes! Right? So, for me even "affordable" plate chargers and napkin rings can add up quickly.
I have seen some chargers that I really love, for only $6 a piece. Not too bad until you multiply that by 12! No can do. So, what is a lover of pretty tables to do? Stay with me, I have the answer!
Let's get started!
To begin, head to the dollar store…what? I know, it doesn't sound like the place to get the classy table you have envisioned, but bear with me! Think of these items as your base for making handmade farmhouse chargers.
1: Dollar Tree chargers. They always have these. It doesn't matter what color, and guess what? They are only….$1!
2: Dollar Tree Napkin Rings. these come in a package of 6 for…you guessed it! $1!!
You will also need Bonnie Cord. I get this at Hobby Lobby, and if it is not on sale, I use my 40% coupon. This comes in a 100 yd roll, and the color I chose was Pearl. It's $8.99 minus the 40% which makes it about $5.40 for a roll. I used an entire roll, plus a little bit more for 12 chargers and 12 napkin rings.
So that brings our total for supplies to around 25! That I can do!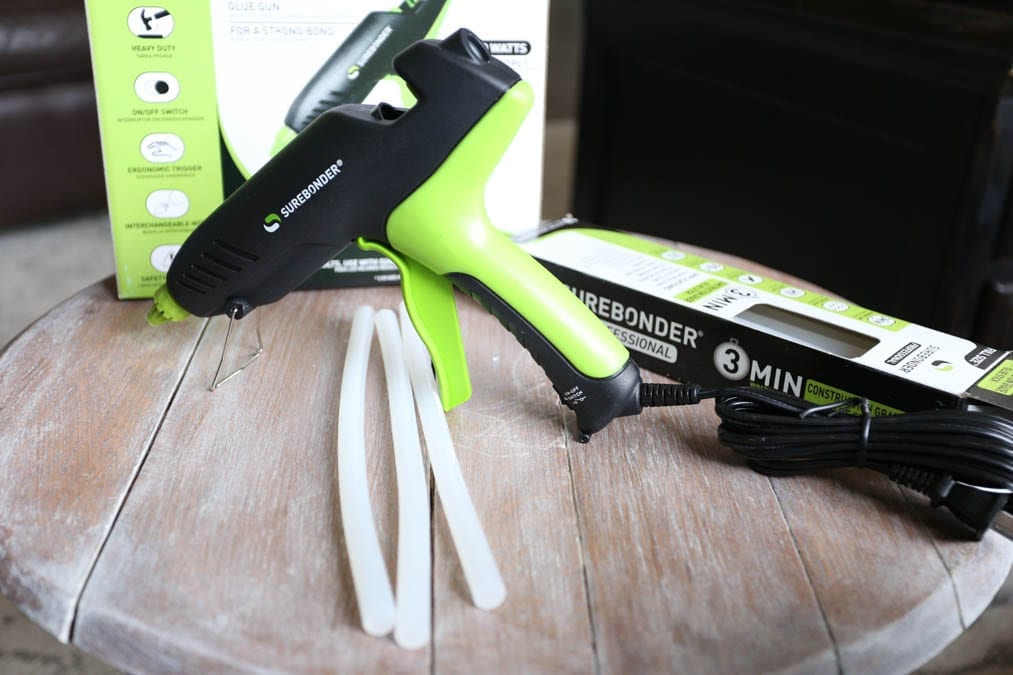 Next, arm yourself with a good hot glue gun. I am a huge fan of hot glue, as I have made so many things with it! But can I tell you something? I have never had a good hot glue gun before, I didn't really know there was a difference! I have always just used my grandma's old mini glue gun, even making a huge cornucopia with that tiny little thing. It took forever, and I was constantly feeding it new glue sticks. Now, however, I am enlightened! A good tool makes all the difference in the enjoyment of the process! I'll tell you more about it in the instructions.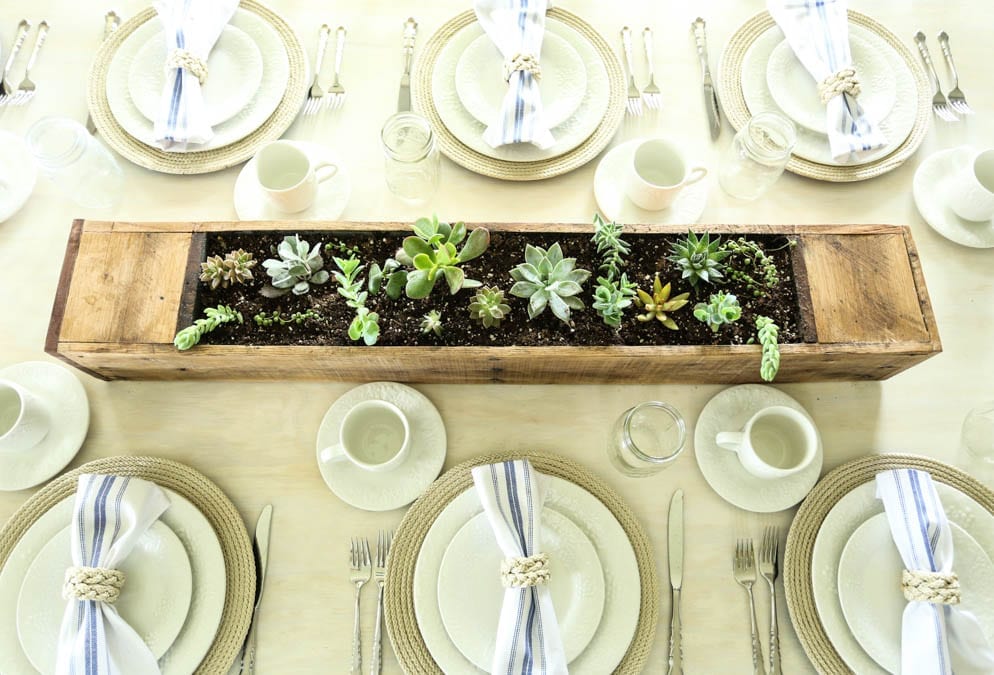 This is truly a simple project with a very rewarding result! Isn't that what we all love? In this tutorial, I will give you a few tips to make the process smooth and to give you the best finished results.
Let's Start with the Chargers Step 1:
The Surebonder glue gun can use 1 minute glue, or 3 minute glue. This refers to the amount of time you have to work before the glue sets. For the chargers, I used the 3 minute glue. This was so nice, because I had time to readjust and slide the cording around if I had any flaws. Plus you can then put down a nice long bead and it won't dry right away.
I started by putting a nice generous drop of glue on the charger, and then held the cord in place. Pretty simple. Then you just begin wrapping the cord around, gluing and pressing it together as you go.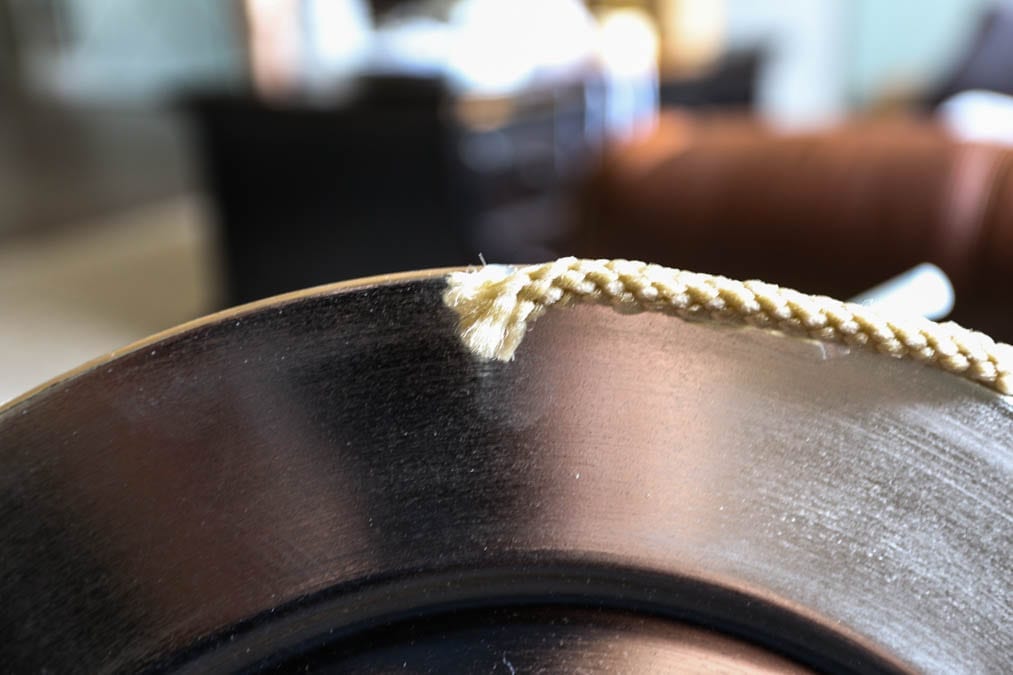 Try to position the cording around the edge of the plate, so that it hangs over a bit and is visible from the back of the plate. This just ensures that the plate underneath doesn't show.
You can see in this picture how it is sticking off the back a bit.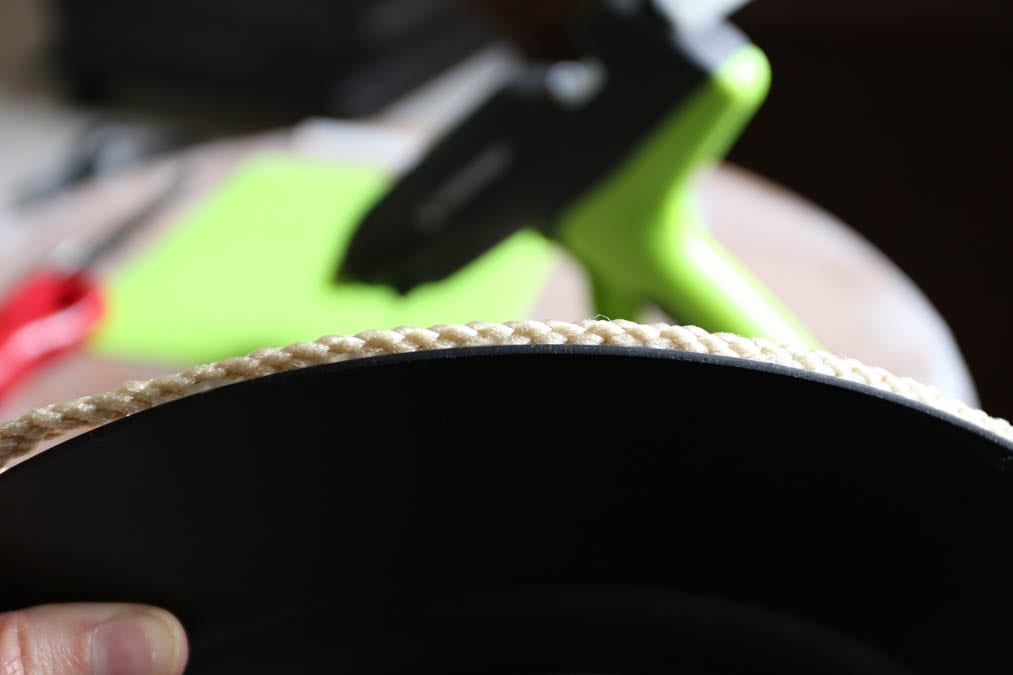 When you get around the plate one time, simply wrap the cording over the starting point and smoosh it in place with your finger.
Step 2:
After that, just continue putting down a bead of glue and wrapping the cord around, push it close to the previous row to prevent any gaps where the shiny charger may show through.
To finish your handmade farmhouse chargers, glue the end down and push it with your finger so that it stays in place and doesn't fray. Push it up into the previous row so that it looks smooth. This part will not show when your plate is on it anyway.
Napkin Rings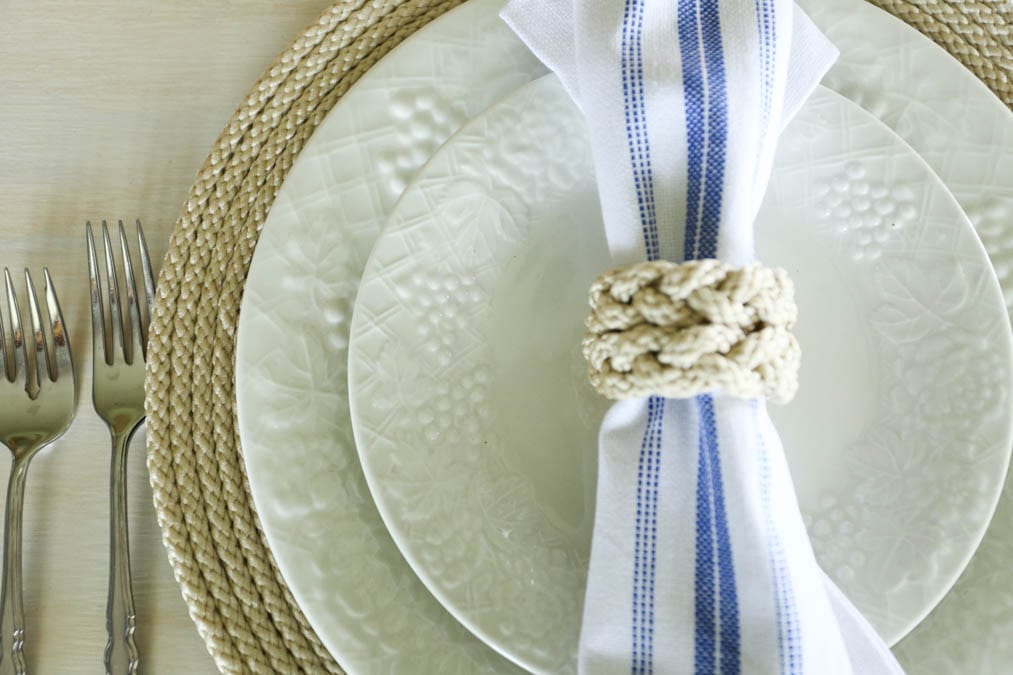 Now for the napkin rings! Start by cutting three strands of cord. 18" worked well. Using a lighter, fuse the three ends together.
For the napkin rings, I used the 1 minute glue. I didn't need the extra time to work, and I wanted it to stay in place faster. The braid will wrap around twice. Glue it over the edge of the napkin ring so that the silver doesn't show at all.
To finish, just glue the fused end on the outside of the ring. That part will be on the bottom when you set the table.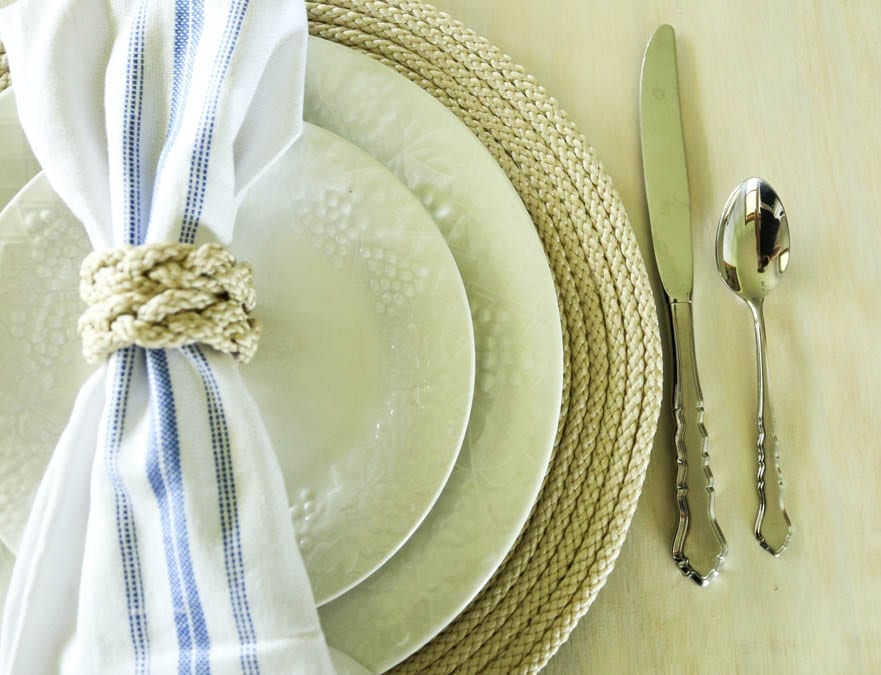 That's it! Super easy and I think it looks so nice! You could go farmhouse, or coastal with this! There you have it! Handmade Farmhouse Chargers and Napkin Rings.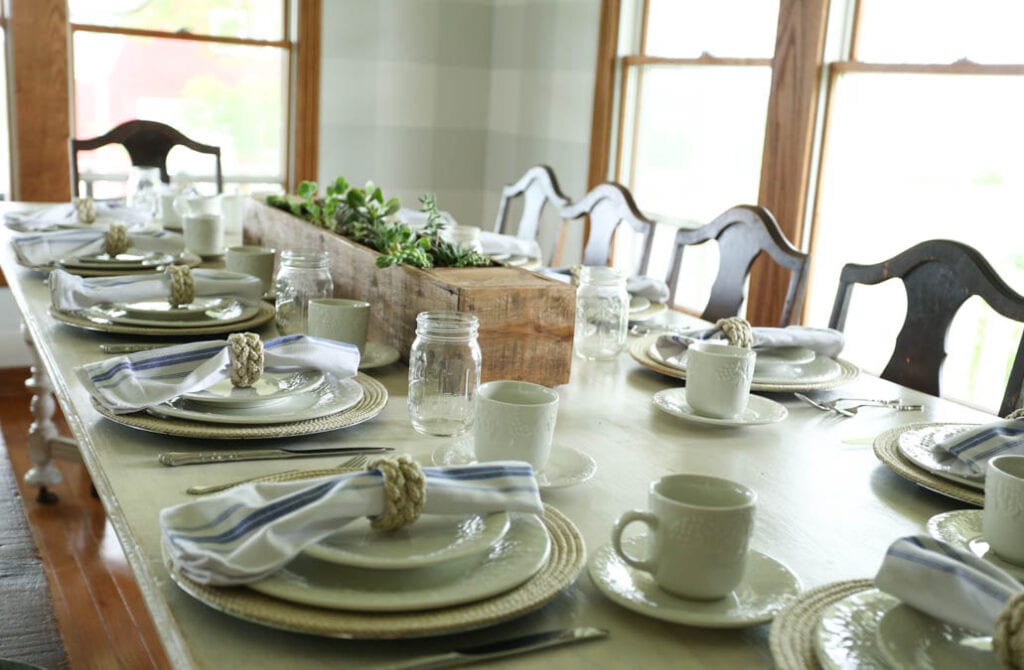 Pin and Share