Healthy Strawberry Ice Cream Recipe
Healthy Strawberry Ice Cream Recipe with raw milk, cream, and strawberries, sweetened with your choice of sweetener this might be your new favorite treat!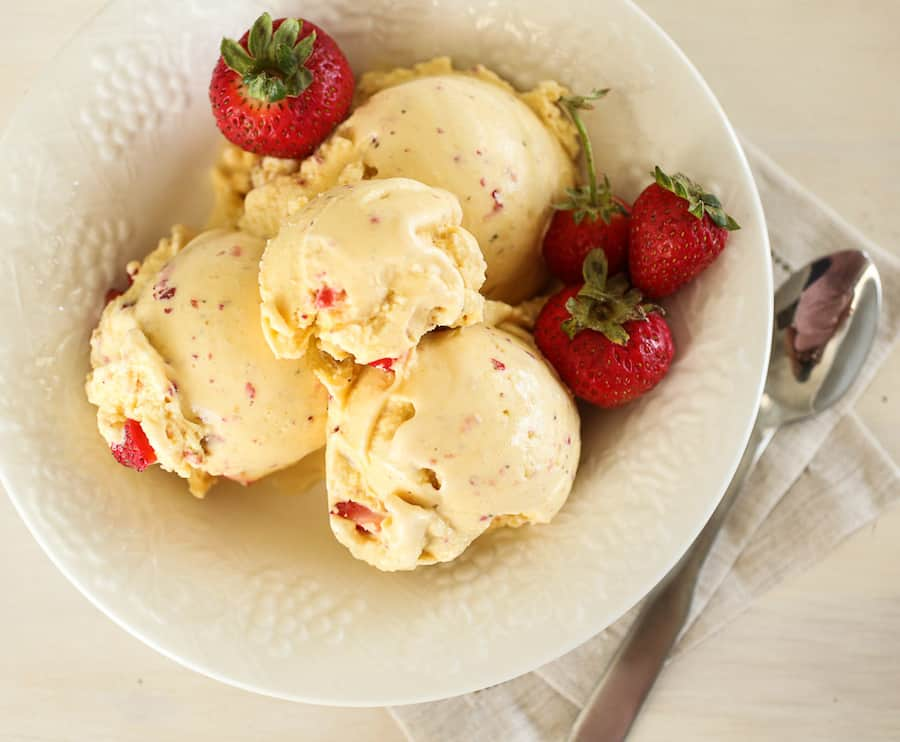 What Makes This a Healthier Ice Cream?
I hesitate to say healthy ice cream because this is still sweetened however, it has much less sweetener than storebought. In addition, you can choose the sweetener you prefer and of course, the amount.
This strawberry ice cream is also made with fresh ingredients. I use raw milk and cream and fresh strawberries.
This ice cream is not pink like store-bought strawberry ice cream! It is actually kind of a yellowish-gold color. That is from the pastured egg yolks! So, it might not be the prettiest ice cream but no one will care when they taste it!
Healthier Sweetener Options for Homemade Ice Cream
Organic Evaporated Cane Sugar
Coconut sugar
Maple Syrup
Honey
Agave Nectar
Stevia
Dates (soak 8 oz of dates in the milk overnight and then blend)
Monk Fruit
1 Cup Pureed Banana
Ingredients for Healthy Strawberry Ice Cream
We have a milk cow and chickens. I am 100% comfortable using raw milk and raw eggs. I know the ingredients are fresh and not contaminated. If you do not have that luxury, please source the freshest ingredients possible. I love using the raw ingredients as I know all of the natural enzymes are still present.
**If you are not comfortable using raw eggs, or if you cannot source fresh ingredients, you may want to cook this recipe. Essentially you would heat all of the ingredients minus the eggs and vanilla then add a bit of the warm mixture to the eggs to temper them. Once tempered you would add that all back in the pan and cook for about 2 minutes. Lastly, add the vanilla and then chill overnight.
2 cups fresh strawberries, 1/2 cup reserved and chopped for adding towards the end.
2 Cups cream
1/2 cup raw milk
8 egg yolks (farm fresh is the safest)
1/4-1/2 cup sweetener (your choice)
1/2 tsp vanilla
Favorite Ice Cream Maker
I went with Cuisinart because I had seen several people recommend them and honestly they seem to have the most options! I love that you don't have to use rock salt and ice and make a big mess. By the time I bought ice and rock salt, I wasn't sure it was all that economical.
The main drawback with the countertop ice cream makers is that they only make 2 quarts. This is a problem for our large family. The answer is to have an extra freezer bowl, that way you can make a batch and then quickly make another one. It only takes 15-25 minutes to make! I have really enjoyed using it!
Cuisinart ICE 60 Gelateria, I've heard this one is good too, and it's cheaper. I bought the one I did only because it was white!
If you don't mind the rock salt and ice process, I have this ice cream maker and it makes a nice large amount!
Can You Make Homemade Ice Cream without an Ice Cream Maker?
You actually can. I used to use this method back when I was a young mom and we had no extra money. Simply put the blended milk and cream mixture in a shallow baking dish. Place it in the freezer and stir it scraping down the sides every 30 minutes or so for the first few hours. Then let it firm up in the freezer for about 8 hours.
Steps for Making Healthy Strawberry Ice Cream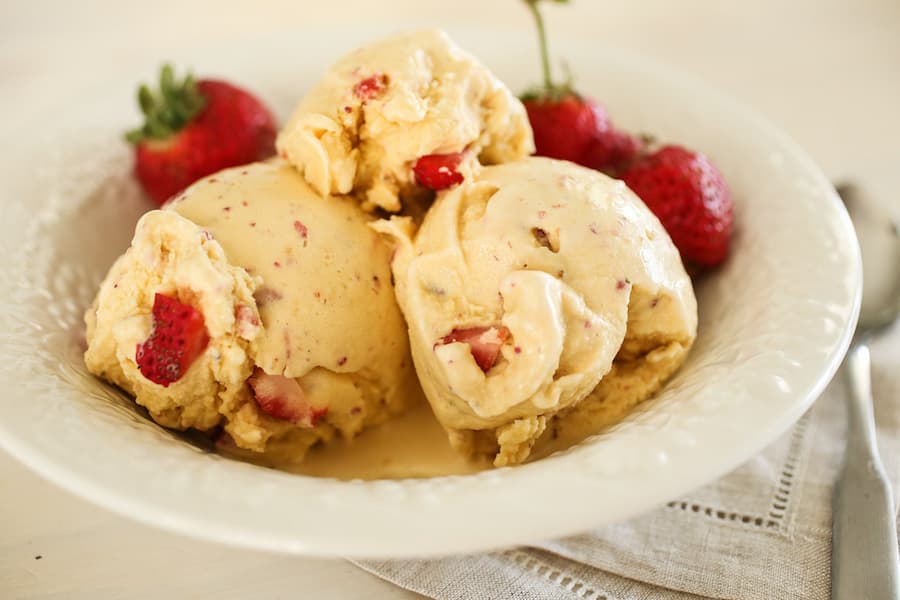 Make sure your ice cream maker bowl is frozen.
A blender is not essential for this but quite helpful. Simply place all of the ingredients minus the 1/2 cup of strawberries in the blender. Blend until just combined.
Remove your ice cream bowl from the freezer and set up your ice cream maker. Pour the blended ingredients into the bowl and follow the manufacturer's instructions for freezing. When the ice cream starts to set up open the little top and add in the remaining 1/2 cup chopped strawberries. This makes a nice addition as you'll have some yummy little chunks of strawberries! The Cuisinart really only takes about 15 minutes!
Enjoy your ice cream fresh from the machine. It will be more of a soft serve consistency at the top and a little more solid towards the bottom. I prefer a softer ice cream so we usually enjoy it fresh. If you want it to be harder, just place it in the freezer in a freezer-safe container and enjoy it a few hours later.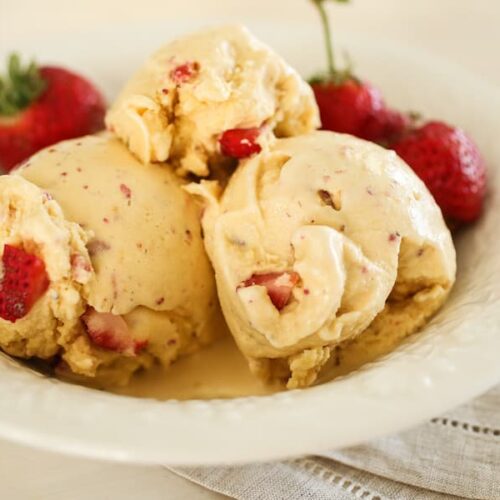 Healthy Strawberry Ice Cream
Made with fresh milk, cream, strawberries, and eggs this creamy treat will be a favorite. Sweeten however you like.
Equipment
1 Ice Cream Maker

1 Blender
Ingredients
2

Cups

Fresh strawberries or frozen will work

½ cup reserved for later

2

Cups

Fresh Cream

½

Cup

Fresh Milk

¼-½

Cup

Sweetener of Choice

I use evaporated cane juice, but maple syrup, raw sugar, sucanat, dates or whatever you like can be used. You can even use a cup of pureed banana to sweeten it.

8

egg yolks

Fresh eggs are safest

½

tsp

vanilla extract
Instructions
Blend all ingredients minus ½ cup of strawberries. Pour into the frozen bowl of the ice cream maker. Let it churn for the amount of time set by the manufacturer. When the ice cream starts to thicken, add in the ½ cup of chopped strawberries. Wait until the ice cream is thick and creamy.

Remove from the ice cream maker and enjoy!