Peach Overnight Oats | Refrigerator Oatmeal Easy Breakfast
Peach overnight oats make a nutritious and easy breakfast for any morning! Follow the simple instructions for a crowd-pleasing breakfast!
Disclosure: Any information given is my opinion formed through my own research. This information is not meant to diagnose, treat, prevent or cure any illness. Please do your own research regarding your health as you are responsible for your own decisions.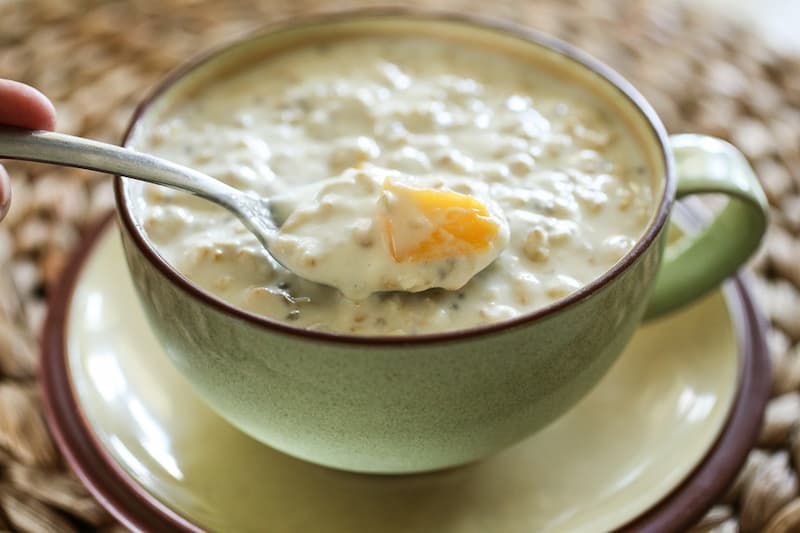 This post contains affiliate links
What are overnight oats?
Simply put, overnight oatmeal is make-ahead cold oatmeal with yogurt, rolled oats, fruit, and whatever else you would like to add.
Soaking the oats overnight or for several hours softens them just as cooking would. Soaking the oats also unlocks some great health benefits!
While cold oats may sound strange, you might be surprised at how tasty they are!
The Benefits of Soaking Oats Overnight
Rolled oats contain phytic acid which can be hard to digest. If you find that you feel bloated and uncomfortable after you eat cooked oats, you may be feeling the effects of the starch and phytic acid not breaking down. I notice this when I eat oatmeal cookies, my suspicion is that baking the cookies does not break down the phytic acid as well as boiling, soaking, or pressure cooking the oats.
When you soak oats, you are breaking down the acid and helping your body to be able to better digest the oats, but also absorb the nutrition in the oats!
What Nutrients do Oats Contain?
iron
potassium
fiber
zinc
magnesium
Our gut loves resistant starch which is found in oatmeal! Resistant starch is a fermentable fiber that feeds the healthy bacteria in our large intestine! Who doesn't want to feed their gut good bacteria? Resistant starches also don't release glucose which means they don't trigger that insulin response.
As a result, soaked oats benefit gut health, help to regulate blood sugar, helps you to absorb minerals, and helps you to feel full.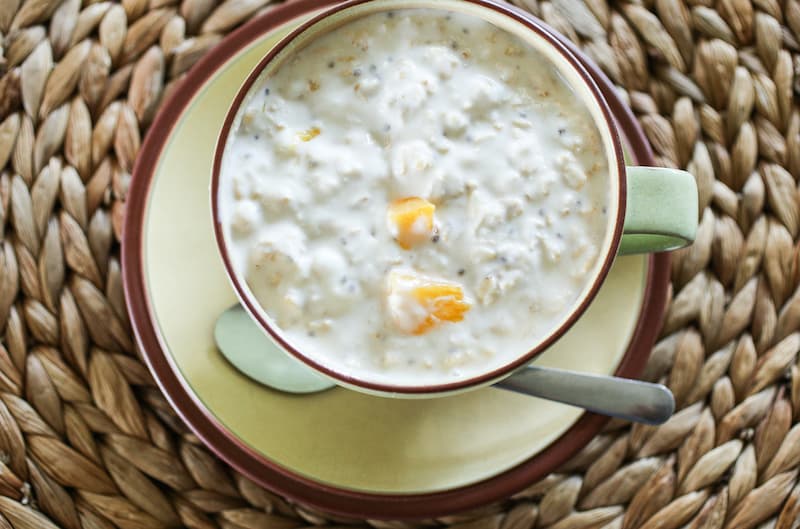 How to Make Refrigerator Oatmeal
Ingredients for Peach Overnight Oats
This is just done in equal parts of yogurt, milk, and oats no matter the quantity you are making.
1/3 part yogurt (plain whole milk yogurt)
1/3 part milk
1/3 part rolled oats
Peaches canned, jarred, or fresh
Chia Seeds
Sweetener (optional)
Other Great Options for Overnight Oats
Cinnamon, cloves, or other spices
Blueberries (we make it with blueberries frequently)
Strawberries
Bananas
Apples
Nuts
We have a big family, so this is how I make peach overnight oats. I make raw milk yogurt in the instant pot. This is the instant pot that I use…I have three! Usually a half gallon or so. Put your yogurt in a large lidded container or glass bowl. Then I add 8-10 cups of rolled oats. Next, I pour in about a half gallon of raw milk. I open a can of peaches (canned in juice, not syrup), and using kitchen shears I cut the peaches up while still in the can or jar, if it's a big can I use the whole thing, if I only have small cans I use two. Then I dump the whole can including the juice into the pot. I also add about 1/2 cup chia seeds and 1/4 cup organic evaporated cane sugar.
Lastly, stir it all up, put a lid on or cover your container with beeswax wrap. Let it sit overnight in the fridge.
The next morning enjoy your yummy and nutritious peach overnight oats!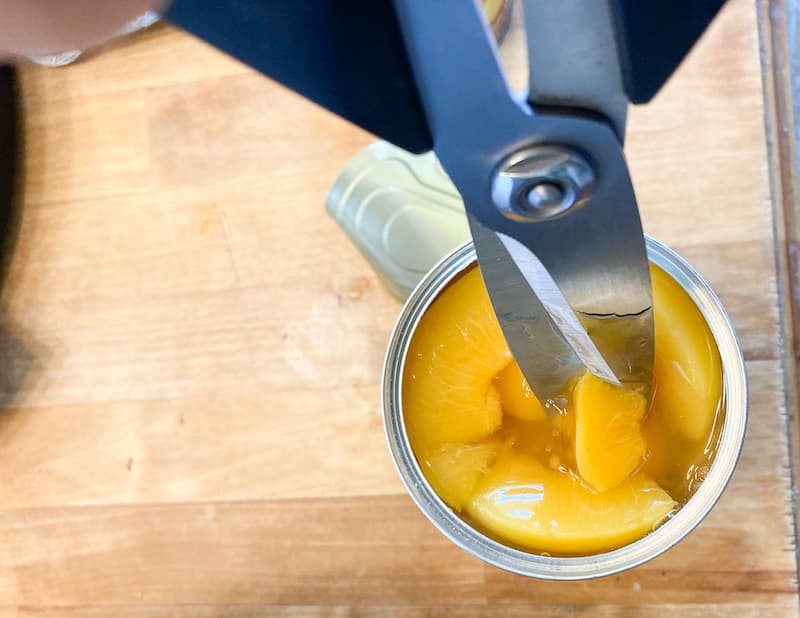 Can You Eat Overnight Oats Hot?
Well, of course, you can do whatever you want with these oats! I remember sharing this recipe with an older friend many years ago. She would make a big batch of this and then heat up a bowl for her husband every morning.
We prefer this cold and I have honestly never heated it up! Warm yogurt doesn't appeal to me! However, if cold oats sound strange feel free to heat them up!
How Long Do Refrigerator Oats Last in the Fridge?
We make a big batch on Sunday and eat it all week. I can safely say that a week in the fridge is good. Perhaps even longer depending on your source of yogurt and milk. If you are using older milk from the store, five days may be as long as it keeps.
This isn't exactly a recipe, more of an outline for how to make overnight oats. We make ours in a big batch and just scoop out of it all week. Sometimes for breakfast, sometimes for an afternoon snack. Many people make this in individual serving sizes placed in mason jars. While this is cute and easy for breakfast on the go, it doesn't fit our life very well. Plus I don't like having all of my jars tied up with oats.
That's it! Does your family like overnight oats? If so, what are your favorite ingredients?
Let's Be Homemaking Friends!