Farmhouse Blanket Ladder DIY Free Detailed Instructions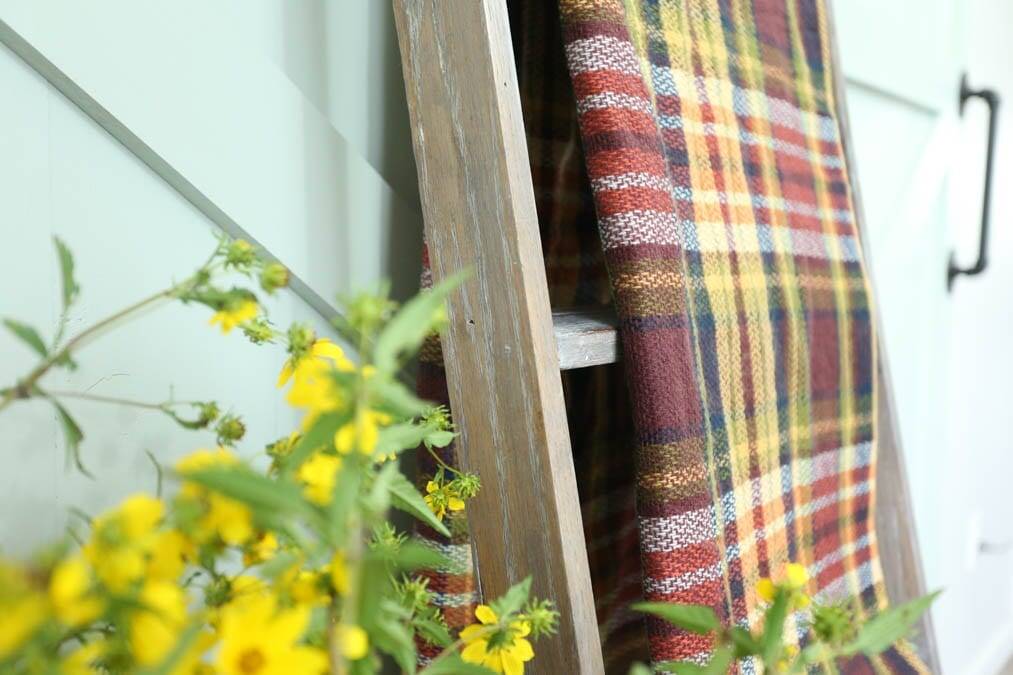 A Farmhouse Blanket ladder is simple to make even with beginner woodworking skills. This DIY blanket ladder adds so much character to your space, you may want to make more than one!
This post may contain affiliate links
How to Make a Farmhouse Blanket Ladder
Have you seen these blanket ladders all over the place? I have been noticing them for years. They are so perfect for storing those extra throws that you may have out this time of year. I usually keep throws in a basket, but that takes up precious floor space. These are great if space is limited.
I couldn't help but notice the price on these ladders! Yikes! Having that DIY spirit, I knew we could make one for cheap or better yet FREE!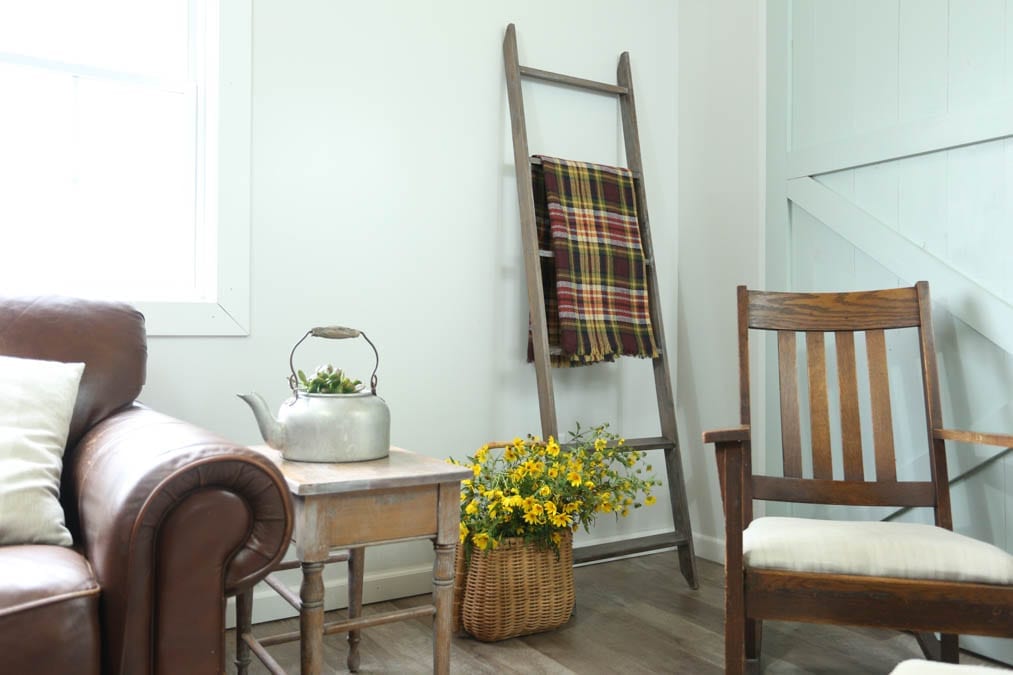 Blanket Ladder Detailed Instructions
Step 1: Gather materials for the DIY Blanket Ladder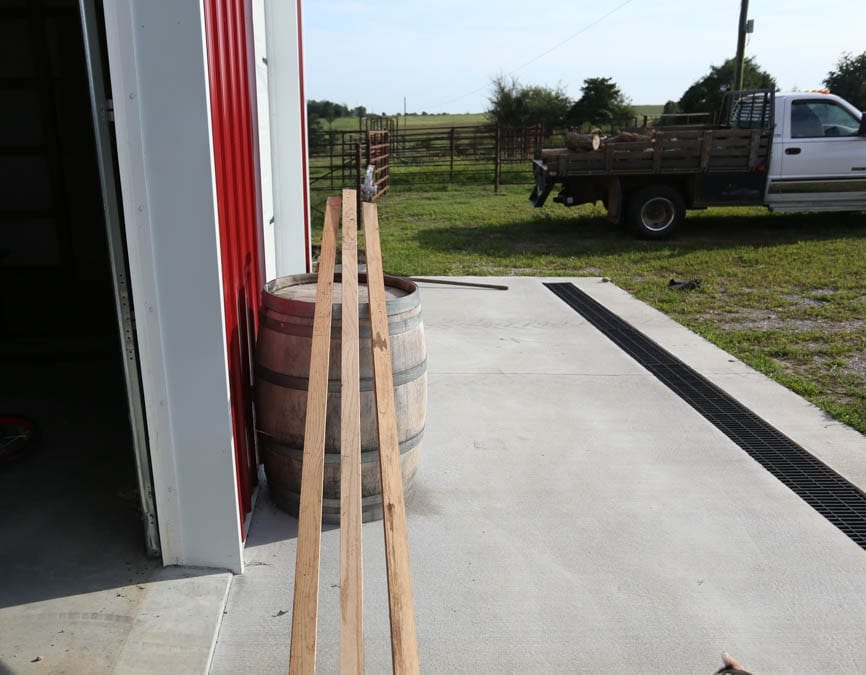 As always you need to gather your materials. For this project I shopped our garage. I was lucky enough to find three 10 ft long 1×2 oak boards! I am not sure what they were left over from, but there they were!! If you don't have a surprise in your stash like that, you could use pine and make these for cheap!
You will need a saw, or you could have your boards cut to size at the lumber store.
You will need either screws or nails to attach the boards together.
Wood glue is also helpful for making it more rigid.
Step 2: Figure Dimensions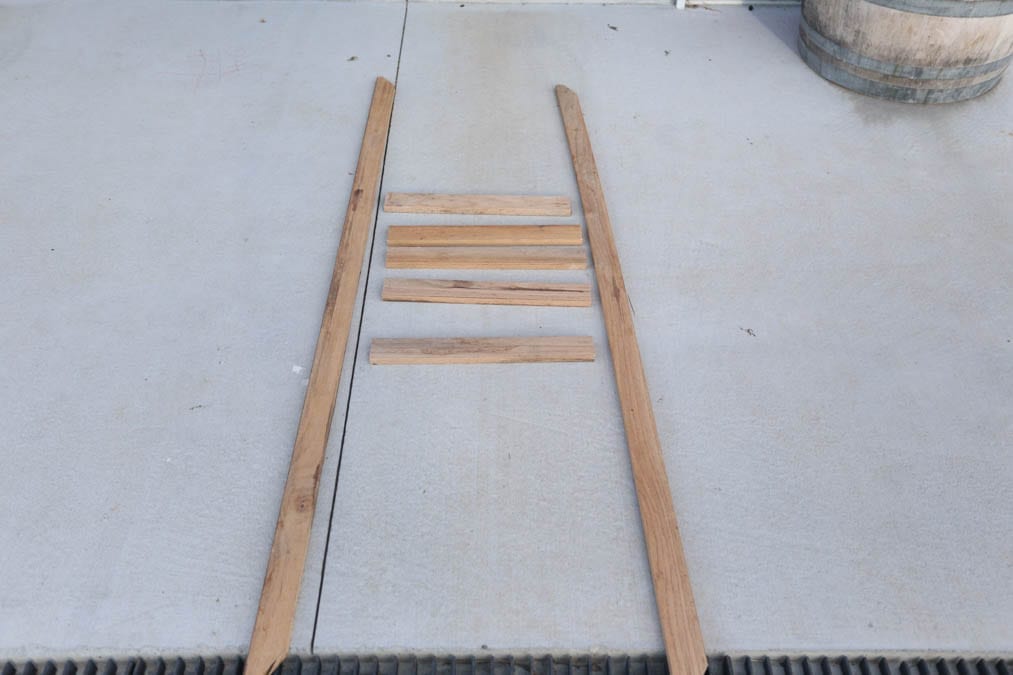 Of course you can make this whatever size you like. I will share my dimensions with you. I decided to make it 6 feet tall. 18″ wide and 12″ between each rung. The space at the top and bottom is around 6″.
That means I cut the side boards to 6′, then I cut six boards to 18″.
Step 3: Cut the Boards
Now you need to measure and mark your boards. Using a mitre saw, you can easily cut the boards to size.
Angled tops and bottoms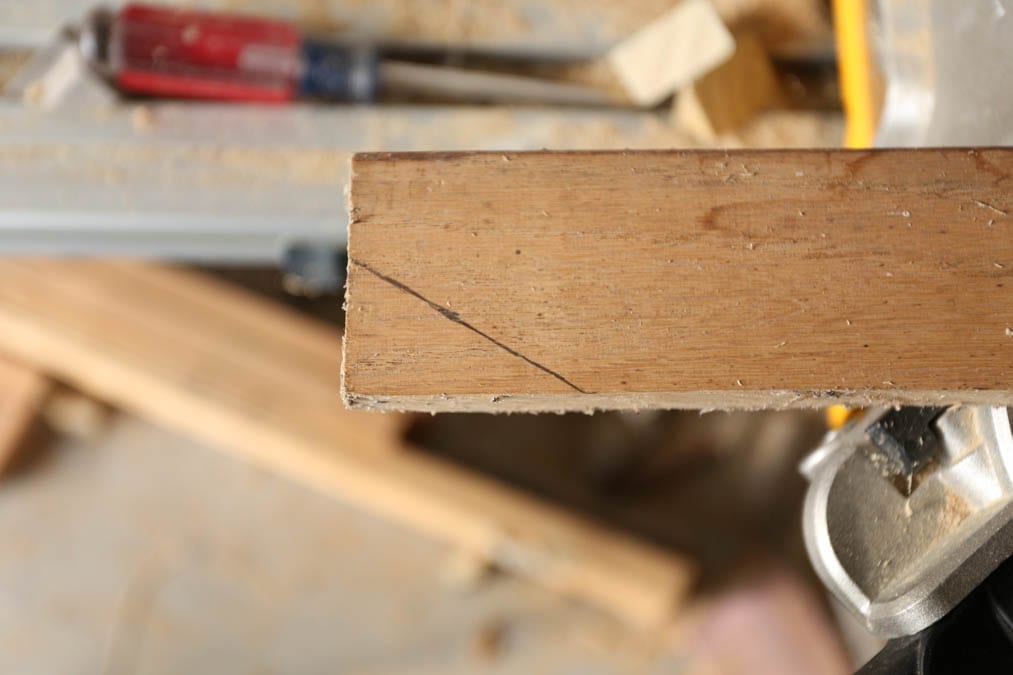 I decided I like the look of angling the legs on the top and bottom. To do this, I drew the angle I wanted and cut on the line.
Step 4: Angled Rungs or Not?
I like the look of the rungs being angled. To do this, I asked my husband for help…because, well…math. Here is how we decided to do the angles. I showed him approximately how I wanted it to look, and he drew a pencil line to mark that angle on the board.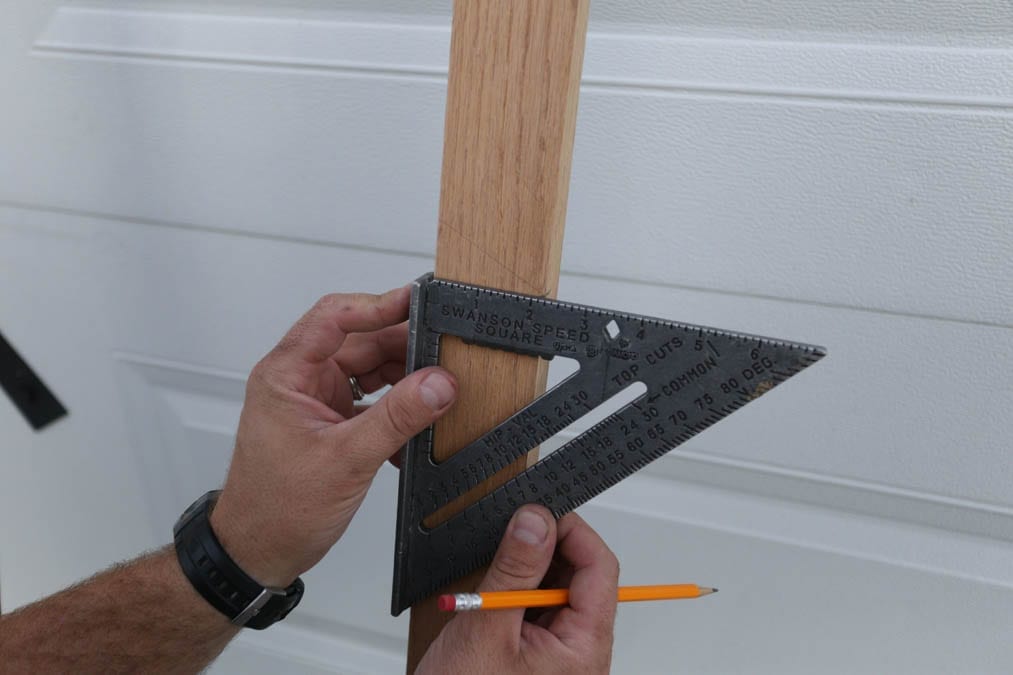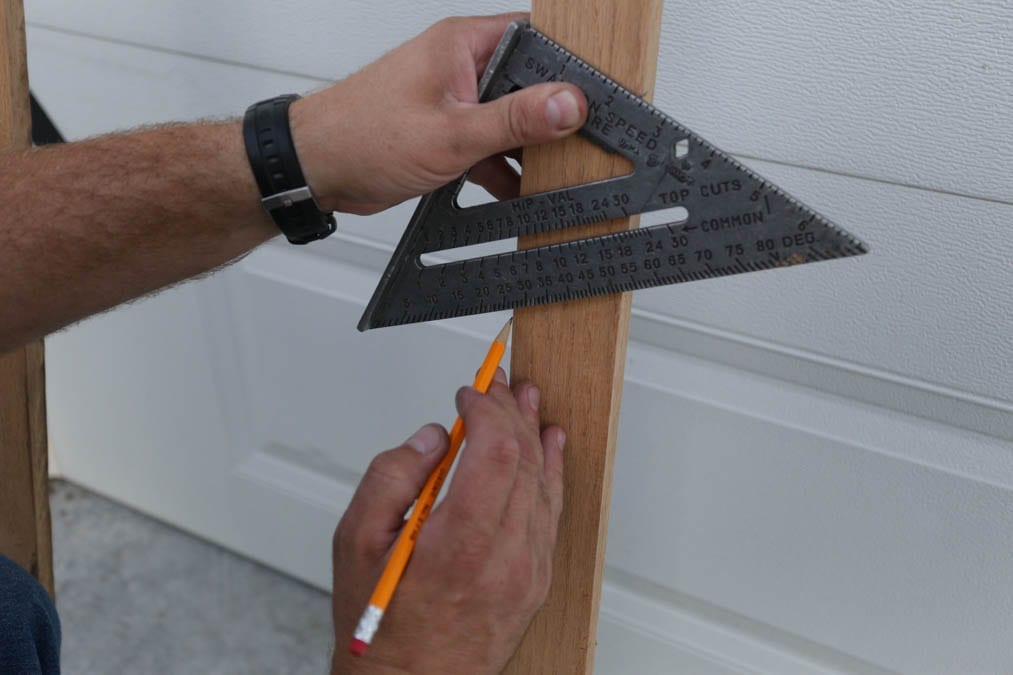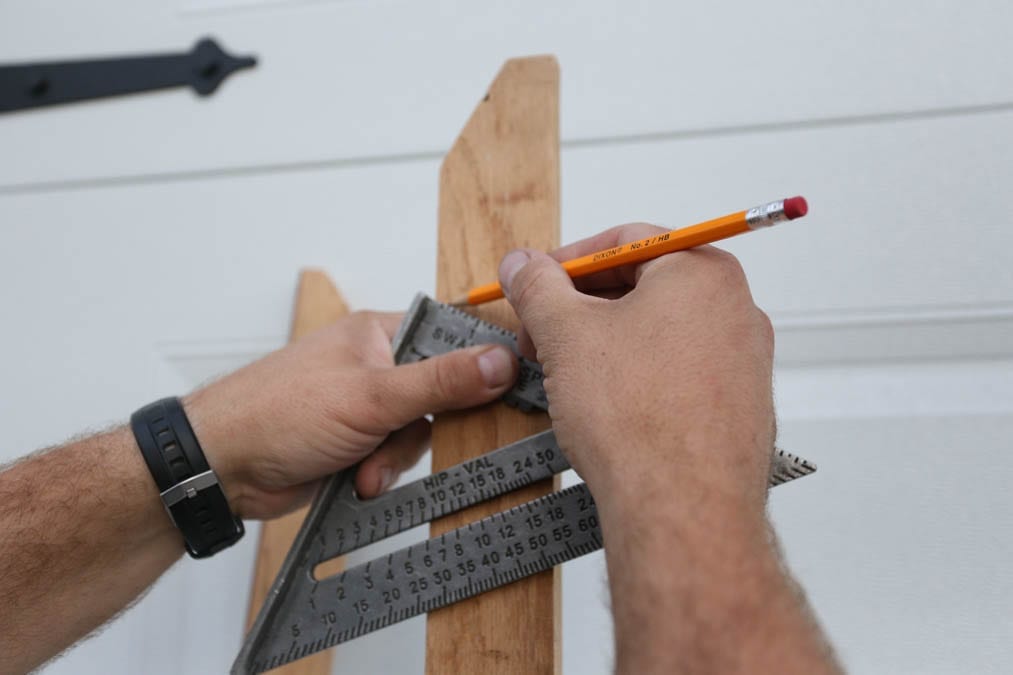 He then used this handy little tool called a speed square to make sure each angle was exactly the same. To do this, he hooked the speed square up like he was going to make a perpendicular line. He then pivoted the bottom part of the square until it matched the line we marked together, and then made note of the angle reading on the square. All he had to do then was move to the positions I had marked for rungs, pivot the speed square to that same angle, and mark the line.
If you don't want to angle them, just attach them straight.
Step 5: Assembling the Blanket Ladder
To assemble the farmhouse blanket ladder, you can either use 2″-3″ finishing screws or you can use nails like we did. We have a finish nailer, and that worked really well for assembling the blanket ladder. It went quickly and easily.
Before you nail or screw it, a bit of wood glue is a good idea. I used way to much on this first rung, but used less on the next ones. If you use too much, you can just wipe it away. If you don't wipe it away, it will affect the finish of your stain.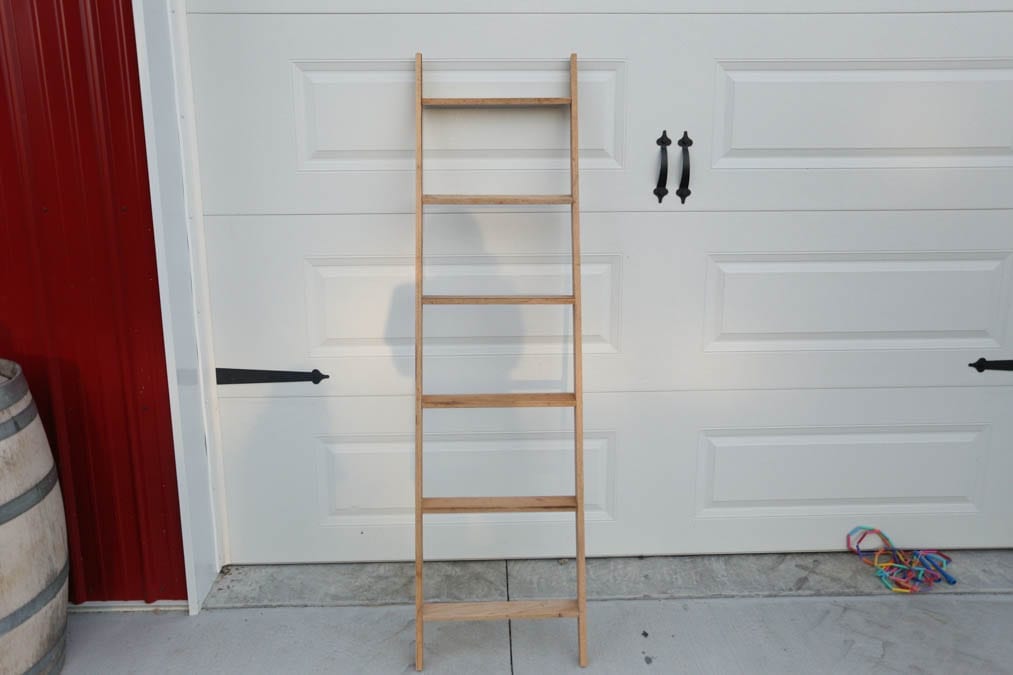 Step 6: Finish Your DIY Blanket Ladder
For the finish on this ladder, first give it a good sanding. I then stained it with minwax dark walnut stain. This finish looked very pretty, especially on the oak wood. However, I wanted a bit more depth to the finish.
I decided to give this farmhouse blanket ladder diy the same limed finish that I gave this table. This is easily achieved with Briwax Liming Wax. One can of this will cover many many projects! I have done two tables, and this ladder with one can, and I have about half of the can left!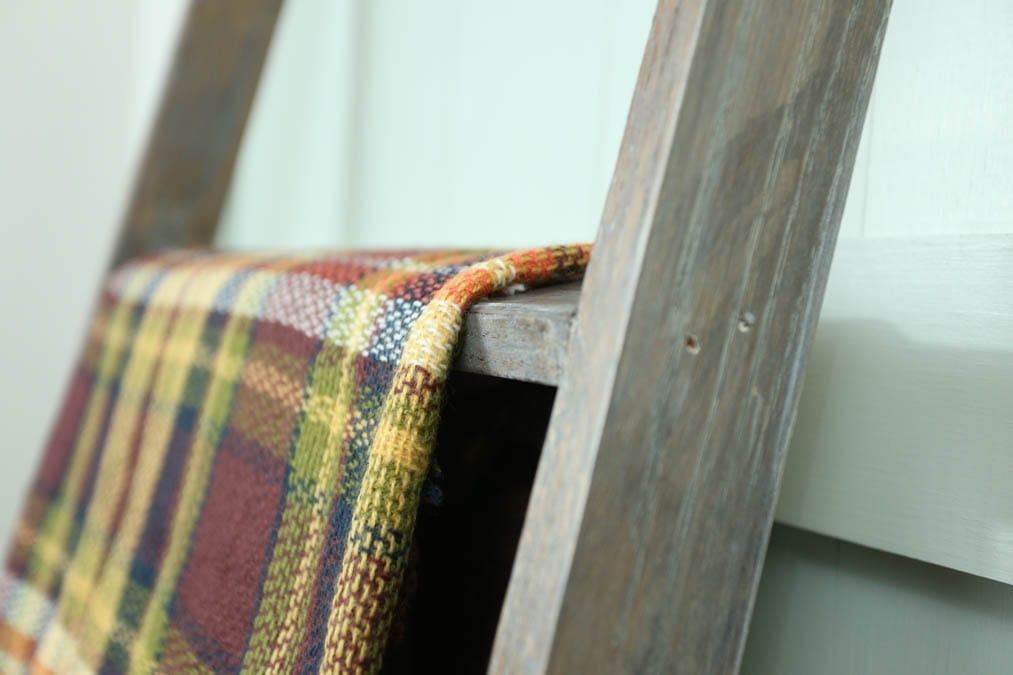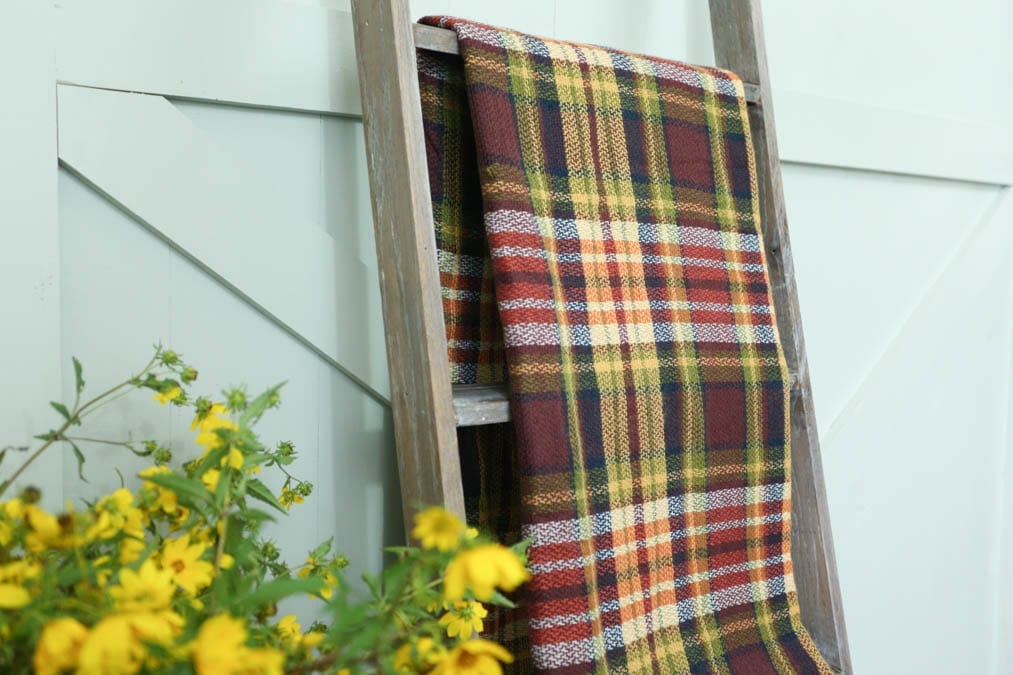 I hope you give this diy blanket ladder a try! It is so rewarding to make something out of things that you have lying around! It's also very fun to learn to use tools and make something all by myself…well almost!!
Don't Want to Make it? Shop Blanket Ladders Here!

Pin This Farmhouse Blanket Ladder DIY to Your Fall Decor Board!