Hello Spring–Super Easy Handmade Sign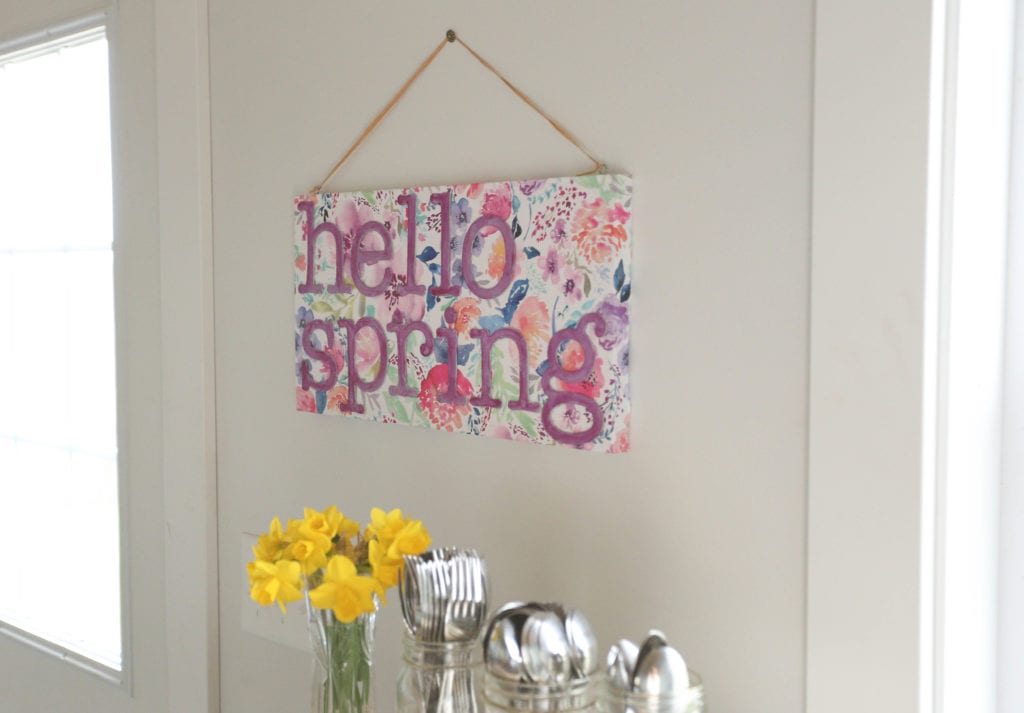 In this post I share the simplest handmade sign idea. This is made with supplies you likely have on hand. I hope you make your own version of this handmade sign.
Mod Podge?
Do you like mod podge? My husband hates it, with good reason really. Before we moved to the country, we lived in a historic neighborhood in Independence, Missouri. Harry Truman's old stomping grounds. We had a neat old victorian house. The thing was, the lady that lived there before us was a bit eccentric with her decorating. As with many homes that were remodeled in the 90's she embraced mauve and florals and painted ceilings…and decoupage! The main bathroom downstairs had been lavished with her own special design. The walls and trim were decked out in gold leaf and victorian print all held in place with mod podge.
While this look was interesting and unique, it was just not our style. Unfortunately, it was impossible to get it all off. We finally just had to paint over most of what was on the trim, as you can imagine this never really looked that great! At the time I swore to never touch mod podge in my own creative life!
However…
It's not mod's fault though! I have come to learn that mod podge is really a pretty neat thing. You can transform so many things with it! One just has to respect the medium and know where it should and shouldn't be used. Crafts, a big yes!! Walls and trim…for the sake of changing ones mind…I don't think so!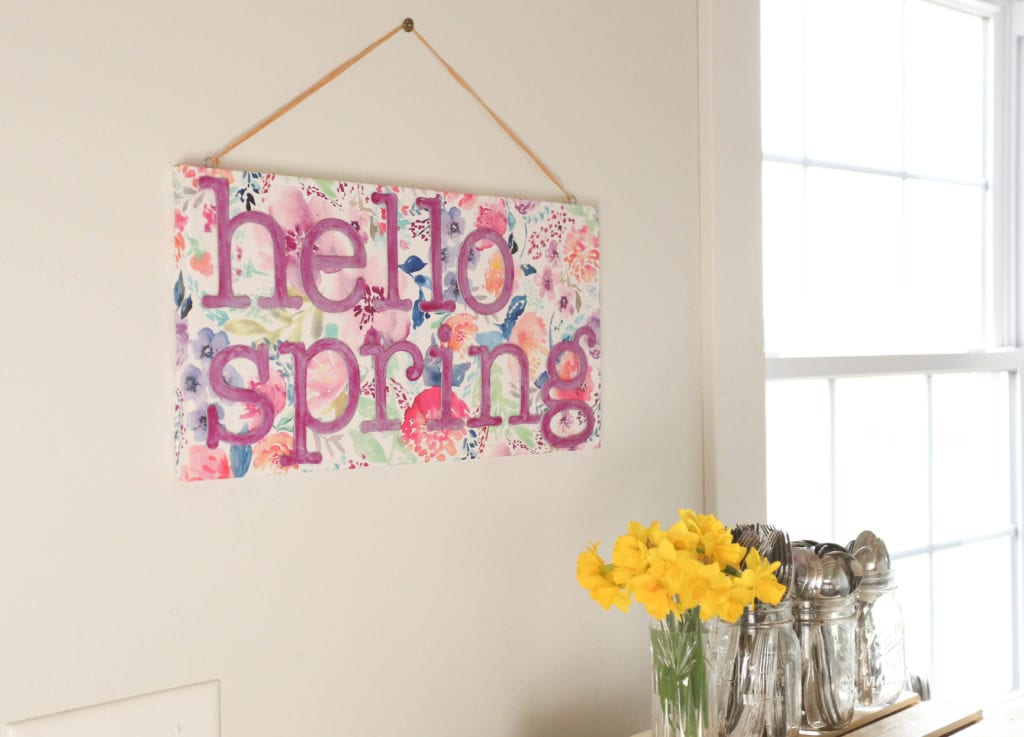 Pretty Wrapping Paper
Like many people, I occasionally shop at Home Goods. Just when you think you are done, you go stand in line and there they give you one last aisle of temptation! All the unique and random things to look at while you are standing in line, trying to get out before you spend too much money!! That's where I spied this beautiful wrapping paper. It looks like watercolor and just screams spring! I picked it up last year without any intention of wrapping gifts with it, I knew it could be used for making something!
A week or so ago, I pulled the paper out and decided to make a festive spring sign. With a little trial and error, I think I am happy with it!
You Will Need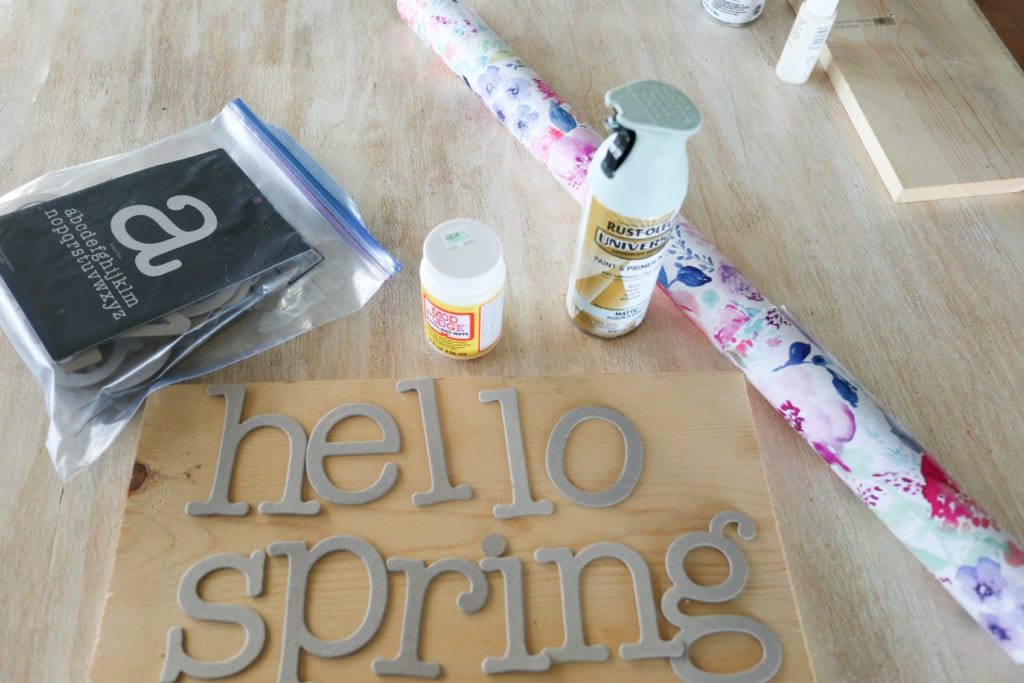 For this project you will need just a few things.
A board, this is just a scrap piece of lumber we had on hand. It is 17.5″ x 9.5″ x 3/4″.
Some wrapping paper, tissue paper, fabric or a napkin with a pretty print
Something to hang it. I used little eye hooks, but you could use picture hanging hardware too.
A paint brush or roller
Paint
Step 1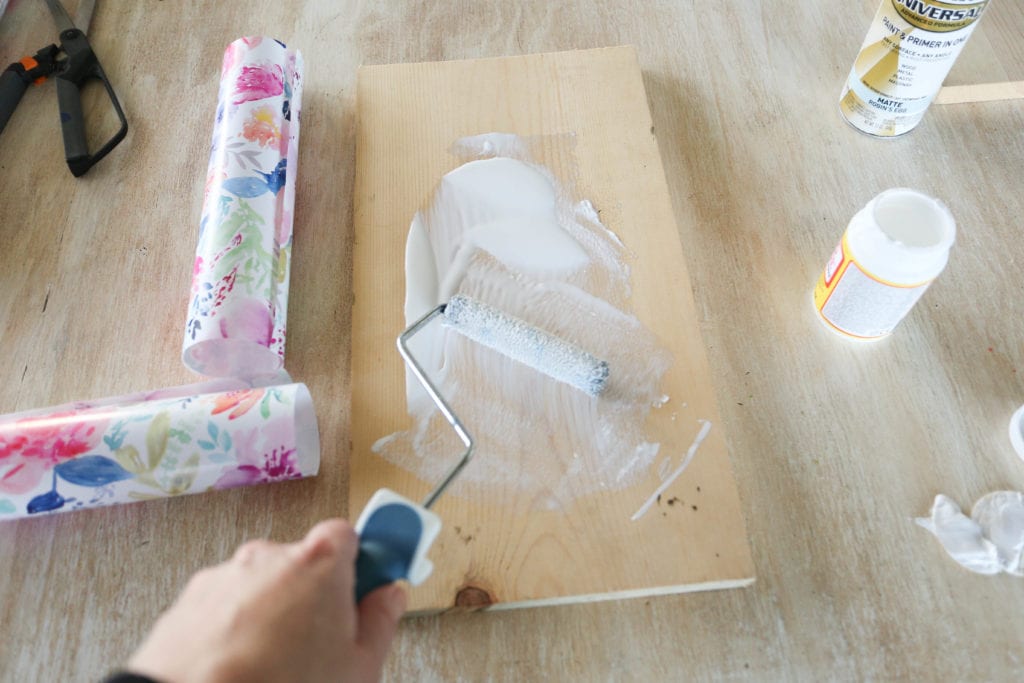 Paint a thin layer of mod podge over your board. I have found that a thin layer is best, just enough to make it stick. If you layer it on too thick, you will get lots of wrinkles and bubbles underneath. Cut out a piece of paper that will fit over the top and the sides. Place it over the mod podge and smooth it out as best you can. You can do this with a paint brush or small roller. Then paint a layer of mod podge over the top of the paper. This layer can be a bit thicker. Let it dry.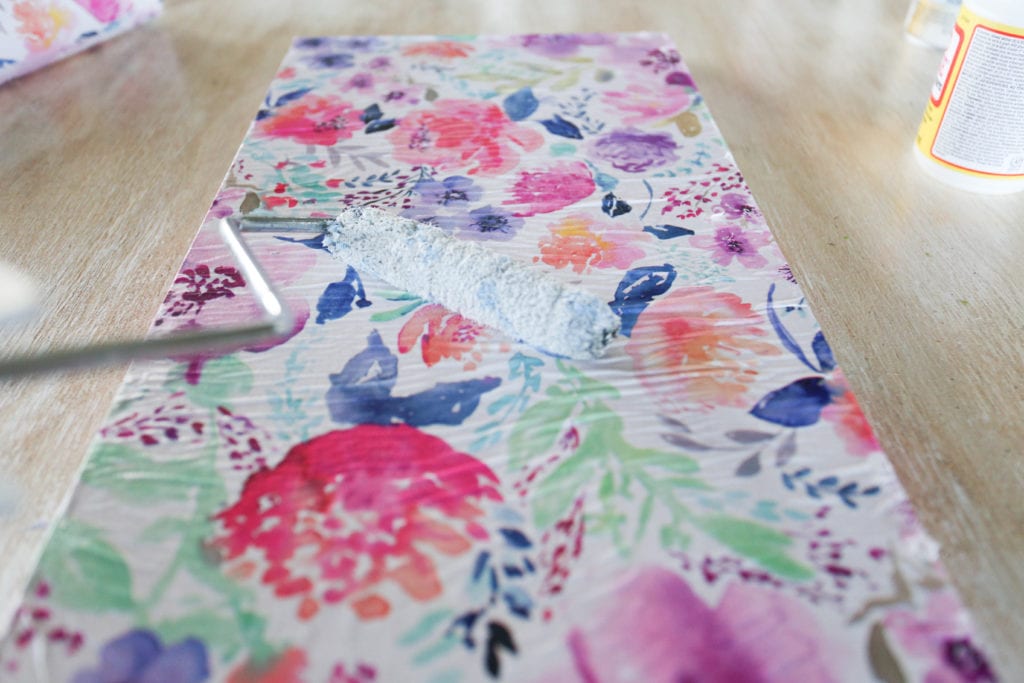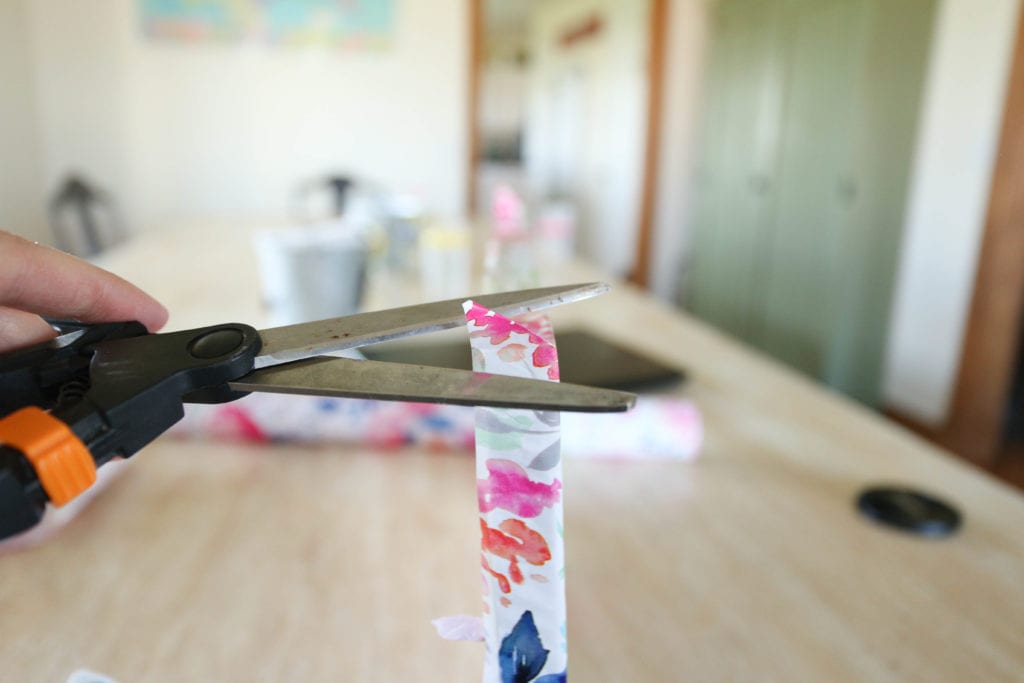 Step 2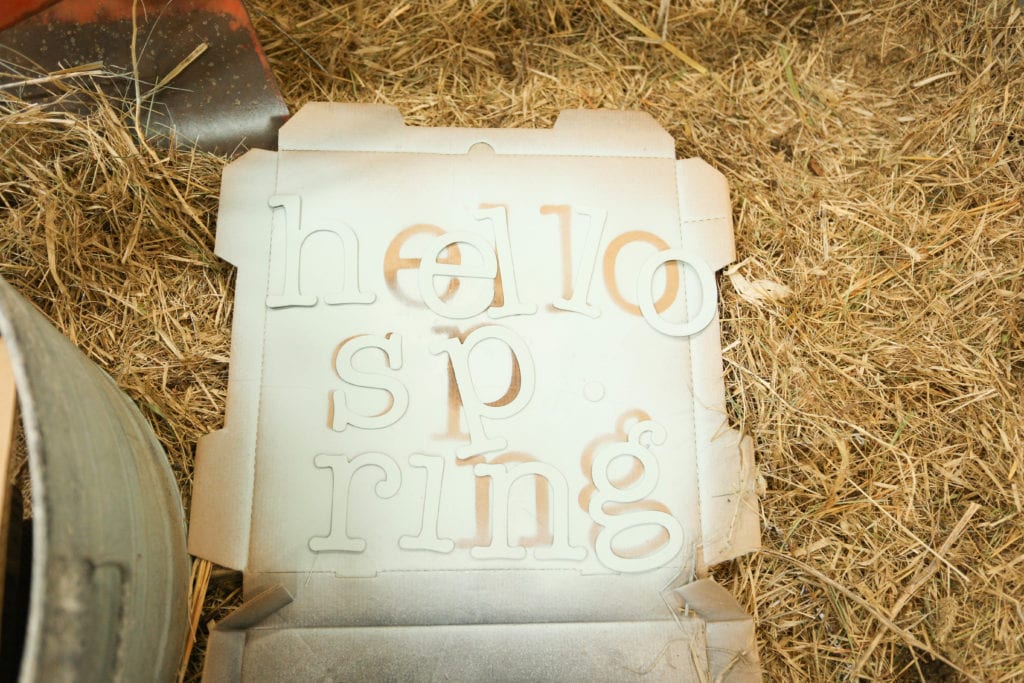 Paint your chipboard letters. This took some trial and error for me. I spray painted them a pretty light robin's egg blue. However, when I went to take pictures of the finished project, I realized that the letters were nearly impossible to read. The background was just too busy to read the light letters well. Unfortunately they were already glued on, so I couldn't re-spray them. Then it hit me…watercolors! The paper already looked like watercolors, so what if I watercolored the letters? That's what I did, and I really like the way they turned out!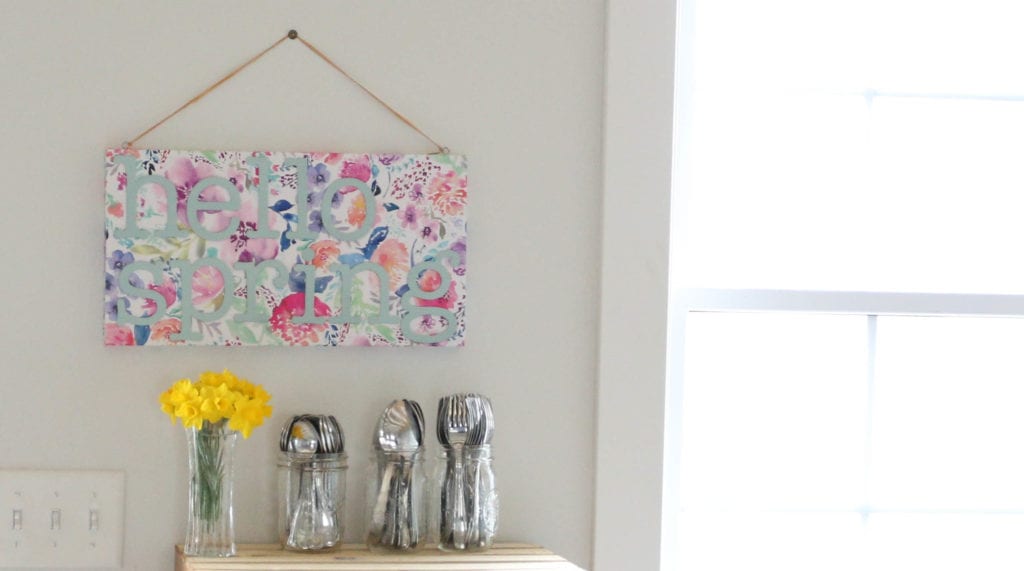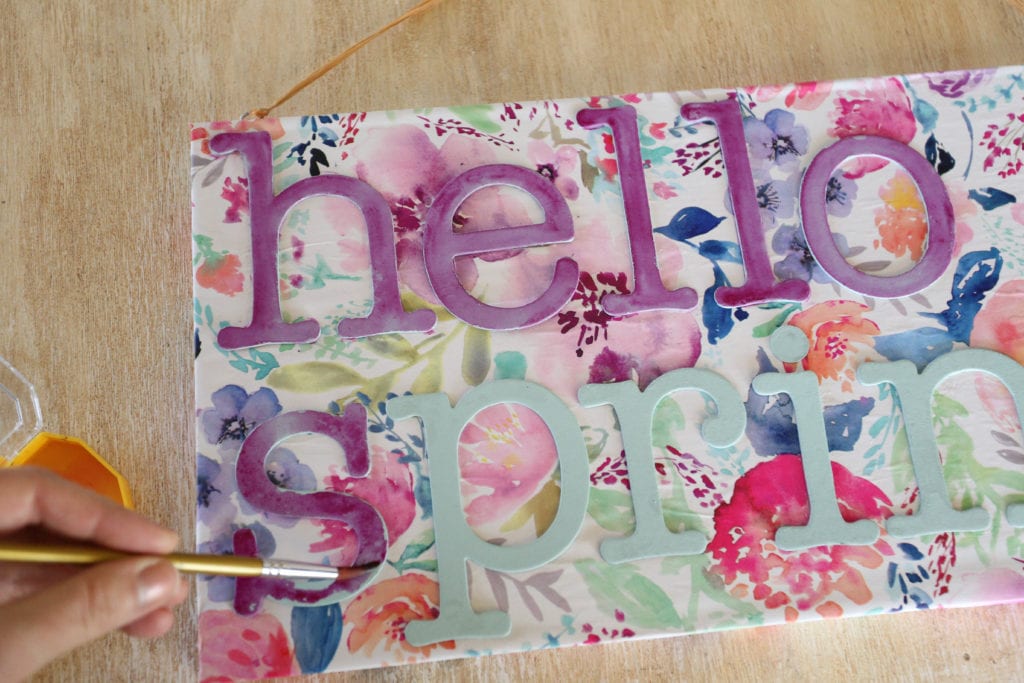 Step 3
Glue your letters onto your board. I just used more mod podge for this and placed a book on top. A stronger adhesive like hot glue may work better. It's up to you.
Step 4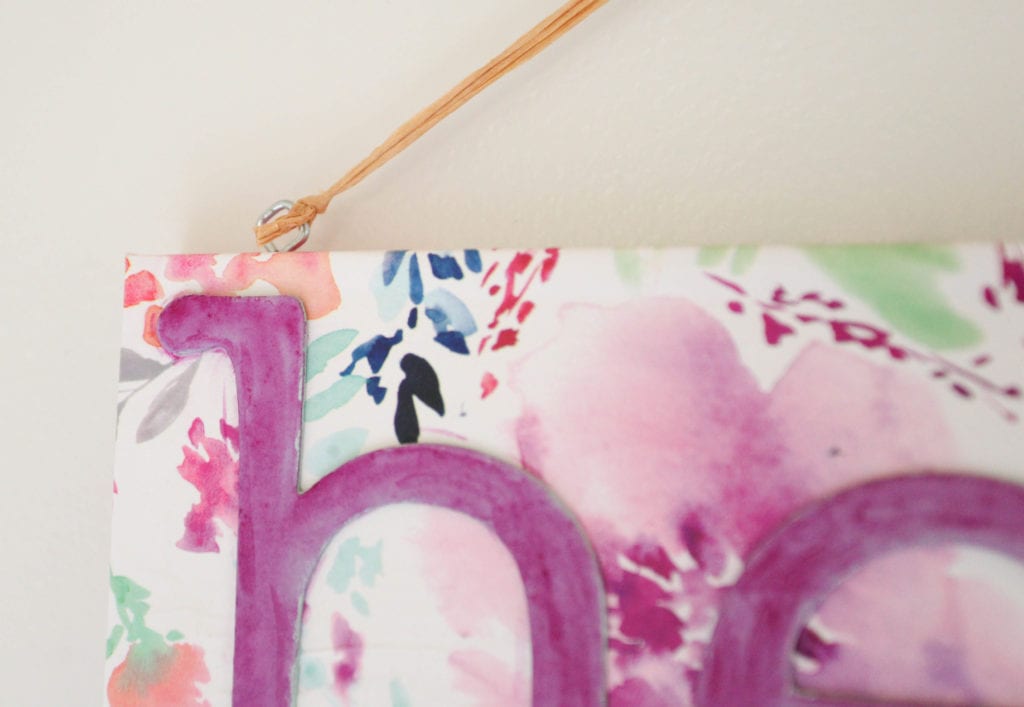 Decide how to hang it and you are done! This was a super quick and easy project!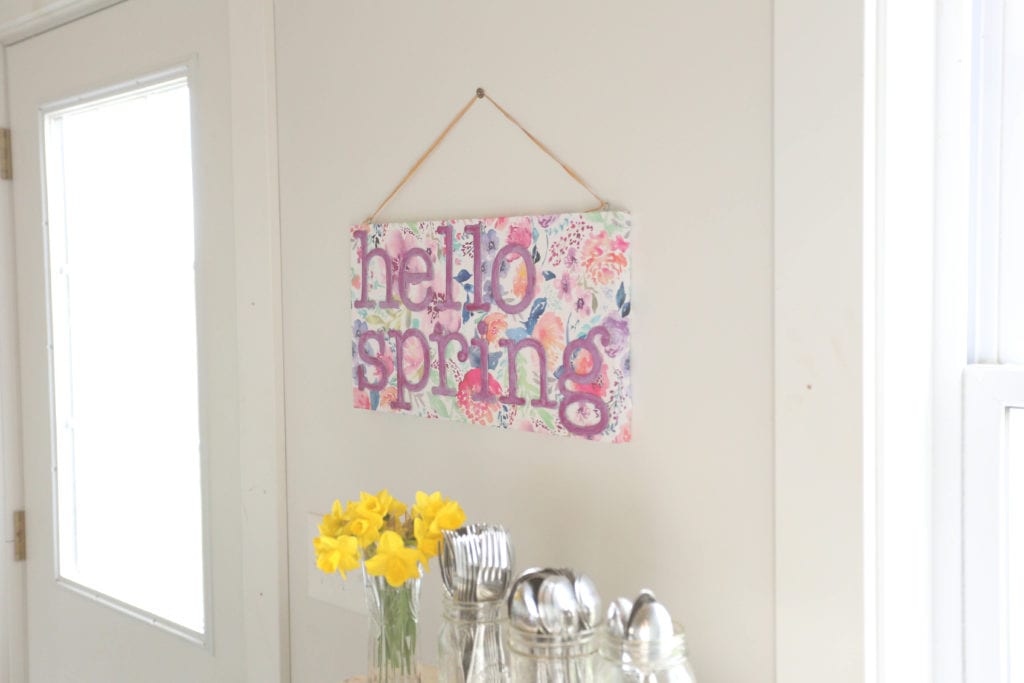 Thank you for Stopping By!
I hope this inspired you to make a handmade sign to brighten up your home for spring! Here is another mod podge project from last spring. Hope you are doing well!
Pin for Later!