Macrame Fringe DIY Step by Step
DIY macrame fringe can be added to pillows, throws, blankets, or table runners. Add it anywhere that you would like a little something extra. This really is so simple to make, with a little time, you can make something plain into something special! This post contains affiliate links.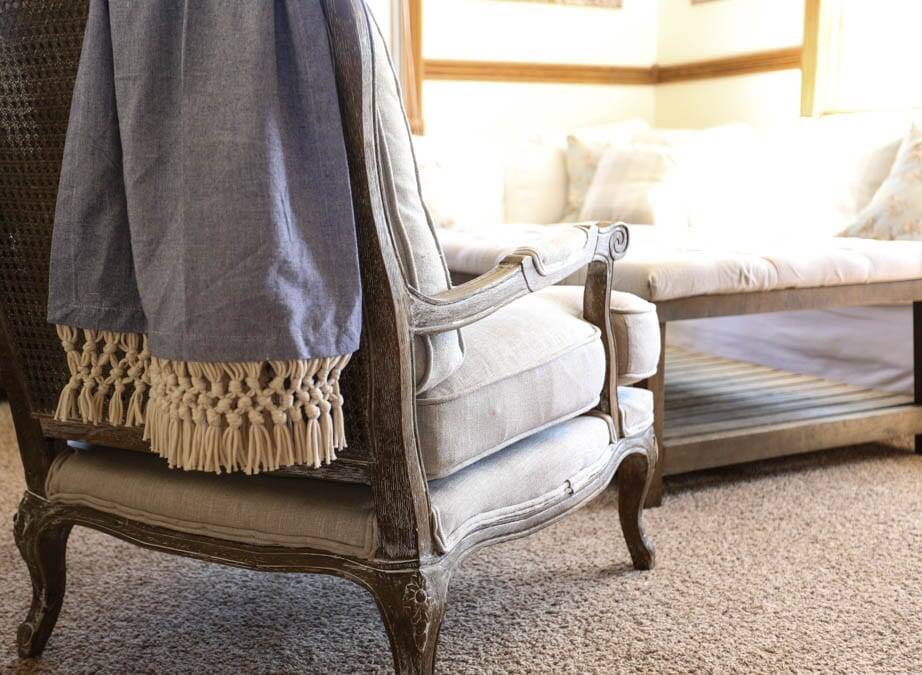 My Inspiration
I think I have told you before about these amazing surplus stores that we have around here. There are at least four within thirty minutes of our home. These stores have scratch and dent, or overstock items for at least 50% off retail, but usually more like 75% off.
Anyway, I have sort of an addiction love for decorative pillows. My husband may think it is bordering on a problem, but I strongly disagree. Usually I make my own pillow covers, then I can just change out the inserts, and my collection doesn't get too out of hand.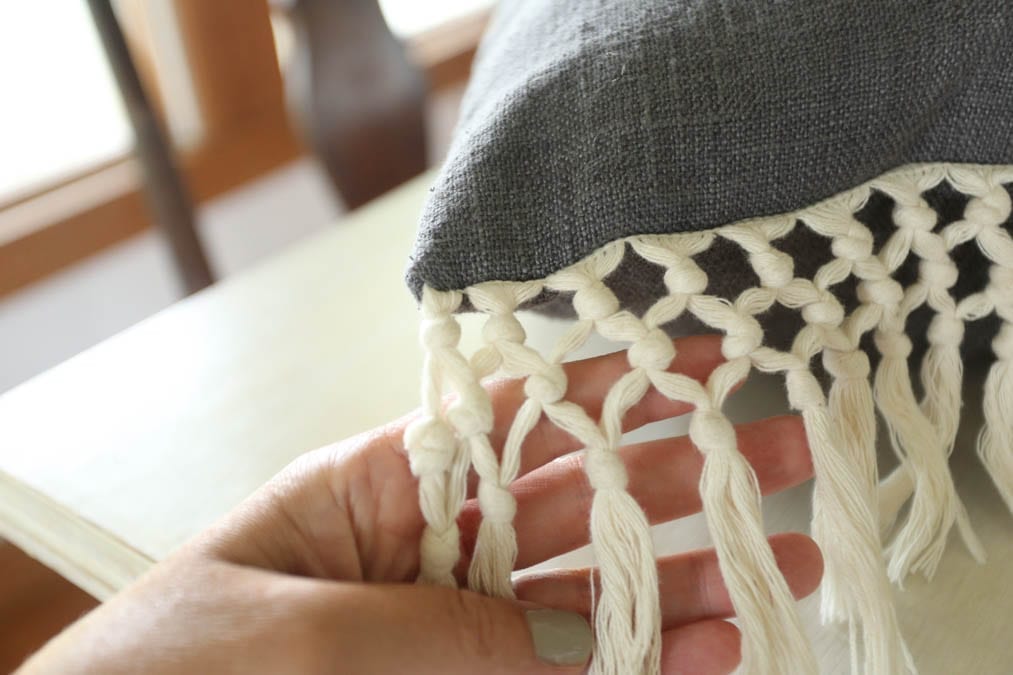 The problem with the surplus stores is their pillow section. Sometimes it is simply irresistible. I got this pillow in the picture above at one of the surplus stores, and it has a down filled insert. I think I only paid around $5 for it! Amazing right? The macrame fringe is what got me!
I started really looking at the fringe one day while I was nursing the baby. As I looked at it, I was trying to figure out exactly how the look was achieved. Turns out, it's just groups of threads knotted together. You know…macrame! So, I just counted the threads and got it all figured out!
Are You a Fan of Macrame?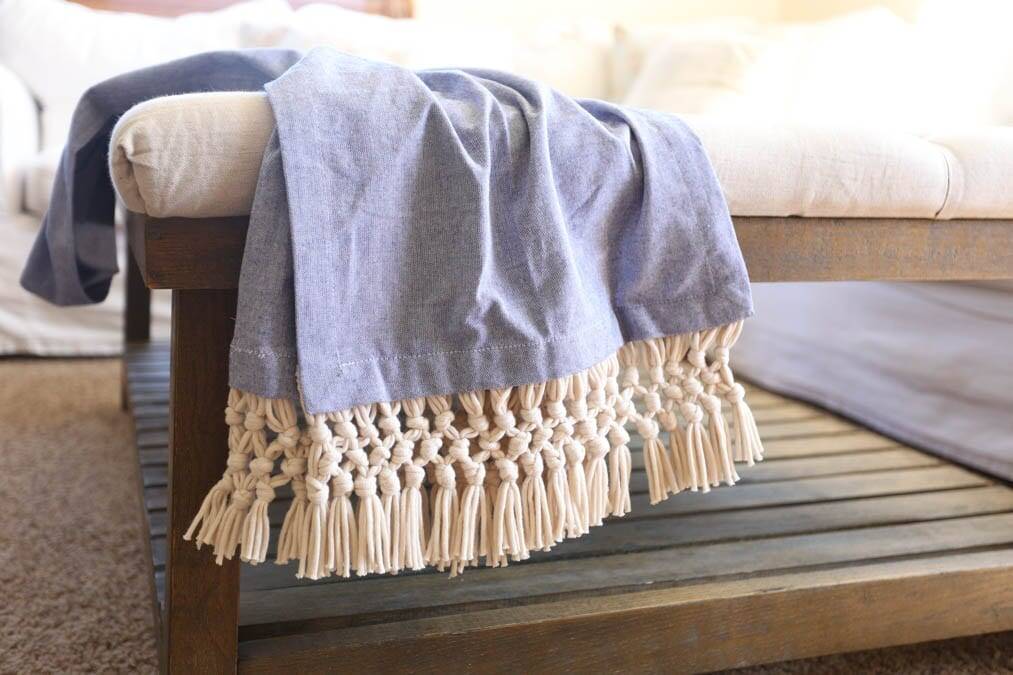 Is macrame your kind of thing? To be honest, it's not really my thing. I was born in the late 70's, so my mom had macrame plant hangers while I was growing up. Those were okay. She may still have one around, but I'm not sure. ***EDIT–Verified-She does still have one, she texted me a picture!*** However, one of my aunts had the wall hanging macrame art kind. I'm not a fan. I just always thought they looked dusty and dirty.
I know macrame made a little comeback in the last 5 or so years. Just so you know, I didn't jump on board! Sorry if you love it, I just can't get past the thought of it holding a bunch of dust.
Now, a little macrame fringe? That's another story! To me it looks old fashioned and beautiful. Want to make some? Let's get started!
Gather Your Materials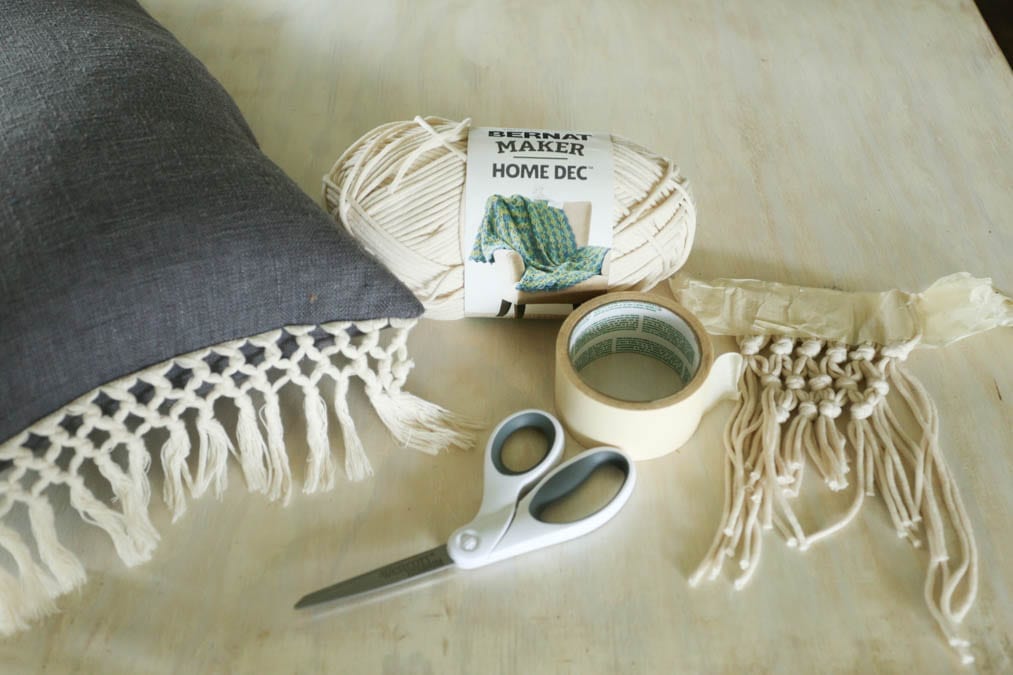 For this, I used some yarn-ish stuff that I had on hand. You could make very thin fringe by using embroidery floss. It's your fringe and you can use whatever you want or whatever you have on hand. I had some skinny cotton yarn that would have been pretty, but I think I would have needed to use some fray block to keep it from unraveling on the ends.
You will need scissors, masking tape or blue tape, and liquid stitch, or hot glue. You could also use a sewing machine.
You will also need something to put the fringe on…obviously.
Lay It Out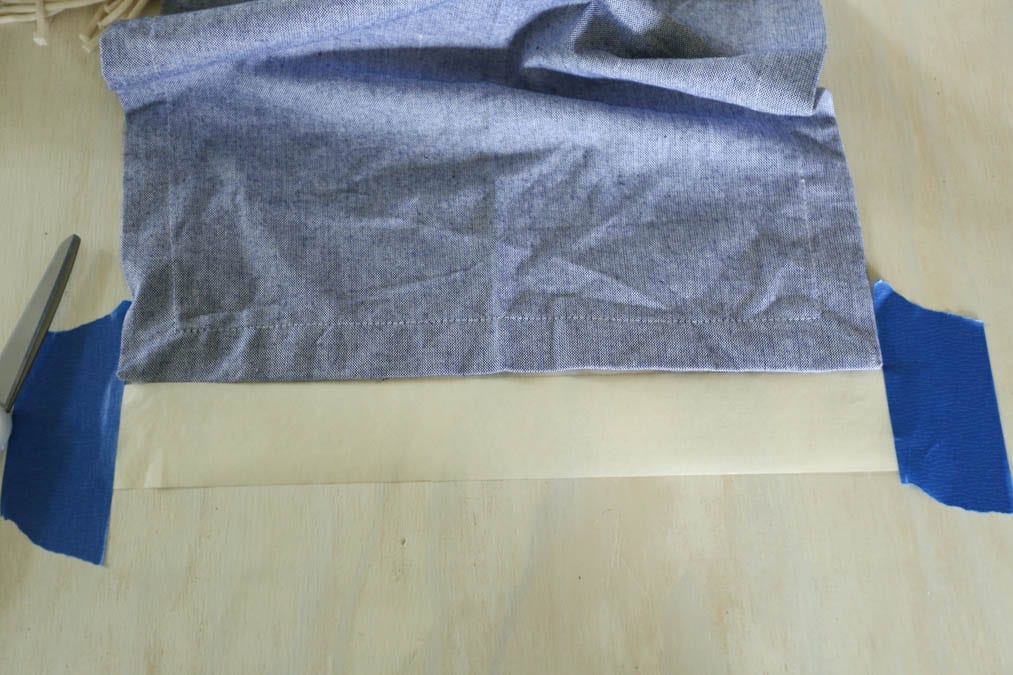 Measure the length of the item to which you are adding the fringe. Next, lay out a piece of masking tape, sticky side up. Tape the ends of that strip down to the table. This will help to keep your work in place.
Count and Cut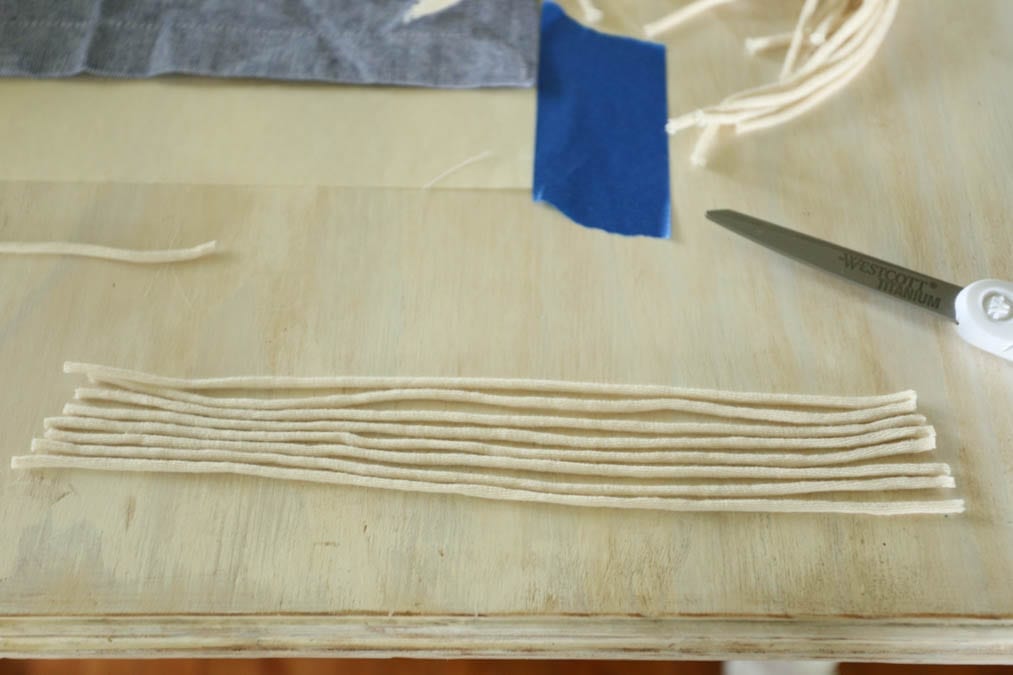 This part takes the longest, although it isn't difficult at all. If you are a tv or movie watcher, you could totally do this while you watch something.
I cut my lengths about 10 inches long. Each section has eight strands. My table runner that I turned into a throw is 14″. I needed 18 groups of 8 strands which equals 144 strands…for one side. Then the same for the other!
You could either cut up all of your strands first, or do it like me and just cut them as you make each group. I'm sure whatever appeals to you has something to do with your personality type!
Knot Each Group
Take all eight strands and knot them together. I wrapped up and around to the left and through the center. I'm not sure it matters, but just do it the same way every time.
Lay your knotted groups all along the masking tape, touching each other.
Once you have all of your knotted groups laid out, put another piece of masking tape over the top to hold it all in place while you work.
Start Knotting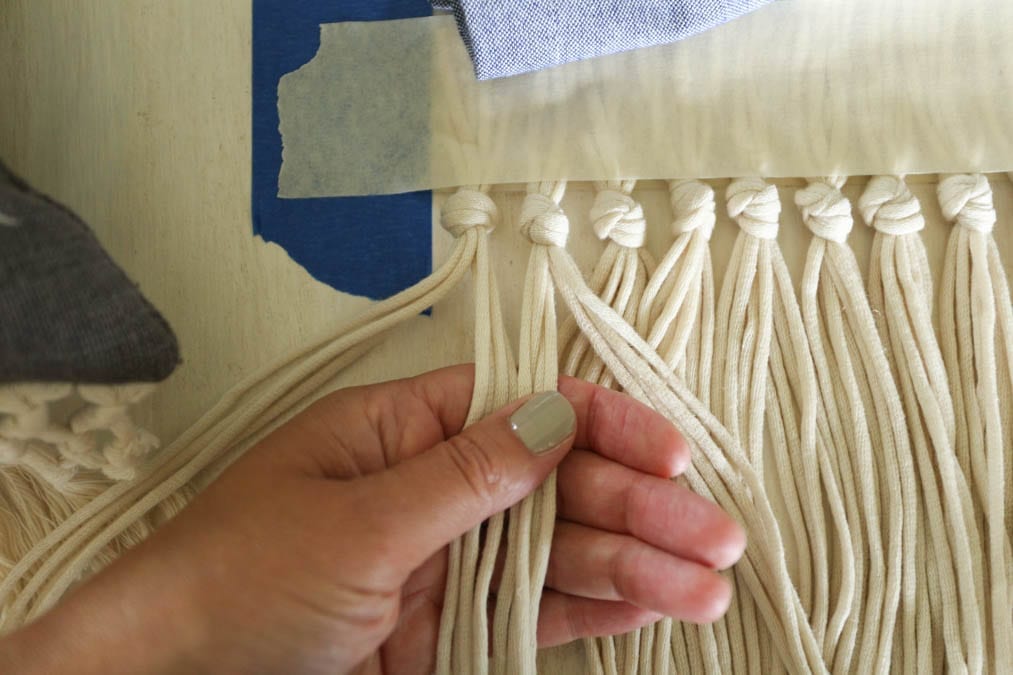 Next, you will start with your first little bundle of eight threads. Separate those threads into two groups of four. Then take four of the strands from the group to the right, put those together, and make a knot. Don't worry about the first four strands that are just hanging there. You will get those on the next row.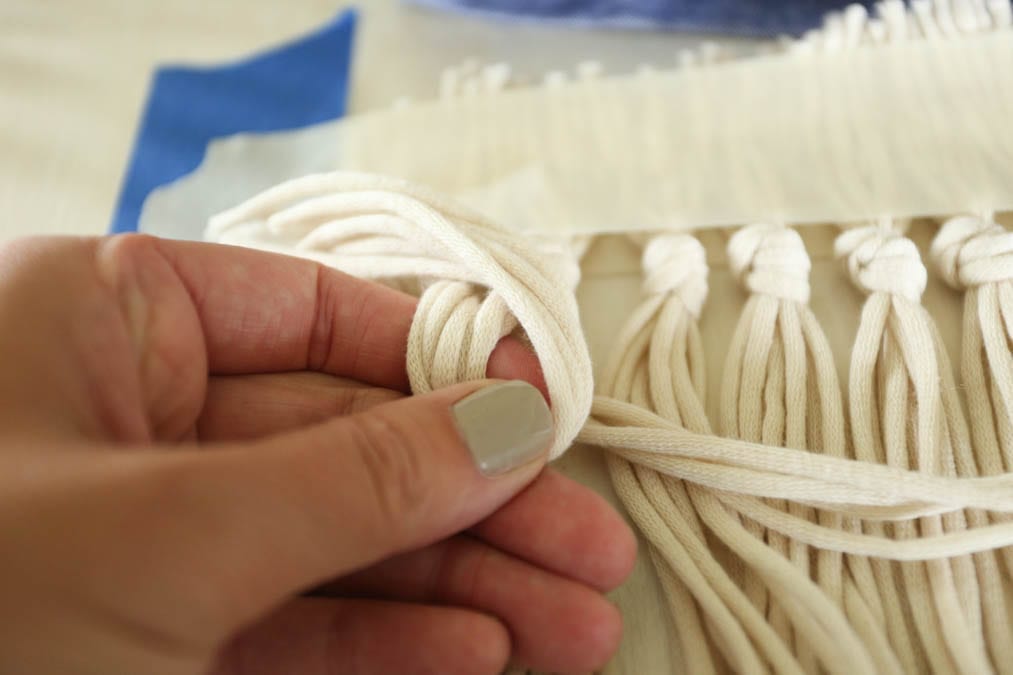 Next, take your four leftover from the second group and knot those four to four from the next group to the right. Knot those together, and keep going until the end of that first row. Just leave the last four strands hanging free.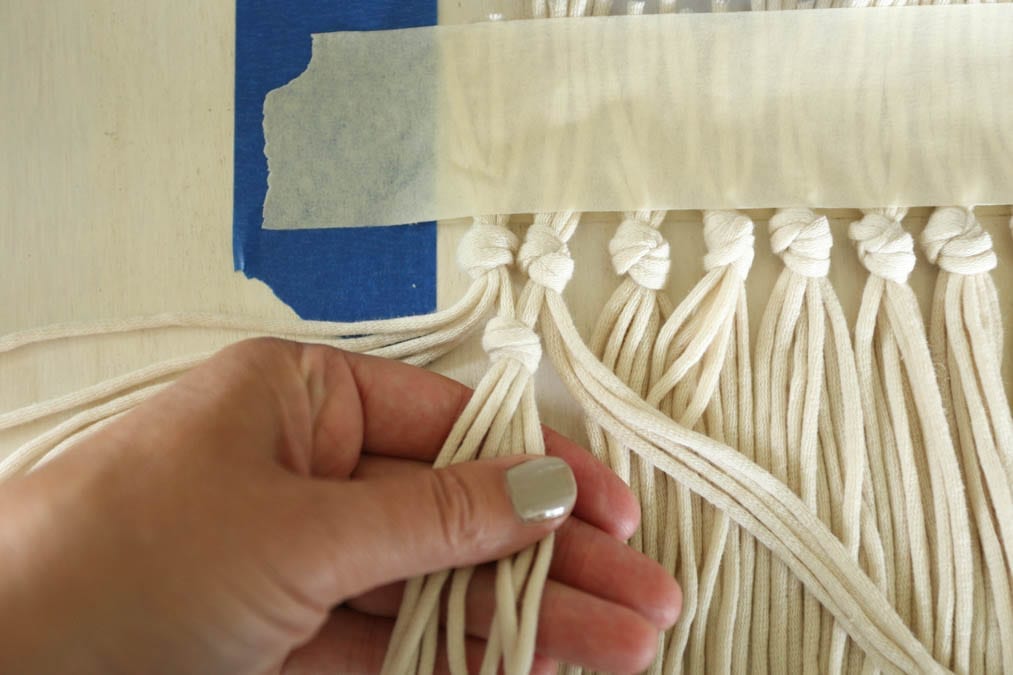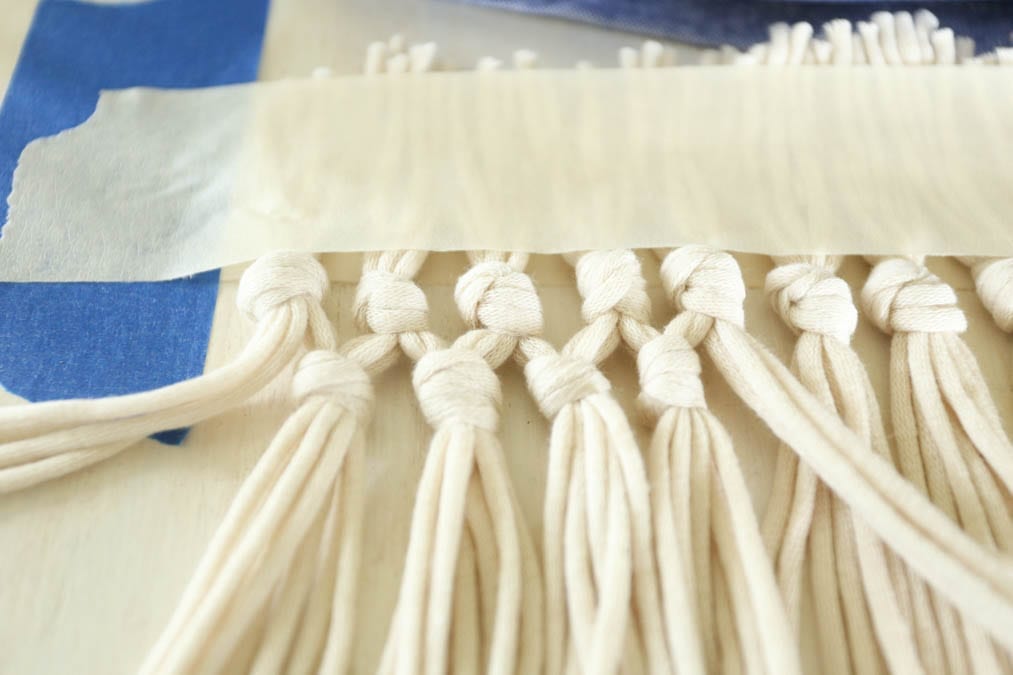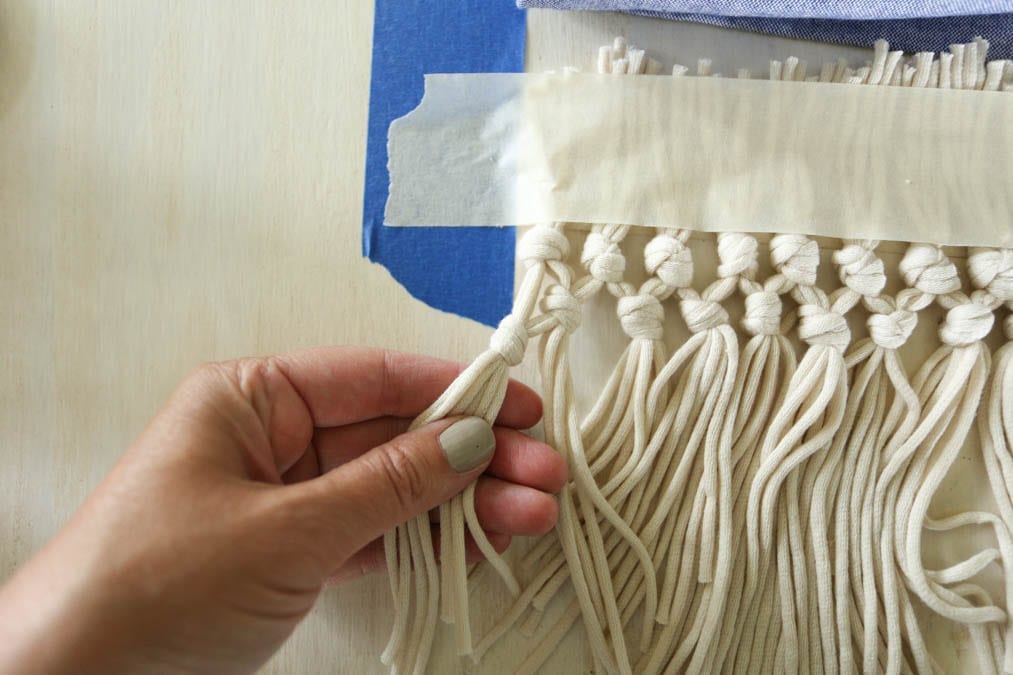 On the next row, take those four strands that are hanging free and knot those together with four strands from the next knot to the right. Continue going to the end of the second row. Knot those last strands to the four left from the previous row.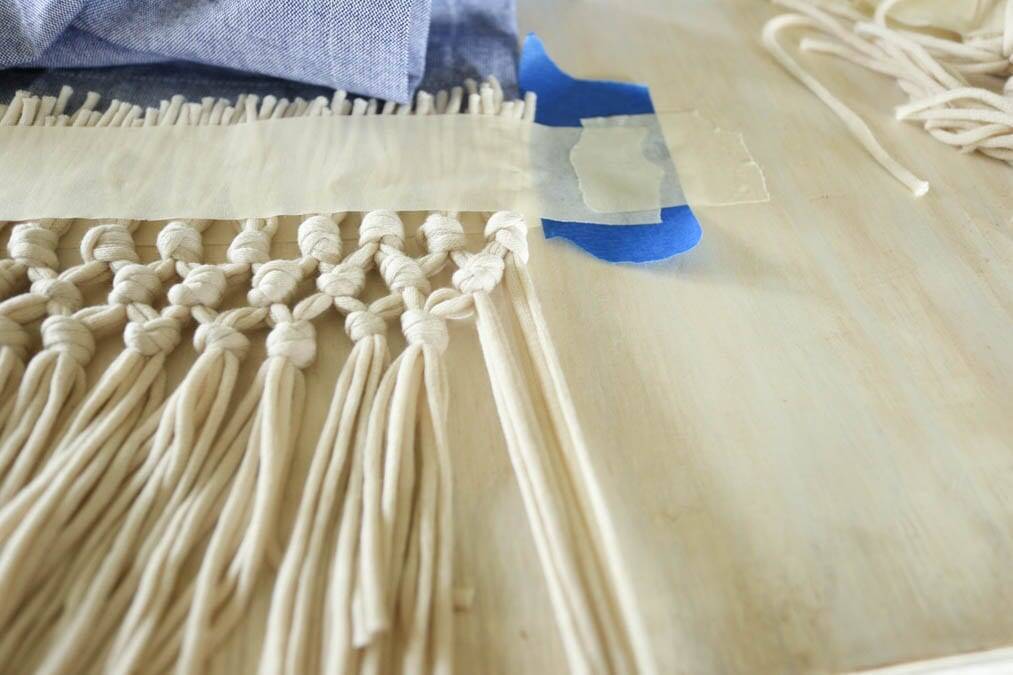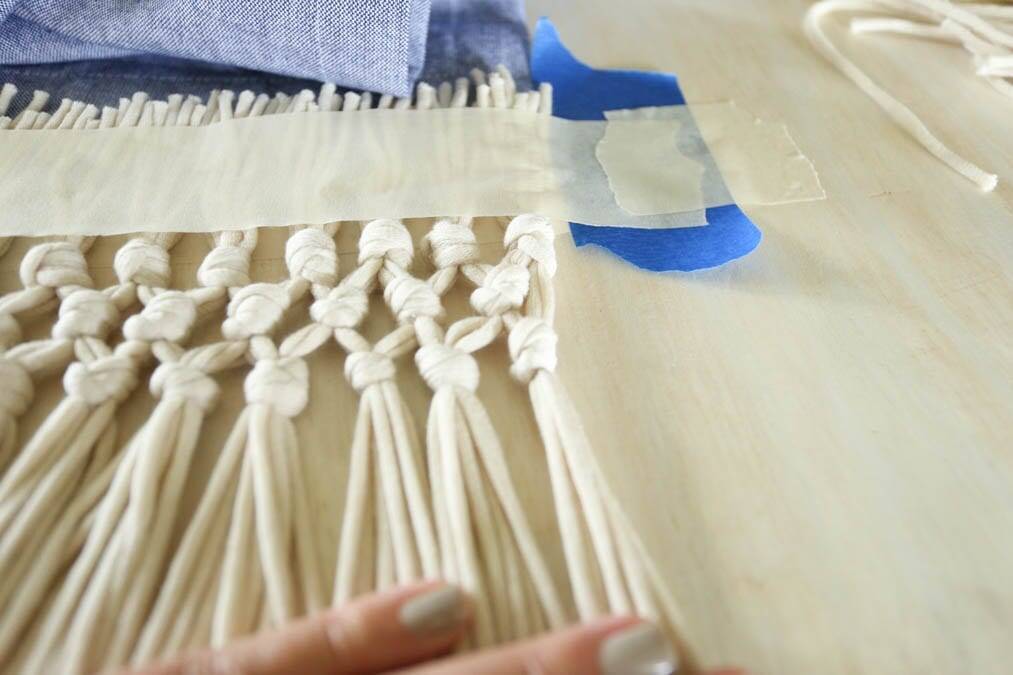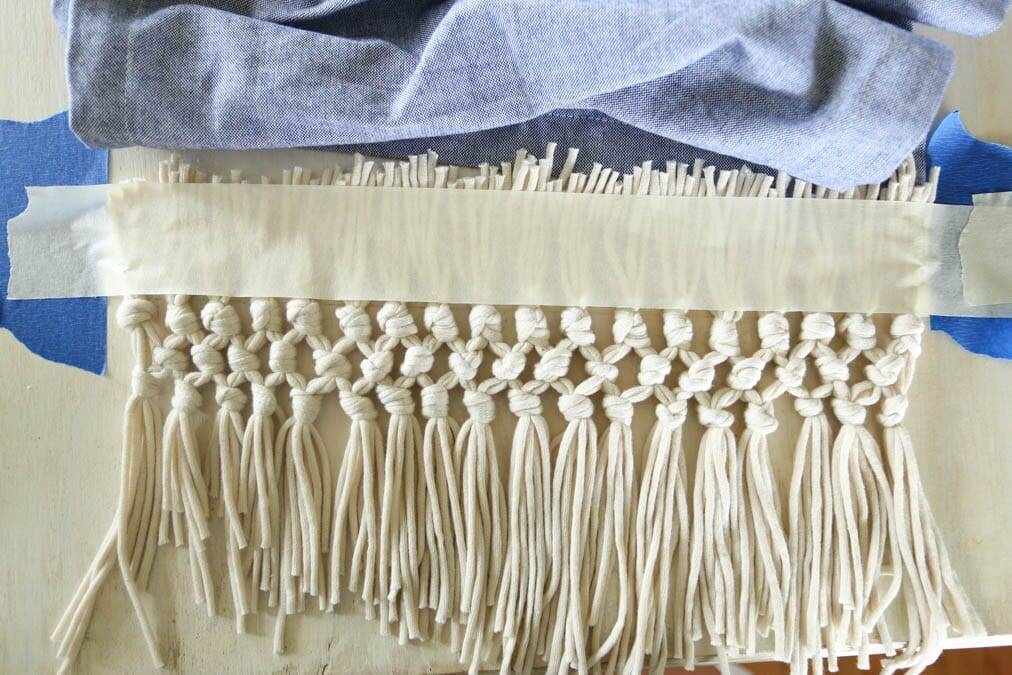 Cut Evenly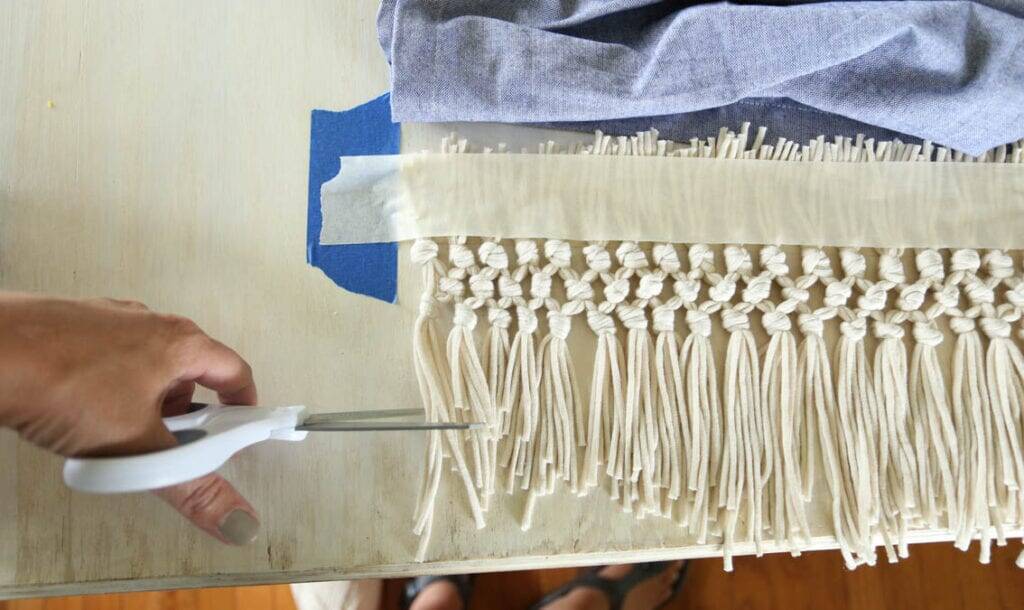 Now, you just have to cut all of the strands evenly. This would be best done with a rotary cutter and a large ruler. I didn't have mine handy, so I just used scissors. However, it took way longer and I don't think they are perfect.
I then cut above the tape as well.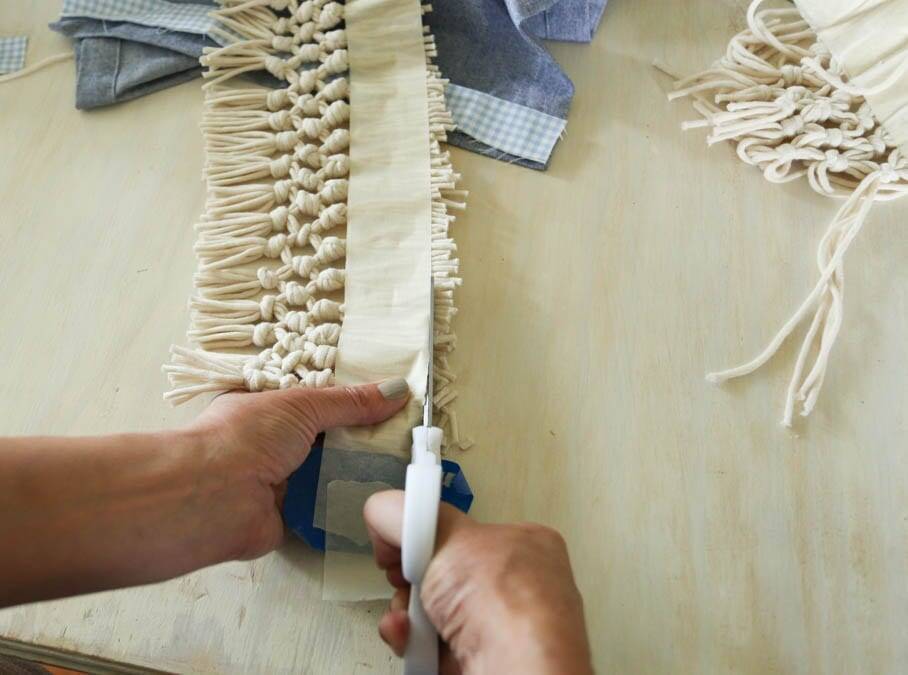 Attach to Binding
For the binding on this, I just used a 14″ strip of fabric that was ironed in half. A piece of wide bias tape would work very well too. I just didn't have any.
You could either sew the macrame fringe in place, which I tried on one side, Or you could use fabric glue or hot glue which I also tried. Honestly, I liked using the fabric glue best. It was easier to get it straight and perfect. With the sewing machine, it wanted to wiggle a bit and get off track.
Ever Wonder?
Just in case you ever wonder how a mom of 10 has time to do this type of thing…I multi-task. I promise I don't somehow have more hours in the day than anyone else. I'm just rarely doing one thing at a time. I can barely sit down to eat without reading at least.
So, while my littler kids are doing table work, I am usually working on some project. My older kids work at a camp during the summer and my 12 year old was working in a different room…you know where it was quiet!
Here is what's right on the other side of the camera frame.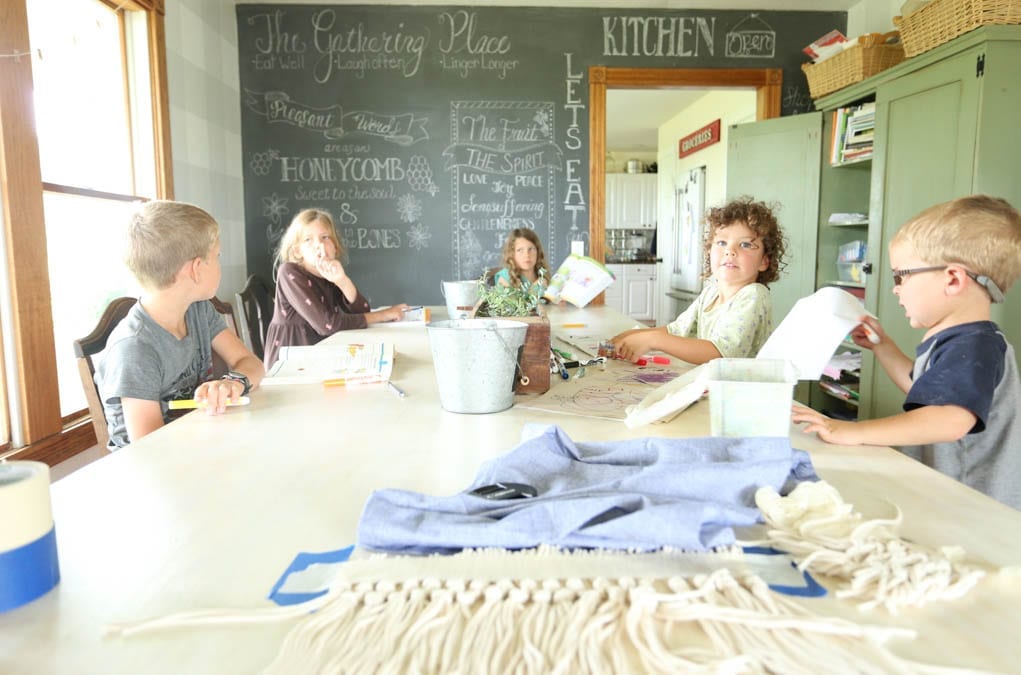 I am still right there with them. Answering questions about borrowing for subtraction, or what color the circles are supposed to be, or what exactly is an adverb again? See, you can homeschool and be present and still feed your own creativity with macrame fringe!
See you Wednesday for part 2 in my series on homemaking! Part 1 Here.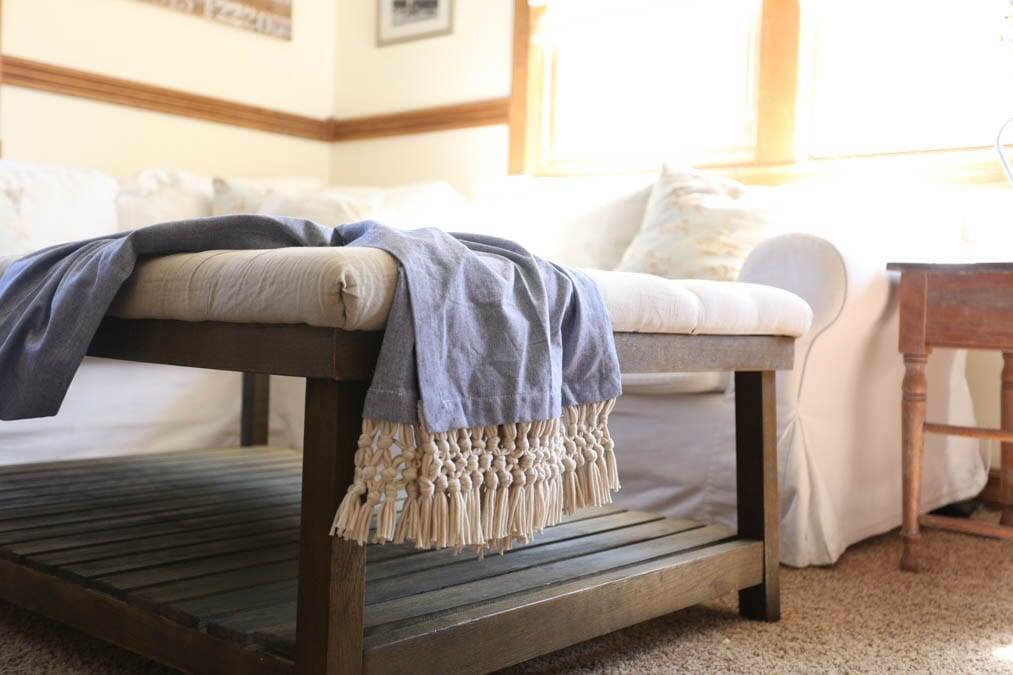 Do you love DIY projects?
Check out these posts!
No Time to Make It? Shop Similar Looks!
Pin for Later!