Why Our Large Family Uses Amazon Prime, and Why You Should Consider It Too
Why our family uses Amazon Prime and why you might consider it too! There are many benefits to Amazon Prime, in this post, I share how Amazon Prime benefits our large family. This post contains affiliate links, if you make a purchase or sign up for Prime, I will earn a small commission at no extra cost to you. Thank you.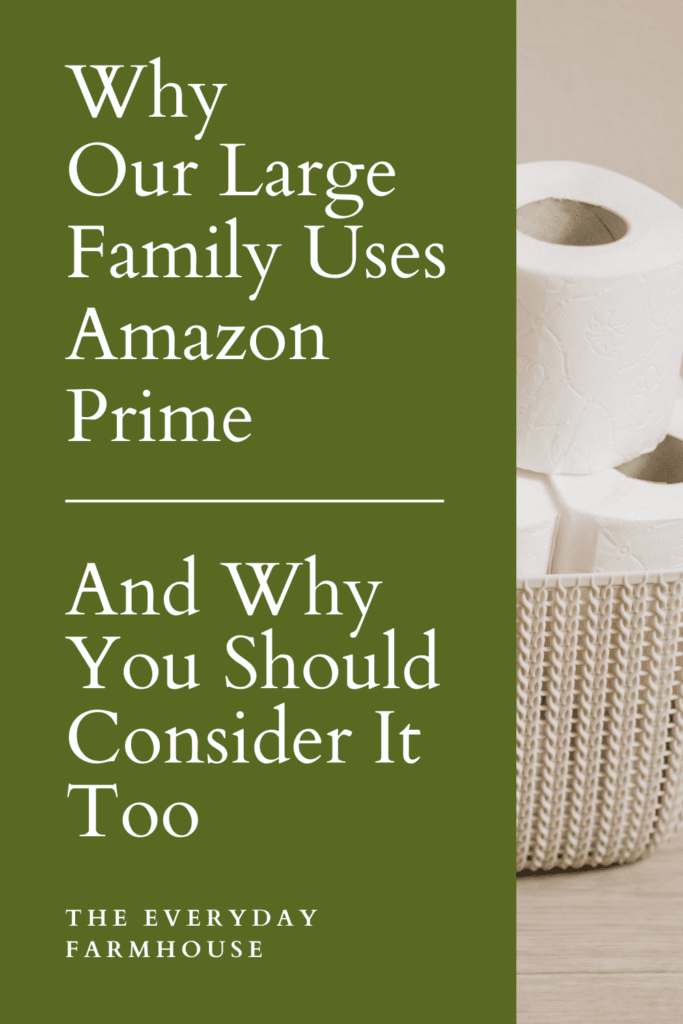 Not only are we a large family with lots and lots of people to feed, keep clean, and clothe, but we also live in the middle of nowhere! Our shopping choices can be quite limited. We could certainly live without the internet and without online shopping, however, our quality of life might be a bit different. Below are the main ways that we use Amazon Prime, and maybe a few tips to help you out!
Do you know about this? I just used it recently and I think it's pretty doggone handy! My oldest daughter needed some new jeans, I wanted something a bit longer-lasting than the Walmart ones we had been buying. With Prime Wardrobe, you can pick out several styles or sizes of clothing (up to 8 items) and they will send it to you. However, you don't pay for it right away. They let you try it on, decide what you want to keep and they include a return label. You have seven days to try the clothes. You just pay for what you want to keep and send the rest back with the included label! It couldn't have been any easier!
Free Returns
Even if you find shoes or clothing that aren't part of Prime Wardrobe, there is very often free returns. My oldest boys have grown at an alarming rate over the last few years. Keeping them in shoes has been a part time job! Buying shoes online is sometimes a gamble, but free returns really take the anxiety out of it. I have bought shoes or boots that they either don't like, or that don't fit, and it's no big deal because I can ship them back for free!
I just recently learned about this and to me, it is so fun! I love hunting for a bargain! When you are shopping for an item, say a pair of shoes. Look for the little link that says Available at a lower price from other sellers. Sometimes, but not always there will be a remarkably lower price available. Amazon Warehouse resells millions of like-new, open-box, and pre-owned items that have been returned by customers at a great discount. Just remember to check when you are shopping! I got a pair of shoes, these to be exact for a steep discount!
My friend that told me about this gets diapers for a discount by using that little trick!
You can also just search inside Amazon Warehouse. It is divided up into categories, and while quantities are limited, there are some great deals to be had!
I am pretty new to this, but this could really be a time and money-saving option. Sign up to have certain frequently used items shipped on a schedule with subscribe and save. These items are generally more bulk items. If you are super organized, this is a great way to avoid running out of diapers, toilet paper, or shampoo.
With Prime Pantry, you could manually select certain frequently used products and fill your box. These items are typically smaller quantities or single items. Not a 48 pack of toilet paper. Prime Pantry offers competitive prices and lots of coupons on their Prime Pantry Deals Page.
Our family loves audiobooks. We often check them out at the library before long car rides. Listening to something entertaining or educational makes the time seem to go by much faster.
We love The Incorrigible Children of Ashton Place, there is a whole series, and they are a delight to listen to. The narrator makes the books come alive. But our library doesn't always have it when we want it. They are all on Prime.
Here are a few of our other favorite audiobooks
Any of The American Girl Audio Books. There are lots of them!
You can purchase audiobooks on Prime even if you don't have an Audible subscription. However, if you just sign up for their " rel="sponsored nofollow">free 30-day trial, you get two audiobooks for free, and you get to keep them whether you stay with audible or not! That is how I got two of our favorite audiobooks!
We appreciate that there are family-friendly choices on Prime Video. I was recently searching for "Christian Movies for Prime" I found this post that I thought was pretty helpful. I have not seen all of the movies listed, but I appreciate the round-up and can at least sort through and decide which ones we would watch.
It is difficult to find something that everyone likes, especially with all of the different age ranges. So while my older kids appreciate a good movie like, God is Not Dead. My younger kids enjoy Tasha Tudor and Fireman Sam.
My husband and I will occasionally get into a period drama like Downton Abbey, Victoria, or Poldark. It may take us two years to watch an entire series, but we get it done eventually! Prime Video has lots of period dramas, this one recently caught my eye!
I know some people are down on Amazon because it is such a huge company. However, Amazon does help small businesses as well. You don't have to be on Prime to enjoy the benefits of shopping small businesses on Amazon. Like this one, they offer handmade soap and no plastic in their packaging!
Prime day is coming up on October 13 and 14. This is a great time to buy gifts or bigger items that you are planning to buy. Last year I bought my first Instant Pot and then bought another one for a gift. The price was excellent. I will be setting up a Prime Day page here on the blog and I will update it with the best deals throughout the two days. I will send you an e-mail when the page is up and running, so make sure you are on my list!
I will keep my eyes peeled for things that we need throughout the year as well as things for our farm. Like these tarps for our chicken pens! I hope this post helped you to know why you should consider Amazon Prime.