Free Farmhouse Fall Printables
Five Free Farmhouse Fall Printables right here for you! I am so excited to share these with you! My hope was that by creating five different farmhouse printables that there would be something for everyone! This post may contain affiliate links.
Farmhouse Fall Prints
I recently learned how to make my way around Adobe Illustrator. My oldest son is going to school for graphic design, but he hasn't learned much in Illustrator yet. He just kept encouraging me to try to figure it out. He said, "if you run into a problem, just google it, I promise you will find the answer." You know what? He was right! So glad we raised up kids that can encourage us to learn new things!
Learning how to make the buffalo check background that I put in a couple of these prints was beyond thrilling! I drove everyone in the house crazy with my over the top excitement! Doesn't it feel so good to learn something new?
I hope you enjoy at least one of these designs! I had mine printed at the local print shop. Our home printer is lame, and unfortunately it's new so I cannot justify a new one. It uses so much ink, but prints everything in a muted sort of way. Very annoying! Anyway it didn't cost much to have these printed and they used nice thick paper.
All of these free farmhouse fall printables are done in 8 x 10, and a few of them I am offering in a smaller 5 x 7 size. They are all in my printable library. The library is password protected, so in order to access the prints you need to subscribe and receive the password. I will only email you when I have new posts up on the blog. Already a subscriber? Click here to go to my Printable Library.
Hand Picked Pumpkins
This one may be my favorite. I am not an excellent gardener. Maybe I have shared this with you before, but I am a neglectful gardener. In the spring I start off wanting to grow everything. I usually overplant, putting way more in the ground than I will ever care for.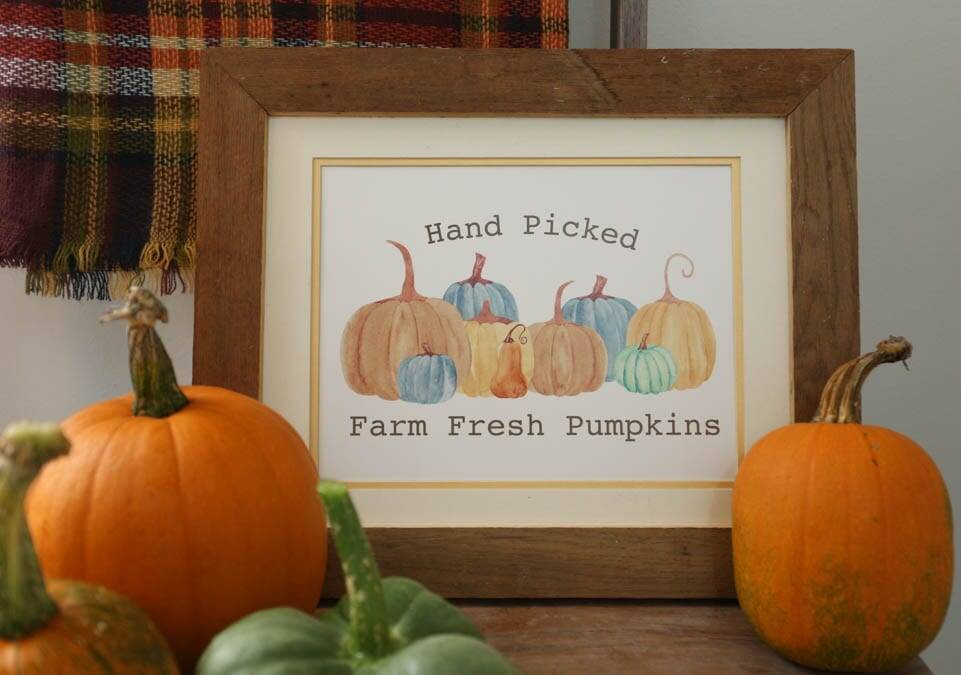 Pumpkins, squash and zucchini are some of my favorite things to grow. It's no secret that zucchini is easy to grow and very prolific. Maybe that's why I like it so much, it seems to thrive even with neglect! Pumpkins are such a rewarding thing to grow. For a few dollars you can plant mound after mound of seeds.
Therein lies my problem. I plant mound after mound. Usually too close together and then viola! Jungle garden!! The pumkins are climbing the tomatoes, and the cucumbers and gourds are all mixed up together. There is little hope of getting in there to pull weeds…or is that little desire? Either way, the weeds come, and the squash vines climb those too!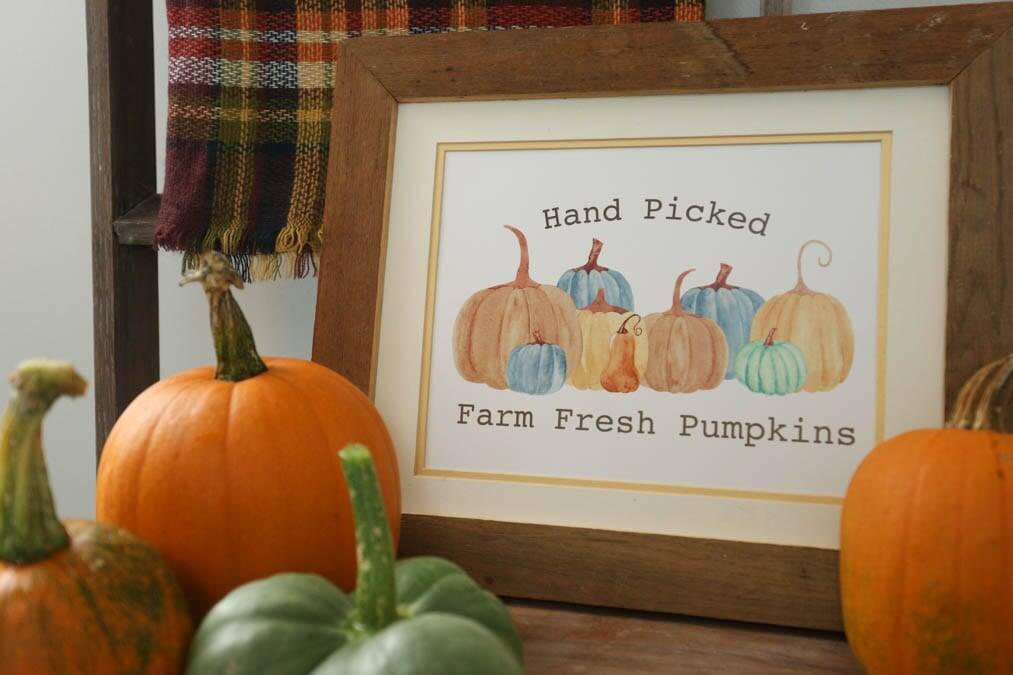 I really want to grow unique colored pumpkins, but this year I only got that tiny little green one there in the picture. Hopefully the vine will either produce one more, or that there are more hidden in the jungle garden somewhere!
I Love Fall Best of All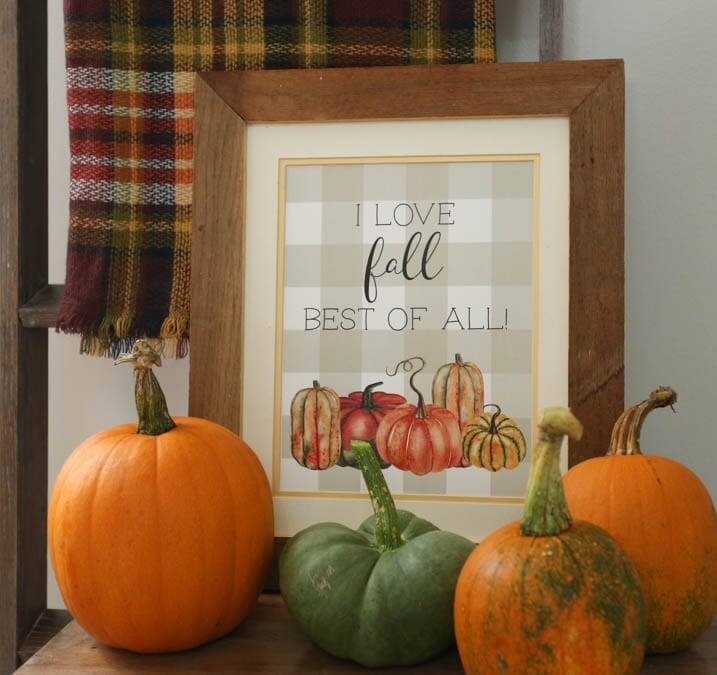 I try not to wish the seasons away. Enjoying each and every one is truly my desire. Life flies by fast enough without me wishing for something different.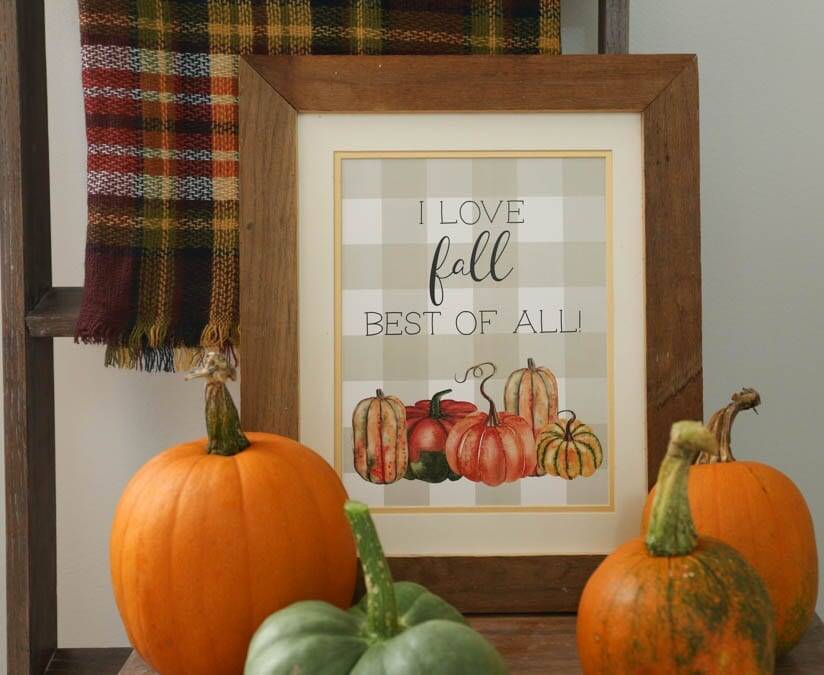 However, I cannot help but look forward to things cooling off a bit! Don't you love it when the evening calls for a light jacket? Right now it is pretty nice, we can have our windows open and enjoy the sounds outside. But, it isn't quite cool enough for soup or chili!
Don't you love the buffalo check background?? You know I'm a fan of buffalo check! Here is my dining room that I painted with checks. Also I have similar checked wallpaper in our barn loft.
Fall Feelings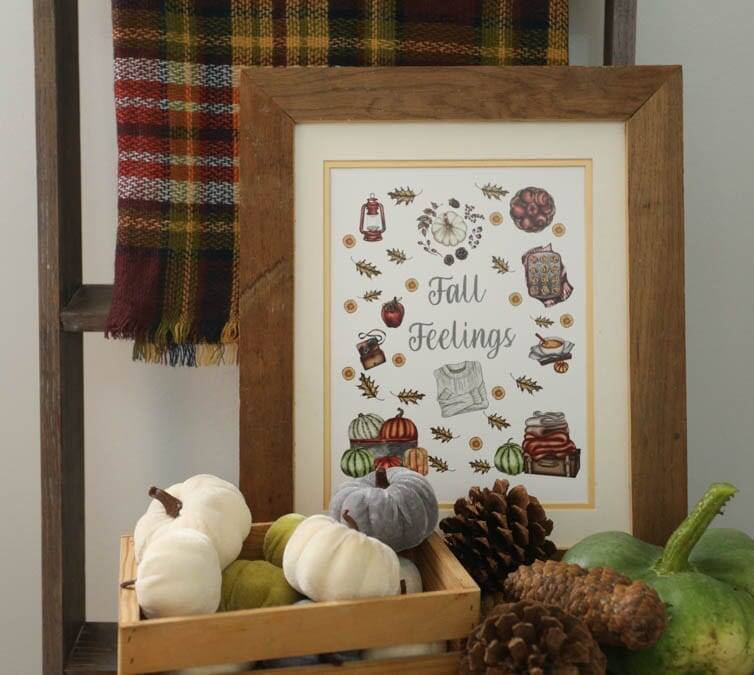 Doesn't fall have the best feelings? I mean, how can you not love the smell of cinnamon and cloves simmmering in some hot apple cider? It just makes a person feel cozy. Or how about the first evening you need to pull out your favorite sweater? Camp fires and crunching leaves, its all just perfection!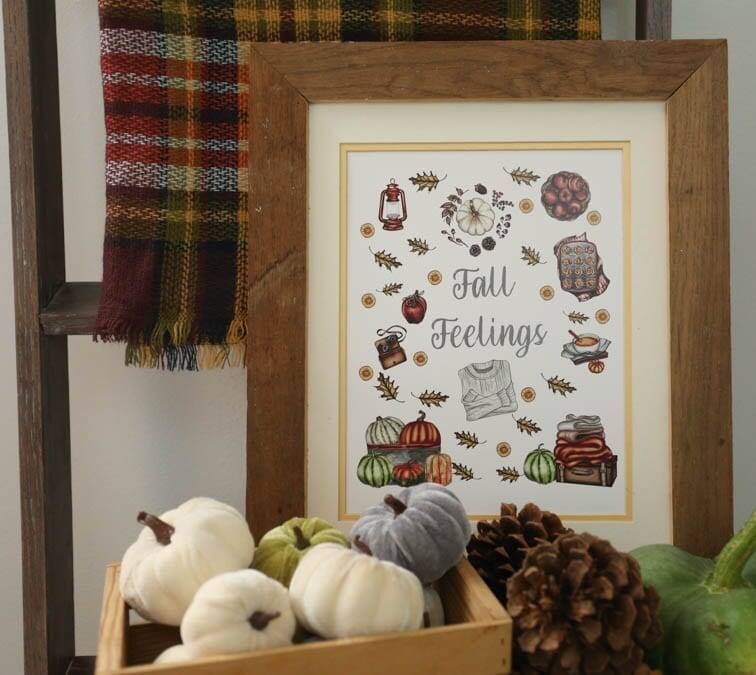 Fancy Fall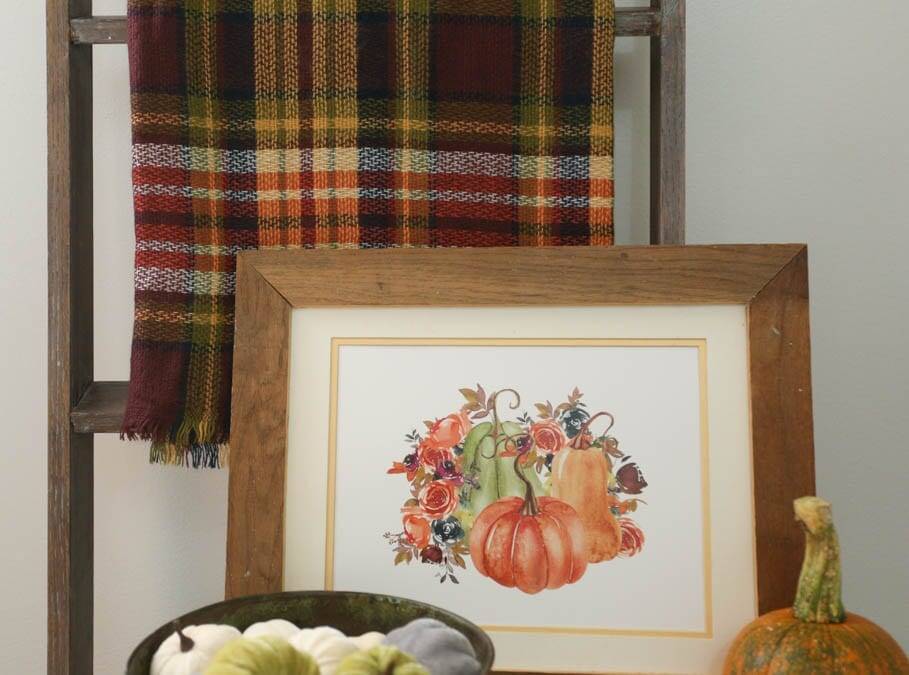 Sometimes you just need a little fancy. My girls love this print the most. It was very fun to make this one! All of the beautiful colors and shapes mixed in together. Flowers and pumpkins and squash! What could be better?
If you like the picture frame in these photos, I have a detailed tutorial on how to make one! I used leftover hardwood flooring! You can make it any size you like.
Hey There (unique) Pumpkin
Maybe you march to the beat of a different drummer. Maybe the fall colors don't quite fit into your current decor. Perhaps you love bright colors and the unexpected? I was thinking of you when I created this design.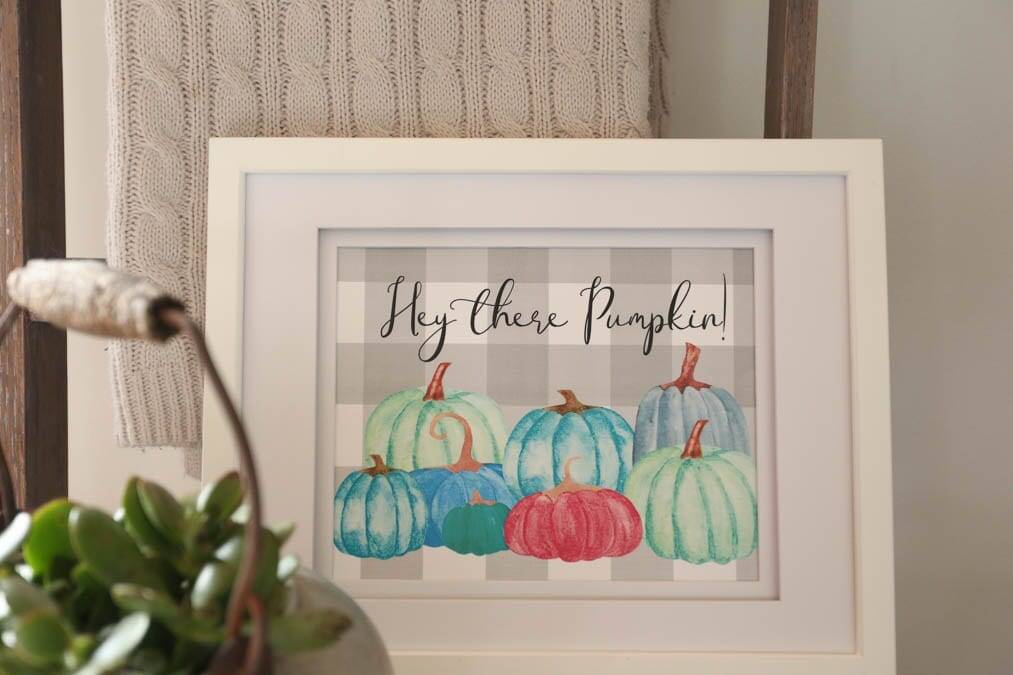 I really did actually have two different friends in mind for this one. Hopefully they like it!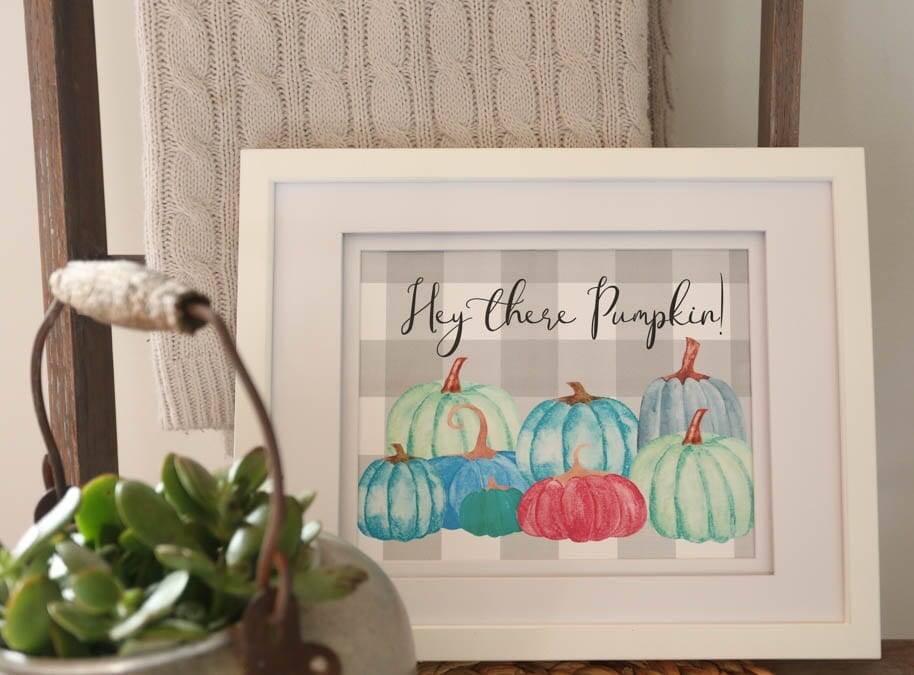 Need some pumpkins or picture frames? Here are some cute ones that I found.
That's all for today! I hope that at least one of these free Farmhouse Fall Printables strikes your fancy! I also hope it is starting to feel like fall in your neck of the woods! Have a great rest of your week friends!
Don't forget to come back on Friday for Embracing Home and Family Link Party!
Please Pin and Share!