Gift Guide for Homesteaders | Homesteading Gift Ideas
Homesteading gift ideas are here! Practical useful items that any hobby farmer or homesteader would be delighted to have!
This post contains affiliate links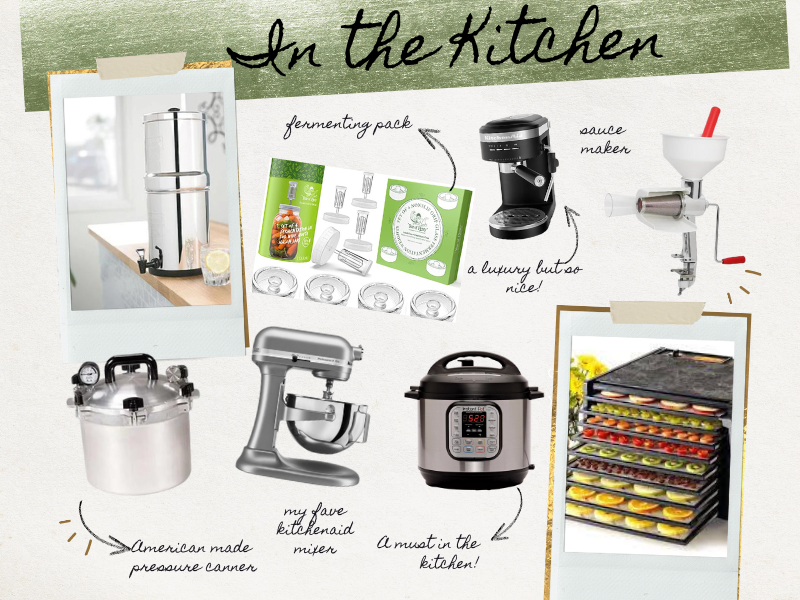 Homesteading Gift Ideas for In the Kitchen
Most of these items I have and use daily or they are items that are on my wishlist. We raise all of our own meat, we milk a cow, and we garden. All of these items are useful for food preparation and preservation!
The sauce maker has made making applesauce and jelly a breeze! I use my Kitchenaid mixer daily, it is seriously a workhorse and I've had mine for at least 15 years!
I also use the Instant Pot nearly every day! Here is a post on how you can save money by using one!
I also love this rolling pin, it makes rolling out pie crust a breeze, and they make lovely gifts!
The espresso machine is definitely a luxury, however, we use it every day, and my girls and I love it! Nothing like treating yourself to a fresh latte after morning chores!
This has been one of my favorite homestead purchases. If you or your loved one doesn't live in the country on a well, then this is an even better gift! I recently (sacrificially) gave our two oldest sons our Berkey. They are living in an apartment near their school and work and their water tasted awful! Both of them have remarked on how much better it tastes after going through the filter!
I love ours for making soap and sourdough. It filters out anything that would contaminate those! Since giving ours away this is on my wishlist as well! Here is a post on how to set one up and why to use one!
Fermenting Equipment
You can live anywhere and ferment! This is a great way to "get into" homesteading. Start preserving small batches of garden produce or local produce on sale! This setup would be a great start!
Handcrafter Gift Ideas
As a participant in the #handmadehomechallenge I have learned or worked on learning a new skill every month for the past two years! It has been an incredible time of exploring new interests and growth! Soapmaking, candlemaking, and baking sourdough have been three of my favorite new hobbies! Below are some great tools for anyone interested in learning a new skill!
I have several soap recipes, here is a beginner one.
Learn how to make soy wax candles here.
Hand-dipping candles is also a wonderful way to get into the homesteading spirit! You can learn how here.
The sourdough kit below is not necessary for making sourdough, but it makes it all a bit easier!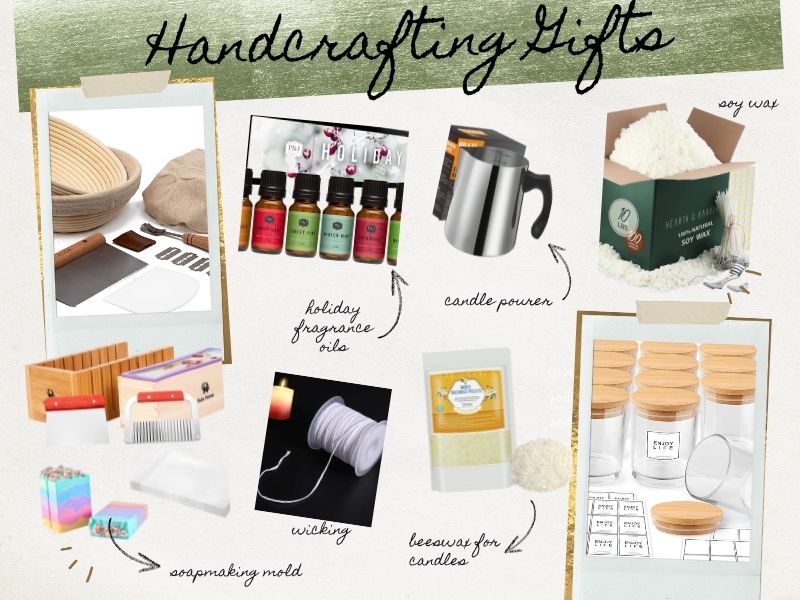 Homestead Fashion for Women
Ok, I don't know if you would call it fashion exactly…but here are some cute and practical clothes that any homesteader would be glad to have! I plan to share all of my favorite dresses in another post!
The hunter boots are by far my favorites for winter!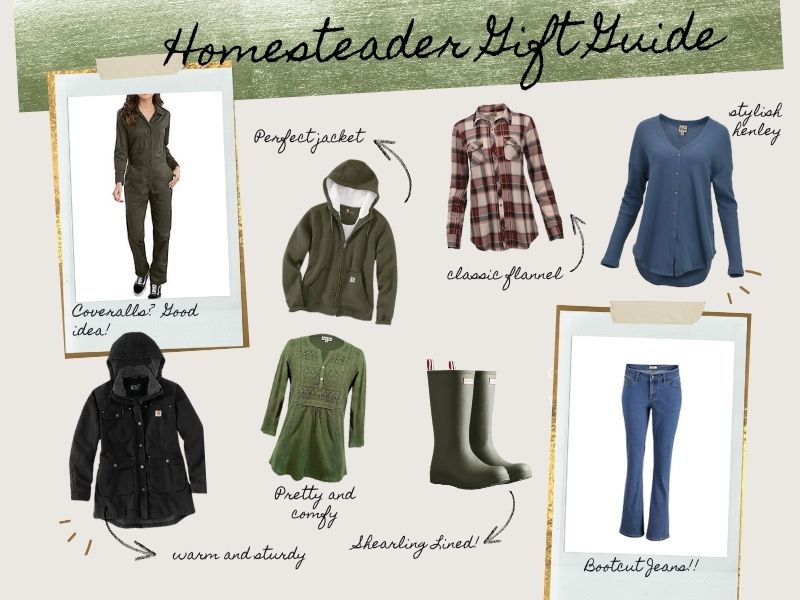 Homestead Clothing for Men
These are some of my husband's tried and true items for "farm chores". Also, I forgot to add this coat, my husband and 18-year-old son both love it, it's super warm and water-resistant.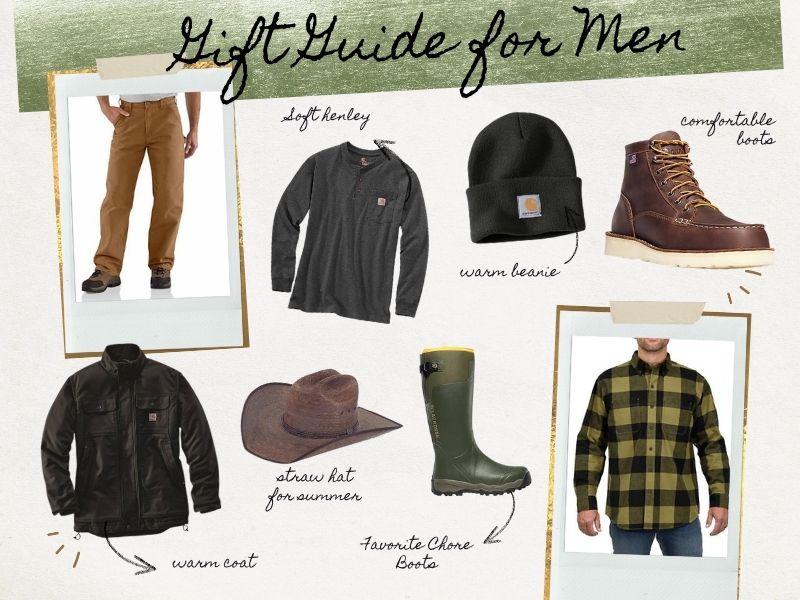 Gifts for Farm Kids
Even if you don't live on a farm, just about any kid would love these gifts! The tricycle has been a favorite around here for quite a while. The size is perfect for a child 5 or under. Our four-year-old and two-year-old both love the thing! I love that it doesn't easily tip over and it's easy to pedal. Watch for a sale, I see them half off from time to time!
For older kids, the walkie-talkies have been a huge hit with our kids! This set is pretty good and affordable. Our kids can go exploring out in the fields up to several miles away and still be able to check in with me!
Our girls have a huge collection of toy horses, this brand is one of the best for durability.
These cowboy boots are some of our favorites, they are affordable and durable, both the boys and the girls like them. The work gloves are so fun for little ones, our little boys love having gloves like daddy!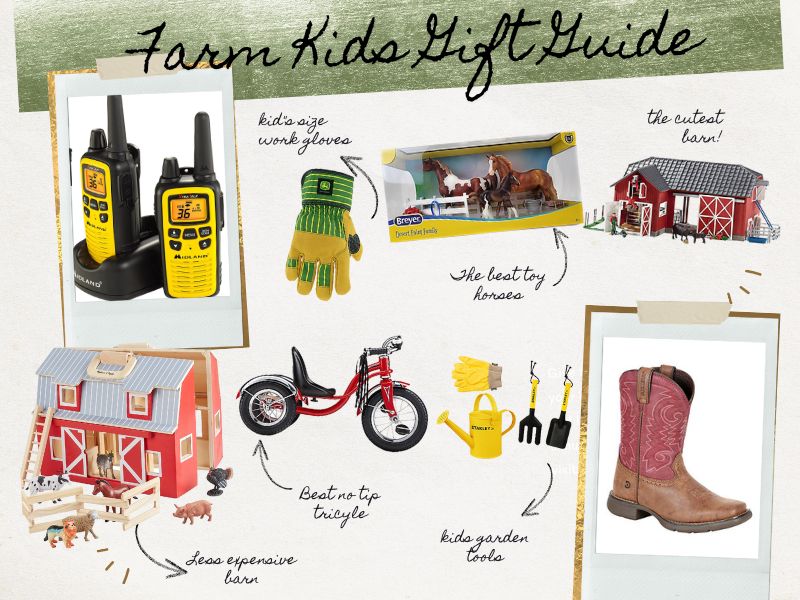 That's it for my homesteading gift ideas. I also have a gift guide for creative kids, you can find that here, and an Etsy gift guide for homesteading mamas here.