How to Hand Knit a Soft Chunky Blanket | Super Soft Easy to Knit Blanket
It is super easy to finger-knit or hand-knit a super soft chunky blanket. Even if you don't know how to crochet or knit, you can make one of these beautiful blankets in an afternoon!
This post contains affiliate links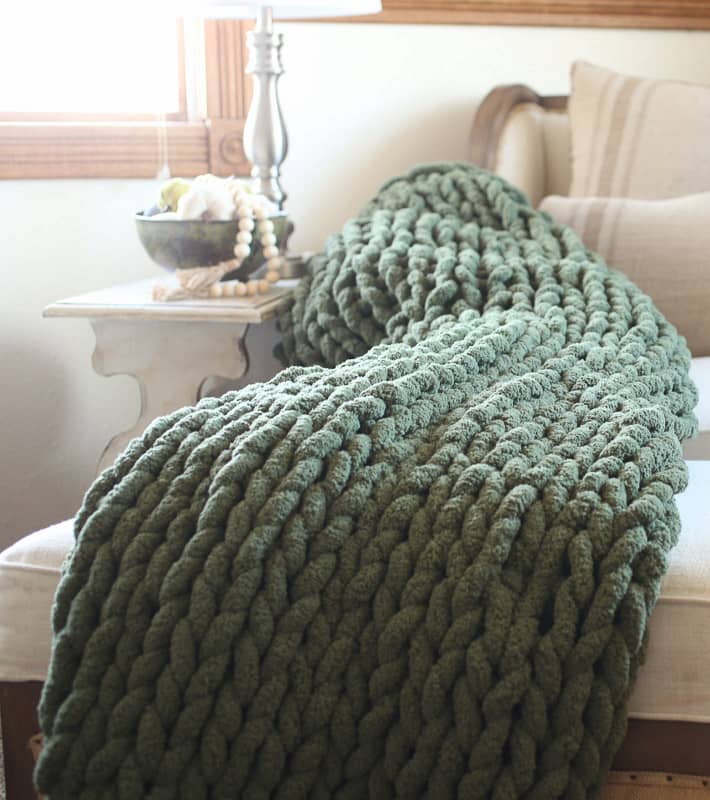 These hand-knit blankets have been around for a while and I have wanted to make one for years! However, one thing stopped me, the bad reviews of the way the wool behaved. Plus the cost seemed rather high. The nice thing about coming in on the tail end of a trend is that most of the problems have been worked out and yarn manufacturers have begun to offer other chunky yarn options!
Choosing the Best Yarn for a Finger Knit Blanket
Below are some options of types of yarn you can use to hand-knit a blanket. For the blankets we made we used super chunky chenille yarn. It is very easy to work with and incredibly soft! Plus it's affordable! If you get it on sale you can make a nice-sized throw for under $30! Or, like my daughter, you could make a huge blanket appropriate for a bed, which will be about $50! She got the pretty green from Hobby Lobby, it is called Yarn Bee Eternal Bliss in Olive. The skeins are a few yards shorter than the cozy blanket yarn from Michaels.
If you aren't opposed to acrylic yarn, you can find some super cheap options for less than $3 a skein at Michaels as well.
If you want to make one of these with 100% wool, the instructions are the same.
Best Videos for Learning to Fingerknit or Handknit
I started filming a tutorial for making one of these blankets, however, I talked myself out of it. There are some really great tutorials already out there on how to make a chunky finger-knit blanket. I didn't think there was anything to add to the great tutorials out there so I decided to just link to the ones that I watched. I am continuing to waver back and forth so there may be a video tutorial coming up to go with this post as well!
This video by Paige is excellent and very straightforward she teaches you how to finish it very simply and shows how to do it from both sides.
I enjoyed this video if you want to make a variation of one of these blankets, hers is ribbed. Still simple and straightforward just a little more thinking involved. The Reclaimed Heirloom does a nice job with her video!
The Handmade Home Challenge
This is the project for October's #handmadehomechallenge we have learned so much this year! I have enjoyed trying something new every month this year and I hope you have too! Here's what we have done so far this year, and what's planned for the last two months!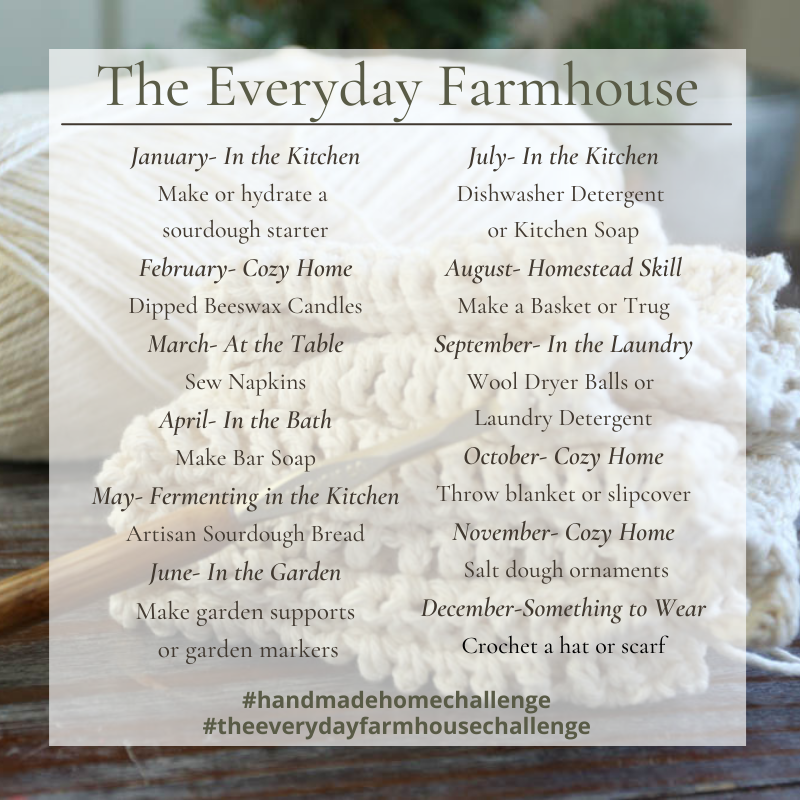 How to Make a Chunky Hand Knit Blanket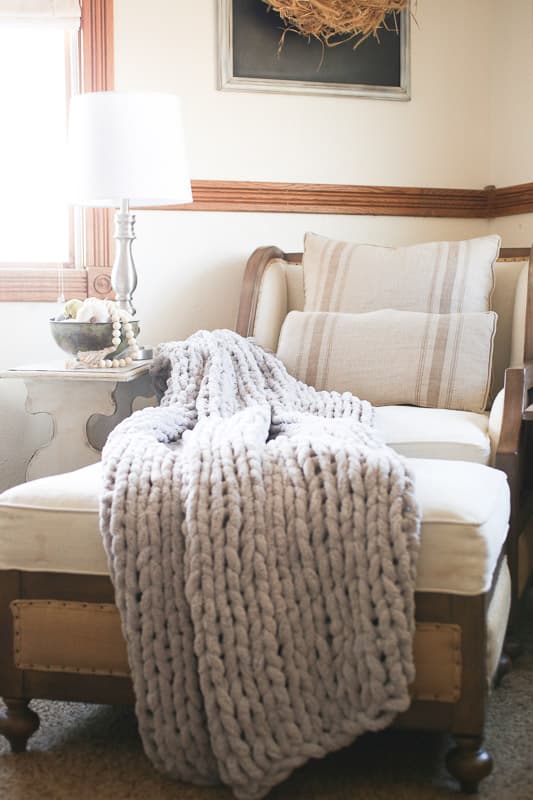 Here are the step-by-step instructions I highly recommend watching a video in addition to reading the instructions as it will really make more sense to you!
Materials Needed for a Chunky Finger or Hand Knit Blanket
6-10 skeins of chunky yarn
scissors
your hands
Step 1: Make a slipknot with your yarn
A slipknot is made by looping the yarn around your hand and then pulling the yarn that is connected to the ball through the loop to make a knot that can be adjusted. It can slide up and down.
Step 2: Make a Chain
Next, you simply reach through the loop and pull more of the working yarn through the loop to make a chain. Your chain stitches should be about the length of your thumb. I made my chain 30 chains long for a finished blanket that is 52″ x 70″.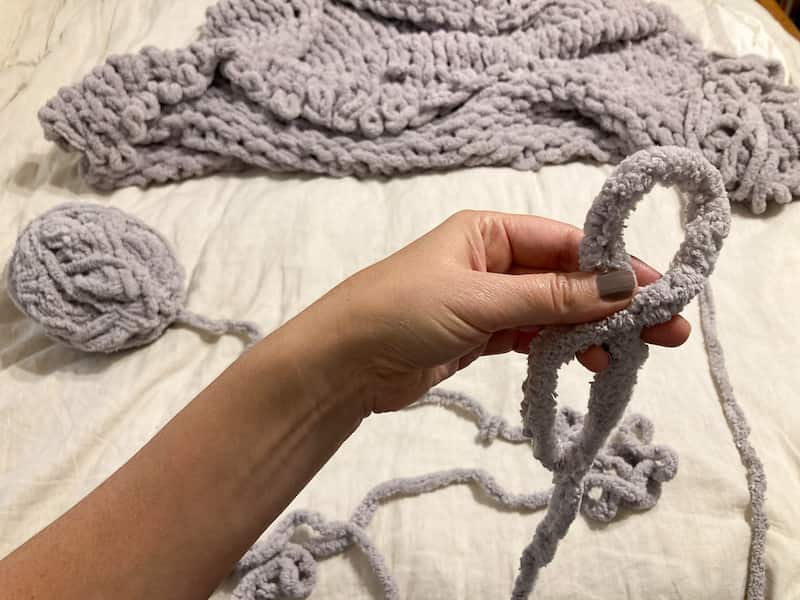 Step 3: Begin Making Loops
Once you have made your chain, lay it down on a table, a bed, or even on the floor. Give yourself plenty of space. Skip the first loop and work into the second loop.
All you are doing is pulling a loop through each chain, about the length of your thumb. Try to keep each loop the same size. Always skip that first loop on a new row.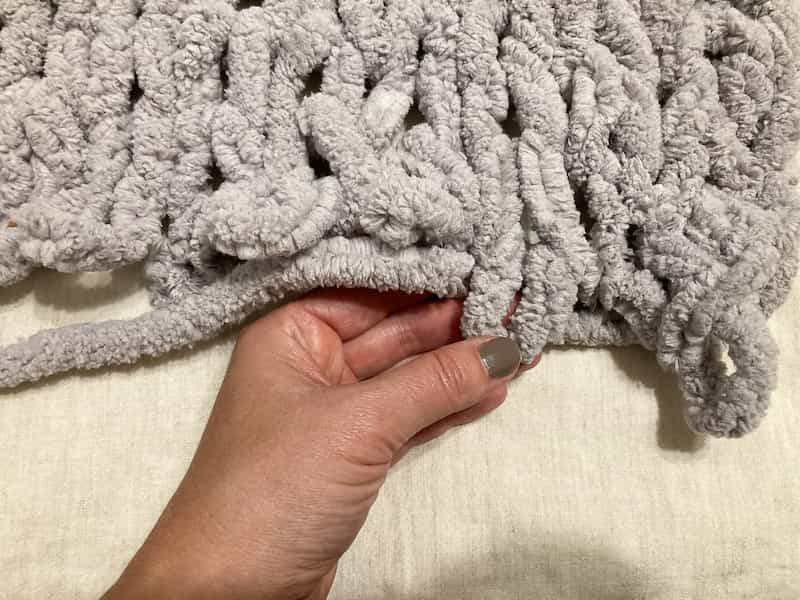 How to Add More Yarn
If you run out of yarn on one skein, simply tie a new one on, make sure your knot is super tight, and then cut off the tails. Then keep going.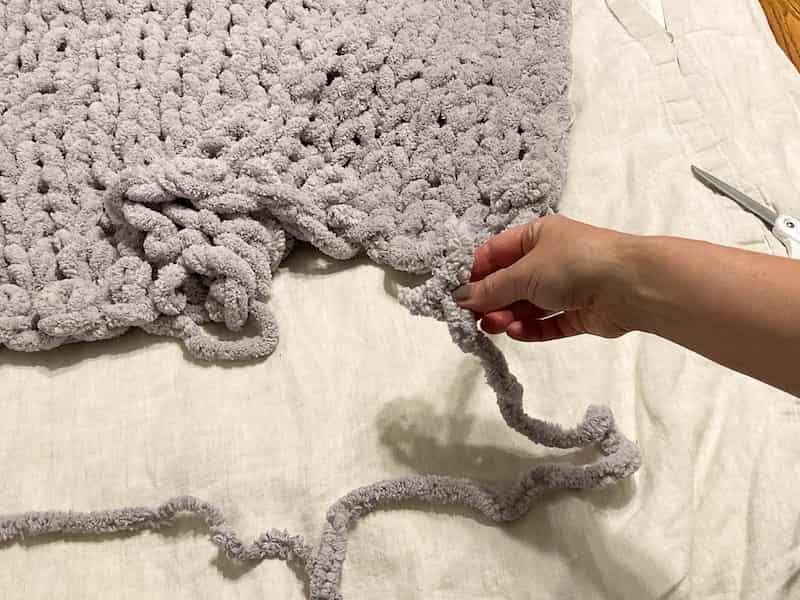 How to Finish your Blanket
Once your blanket is your desired size, make sure you have enough yarn to complete one more row. For this row, you will skip the first loop like usual and work into the second loop. Then you will pull the second loop through the first. Again you will work through the next loop and then pull it back through the previous loop. You will be making a chain or braid all along the top of the blanket.
Lastly, tie pull the final loop all the way through, and then pull it tight. Weave the tail into a few loops and then knot it one more time and cut it off close to the knot.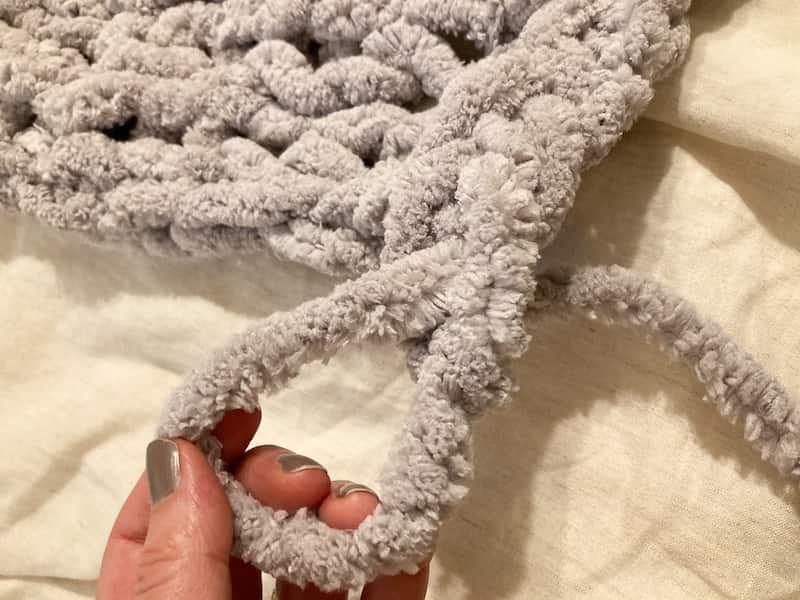 That's it! These really are so simple to make! Please take the time to watch one of the recommended videos above if you have any questions, seeing it done makes it much easier! Happy hand knitting!