Farmhouse Pantry | Pantry and Scullery Dreaming
A farmhouse pantry seems like the ultimate homesteading status symbol doesn't it? A walk-in pantry with a prep area and sink would be a dream! Let's look at some of the best farmhouse pantry inspiration from around the web!
This post contains affiliate links
Last year we took the first step toward our dream of adding on to our home, we had plans drawn up. Then of course lumber prices skyrocketed and the economy overall felt very unstable. We knew that any sort of building project was not in our immediate future. However, it felt really satisfying to come up with a plan, to have something tangible to look at to validate our dream.
We recently had a contractor come and look at our plans and he will be giving us an estimate on the cost to build. We are probably still a year or more out on the actual groundbreaking, so I am going to use the time in between to really solidify our plans. I know there will be a million decisions to make when the time comes so I am going to try to think everything through and plan exactly what we want to get out of each space.
Our Plans
Our current home is around 2700 square feet. This is really a nice-sized home and for the most part, we don't feel terribly crowded even with 12 people living here.
However, there are a few problems with our home. For one, the upstairs bedrooms are all converted attic space, therefore there are two tiny closets to service all of our children. The other issue is that the walls are about 20″ tall as the ceiling's slope is nearly to the floor. This makes it difficult to place furniture and dressers are nearly impossible in most rooms.
The opening to the tiny half bath upstairs is under 6′ tall! Our two oldest boys are over 6′ so that causes a lot of head-knocking. They are both living in an apartment for the school year, however, they do come home on days off and we want to still be able to accommodate them!
Other Issues
The other main issue is our dining room. We have a 9′ table that just fits our family, there is absolutely no room for anything else. So, when we have guests for dinner it is quite cramped. Thinking about the future, we know we want to be able to accommodate spouses and grandchildren! Our current situation does not accommodate that.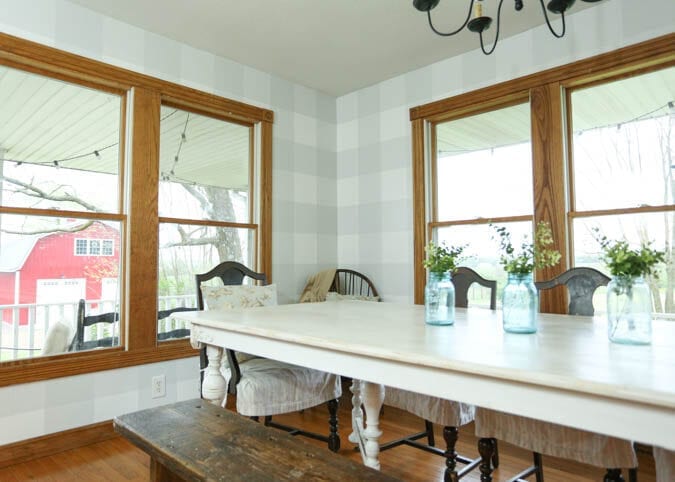 Our mudroom/laundry room is also inadequate, you can see how we have made it work here. However, it is still a difficult area that is constantly overloaded.
Square Footage of the plans
Our plans include an additional 1800 square feet. This will be a two-story addition. There will be a new kitchen and dining room on the lower level and then two bedrooms and a full bath on the upper level. We are also planning to dig a basement as our current home only has a tiny cellar that you have to use a ladder to climb into.
Most likely we will just have the contractor dry in the addition and we would do all the finishing work ourselves, including plumbing and electrical.
Our current kitchen will become additional mudroom space and a pantry. The pantry is what excites me the most. Therefore our first installment of dream posts is centered all around the pantry!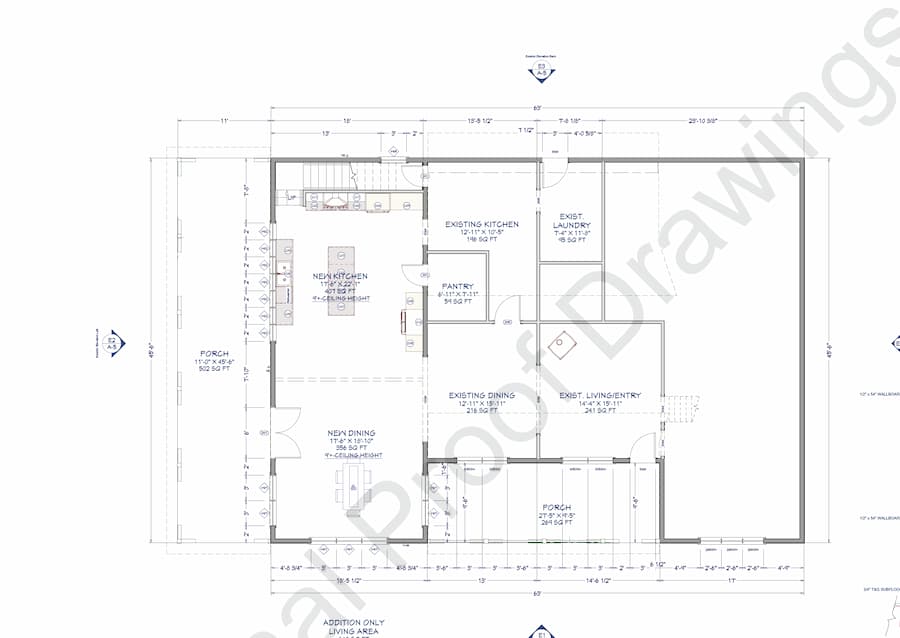 Pantry Dimensions
The pantry plans are only about 6'x 7′ on the above drawing. After thinking about that, I really think I would like to sacrifice mudroom space for more pantry. We'll see what we decide, but I think my husband is on board with that idea as well.
The above is just a screenshot so it's not the easiest to see, sorry about that!
A Kitchen Scullery Intrigues Me
What is a kitchen scullery? The word makes you think of Downton Abbey right? Well, a scullery was a smallish kitchen usually off the back of the house where all the dirty work was done. This space was out of sight of the main house and is where the dirty dishes were washed and clean dishes stored.
In modern luxury homes with an open floor plan, the scullery is making a comeback. People like the meal prep and dirty dishes to be out of sight so that the main kitchen can stay clean for serving food and drinks. While I'm not looking for a luxury home exactly, I would really like to lay this out to serve our family's needs and I see the wisdom in having that separate area.
What I would like is for my pantry to be a bit of a scullery. Mainly meaning I would like a sink in it. I love to make soap and having a place to do that away from the main kitchen would be ideal. If I could also get a scullery maid to go with it, that wouldn't be so bad and if Mrs. Patmore came to whip up a few meals I sure wouldn't complain! Ha!
A butler's pantry is also a similar idea and I've always loved those as well. Below are a few pictures of some of my favorite pantries that I've found around the web with credit given: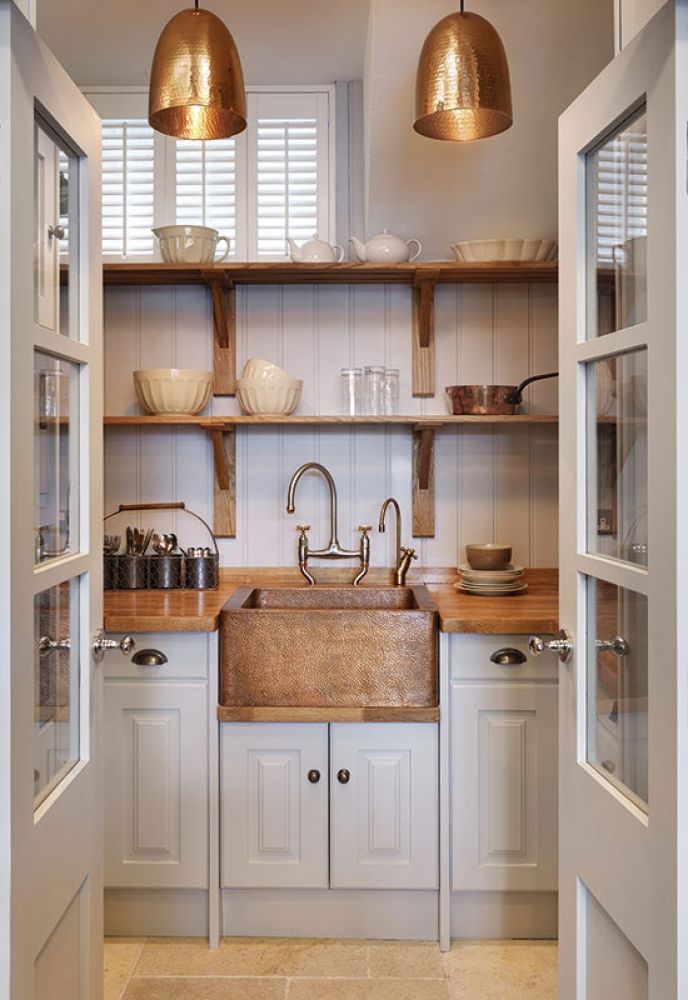 Walk-in Pantry Organization
I love clear glass jars for keeping flour, oats, and sugar on my counter. You can easily see if you are running low and I think it just looks so pretty! These jars will definitely be part of our pantry organization!
I also love these can organizers! What a smart way to store canned goods!
Here are some other great farmhouse pantry organization tools!
Pantry Shelving Options
There are a wide variety of ideas out there for pantry storage options, from shelves to custom cabinets. We will likely go with open shelving. Our contractor said the price of custom cabinets right now is $600 a linear foot! Yikes! I like the idea of being able to find what I need at a glance anyway so open shelving will likely be the way we go!
I don't care for the look of wire shelves so something wooden will likely be the way we go.
Farmhouse Pantry Flooring
Since the pantry is a smaller space away from the rest of the house, this might be your chance to try out a fun floor! Depending on the price, I might consider doing something a little different in our pantry as well. We have done a painted check floor in the past so that might be an option. I don't love ceramic tile in a kitchen as if you drop something it is 100% guaranteed to break! Wood floors have a bit more bounce and are more forgiving if you drop a jar of beets!
However, the slate floors in the above picture look really good too! I'm sure they wouldn't be as forgiving as wood though! Several of the pictures below have really pretty floors as well!
Farmhouse Pantry Doors
I love the idea of a window in the pantry door. It would allow light in and it just looks so old-fashioned and quaint. I like the doors that have storage space on the back side as well! Super smart idea if you are short on space!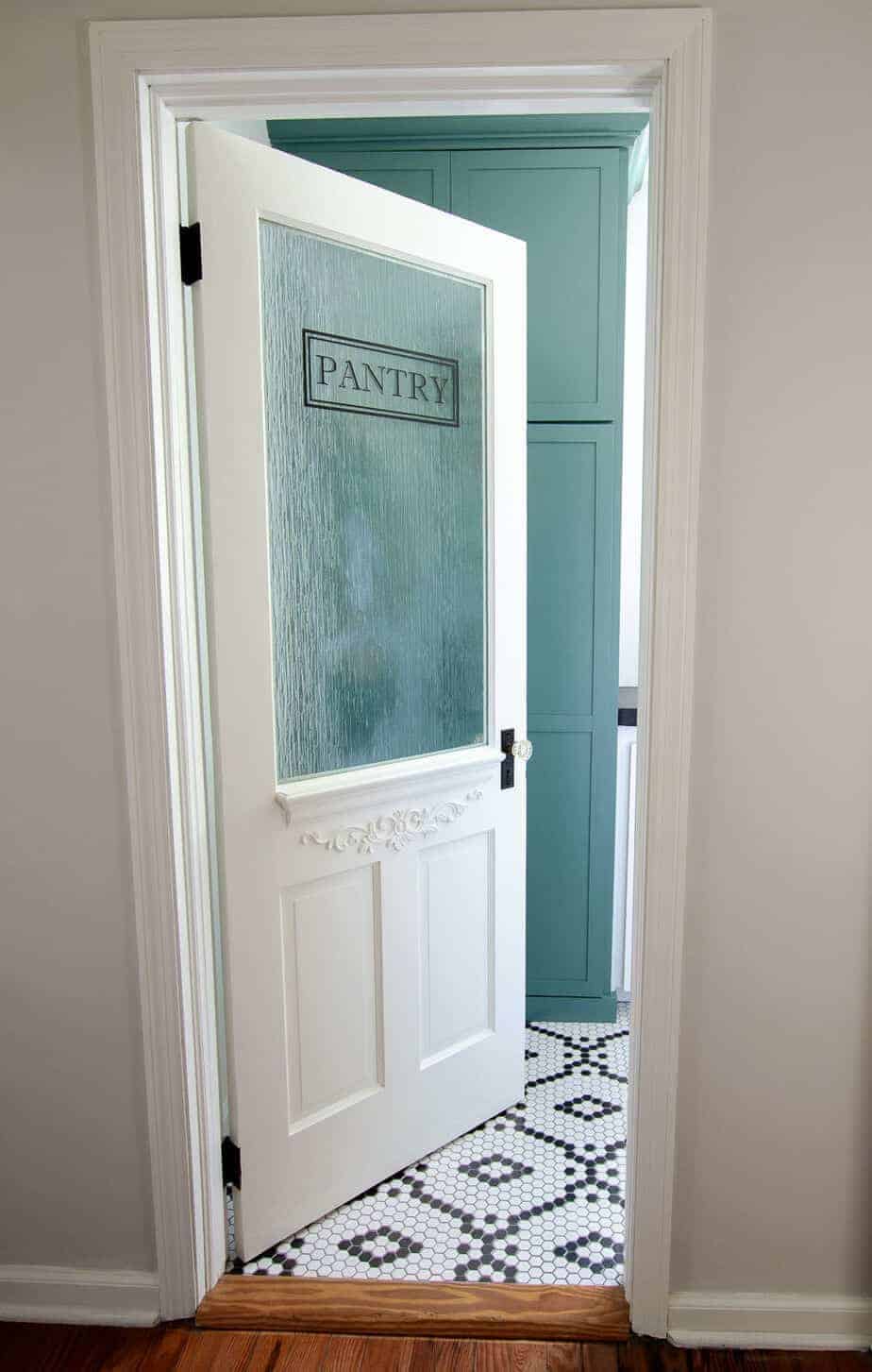 This picture below just looks so lovely to me. I love the primitive old-fashioned look of it! I don't know if I would ever have a pantry quite like this one, but it really is beautiful!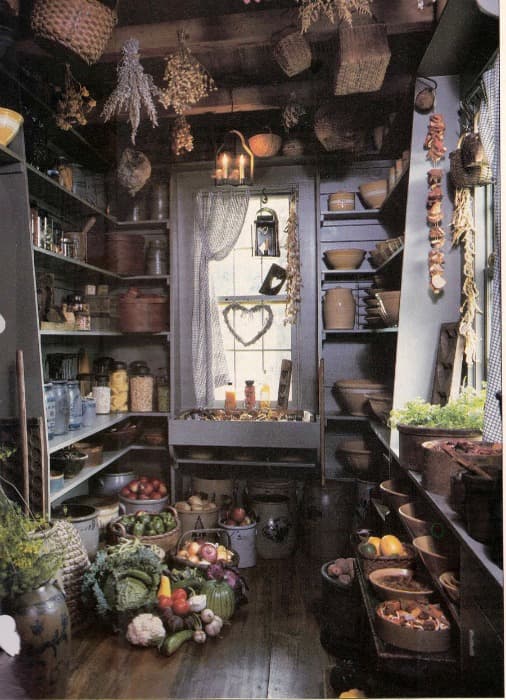 Pin for Later!
That's it for now! If you are pantry dreaming too, feel free to save some of these images to you pinterest boards! It's always good to be able to study and compare different ideas!