DIY Photography Wall Art with Photowall
DIY Photography wall art is a simple way to get a high-end look in your home. This post was done in collaboration with Photowall. All opinions and cow photography are my own. This post also contains affiliate links.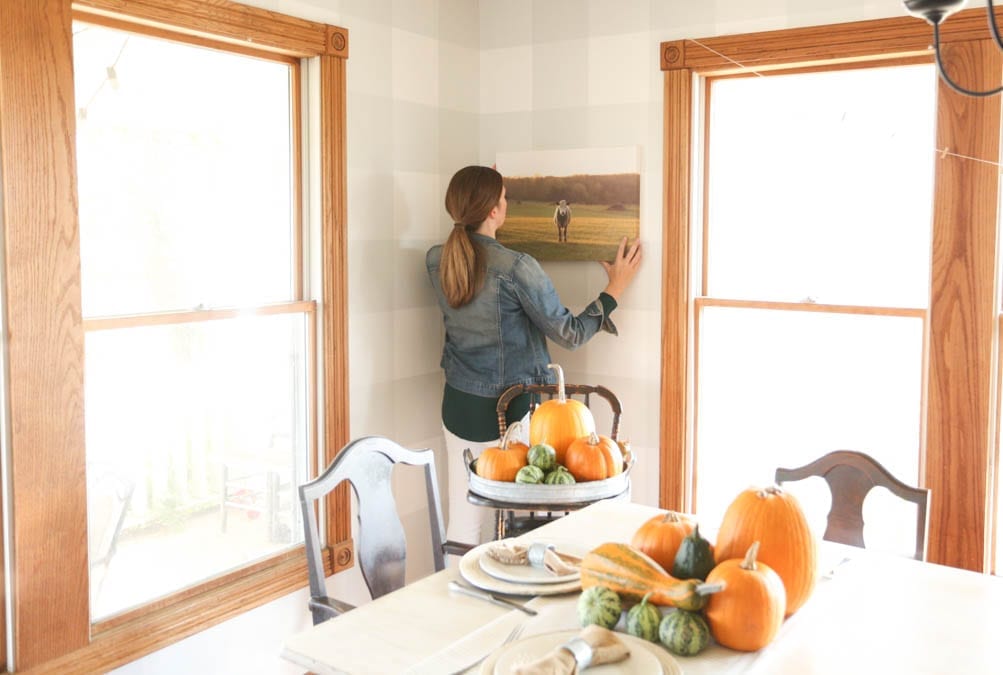 Hello, my name is Jennifer and I love to photograph cows. Like, it's my favorite hobby. They are so inquisitive and fun. There are times when I think they are actually posing for me. However, if I am going to speak like a person that is knowledgable about cows, I should say I like to photograph cattle. Because technically a "cow" is a "bovine" that is a female and has had a calf. I don't think the creature in this picture is technically a cow…there now you have had your biology, farm lesson for the day. I am a homeschooling mother at heart after all.
Below I will share some tips and tricks for great photos. Whether you want to have custom art for your walls, or you need a weird hobby, like photographing cows, or maybe you just want to capture your everyday, these tips will help you out!
Photography Tips
My #1 tip
The key to great pictures is great light. Really, light makes all the difference in the world. You can have a great shot all set up, the perfect subject, the perfect setting, but if you don't have good light, you may as well forget it. Of course, you can edit photos, but I have never been able to make a mediocre shot look genuinely amazing by editing. It's so much better to have a great shot to work with.
This shot was taken during the golden hour. Golden hour isn't actually just an hour. It is the time of day, around sunrise or sunset when the sun is low in the sky, and casting a golden glow across the land. It can give interesting shadows and allow you to see the usual landscape in a "new light". The golden hour is the best time for outdoor photography. Playing around with the height of the sun in the sky can allow you to capture the sun's rays and get some really unique photos.
Change your position
This is my favorite way to get beautiful shots. What I mean by this is don't just stand up straight and shoot your image that way. Try squatting down and getting eye level with your subject. If you are photographing a child definitely get down on their level. Take a shot standing up and then get down on your knees and take one. Look at the difference! It is remarkable.
Consider your subject's location
Always give your subject room to move across the frame. The subject does not always have to be dead center, if you are capturing a dog chasing a ball, give the dog room to move through the frame.
Pay Attention to the Horizon
The horizon should always be level. Of course you can fix this when you edit, but it's best to get a straight level horizon to begin with.
Learn to Shoot in Manual
About six years ago, I took an online photography course. It was worth every penny. This is the course I took. Her photography is inspiring and beautiful. She focuses on everyday life.
Camera Gear for DIY Photography
Before I took the course mentioned above, I bought an entry-level DSLR camera (digital single-lens reflex). It is likely very outdated now, but I bought it second hand from Craigslist. It would be the equivalent of this camera. This was a very affordable option for me. My oldest son was also interested in learning photography, and this wasn't so expensive that I was uncomfortable with him using it! The key is to get a camera that you can use in manual mode. Getting out of automatic mode allows you to be more creative with your photos, and it lets you get exactly what you want out of a shot.
After using that camera for years, I found a Canon 6D, also on Craigslist. The man I bought it from was meticulous in his care for his camera. He even kept it in a climate-controlled safe when he wasn't using it. Needless to say, it was in immaculate condition. This has been such a great upgrade and has allowed me to get better shots in lower light situations. For the shot of this cow, I was using this lens, it is very expensive, but worth every penny.
Of course, I bought most of my gear used. You just have to be very careful when buying used equipment, as you don't always know how it has been handled. I try to check it out thoroughly or make sure the place I am buying it from has a guarantee or a good return policy. A great camera and lens make such a huge difference in the clarity of your photos.
What To Do With Your Photos?
It can become a bad habit to take pictures and then let them sit on memory cards and flash drives. Beautiful pictures just wasted. We all have done it. Digital photography has made snapping a photo so easy, but it is a waste if we never enjoy the photos again. Technology has also made it very easy to move those pictures online. There are plenty of companies out there that will help you to put your pictures in photo books or even just old fashioned prints. We just have to take the time to spend an hour every month or so to deal with our pictures! I am preaching to myself here!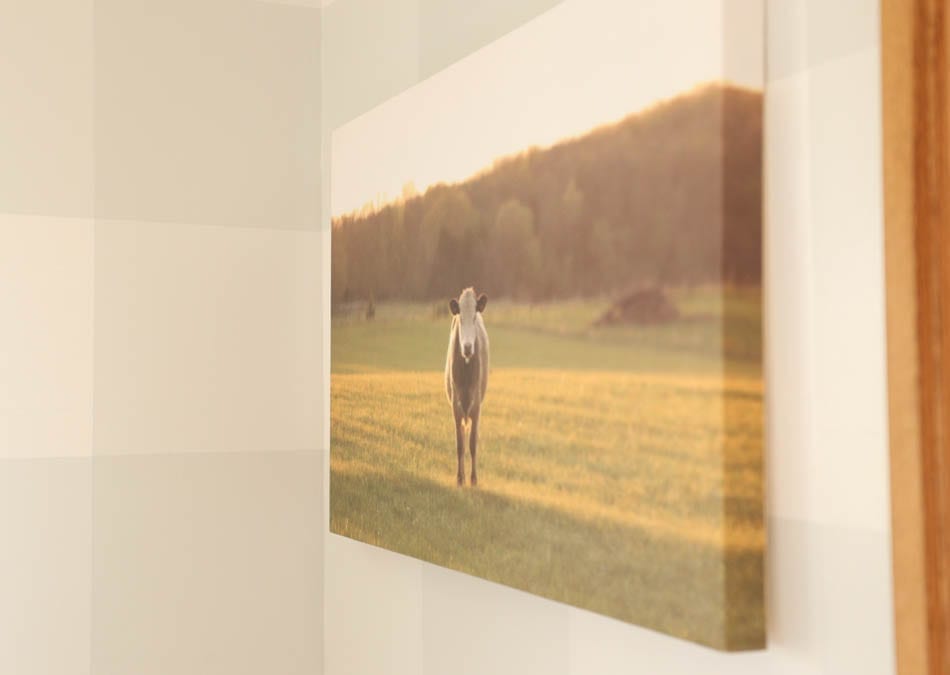 Photowall is a Swedish company that I just learned about. They specialize in custom wallpaper and prints. Custom as in they can take your photos or designs and turn them into wallpaper! Pretty neat! They also do custom canvas prints, framed prints, and posters. Not to mention unique and beautiful wallpaper and wall murals.
I ordered a custom canvas print. Mine is about 24′ x 16″. I had this cow picture that I just love. I knew it would look nice in the dining room against my buffalo check walls. The ordering process was beyond easy. It won't allow you to pick a size that is too big. Meaning, if the quality of the image will be compromised, it will tell you and make you choose a smaller size. Shipping was also super fast.
If you would like to place an order with Photowall, they have kindly offered my readers a 25% discount for any product on their site! The code is theeverydayfarmhouse25 (all lowercase) and is good for one month from today. I hope you give them a try!
DIY Canvas Frame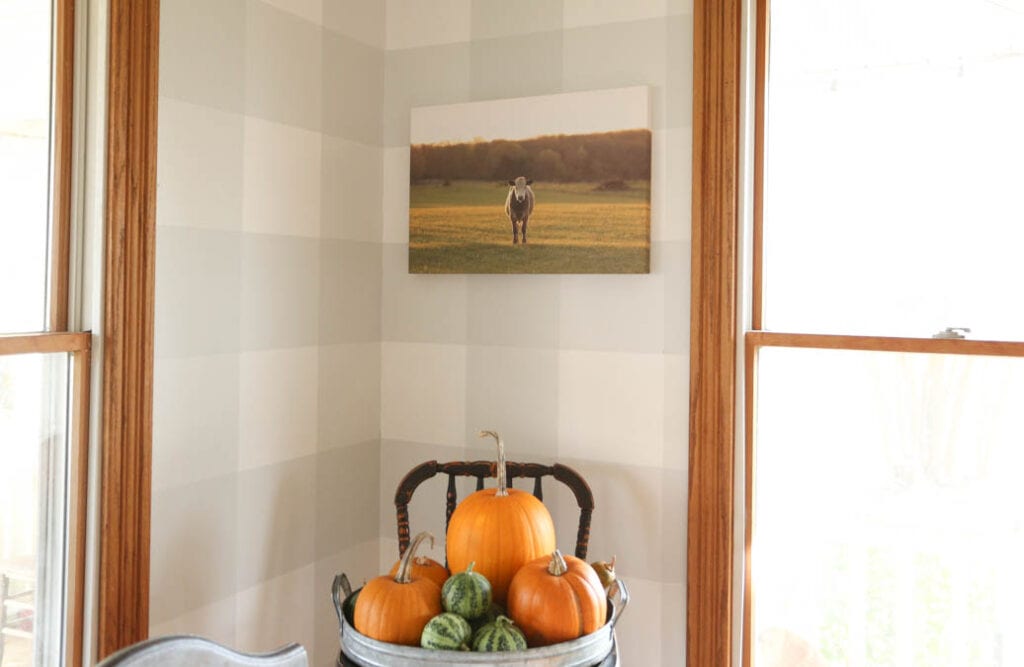 When ordering your canvas, be sure to select a frame kit. The canvas and frame kit comes in a box as pictured below. It contains clear instructions for mounting the canvas on the frame. This is a very simple process and yields a very professional looking result. Don't worry, if you don't get it on there exactly right on your first try, you can reposition it…ask me how I know!
Lay the print face side down on a clean flat surface
Peel the paper off of the frame to reveal the sticky surface.
Lay sticky side down on the edge of the canvas being careful to get it to the very edge. Do this to all four sides.
Next, fold the cut corners up the sides of the frame
Fold all of the frame pieces in toward the center
Secure with the bracket and screws.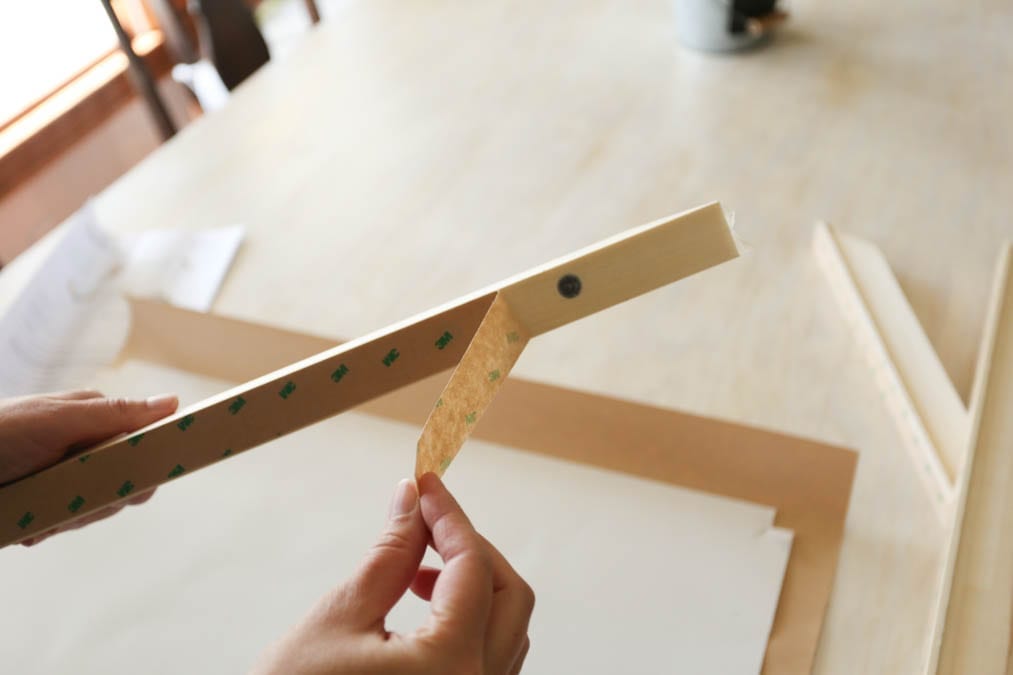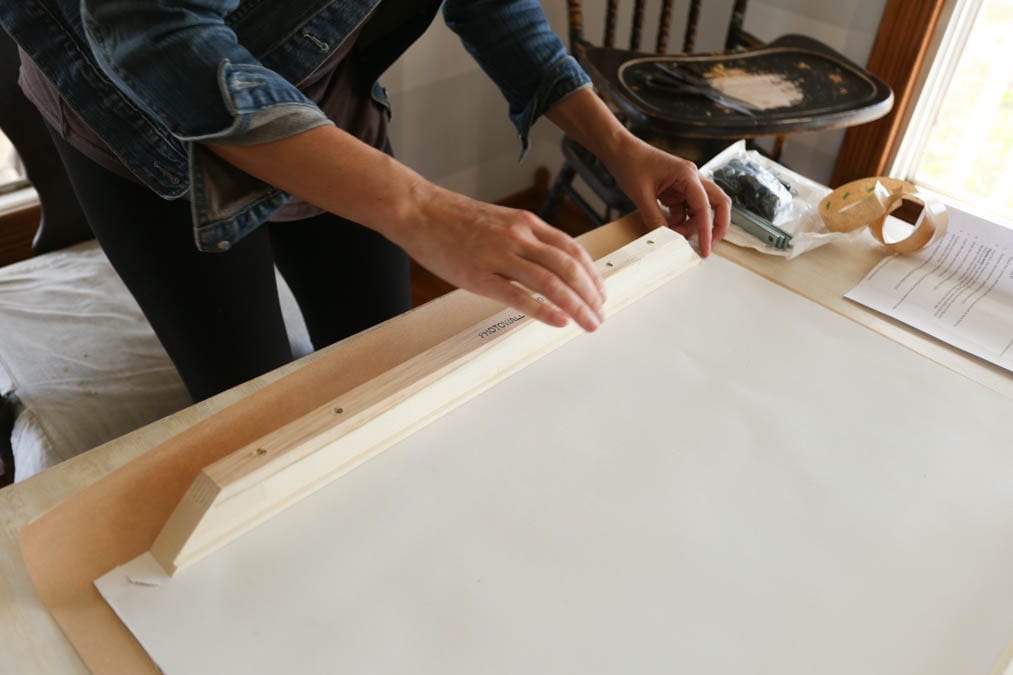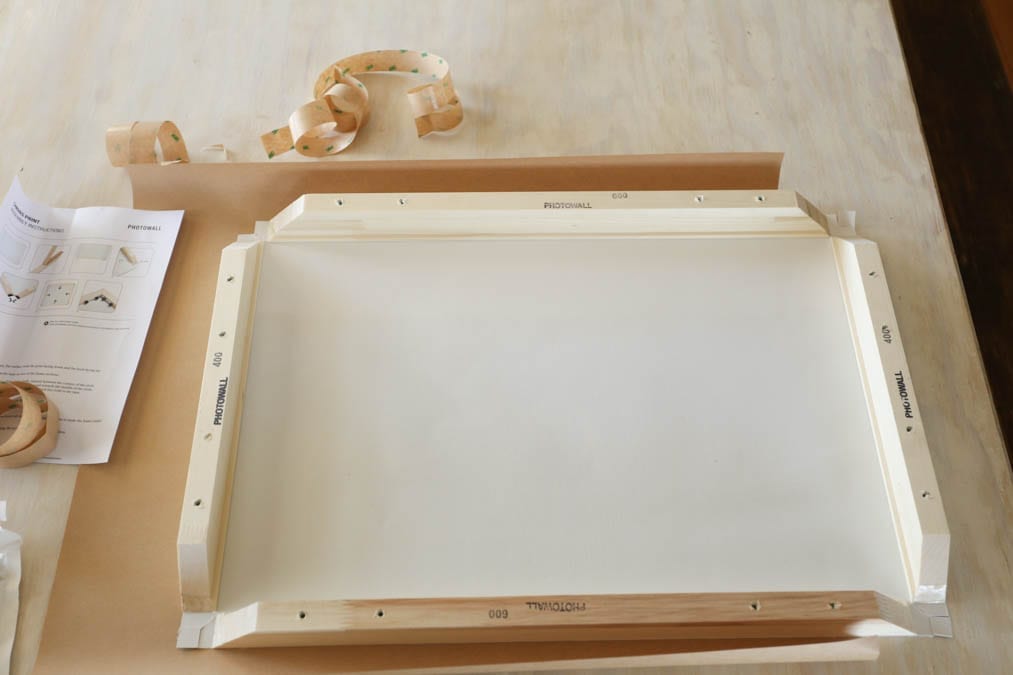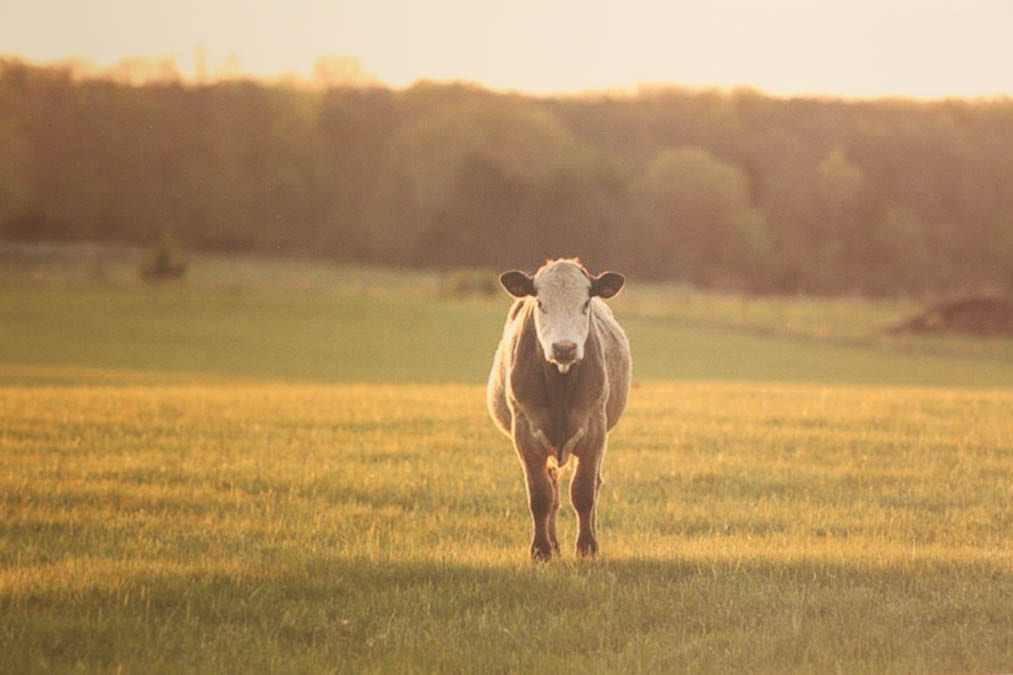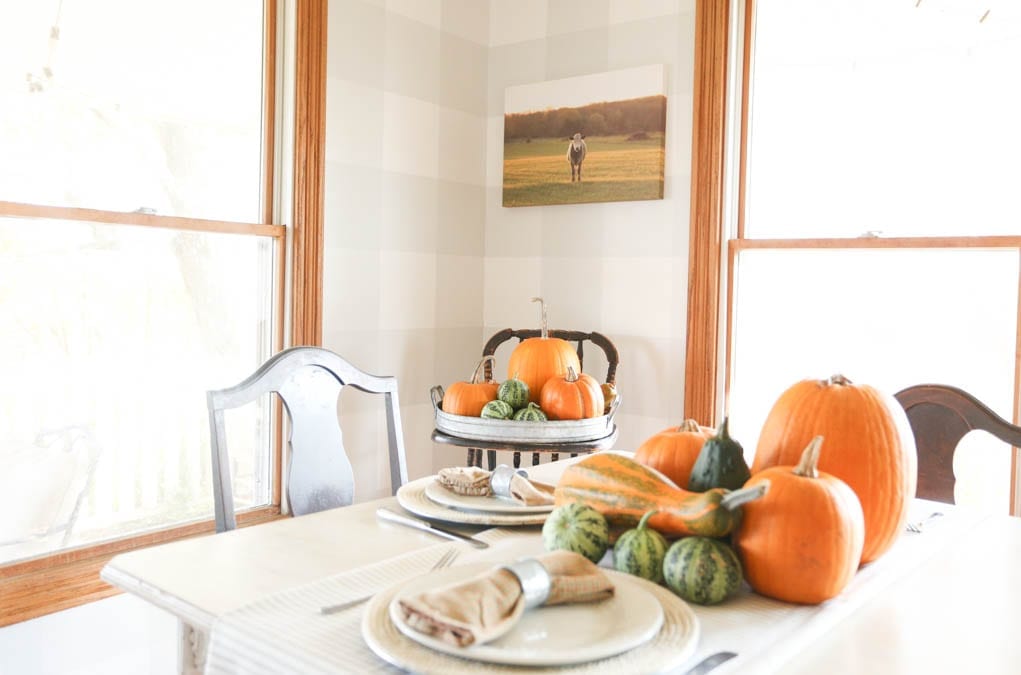 What Do You Think?
Are you ready to give this DIY Photography Wall Art a try? Wouldn't it be fun to have a family picture or a vacation landscape made into a canvas print? I plan to order a couple for Christmas gifts!
Pin and Share!