Cottagecore Kitchen: A Collection of Whimsical Charm
Cottagecore kitchens are a design trend that has taken the world by storm, offering a nostalgic escape into the heart of the countryside. It celebrates the simplicity of rural life, embracing natural elements, vintage charm, and earthy colors. The kitchen, as the heart of the home, is the perfect space to infuse with cottagecore aesthetics. Here we will explore how to create the ideal cottagecore kitchen, focusing on the color palette, wood tones, and furniture choices that will transport you to a whimsical retreat of comfort and charm.
As we continue to dream of adding on to our home and renovating our kitchen, I hope you'll join me as I put my ideas together. You can see my dreams for a pantry/scullery here.
As you scroll through these kitchens for inspiration pay attention to how each one makes you feel. That is always what I think about with my home, what feeling does it evoke? Is it inviting? Cottagecore to me is kind of like stepping into a storybook cottage, comfy, cozy, and inviting with lots of charm.
Color Palette: Earthy and Natural
The color palette is the foundation of your cottagecore kitchen. To evoke the feel of the countryside, opt for a range of earthy and natural shades. These colors will form the backdrop for the warm feeling of a cozy kitchen.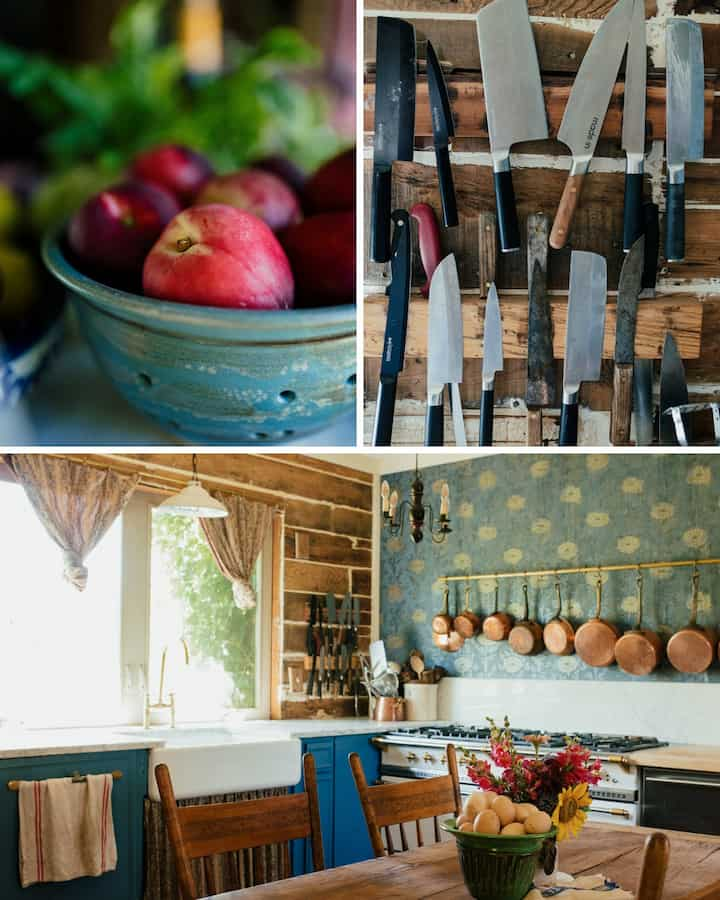 What's fun about this style is it could go as neutral as you would like to as colorful and eclectic as you please!
Soft Sage Green: This gentle, natural hue invokes the serenity of meadows and forests. It provides a calming ambiance and beautifully complements wood tones. Use this for the walls or some of the cabinets
Creamy White: Choose a creamy white for the cabinets or walls. It adds a touch of purity and light to your space, making it feel open and inviting. This neutral tone also acts as a canvas for other colors and patterns.
Dusty Rose: To add a romantic and nostalgic touch, incorporate dusty rose accents. Consider this color for fabrics, dishware, or small decor elements. It will infuse your kitchen with a subtle touch of femininity.
Sunflower Yellow: Add pops of sunflower yellow in the form of curtains, tableware, or even small appliances. This sunny shade brings cheerfulness into your cottagecore kitchen.
Terra Cotta: For a rustic feel, introduce terra cotta as an accent color. This rich, earthy hue can be incorporated with tiles (like the first image), pots, and decorative elements. It complements the natural wood tones and evokes the warmth of an old-world cottage.
Wood Tones: The Essence of Cottagecore
Cottagecore embraces the beauty of natural materials, and wood plays a central role in this design style. The wood tones you choose should reflect the warmth and character of a countryside cottage.
Reclaimed Wood: Opt for reclaimed or distressed wood for your countertops, shelving, and even your kitchen island. These materials exude history and character, making your kitchen feel like it's been a part of your family for generations.
Exposed Beams: If your kitchen has the architectural potential, consider exposing ceiling beams. This not only adds a rustic charm but also brings the authenticity of an old country home to your space.
Oak or Pine Flooring: For your kitchen flooring, choose oak or pine wood. These hardwoods offer a warm, inviting base that complements the rest of the design elements. Add a few area rugs with cottagecore patterns for extra coziness.
Wooden Cabinetry: Your choice of cabinetry is vital in shaping the cottagecore aesthetic. Opt for shaker-style cabinets in a soft, off-white color to maintain that rustic, countryside feel.
Antique Furniture: If you have the opportunity, incorporate antique wooden furniture pieces. A farmhouse dining table, vintage chairs, or a rustic hutch can infuse history and authenticity into your cottagecore kitchen.
Furniture Selection: Quaint and Cozy
Cottagecore kitchens are all about creating a cozy, quaint, and inviting atmosphere. Your furniture choices play a significant role in achieving this. Think of furniture that combines functionality with charm.
Farmhouse Table: A sturdy, farmhouse-style dining table should be the focal point of your kitchen. It's the perfect spot for gatherings, family meals, and intimate conversations. Consider a table with a distressed finish to add to the rustic appeal.
Open Shelving: Replace upper cabinets with open wooden shelves to showcase your dishware, glassware, and rustic kitchen accessories. It not only adds a practical storage solution but also gives your kitchen an open and airy feel.
Windsor Chairs: Windsor chairs are a timeless choice for seating. Their classic design complements the cottagecore aesthetic perfectly. You can leave them in their natural wood finish or paint them in one of your chosen cottagecore colors.
Vintage Appliances: Consider using vintage-inspired appliances in your kitchen design. Retro-style stoves, refrigerators, and small appliances can add a touch of nostalgia and charm to your space.
Cottagecore Decor: Accessorize your kitchen with cottagecore decor. Think about adding woven baskets, vintage-style teapots, floral curtains, and delicate lace doilies to complete the look. A collection of antique kitchen utensils displayed on the wall can also add a charming touch.
Cottagecore Lighting: To create a warm and cozy ambiance, choose lighting fixtures that reflect the cottagecore style. Pendant lights with glass or wrought iron details, candle sconces, and vintage chandeliers can add a touch of whimsy and warmth to your kitchen.
Cottagecore Kitchen Accessories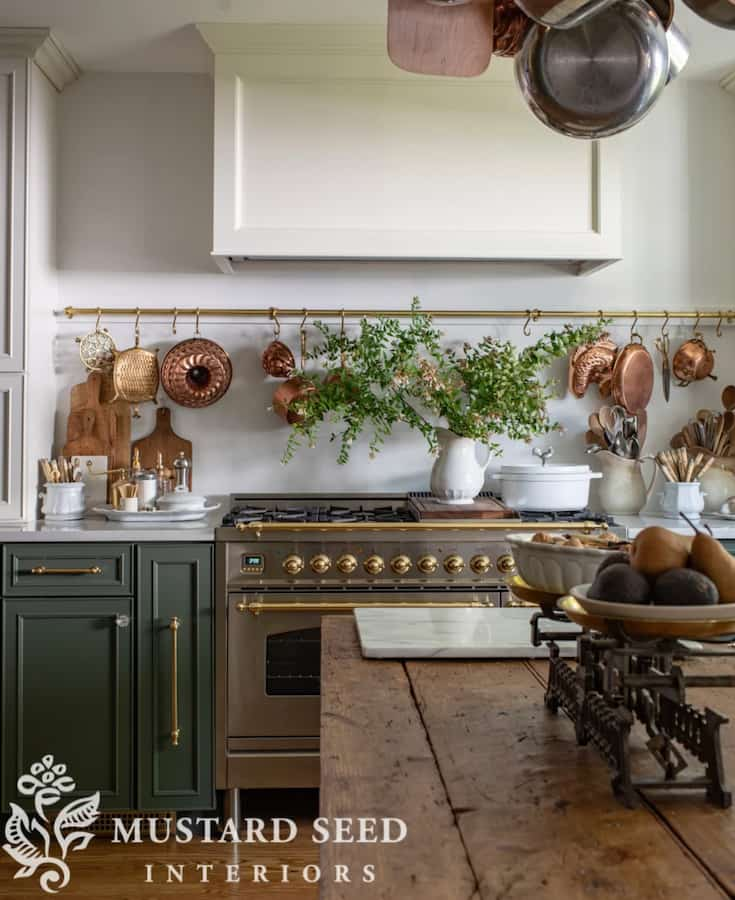 Vintage Cookware: Look for vintage or antique pots, pans, and baking dishes. Cast iron skillets, enamelware, and stoneware are all great choices.
Mason Jars: Mason jars can be used for storage and also add a rustic touch to your kitchen. Use them to store dry goods, jams, or as drinking glasses.
Floral Tablecloths and Linens: Floral patterns on tablecloths, placemats, and tea towels can bring a touch of nature and countryside charm to your kitchen.
Wooden Utensils: Opt for wooden spoons, spatulas, and cutting boards to add a rustic and handmade feel to your kitchen.
Ceramic or Stoneware Dishes: Hand-painted or artisanal ceramic dishes and stoneware mugs can add a touch of individuality to your kitchen.
Open Shelving: Install open shelving to display your dishes, glassware, and vintage kitchen items. This adds a cottagecore touch and makes your kitchen feel open and welcoming.
Fresh Flowers: Keep fresh flowers or potted herbs on your windowsill or table to add a natural and colorful element to your kitchen.
Copper Cookware: Copper pots and pans are not only functional but also add a touch of elegance to your cottagecore kitchen.
Rustic Lighting: Consider hanging pendant lights with a vintage or rustic design. You could even use mason jar pendant lights for a whimsical touch.
Aprons and Oven Mitts: Choose aprons and oven mitts with floral or gingham patterns to add to the cottagecore ambiance.
Tea Kettle and Tea Set: A classic teapot or tea set can make tea time feel like a special cottagecore ritual.
Vintage Kitchen Scale: A vintage kitchen scale can serve both decorative and practical purposes in your kitchen.
Dried Herbs and Flowers: Hang bundles of dried herbs and flowers from the ceiling or on the wall to add a rustic and fragrant element to your kitchen.
Farmhouse Sink: If you're renovating your kitchen, a farmhouse sink with a deep basin is a cottagecore staple.
Quilted Pot Holders and Placemats: Quilted fabric items can add a cozy and homemade feel to your kitchen.
Incorporating Nature: The Final Touch
To fully embrace the cottagecore theme, don't forget to bring the outdoors inside. This can be achieved by incorporating nature-inspired elements throughout your kitchen.
Indoor Plants: Introduce potted herbs, flowering plants, and succulents into your kitchen. They not only add a touch of greenery but also serve a practical purpose.
Floral Patterns: Incorporate floral patterns into your decor. This can be through curtains, tablecloths, or even floral-themed dishware. The patterns should be delicate and reminiscent of English cottage gardens.
Fresh Flowers: Keep fresh flowers in a vase on your kitchen table or windowsill. They bring a burst of color and fragrance, creating an enchanting atmosphere.
The image in the graphic below was actually created with AI. I thought I would include it in the inspiration. I'm not quite sure how I feel about AI but in this case, it was pretty fun to describe a kitchen and see what it came up with.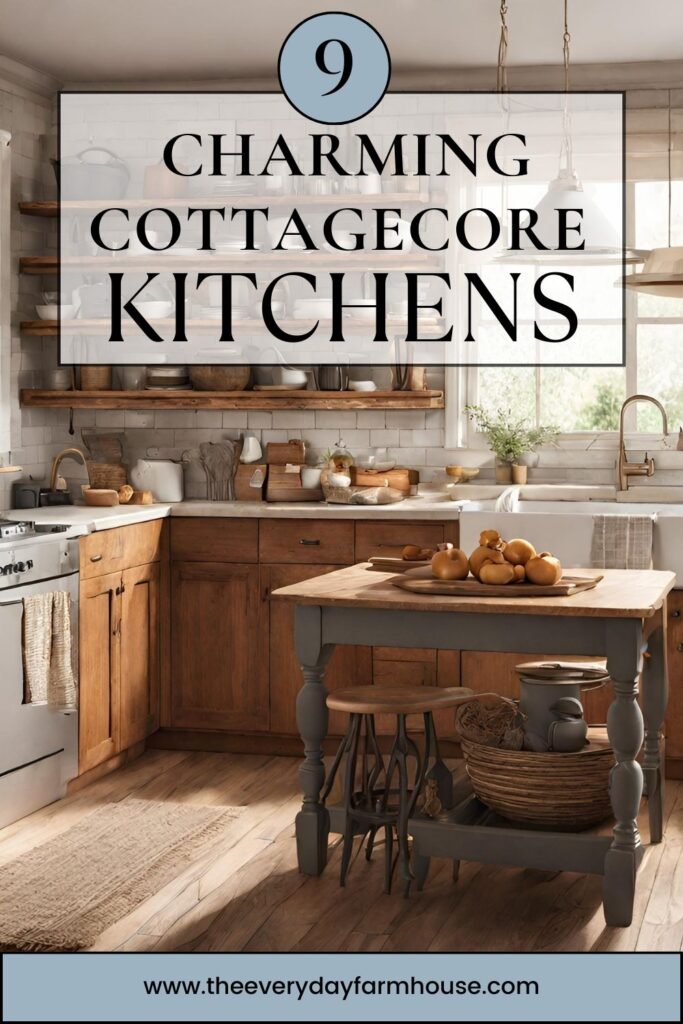 Creating a cottagecore kitchen is a wonderful way to infuse your home with the timeless charm and comfort of the countryside. The color palette, wood tones, and furniture choices outlined here can guide you in achieving the perfect cottagecore kitchen. Remember to personalize your space with elements that bring you joy and a sense of nostalgia. Your cottagecore kitchen should be a reflection of your love for nature, simplicity, and the beauty of a bygone era. With the right elements in place, you can turn your kitchen into a whimsical retreat of comfort and charm.