10 Steps for Cleaning a Super Messy Kid's Room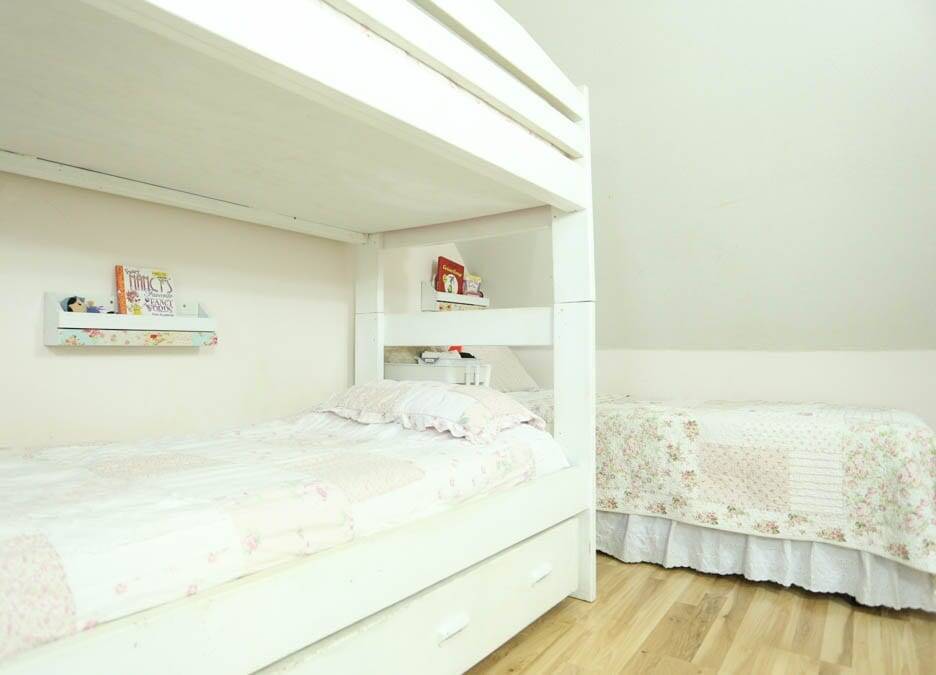 10 Steps for cleaning a super messy room, not that any of us have that situation 🙂 This post has tips for cleaning and hopefully maintaining a kid's room. This post may contain affiliate links.
Step 1: Admitting there is a Problem
This usually comes to my attention when my four year old comes down wearing something that is way too small, way too big or a Christmas dress in June. I ask "why are you wearing a black velvet Christmas dress? It's 95 degrees today" She answers, "because I don't have any clothes in my drawer." This is my first clue, and I usually ignore the problem. After all, I have macrame fringe to make. Ha, just kidding, I'm not that bad…exactly.
Clue number two, night-time bible study with dad has moved to the boys' room. I am usually in my bedroom nursing and putting the baby to bed during this time. Bible study usually takes place in the little girls' room. Hmm…I wonder why they are in a different room? Never mind that, I have a baby to snuggle.
Clue number three, we no longer have any matching shoes. Shoes and socks are my greatest source of frustration. I am beginning to look at socks as disposable. Shoes are a bit pricier, so are definitely worth looking for. Next thing you know, it's one of the rare occasions that we are leaving the house, and lo and behold, we can only come up with four shoes…all left feet. This is usually my breaking point. I say, "alright, tomorrow no swimming, no playing, we are getting your room cleaned up!!"
Step 2: Cry…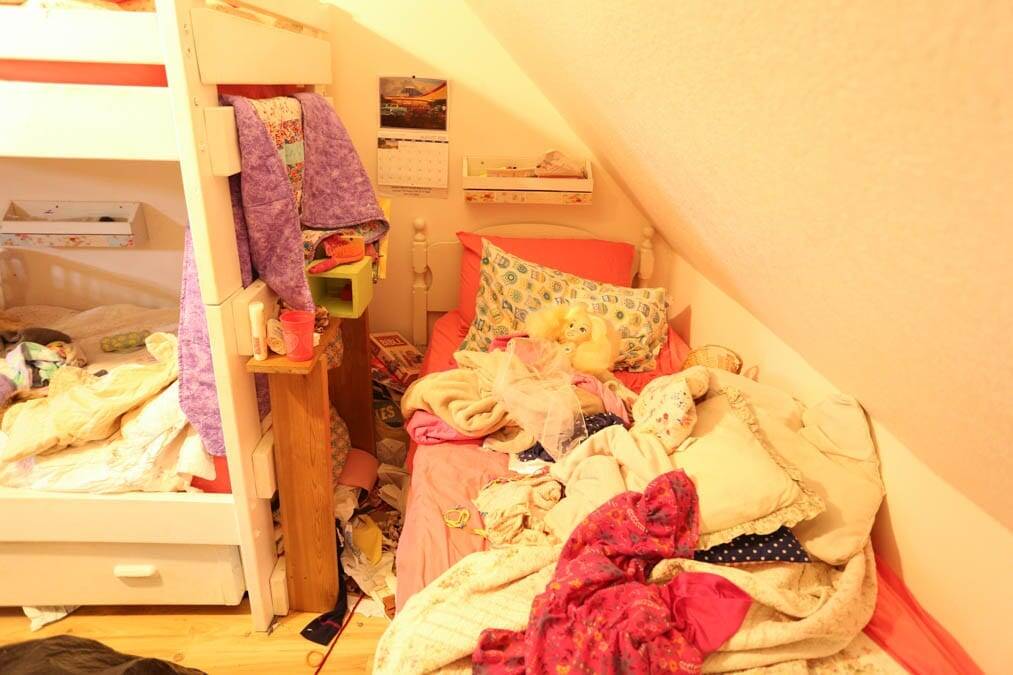 How can it get this bad? When I say bad, I don't mean, untidy. I don't mean there are toys strewn about, or there are dirty clothes on the floor. I mean BAD. Like, everything they have touched for the last two months is on the floor in their room. We have three girls in one room. Three girls that love to draw, craft and be creative. Nothing is used for its intended purpose, and absolutely nothing is put away after it is used.
Why do I let it get this bad? I just don't know. We will start off strong, and keep it clean for awhile, but then life just happens. At bedtime, I usually tell them goodnight and pray with them downstairs before I nurse the baby to sleep. I go into their room at nap- time and can see that it's getting a bit out of hand, but of course, I'm not dealing with it then! So I push it out of my mind and go on with other things.
Step 3: Dry your Tears and Put on Some Music
Set the date and the time, and get moving on cleaning this super messy room! Music always helps make any unpleasant job better. Put on a Disney Soundtrack or some lively worship music, and work away! Side note: You MUST include the children in this process. You may do the majority of the work, but they need to be involved. Honestly when it gets to the point of an out-of-control mess, I don't think they have the mental capacity to get it under control. It is way too overwhelming, they will definitely need your help. This may take a full day, it may take two. Just mentally prepare yourself for that fact.
Step 4: Strip the Beds and Wash all Bedding
I always start with the beds. Wash everything and then make the beds. Clean beds that are made are a huge improvement.
While the sheets are washing, grab a broom.
Step 5: Sweep Everything to the Center
I mean EVERYTHING, clothes, shoes, books, papers, trash, food (there should not be, but sometimes there is), hair ties, socks, toys, stuffed animals, random unidentifiable junk. Sweep it all into a huge pile in the middle of the room. Make sure you get everything out from under dressers and beds, you know things have been stuffed there in an attempt to "clean the room"
This will be both overwhelming, and helpful at the same time. You will see this huge pile of randomness and want to go back to Step 2. However, you and your children will both see floor! My little ones will always get excited and say, "wow mom! It looks better already! Look at all the floor!"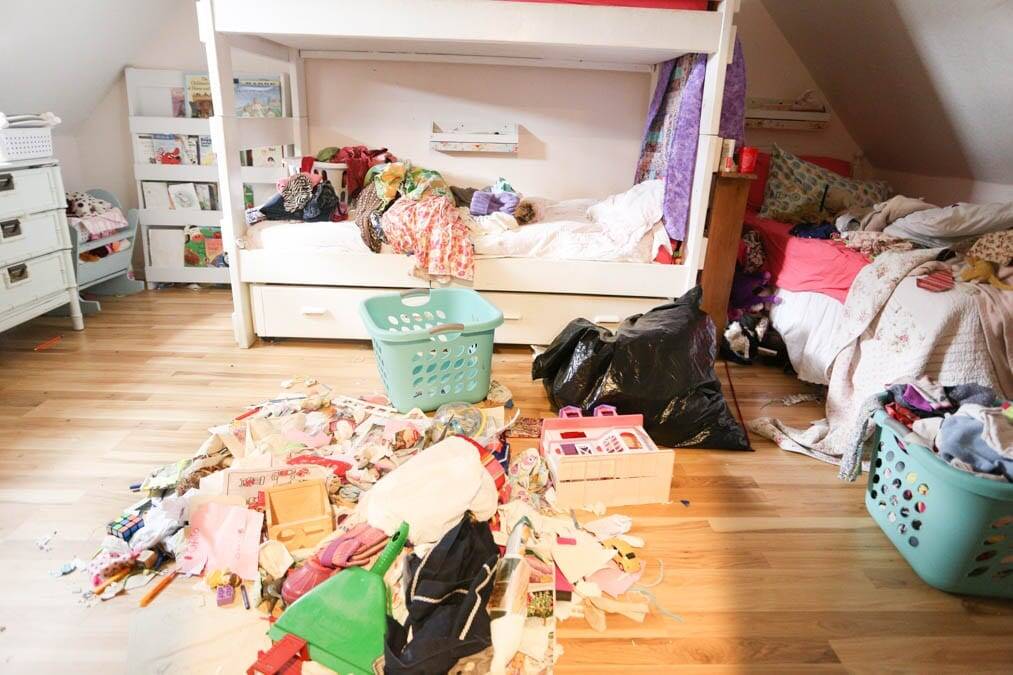 Step 6: One Group at a time
For this step you will need a huge trash bag, toy tubs, laundry baskets, and a box or bag for clothing that you want to get rid of.
The more helpers you have the faster this will go, but the more helpers you have, the bigger your pile probably is. So, either way, it's about the same! Give each person a group. It goes like this:
"Lilly, you pick up all of the books, your job is books, I want them all picked up and put neatly on the shelf."
"Evelyn, your job is clothes, get all three baskets and fill them with the clothes. Only pick up clothes, that's socks, underwear, dresses, shorts, shirts, you understand?"
"Emelia, your job is building-blocks, you find all of the blocks and go put them in the block tub in the boys' room, ok? ALL of the building blocks."
"I will pick up trash." (This is because I know what trash is…and I am ruthless.)
Then you assign new groups. You pick up shoes, the next person picks up dolls or stuffed animals, the other person picks up hair ties. This makes the job manageable. They are not overwhelmed with ALL the stuff. They just have one thing to pick up.
As you go, continue to sweep everything back into the pile as it gets scattered around. Then you can always see what you are dealing with
Step 7: The Washer is Going
All the while, you are washing clothes. Keep the washer going. For me this go a round, it was FIVE loads of laundry. Did I wash some clean clothes?…very likely. When you have helpers, the job will not be perfect. Get over it, and try to fix the problem areas.
Follow this all the way through, put the clean clothes away. Get rid of any clothes that they don't wear, have holes or are too small. Again be ruthless, less stuff means…less stuff!!
Step 8: Sweep/Vacuum the Room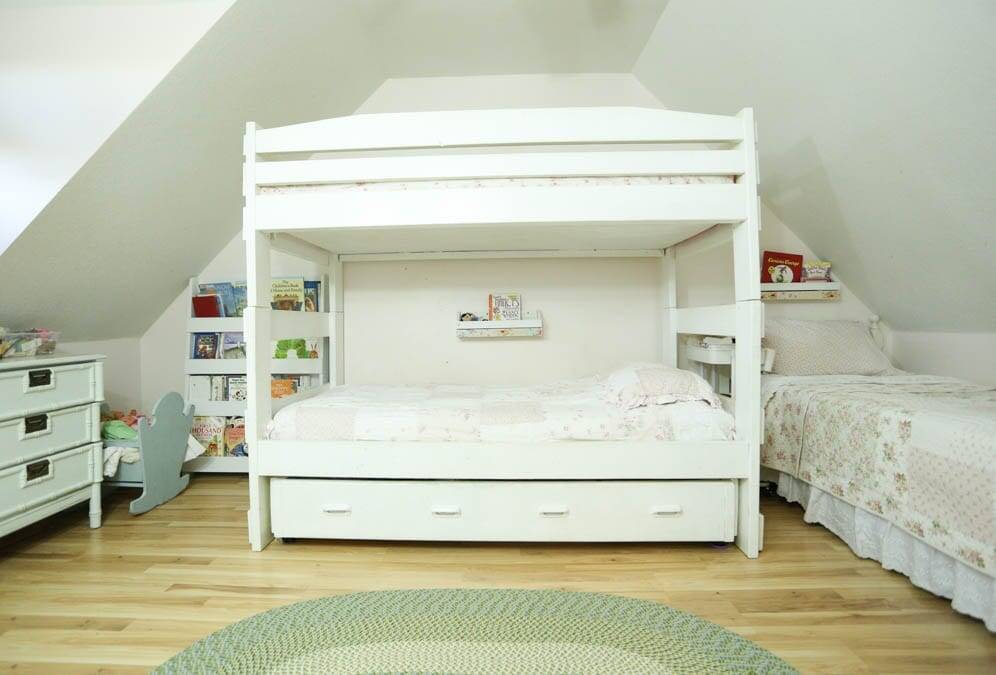 Likely after you have sorted, put away, and thrown away all categories of stuff you will have a small pile of randomness. Throw most of it away, seriously, just start sweeping and if something of actual value catches your eye, rescue it. However, if it has been on the floor, they don't truly care about it, and have likely forgotten about it. It will be little bits or trinkets that they have collected over time. Junky plastic toys from a restaurant, something they got at a fair, plastic glow in the dark bracelets that no longer glow. Just let it go.
Don't start having thoughts of saving the environment and landfills. Also, don't start having thoughts of pawning this junk off on someone else. If you don't want it in your house, no one else does either. Once it's in the trash bag, forget about it. Enjoy the feeling of freedom from junk!
Now, give the room a good sweep or vacuuming. Tidy everything up and praise everyone for their help!
Step 9: Identify Problems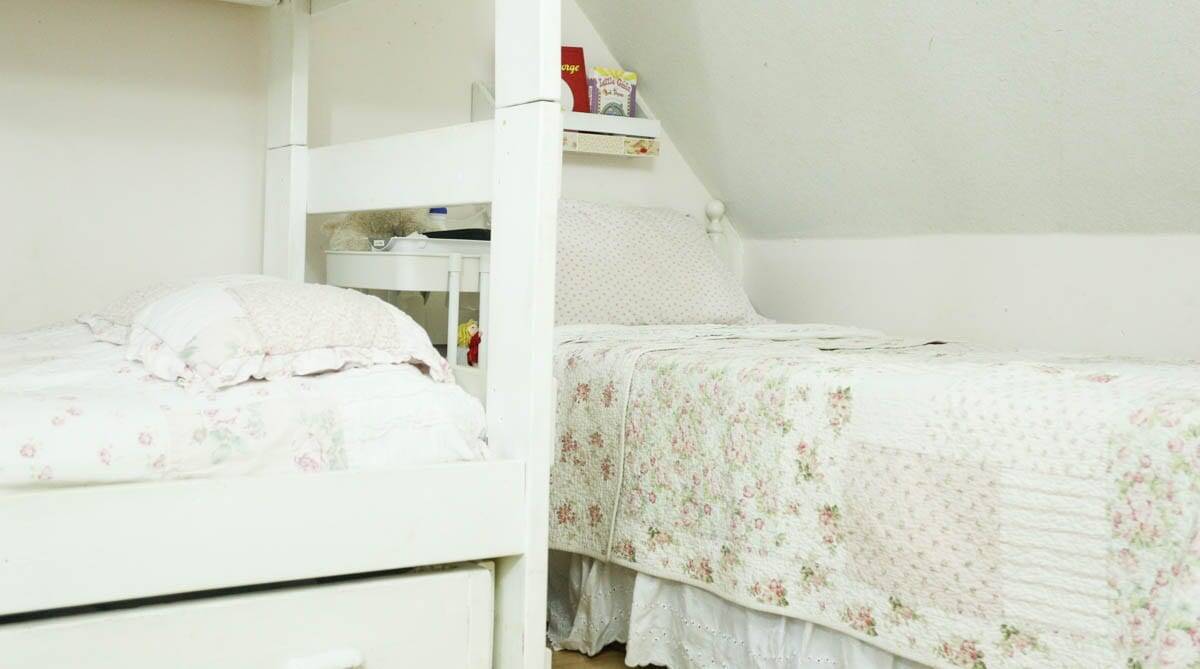 So, in an attempt to prevent it from getting this bad again. I have identified a few problems.
Problem 1: They need more storage. This room has no closet, they need some place to put their own personal trinkets and stuff. So, I got a few tubs and a three tiered cart for my 10 year old.
Problem 2: Puzzles and building-blocks. I will no longer allow these to make their way into bedrooms. Any puzzle pieces on the floor were deemed trash. There was just no way I was going to try to figure out what puzzles they went to or whether all the pieces were there.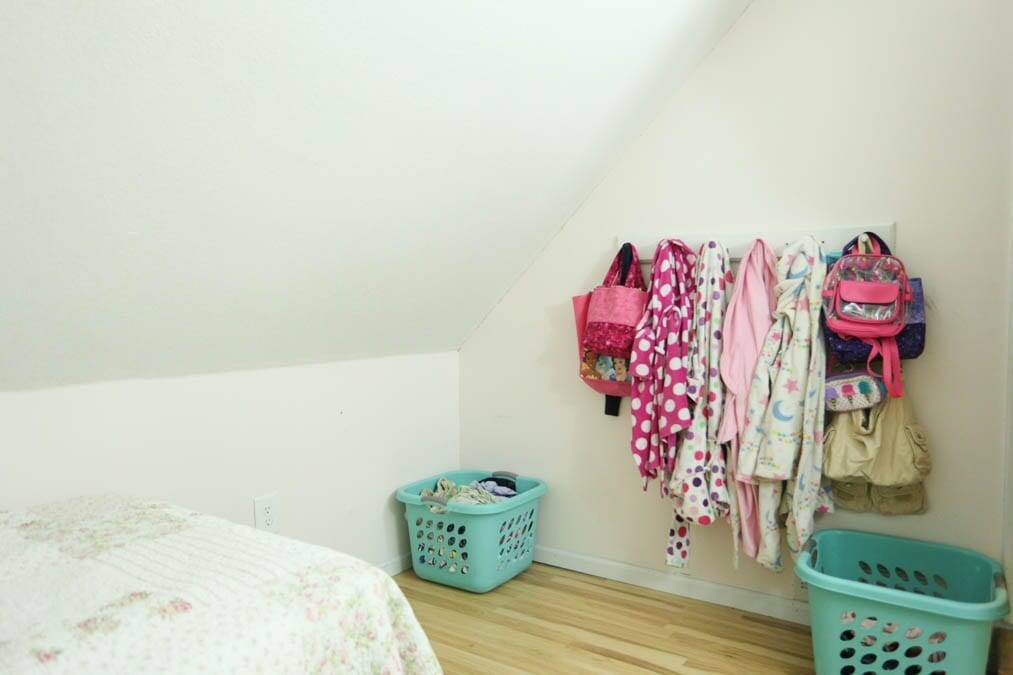 Building-blocks are the same, especially legos. They will now only be allowed downstairs or in our barn. Huge lego projects cannot be allowed to sit out, even if "they want to play with it again tomorrow." Tomorrow's interest will likely change, they will be onto being explorers outside. Don't let them sweet talk you into leaving their lego creation out on the floor. It will NEVER get picked up if you do! Then, once again, you will be cleaning a super messy room.
Step 10: Don't Expect What You Won't Inspect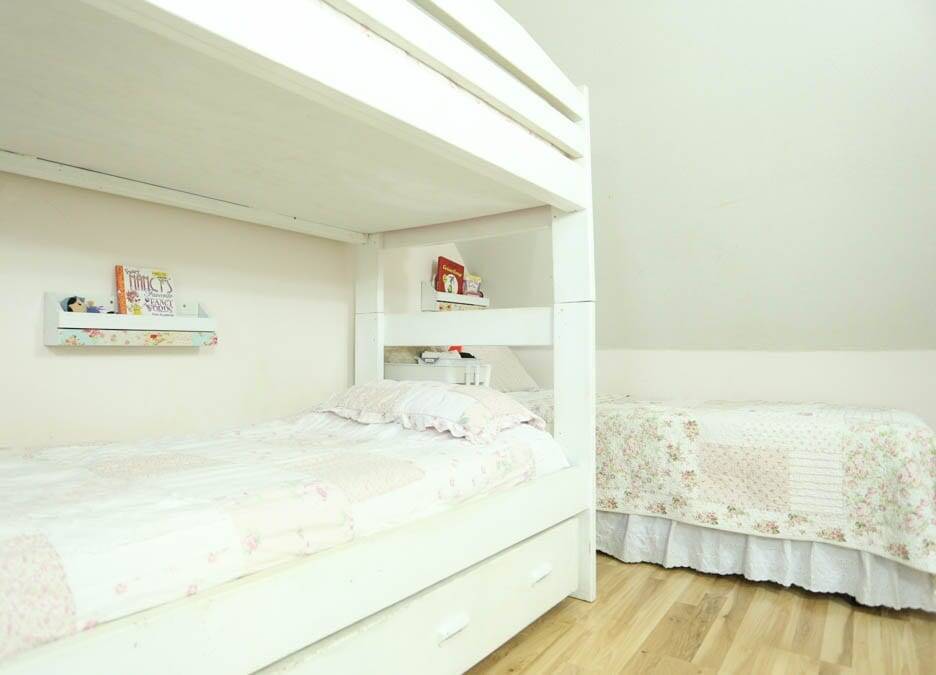 This was a piece of advice from a mom of ten to me about ten years ago. Guess what? I didn't listen to her. I hate inspecting jobs, I don't want to go check to see if my kids really did their morning work. Walking up there to see if their dirty clothes are really in the baskets is so unappealing.
However, she really was right. There is a Bible verse that says "a child left to himself bringeth his mother to shame." It is so true. Rarely will they do a perfect, or even a good job, without me holding them accountable. Cleaning a super messy room is not my favorite either!
A Reward System:
This system works, we have done it many times, but we don't keep up with it. After we get the big mess cleaned up, we inspect it daily and keep track of it. When daddy goes up to the bedrooms at night to tuck them in, he checks the room, if it is still clean, he puts a dot on the calendar hanging in the room. After two weeks of keeping it clean, the children get a special date with daddy. This usually looks like going out for ice cream cones. Simple, but very effective….for a time.
Step 8 is vital. They really won't be motivated to keep it clean long term on their own.
Make the Room Special?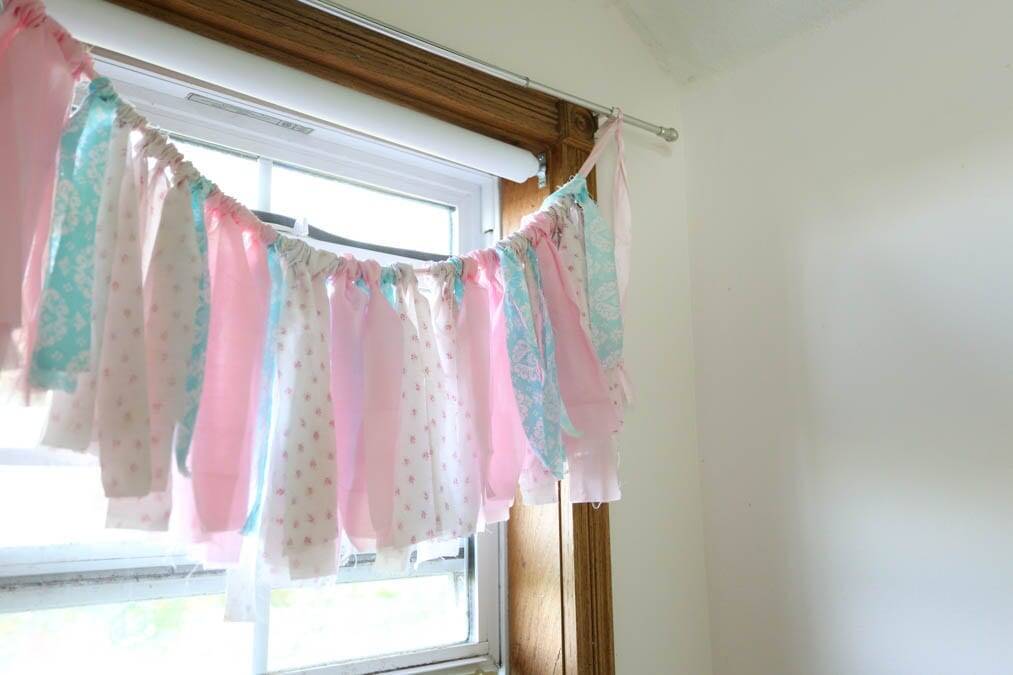 At one point with each child's room, I have felt convinced that if I made the room super special that they would be motivated to keep it nice and clean. I have redone each of the children's rooms. They have picked paint colors and bedding, rugs and accessories. Guess what? They still trash it!
I am sure that the problem is really with my lack of follow through! I really want to fix this problem, so I am thinking that maybe, my older girls could help me do a daily check. Is that cheating?
A Visual Reminder
I made this printable checklist with the hope that this will help all of us to do a better job! Feel free to print it for your kiddos as well. It is in my free printable library! Hopefully your won't find us cleaning a super messy kids room again! We really need to check this list every single day!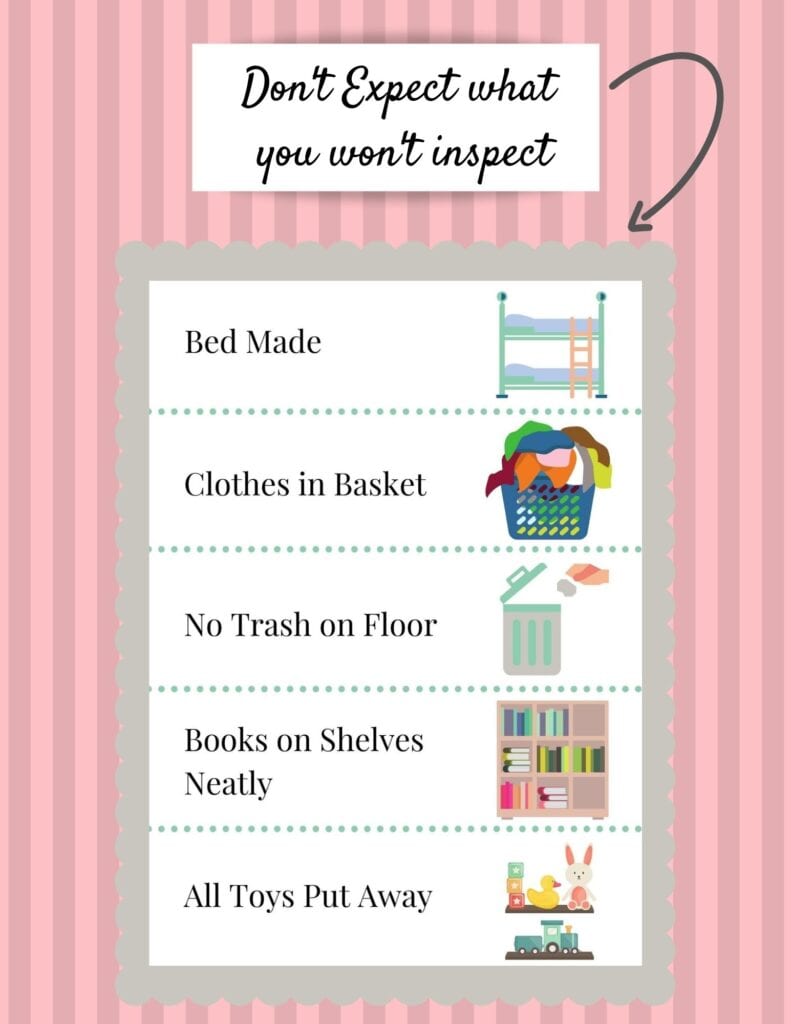 Any Tips for Cleaning a Super Messy Kid's Room?
So, how about you? How do you help your children to keep their rooms clean? Anyone with a magic formula? What about tips for cleaning a super messy room? Please share in the comments!
Pin and Share!