How to Make a Fun Chalkboard Wall for Your Homeschool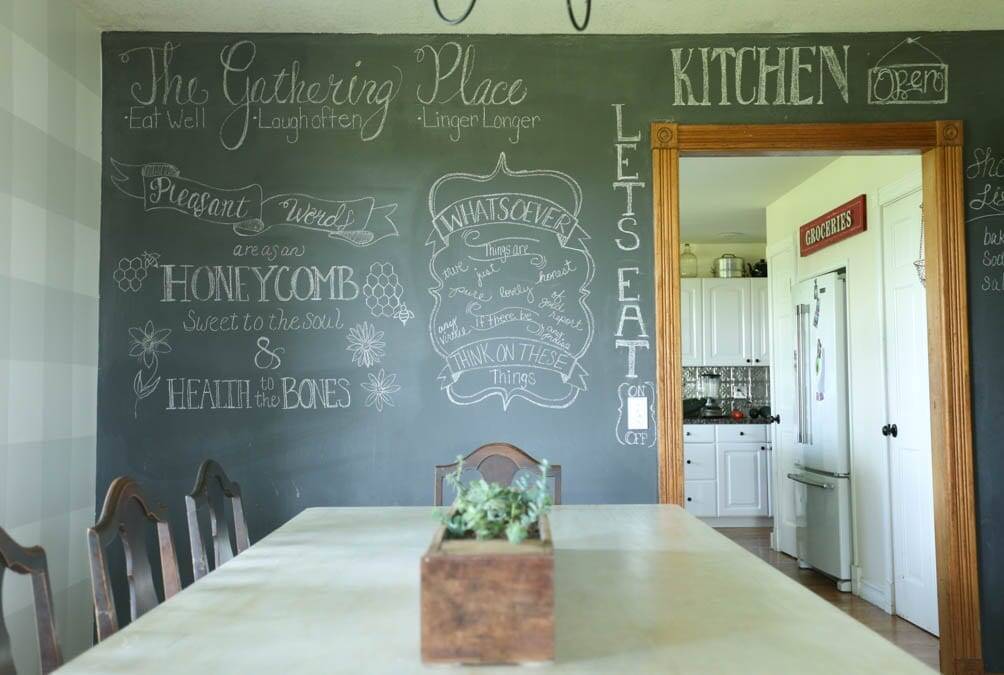 A chalkboard wall for your homeschool is a great addition that will make room for creativity and fun! This post contains affiliate links.
Chalkboard walls had their moment a few years ago. I was late to the party, but I do think they still add an element of fun style to just about any space.
I added a chalkboard wall when we painted buffalo checks in our dining room. We have loved this addition to our homeschooling space!
We have used it to jot down a grocery list, to help us memorize scripture verses, and we left some room at the bottom for little ones to have fun with the chalk.
Chalkboard Wall How to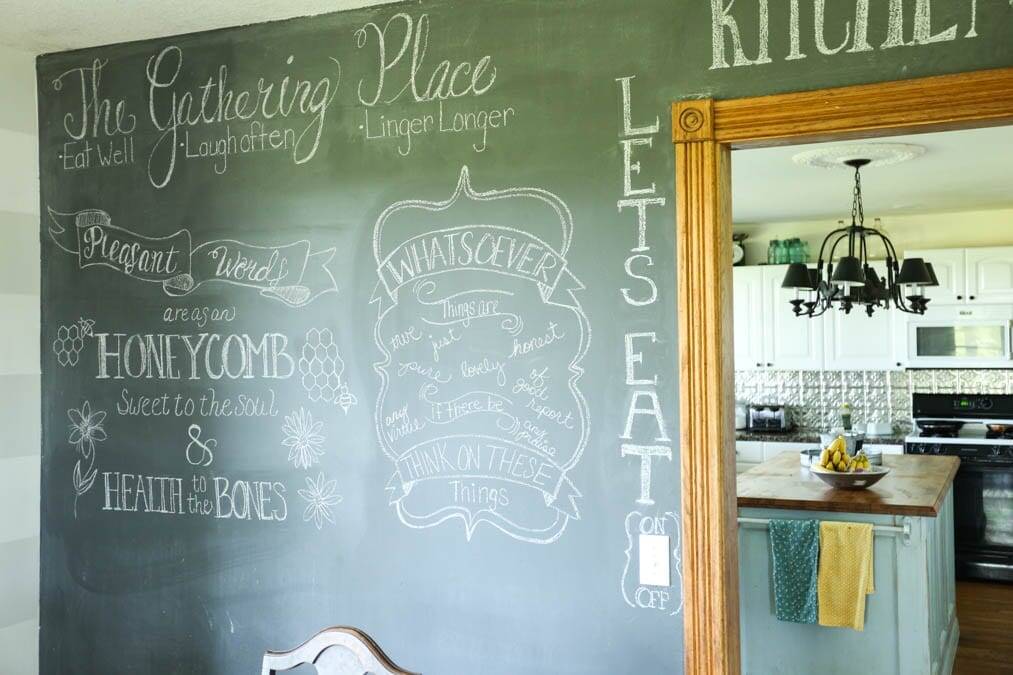 There are three easy ways to achieve a chalkboard wall in your home. I have tried all three and will share what I like and what I didn't like about each product. There is another method of mixing non sanded grout in with your paint. This sounded like a lot of trouble to me. While in theory it would be cheaper than buying this product, the odds of it being less than perfect bothered me.
Prep the Wall
First, you need to prep your wall. This means you should fill in any holes. After you have filled the holes, sand down any bumps or blemishes in the wall. Even if you don't have holes to fill, sanding the wall to get it perfectly smooth will give you the best finish. You should also give the wall a good coat of primer before you begin.
All images of products are clickable links to Amazon.
Clear Chalkboard Paint
This was my original plan for our dining room wall. My intention was to use the darkest color from the buffalo checks and paint the wall with that. However, the color wasn't nearly dark enough to produce the contrast that you need for white chalk to show up. I tried mixing a darker color in with it, and still the chalk did not show up. Finally, I gave up on that color and decided to go with black chalkboard paint. Then I found another product!!
I think this method is good if you have a wall that is already painted dark. Maybe like a dark green or blue accent wall. Then you can just paint this over it. Or, maybe you have a very specific or custom dark color in mind that would work well with white chalk.
Black or Green Chalkboard Paint
This is a simple and classic way to achieve a chalkboard wall. The colors are what you would expect with a chalkboard, and of course they will be dark enough for the chalk to show up.
I have made many chalkboards with this product. I have painted over plywood to make a chalkboard. Once, I even painted over an old picture, right onto the glass to make a chalkboard. Both have held up for years! Below is what I used to make my chalkboard wall for our homeschool.
I have no complaints about this product. Only that your color choices are limited.
Side Note: Some people swear by just using flat black paint for chalkboards. This would certainly be a cheap way to do it. However, I have tried it and it just did not work well for me. I don't know if I didn't use a good quality paint, or what my issue was, but it was not the same result as using actual chalkboard paint.
My Favorite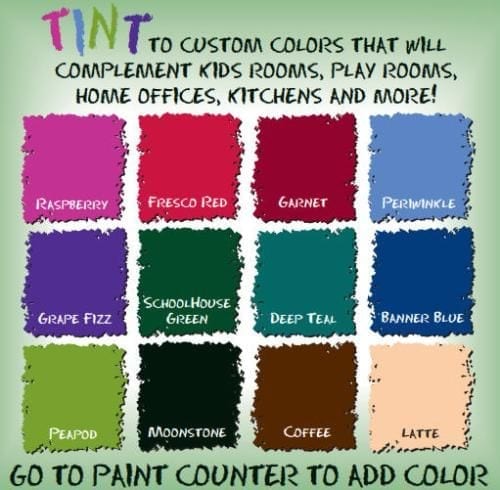 This is my favorite product by far! I found this at Menards when I had given up on my custom color and decided to just go with black. This is the next best thing to your own custom color. This paint can be tinted to 12 different colors!
I chose the moonstone color. It is not as harsh as black. It's basically a grayish green color with a bit of a brown undertone. I LOVE it! Initially, I was afraid it would make the room feel small. It is quite dark. However, with the chalk on it, it really doesn't make the room feel closed in like I thought it would. I love the way it coordinates with the buffalo checks.
If you buy this online, it will not come tinted. You will have to take it to a store to have it tinted. It's probably your best bet to go to Home Depot or Menards to purchase this as that is where you will have to go to get it tinted anyway.
How Much?
Each can covers 95-100 sq feet. It is a one quart can. I needed two cans to cover my wall with two coats. You will definitely need two coats for perfect coverage and a nice finish.
Also, priming will help to achieve a smoother finish.
Season The Wall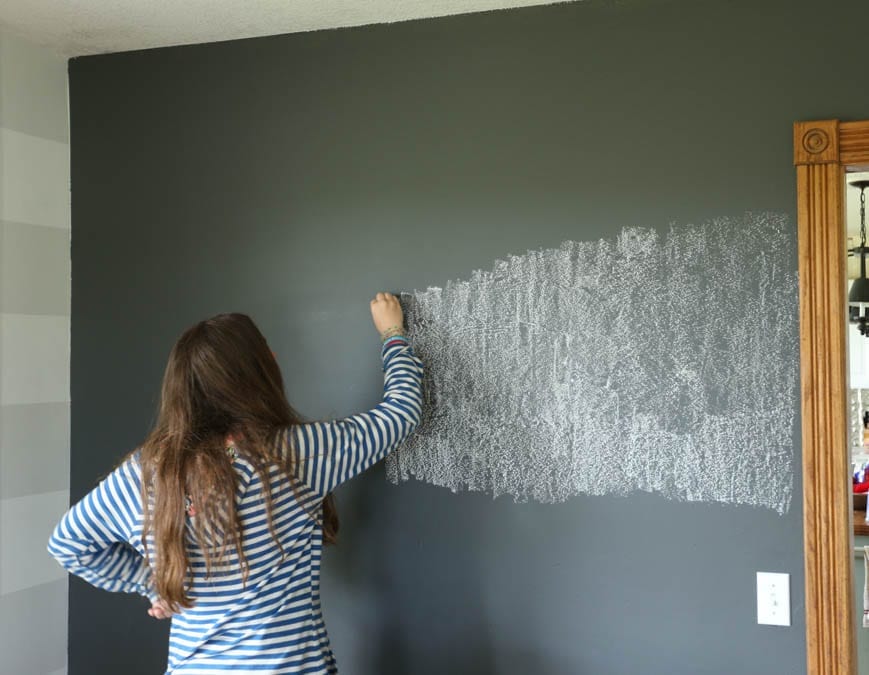 What does it mean to season a chalk board? All it means is that you take a piece of chalk and put it flat on it's side. Rub it all over the entire wall. This is seasoning it! Once you have the entire wall covered, you can then wipe it all off with a rag.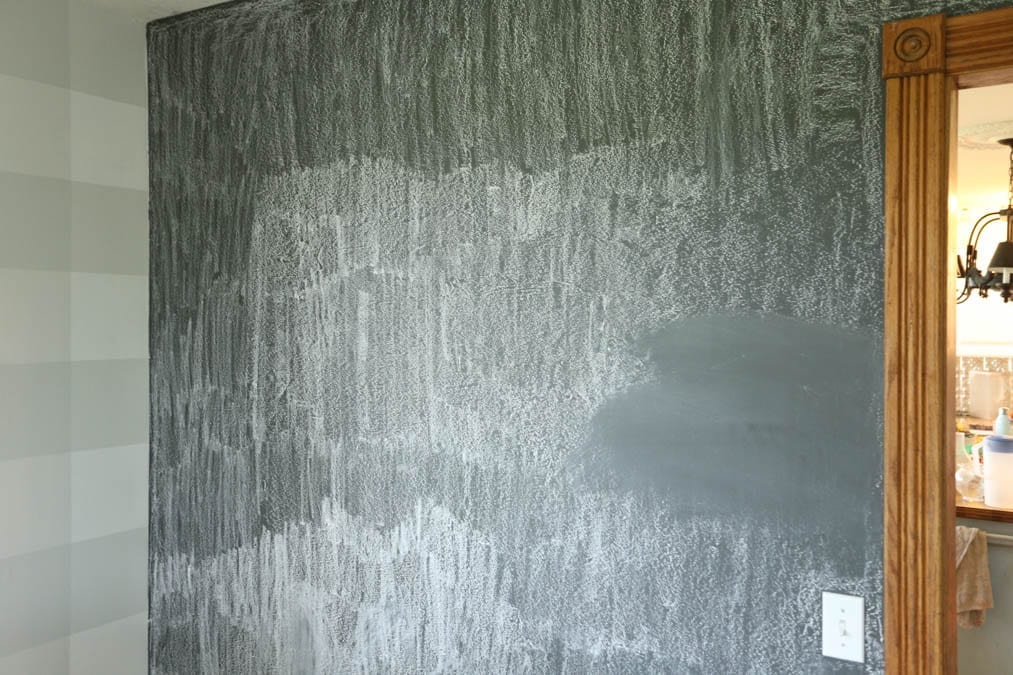 This helps to prevent the shadowing or ghosting, which is when whatever you write stays on the board even after you have erased it. I will say, that if you leave the writing up for a long time, you will have a bit of a shadow left, but a wet rag helps, and it really isn't noticeable.
Side Note: You will want a vacuum nearby when you start wiping off all of the chalk!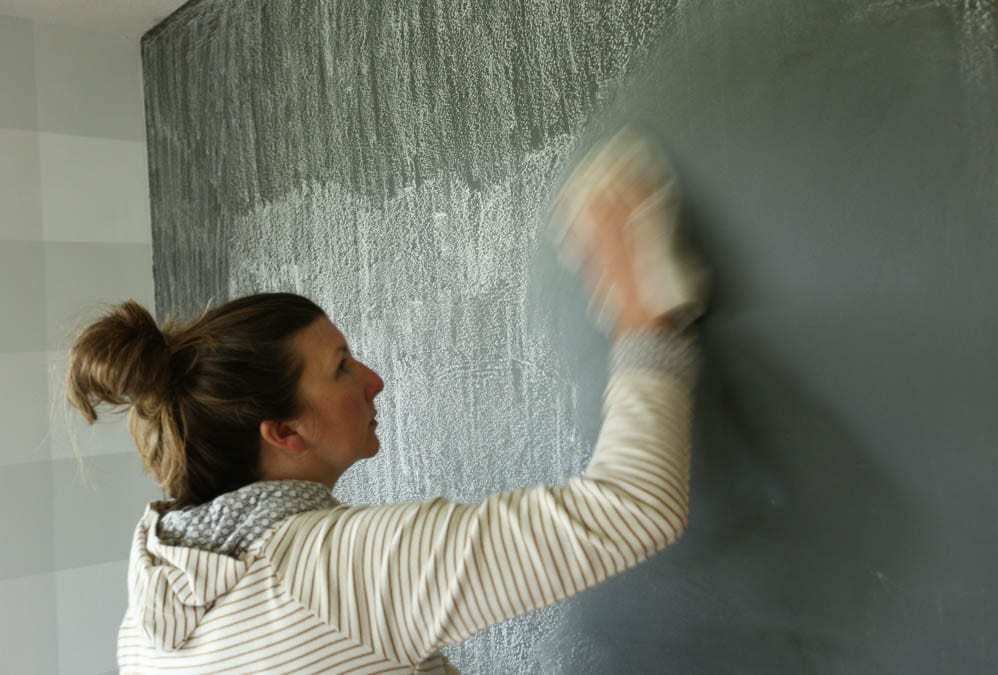 What and How to Write on Your Chalkboard Wall for Your Homeschool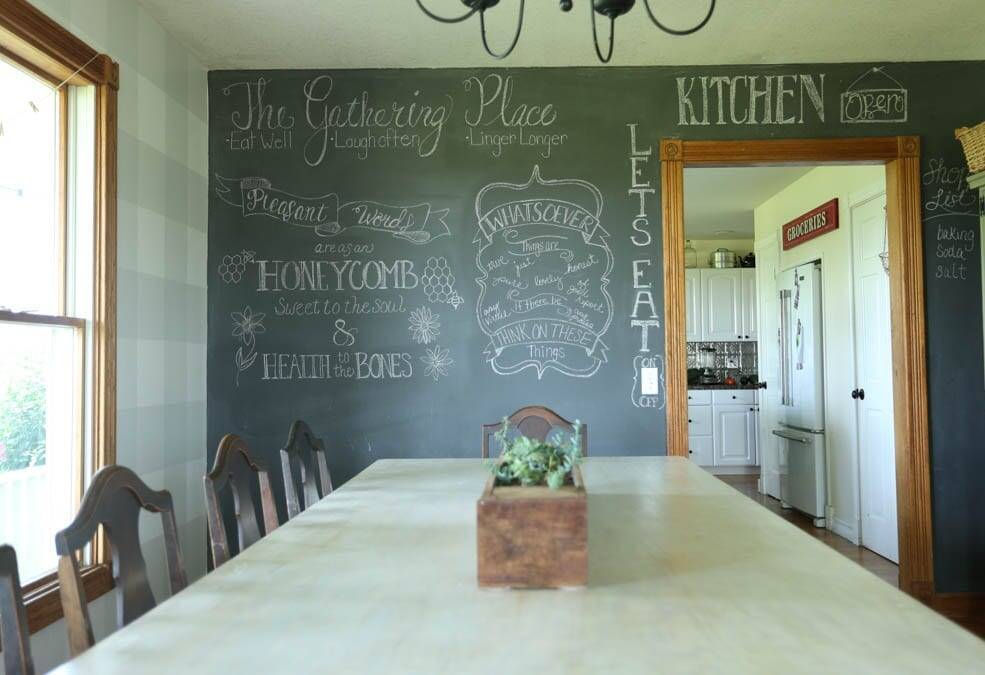 Now that you have your beautiful chalkboard wall, what are you going to write on it? I change mine up from time to time, because the possibilities are endless! Right now, I am putting up verses that the kids are working on memorizing. Also, I have some fun little sayings and such up there.
You could write the alphabet or numbers for your homeschool. How about the states and capitols? Perhaps the seven continents? A sketch of a flower with all of it's different parts? You could write notes of encouragement to your kiddos. Leave it open for your kids to draw on! It really is such a fun addition to a room!
I am an artistic person, so chalk art is a lot of fun for me. However, I bought this book and I LOVE it! It has helped me to make my chalk art much neater and has taught me quite a few new techniques. I would say just about anyone could make a chalkboard wall that looks amazing with the help of this book! I like to do a little mock-up on a piece of paper first.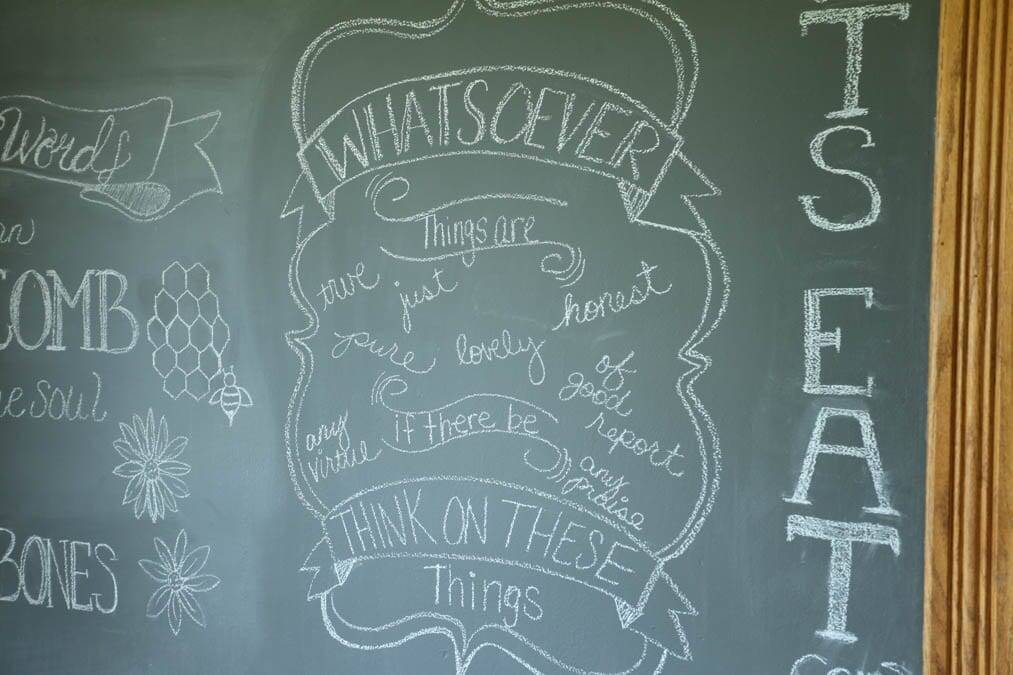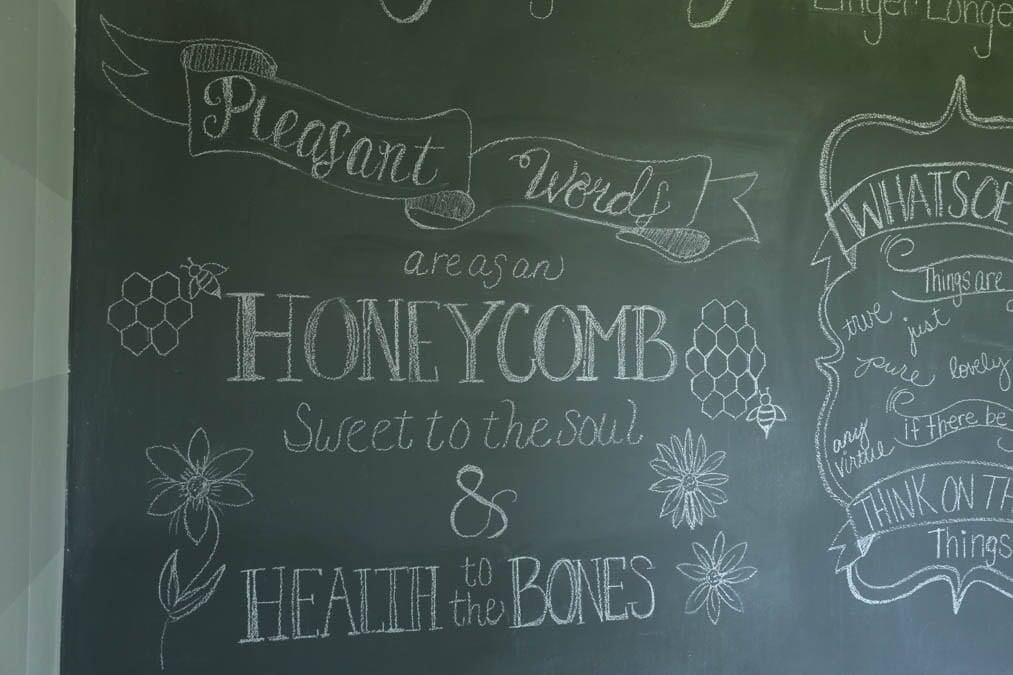 What do you Think?
Is this something you would do? Would you add a chalkboard wall for your homeschool? Let me know in the comments, and also ask any questions you may have!