A Whole-Home Cleaning Schedule Fly Lady Style
A whole-home cleaning schedule can help if you are in the middle of a mess! Establishing a home cleaning routine that you can maintain will help you enjoy your day to day tasks more. This post contains affiliate links. Scroll all the way to the end, there is a free hourly planner for you there.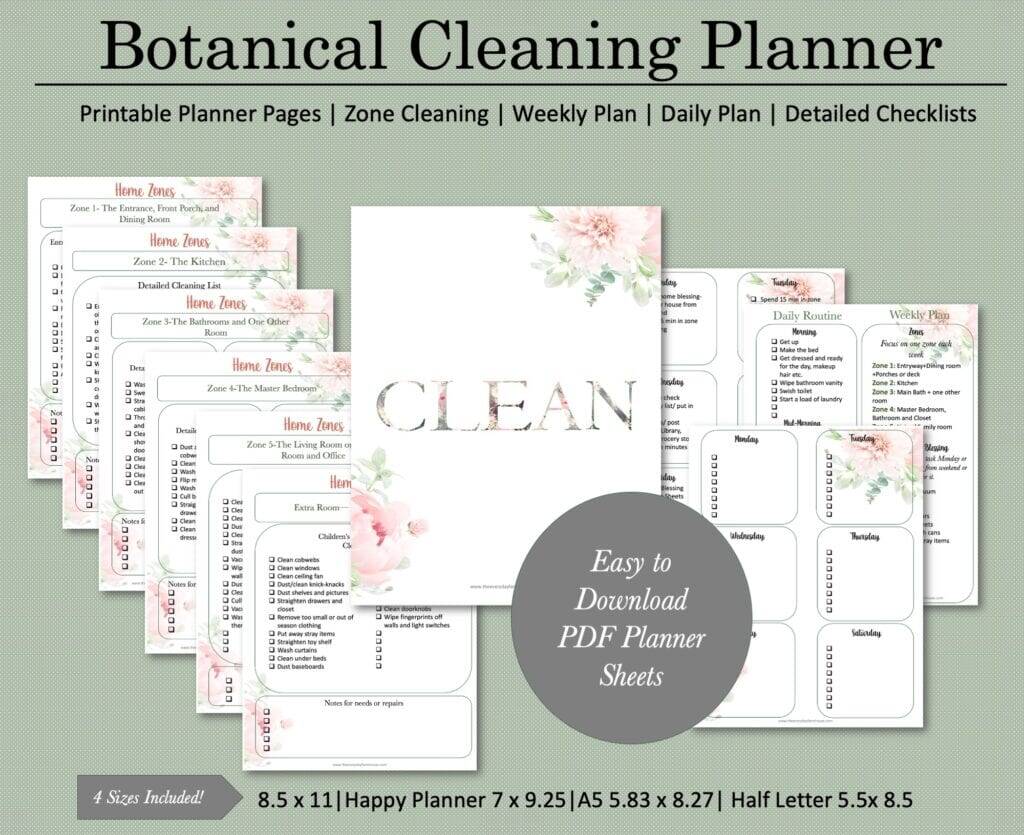 Who is Fly Lady?
I believe I have told you about Fly Lady before. If you have been a homemaker for any length of time, you have probably come across her stuff. Back in the early days of marriage, when I had just a couple of little ones, the Fly Lady system saved our home. Seriously. We had bought a Victorian fixer-upper type home and I felt like I was drowning in mess. I really didn't know how to organize my home or how to keep up with cleaning it. Add DIY projects to the mix and I was overwhelmed!
I've said it before, this was no fault of my upbringing, my mom kept a clean house. I just didn't pay attention to how it was accomplished.
Fly Lady is a great system to get you established on a home-keeping routine. Perhaps you have CHAOS? (Can't Have Anyone Over Syndrome). This system will help you to get unburied and to tackle areas that need some serious work.
Her system is not perfect and not everyone will love it. However, I think it is very well thought out and I have taken what I like from the system and adapted it to our lifestyle. Below are my favorite parts of the system.
My Favorite Fly Lady Systems
Get Dressed to Shoes
This might get some people's hackles up, but I think there is so much truth in this. I really do get dressed every single morning, even if I'm not leaving the house. I don't want my kids to remember their mom meandering around the house in her pajamas. Plus, I feel so unproductive and gross if I'm not dressed. Also, milking a cow in a nightgown is impractical…
As far as shoes go, I think house shoes qualify. I work perfectly fine in house shoes.
Shine Your Sink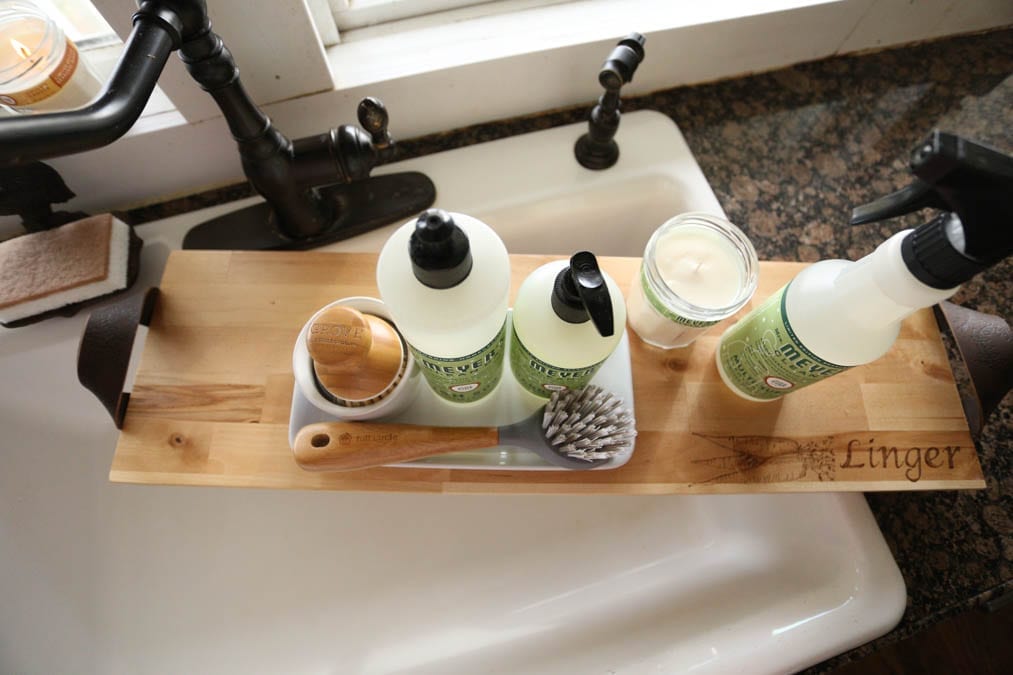 This is the cornerstone of the FlyLady system. There are detailed instructions on her website. But, it's really pretty simple. Clean your sink, scrub it with an abrasive cleaner, and disinfect it. I like these brushes for scrubbing. Now, once this is done, you keep it that way every day. Make sure it is empty, clean, and shiny every night before bed. This one simple thing will make your morning a bit brighter. Also, lay out a fresh towel and washcloth for the next day too.
This sounds simple enough, and not really life-changing, but if you regularly wake up to a sink full of dirty dishes, you know how grouchy it makes you feel.
Swish and Swipe
This is a simple task of splashing a bit of cleaner in the toilet, giving it a swish, and then wiping it down. Doing this once or twice a day keeps it fresh and not so embarrassing for a drop-in visitor.
If you know me in real life, you know that my bathrooms are not always clean or even presentable. We have 12 people living in this house. Once a day swiping just doesn't cut it. Plus there's the fact that out of the 12 people living here, only one of the people actually cares about clean bathrooms….can you guess who that is?
Each bathroom is assigned to one child and actually gets swished and swiped daily, but it can still get rather unpresentable! A child's version of clean and mine are usually a bit different!
27 Fling Boogie
This is a great system if your home is in a state of disarray. Maybe you moved and have too much stuff for your new space. Perhaps it's right after the holidays, and you have trash and clutter everywhere. Here is how you can handle it quickly. Set a timer if you like, for 10-15 minutes. Then you simply grab a trash bag and give away bag or box. Next, you run around gathering up 27 things to throw away, and 27 things to give away. The trash goes directly into the trash can, and the giveaway goes directly to the back of your car. Get it out of your house!
Watching "Hot Spots"
We call these flat surfaces in our home. Flat surfaces are magnets for clutter. All it takes is one person laying an envelope or a book on the surface, and that gives the signal to everyone else that this is a perfect place to place things. Then next thing you know it is piled high with randomness.
Adding a "hot spot" to your evening routine will help keep it under control every day. Also, see if there is something missing in your home organization. Are people piling things here because there is no other place to put them? Do you need another bookshelf? Do you have a place to put the mail? Assess the situation and come up with a solution.
Morning and Evening Routines
This will vary from person to person, depending on your stage in life and your priorities. However, you can establish three things for the morning and three for the evening that will help keep things neater and tidier.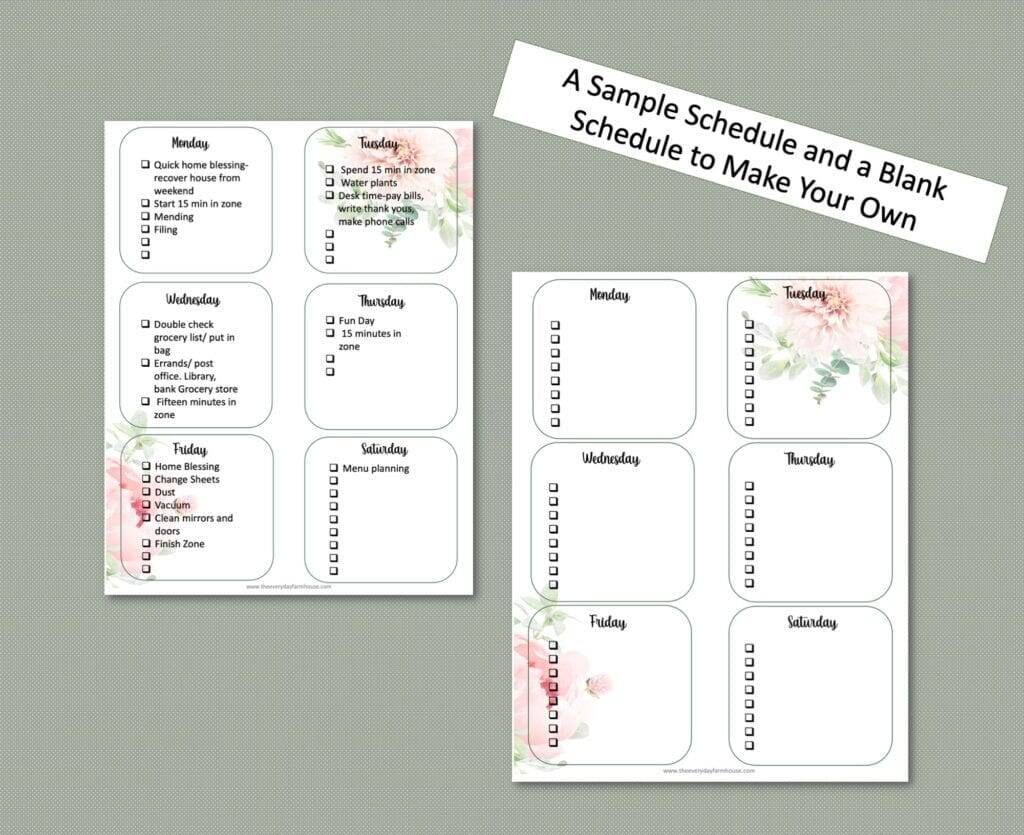 Here are three examples for a morning routine
Make your bed as soon as you get out of it. For me, this doesn't mean I make it perfectly. However, pulling the covers up and straightening the pillows certainly looks better than the covers hanging off and falling on the floor.
2. Get dressed and ready for the day, then wipe the bathroom vanity and swish the toilet before you leave the bathroom.
3. Do a load of laundry every day. This is a must in a large family, that washer should be going every single day. Here is my first post on our laundry system.
Here are three evening examples
Run the dishwasher every night
Tidy "hot spots" where clutter accumulates
Shine your sink
Once you get established in those routines, you can add more things in that will help you maintain control of you home.
Tackling Problem Areas in Small Bites
The thing is, you will be tackling these areas in small increments. Sure our nature is to tackle it all at once, devoting an entire weekend or week to clearing out one area and getting it all done. However, there is merit in breaking a huge job into smaller manageable tasks.
These areas didn't get bad overnight, and they will likely not get cleaned up in one day either. Going slow and dealing with it bit by bit will prevent the exhaustion that comes with trying to do too much at one time.
Zones for Deep Cleaning
This is a wonderful way to ensure that every area in your house gets some sort of deep cleaning on a regular basis. Even though our kitchen counters get wiped multiple times a day, at least once a month, they still need a good deep cleaning. The canisters need to be pulled out and wiped down, and the counters under them need to be cleaned. I think zone cleaning is essential to a whole-home cleaning schedule.
Divide Your Home into Five Zones- A Realistic Cleaning Schedule
Five zones allow for approximately one week a month for each area. For example Zone 1 is the Entryway+Dining Room, and the front porch or deck. Assign this zone to the first week of the month. During that week, you will spend 15 minutes each day doing one or two deep cleaning tasks for that area.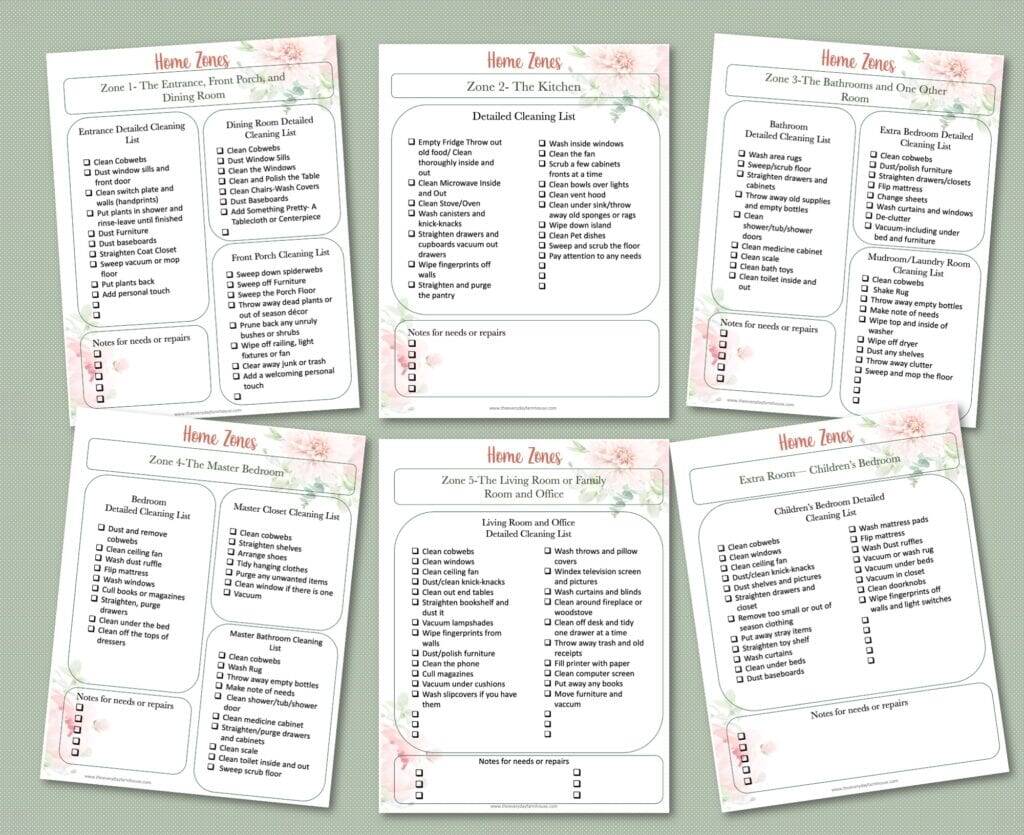 This allows you to deep clean everything in your whole home without devoting a lot of time all at once. The perfectionist in me doesn't love this system because I want everything to be clean all at once. However, if you keep up with this, then by the third or fourth month, you will notice that things aren't nearly as dirty and you are maintaining a clean home more easily.
Share the Work of Housekeeping
Now that we have lots of capable people living in our home, there are zones assigned to people. This helps us keep some semblance of cleanliness around our home. Truly I have let go of perfection, and am content if our home is presentable and moderately clean. We live here and I don't want to obsess over whether my home looks magazine worthy at all times.
Teach your children to participate in the work of keeping a clean home. There is a lot that goes into running a home, and the sooner your children learn how to help the easier your day to day life will be. Plus you are preparing them for real life.
A Cleaning Section for Your Home Binder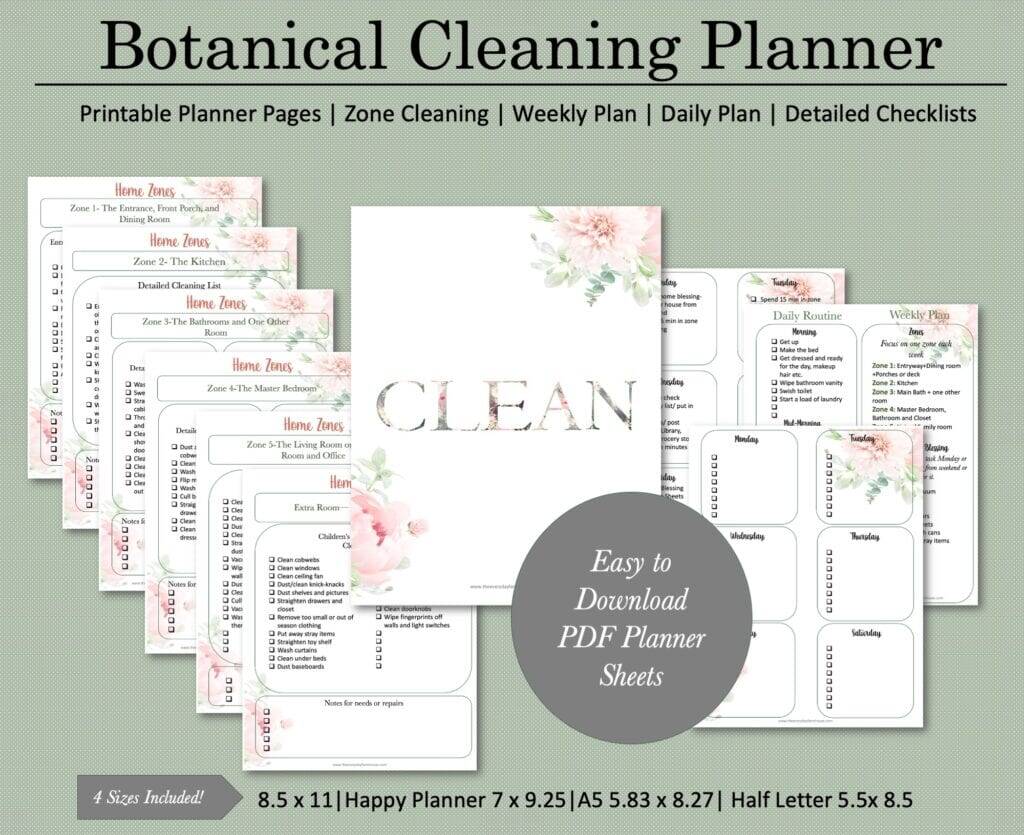 Years ago, I made control journals for myself and all of my friends. I recently found my old journal and decided that it really was useful. I revamped it, making it pretty and functional, and have added it to my shop. This coordinates with the calendar, the meal planner, the home planner, the prayer journal, and the weekly planner…all of these are in my shop. Each one is super affordable.
To keep track of my whole-home cleaning schedule, I like to print my home binder pages on 8.5 x 11 paper and keep them in my leather binder.
Some people like to laminate these pages and keep them on their fridge. When my older kids were small, I used to laminate the pages and keep them in the room where they were needed. I think I may do that for my bathrooms again!
I hope you found this post helpful. With a New Year upon us I thought that kicking it off with a clean home plan in place would make us all feel a bit more optimistic! Happy New Year friends!
A Freebie Daily Block Schedule
Here is a planning sheet that you might find helpful. You can put in all the things for your day, not just cleaning tasks. I hope you enjoy it. Just hit the download button below and print it off.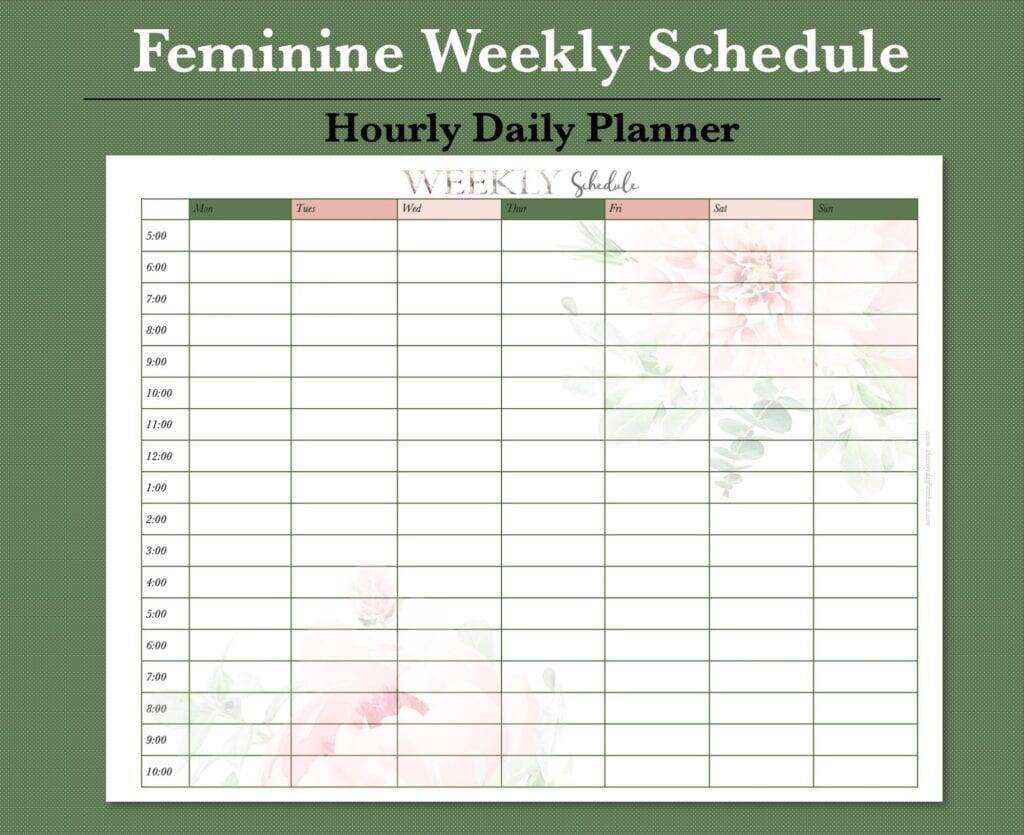 Pin this Whole-Home cleaning schedule to your homemaking board!