Large Family Laundry Help and organization
Large family laudry help and organization. In this post I help you get a handle on the laundry monster in your home. Laundry is a daunting task for any family, but the large family needs special help to deal with the sheer volume of dirty laundry! Hopefully I can help you get organized so your large family can tackle the laundry!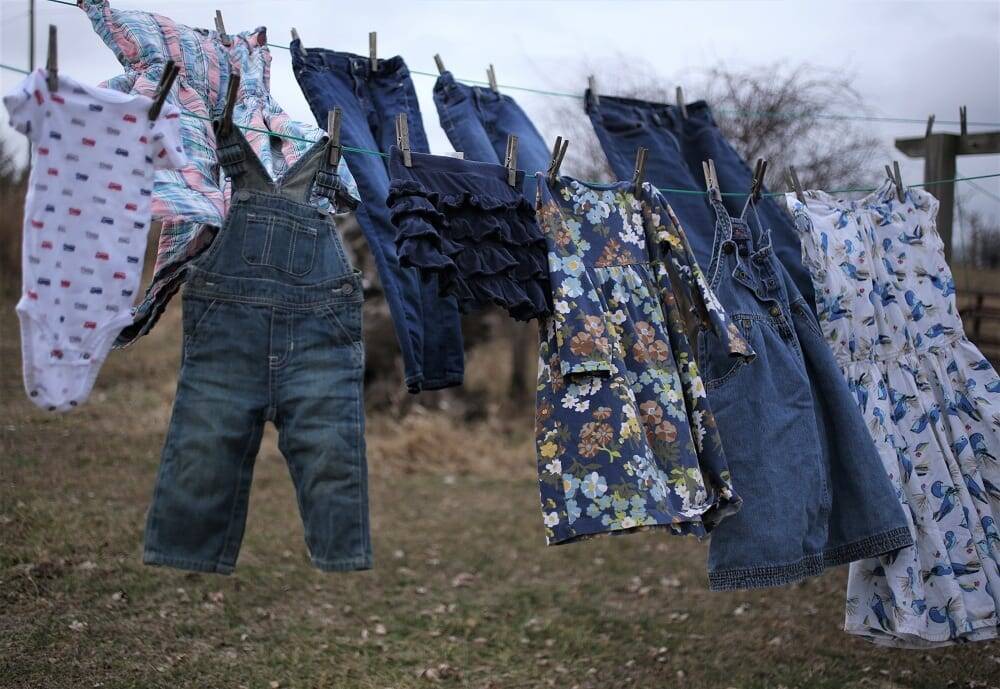 I thought it would be only fitting for my first post to be about laundry. About six years ago I turned to the internet to help me get a handle on laundry. The search "large family laundry" is what opened my life to blogs. I found several ladies that were sharing the systems that they created to help them keep up with the laundry in their home. The system that I landed on was from Michelle at http://www.myblessedhome.net I am not sure that she is keeping up with her blog any more, but at the time her wisdom was life changing for me! Now, keep an open mind this is going to go against what you have been taught about laundry!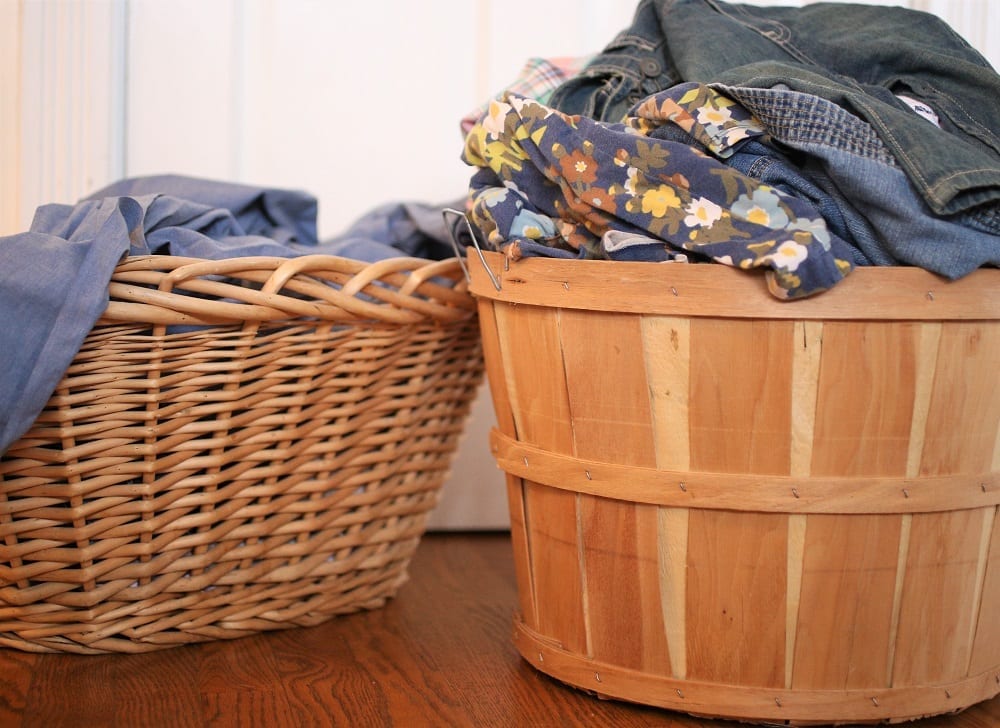 Step One in conquering laundry: no more community laundry baskets: this is LIFE CHANGING
Everyone gets their own laundry basket. Originally, I bought these tall narrow baskets from Walmart. That is what Michelle used, and I was just following her system. After using these for years, I would say that they are certainly not perfect. The handles break off, they tip over and they are not very easy for a small person to lug around. Just find something that looks nice and seems manageable. Next, label the baskets with the child's name and a picture of the child. This helps to identify who the basket belongs to at a glance, and even non-readers can see whose basket it is. This basket stays in the child's room until their laundry day. Yes, that means that they must carry their dirty clothes out of the bathroom and into their room and place it in the basket after a bath or shower. This will require training…frequently.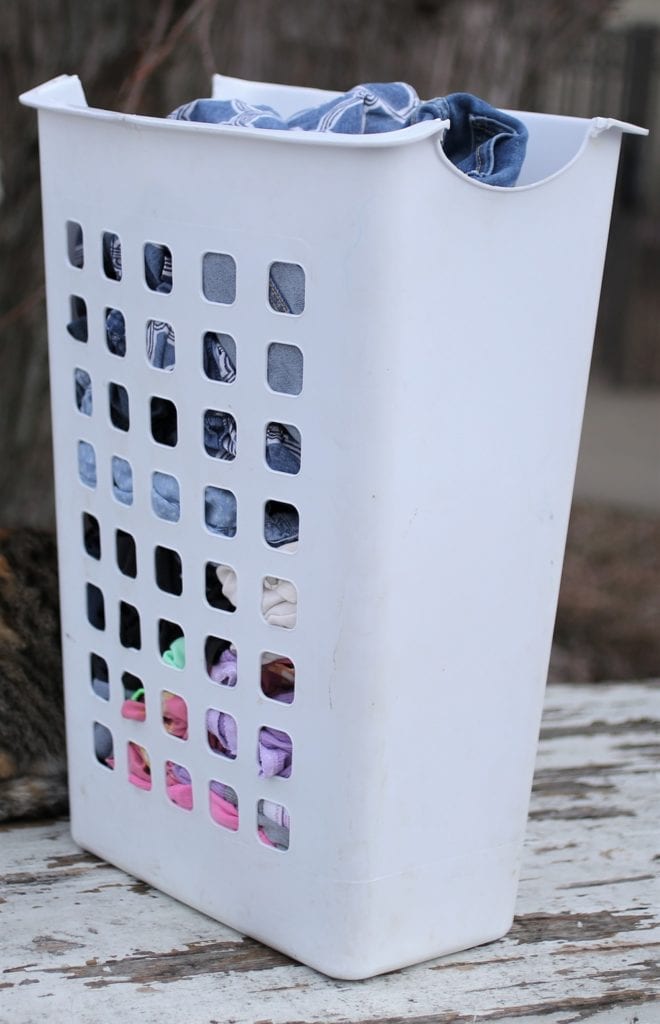 Step Two in taming laundry: Stop sorting and rejoice in no more sock matching
This is where I might lose you. ALL of the child's laundry goes into one basket, and then ALL of that laundry goes into the machine without being sorted!! No sorting darks and lights, even if their socks are white. Do not worry and over complicate this. Yes, their socks might get dingy over time, but we have a well and our whites don't stay white for long anyway. If this really bothers you, then don't buy white socks and underwear. There are so many options now that you could easily get grey or black or colorful socks. Keep your laundry system in mind when shopping for clothes. Special care fabrics, delicates and whites are probably not the best choice, especially for your little ones.
Take note that since everyone has their own basket you will no longer deal with a massive pile of socks and underwear to be sorted and matched. We used to have a big sock sorting party once or twice a week trying to match up each person's socks, folding them and putting them into piles. You will no longer have this time of bonding with your children…I am very sorry.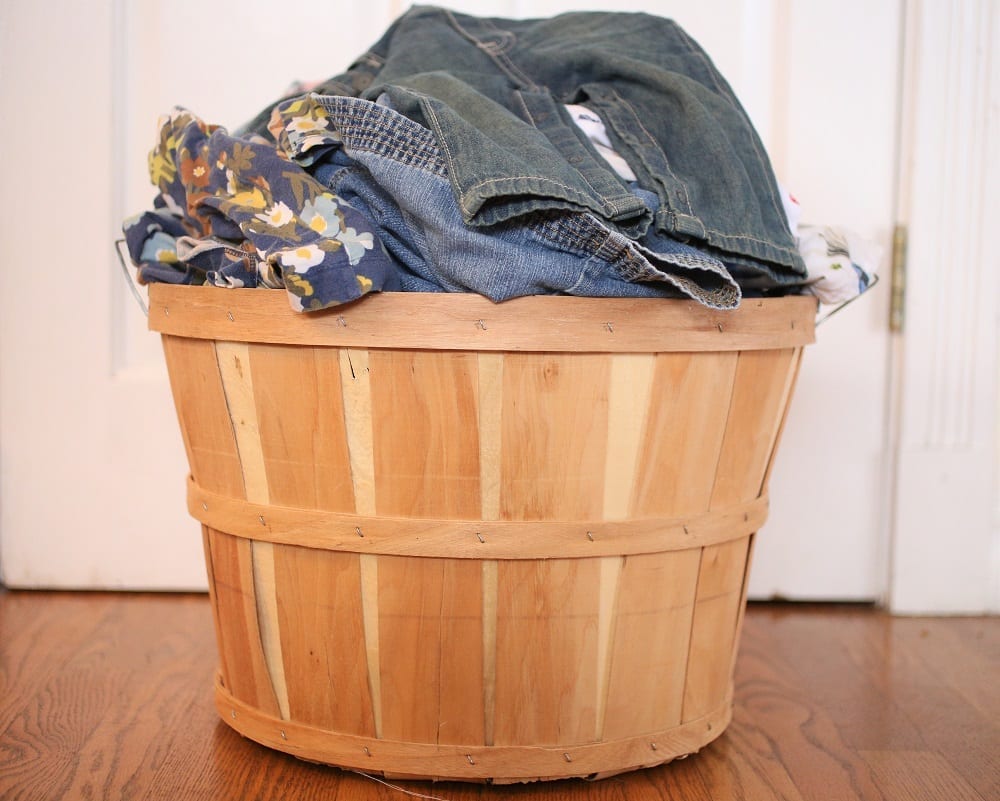 Step Three in the laundry conquest: administrate
This part can be fun, or slightly difficult, depending on your personality. You must administrate, this means lay out the laundry schedule. Laundry must be done nearly every day. In our home on Monday my two oldest boys do their laundry. This means they carry their own basket to the laundry room and they wash, dry, fold and put away all of their own clothes. On Tuesday two more children do their laundry, on Wednesday the same, on Thursday the same. Fridays are for sheets, all sheets get washed every other week. So for us, the boys all wash their sheets bi-weekly and the girls all wash their sheets on the opposite week. The older children are assigned a younger child to help on their laundry day and sheet day.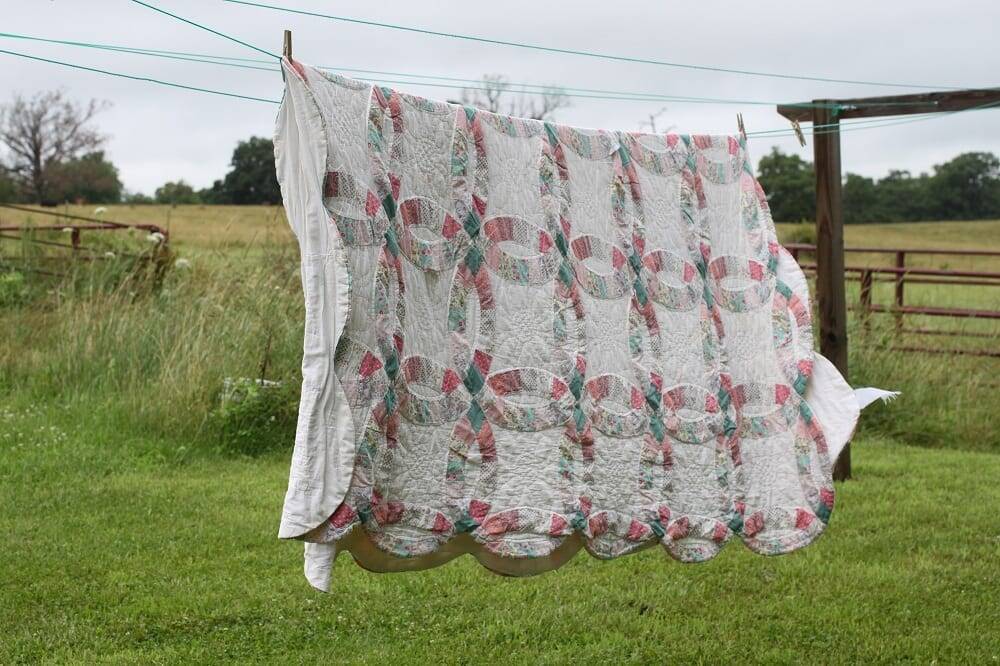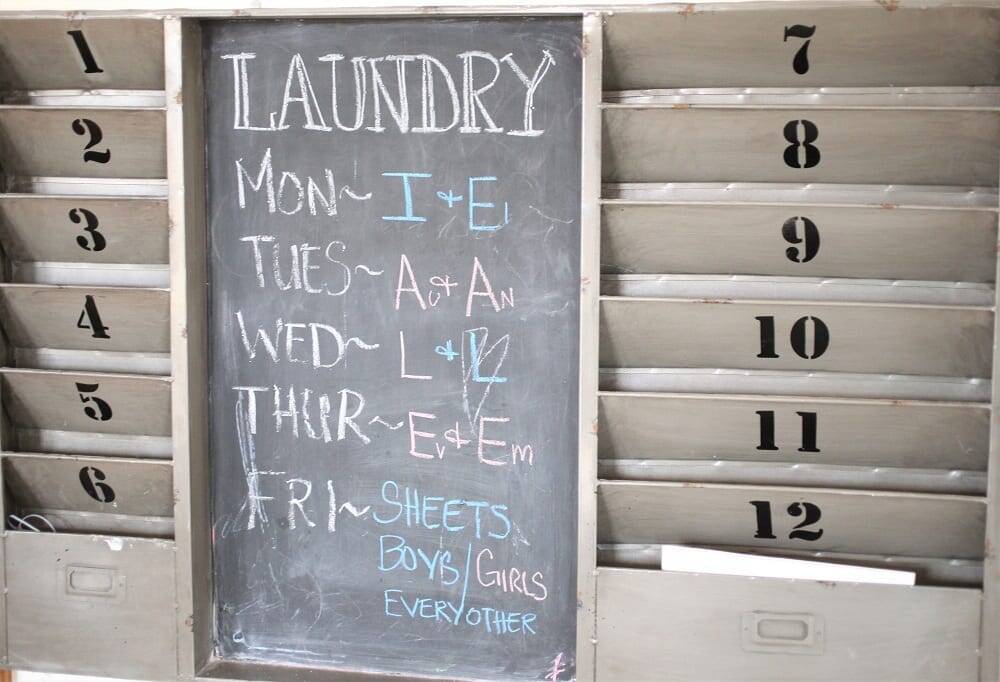 Step Four in the laundry hustle: train your child to do laundry and pony up for pods
In our home, the oldest down to the seven year old does his or her own laundry. As I mentioned this is recognizing it is his laundry day, carrying the basket to the laundry room, washing and drying the clothes and then putting them away. The youngest children get help from me or an older child to do their own clothes. I do the baby's clothes because he still lives in our room.
After we got a front loading machine I decided that pods were the only way my kids could do their laundry and not make a huge detergent mess every time. Yes they are more expensive, but your time and sanity are worth it. Perhaps your children are more capable at measuring detergent and not spilling it down the machine, if so congratulations!
Step Five in becoming a laundry master: relax and let go of high standards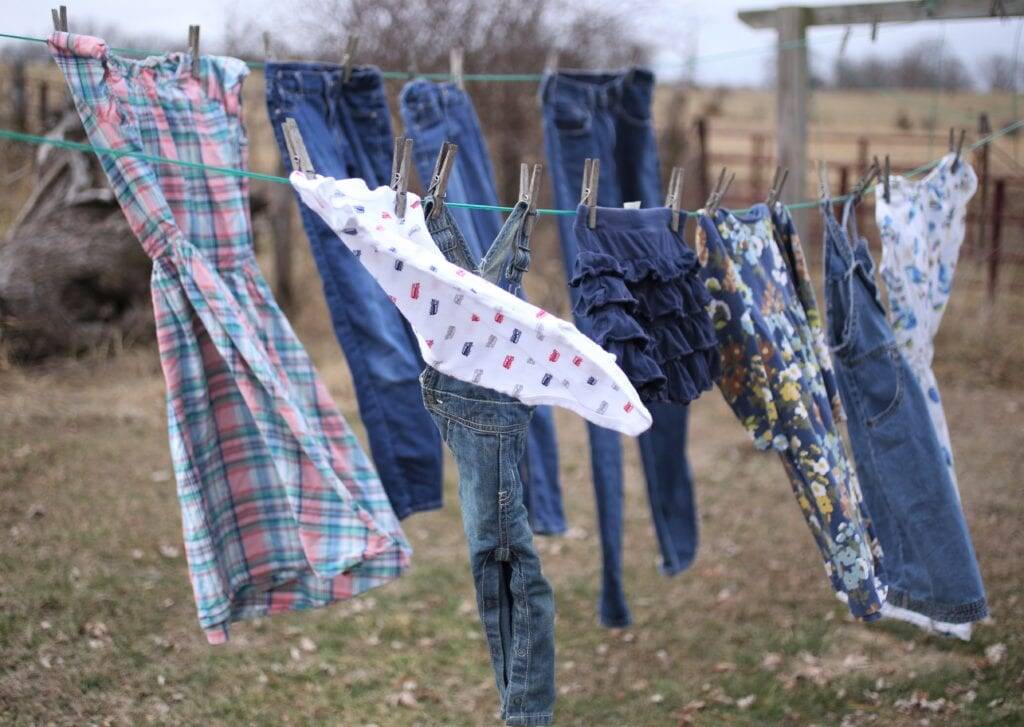 Now that your children are responsible for their own laundry, you must be willing to let them handle it how they see fit. What I mean by this is, if teenage boys don't roll their socks together and choose to just throw all of their socks in their drawer, let it go. If the girls put their jeans away in their drawer inside out…also let it go. It does not matter for eternity and most likely no one will know any better. If young children can't really fold that well…let it go. Try to help them get better, but again it doesn't really matter. After all it is just clothing.
Most likely as they get older they will find that matched socks are very convenient, jeans that are ready to be put on are delightful and organized drawers make for a more efficient life. Until then just bear up with it and delight in the fact that you are raising capable and independent humans!
A few tips
There are a few exceptions to these rules. A new red shirt should be washed separately of course. After the first wash, you can just add about a cup of white vinegar to the load to keep the shirt from bleeding onto the other laundry. Your daughters may have some fancy dresses that need to be washed on delicate. Of course, you should train them to take good care of nicer items and have them do an extra load on delicate.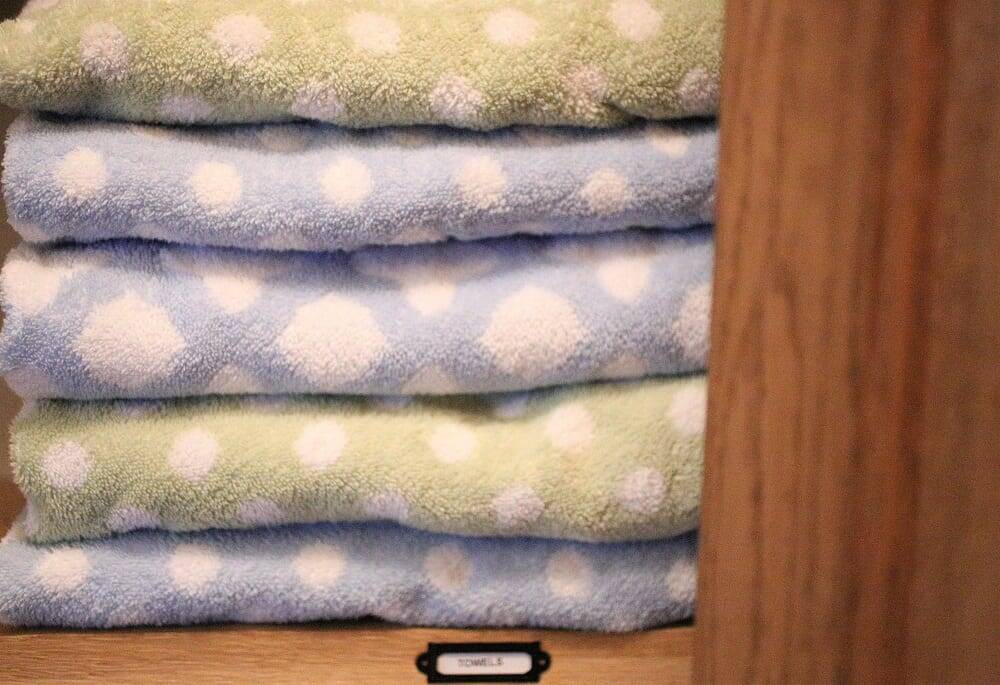 Lastly, my husbands laundry and my laundry go together. Ours is sorted into two loads, colors and whites. This is usually done on Saturday morning, that is the only laundry for the weekend. I sort ours because…well I am particular about my own stuff and my husband wears white undershirts. I throw a load or two of kitchen towels in throughout the week. Hope this has helped you to get a handle on your large pile of laundry!
Are you a large family? Do you have any tips to add? Please leave any comments or questions below! Let's hear all of your large family laundry help!
Pin for later