Homemade Lavender Simple Syrup
This homemade lavender simple syrup will be your new favorite way to dress up any drink! Perfect for lemonade, iced tea, or even a latte if that appeals to you! Easy to make and so yummy to use, you will love this lavender simple syrup!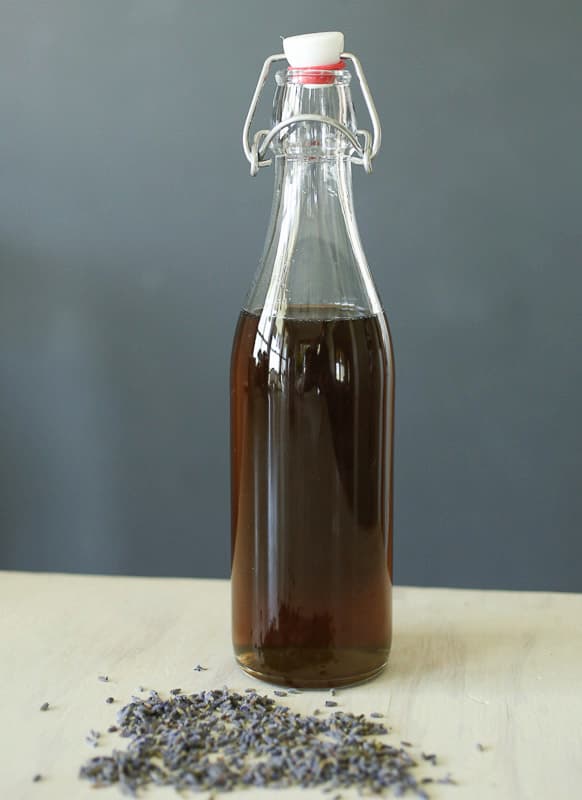 This post contains affiliate links
What Type of Lavender for Culinary Uses?
I have researched this extensively and have to say I'm not sure I am convinced that what most people recommend is really the best! Most people will say that English Lavender is best for cooking as it has a more pleasant sweet flavor. Here are some of the most recommended species of Lavender for cooking:
Lavender Angustifolia
Hidcote
Munstead
Rosea
Grosso
Provence
Taste preferences are highly subjective and I find that dried English Lavender is a bit more difficult to find, especially organic. However, French Lavender and a Spanish French Cross lavender were very easy to find.
Therefore, I went with this Lavender Dentata which is one of the French/Spanish species and I have been so happy with it! I made lavender sachets with it and they smell amazing! This lavender is also organic and rated for culinary use! I also made Lavender Lemonade with it and it was outstanding!
Ingredients for Lavender Simple Syrup
How to Make Lavender Simple Syrup
This really couldn't be easier! First, measure out 2 cups of filtered water 1/4 cup dried lavender flowers, or 1/2 cup fresh, and 2 cups of sugar. I use organic evaporated cane sugar so it makes the syrup a bit more brown.
In a medium saucepan over medium-high heat, bring the water and sugar to a boil, add the lavender and reduce to a simmer. Let the mixture simmer on the stove for 35-40 minutes or until it has thickened to a nice syrup consistency.
Once the concoction is thickened, turn off the heat and let it sit until it is cool. Once cool, strain the lavender and pour the syrup into a jar.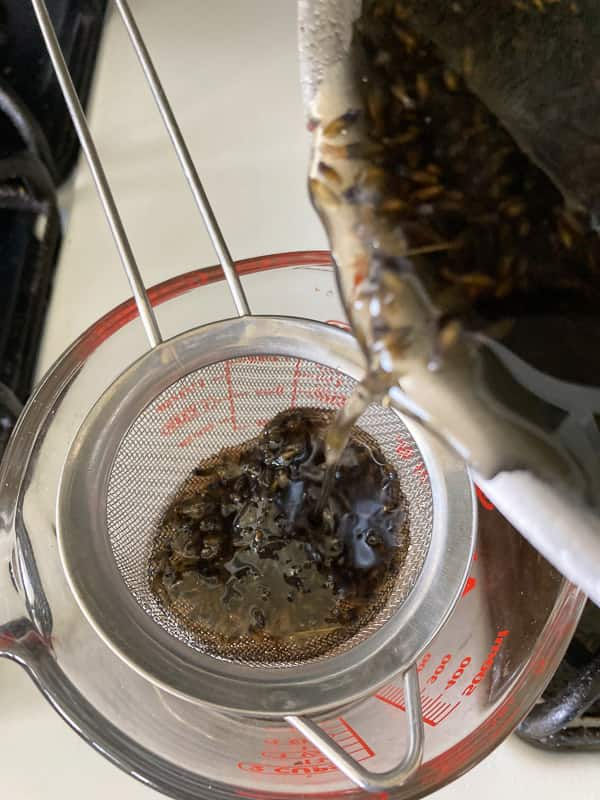 It should last in the fridge for at least two weeks, but I highly recommend using it to make Lavender Lemonade!
This will yield approximately 2 cups of lavender simple syrup.
How to Use Lavender Simple Syrup
My favorite way to use this syrup is to add it to lemonade. However, you could add it to anything you wish really. For a single serving beverage, adding about a tablespoon is good, but of course, taste is a matter of preference. If you want it sweeter, add more!
Adding a tablespoon or so to a cup of hot tea would make a relaxing way to end the day!
I have tried this syrup in a homemade latte. That was not my favorite…I know other people like that, but to me, it tasted like soapy coffee!
This would even be yummy on pancakes or English muffins!
Glass bottles with flip lids are found here.
Labels for Lavender Simple Syrup and for Linen and Room Spray
There are two variations of the labels in my subscriber library. They are free for my subscribers. If you are not a subscriber you can fix that right here! There are also labels for the lavender linen and room spray.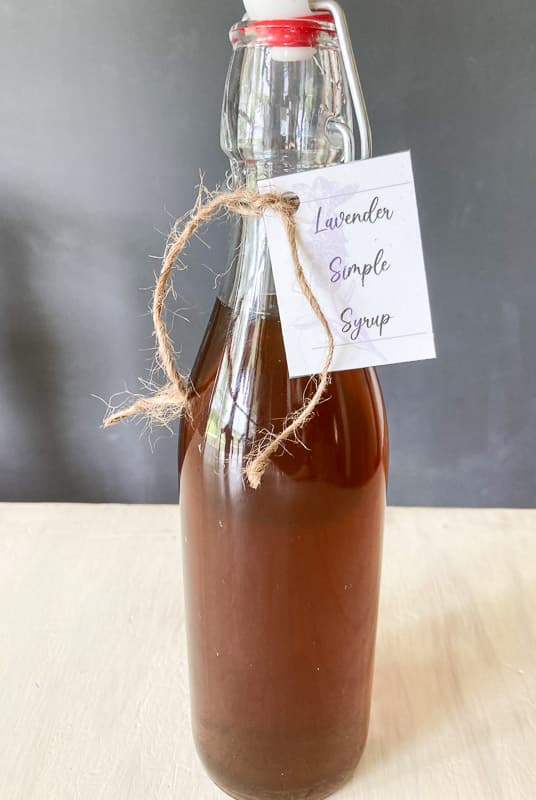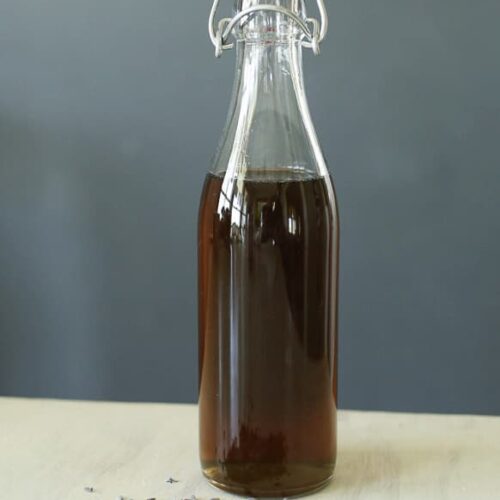 Lavender Simple Syrup
A sweet and slightly frangrant simple syrup for adding to drinks. Enjoy the floral notes of lavender in your lemonade or tea!
Ingredients
2

cups

filtered water

2

cups

granulated sugar

¼

cup

dried lavender buds
Instructions
In a medium saucepan, measure the sugar and water, and bring to a boil. Add in the lavender and reduce to a simmer. Let simmer on low for 35-40 minutes or until thickened. It will also thicken a bit more after cooling. After simmering for 35 minutes, turn off the heat and let it cool.

Strain out the lavender and bottle the syrup.

Enjoy in tea, lemonade or homemade cocktails.