Five Handmade Gifts for Kids
In this post I share some fun ideas for handmade gifts and stocking stuffers for kids. Some of these we have made ourselves, and some we have just rounded up to share with you. I hope you enjoy these Handmade Gifts for Kids.
This post contains affiliate links
Handmade…really?
Are you doubtful about making gifts for kids? I get it. I grew up with a grandma that made all the gifts. They involved plastic grids, and yarn, and other things that I just can't even remember. And you know what? I was totally ungrateful. As a kid, I just didn't appreciate the work, thought, and the love that went into her gifts. I am ashamed of myself now.
For our family, we don't really go all out for Christmas. Some years our children get one or two gifts, some years it's a nice family gift. A few years we have only done stockings. Every once in a while we do handmade. We have tried to make Christmas NOT about the gifts. We have established other traditions that have made our celebration more centered on Christ.
These Gifts are child pleasers
This is a fairly short list of handmade gifts; simply because I have seen some that I know are a bit lame, and truthfully would not be appreciated, and really not worth your time or effort. Some of these are projects that I have done, some I have not. I linked to the original source on all the projects that were not my own.
Handmade Does Not Equal Free
Don't you hate it when you see a project, and the person claims it can be done for free, but it requires a bunch of materials that you don't have? That person had all of the materials on hand, but you don't. Some of these gifts, especially the Sensory Board could get quite expensive to make. Try to look for things you have on hand.
Clothespin Dolls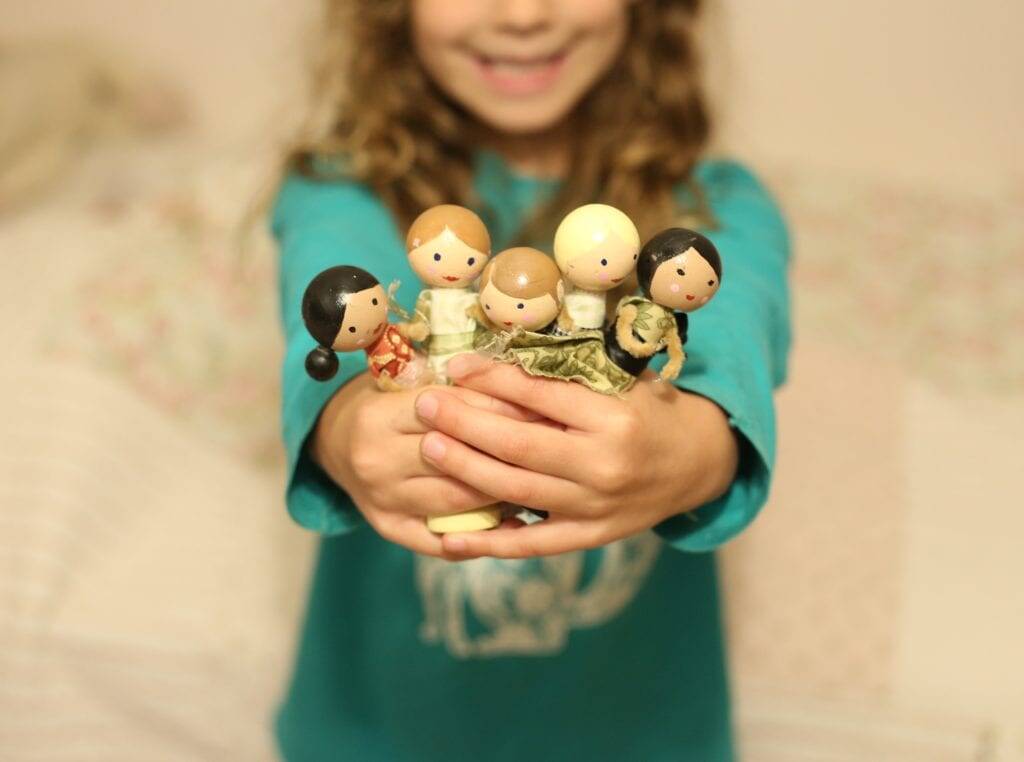 I made these for my girls three years or four years ago. Therefore, they have seen some play. Surprisingly they have held up quite well….minus a pigtail here or there. I did spray them with a clear coat, I believe that has helped them to hold up. After a lot of searching, I believe I found the tutorial that I followed. Now, it seems there are more people selling these or selling patterns for them than there are people posting tutorials. Once you get the idea for how to make them, you can get plenty of creative inspiration for ways to dress them or do their hair on Pinterest. These do require a bit of artistic ability, but not much.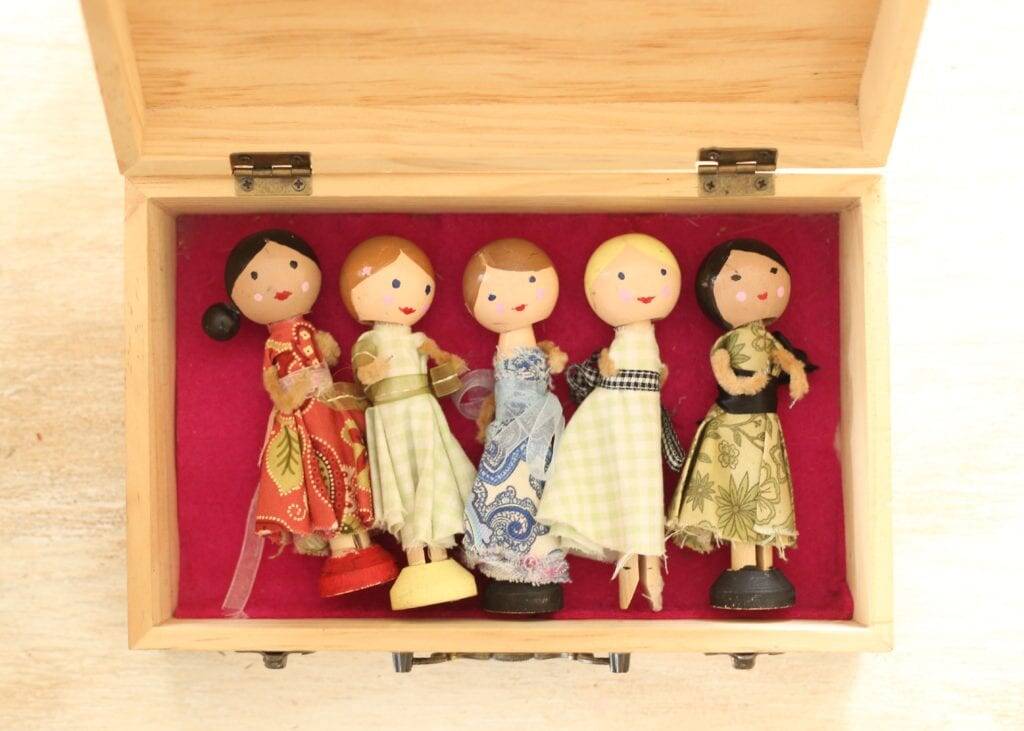 A Sensory Board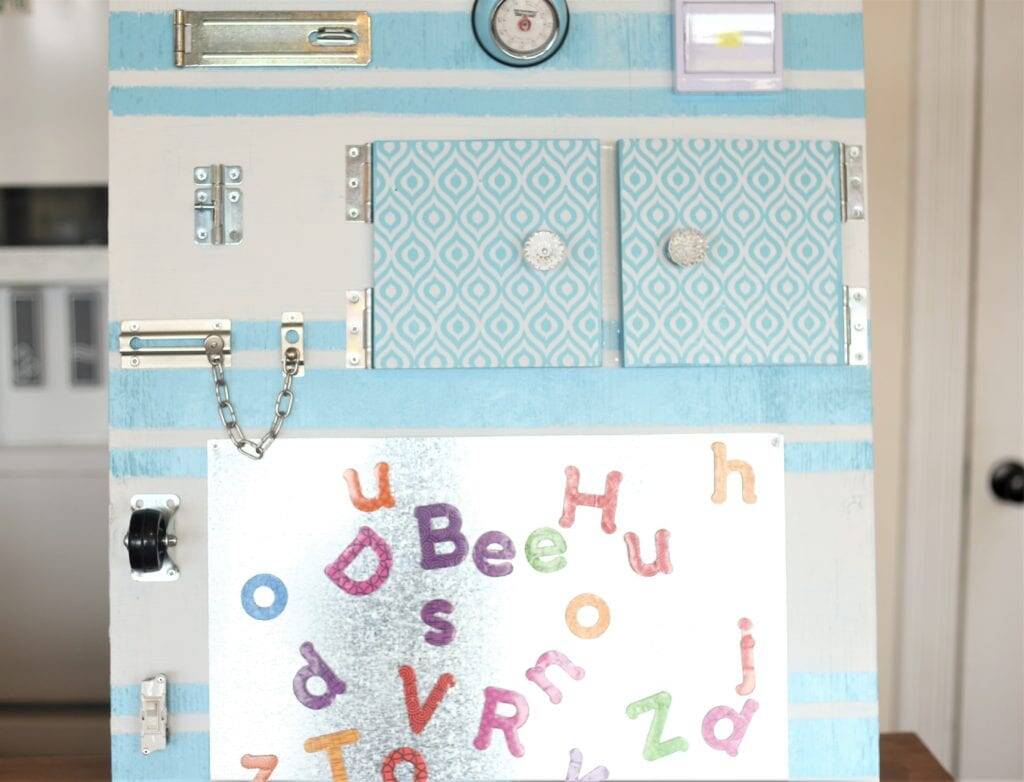 I think this is the coolest gift for a toddler. We have been talking about making one for years! Finally this year we made it happen. I think my almost two year old is going to love this! Our other children have had fun with it already. The sky is the limit with these. Again search Pinterest for different ideas. There are some for sale on etsy as well, however, these can be rather expensive. These are not super costly to make, especially if you have some hardware on hand.
How we did ours
We used a piece of plywood, not the nicest piece, but it worked. We cut it to 24″x 27″. Next I searched the garage and house to see what we had on hand to put on the board. Here is what I had and then what I purchased:
– A caster, a light switch, several hinges, some glass knobs, magnets, and a timer
-I purchased, a piece of galvanized sheet metal ($6), a battery operated light ($3), a chain lock ($2), a barrel lock ($2), some extra screws ($3)
Paint the board
This board was pretty rough plywood. Originally I thought I would cover it with contact paper, but it didn't go very well. I decided to just spray paint it and then do some decorative stripes.
To do this, I painted the whole board blue, then taped off some stripes with 1″ and 2″ blue painters tape. Then I painted over the whole board with white paint. I think I would have had better results with spraying the white, but I didn't have any white spray paint on hand. When the paint is still wet, pull off the tape.
Lay out your plan and assemble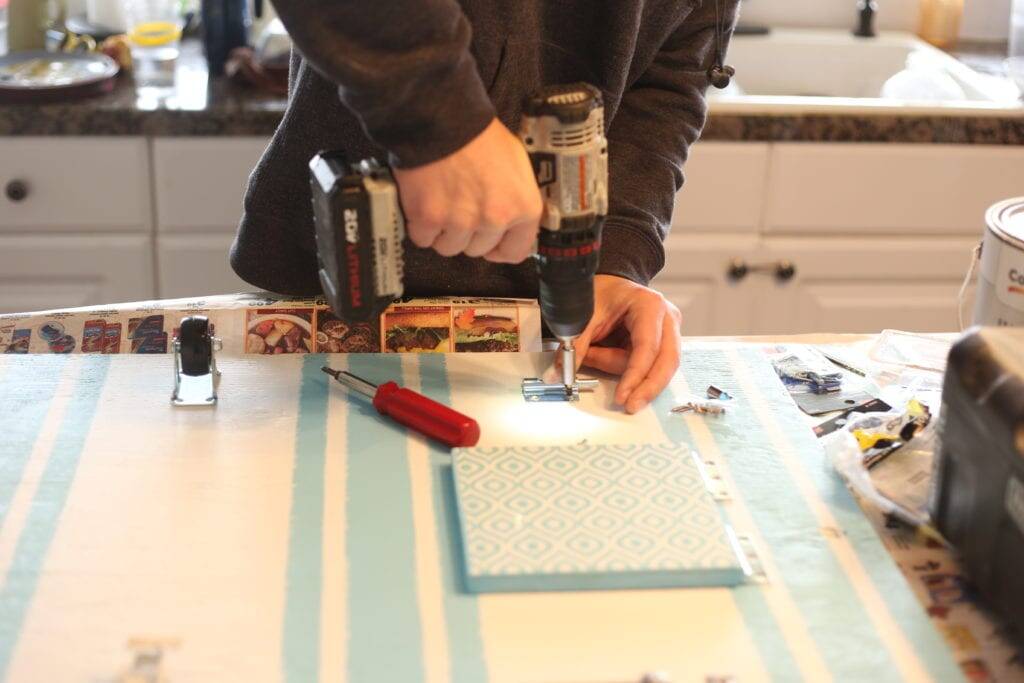 For the doors, we cut two squares from the same plywood and attached them with some hinges. First I painted the plywood blue and then covered the front and back with contact paper. I simply hot glued the knobs on.
The pictures underneath were just printed on white paper and attached old school style with some clear contact paper.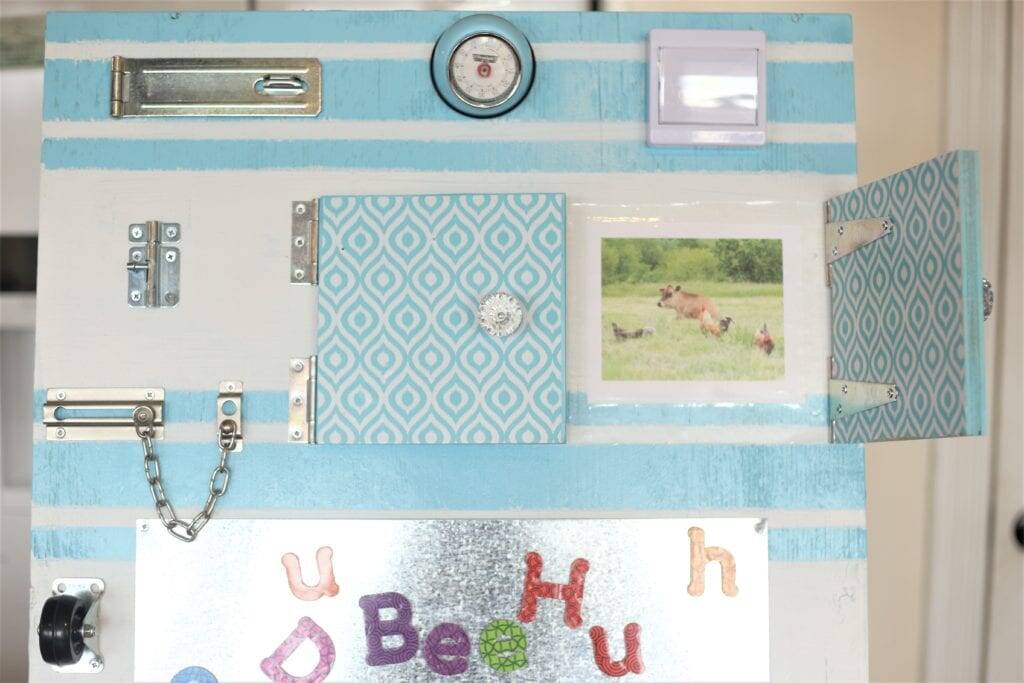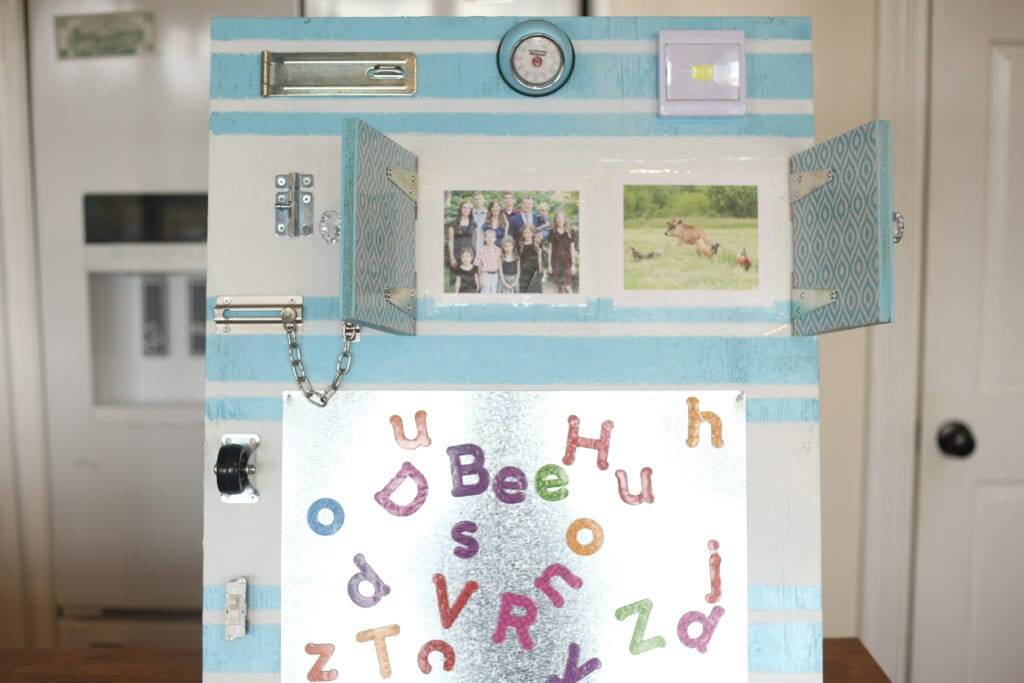 Other Things
I think other fun things to attach would be a mirror, some different textured materials like fake fur, or carpet, or maybe a little clock with moving hands.
Lego Lunch Box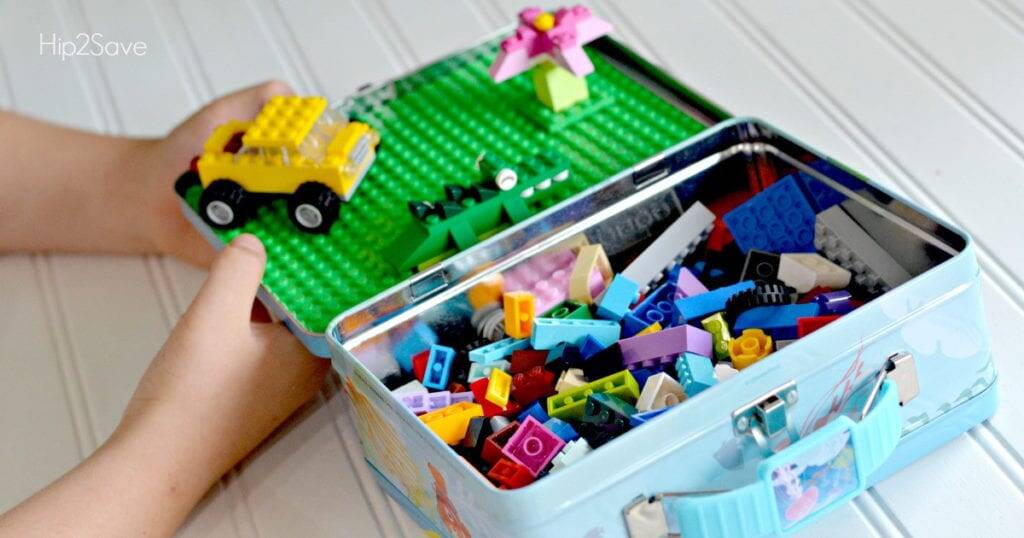 This is such a good idea for when you have activities with your older children, like basketball games. Your littler ones can sit and build with legos when the game loses their attention. We have seen this in action at a few games and I think it is a much better option than handing the child an electronic device. Here is a tutorial, this is pretty simple!
Picture Memory Game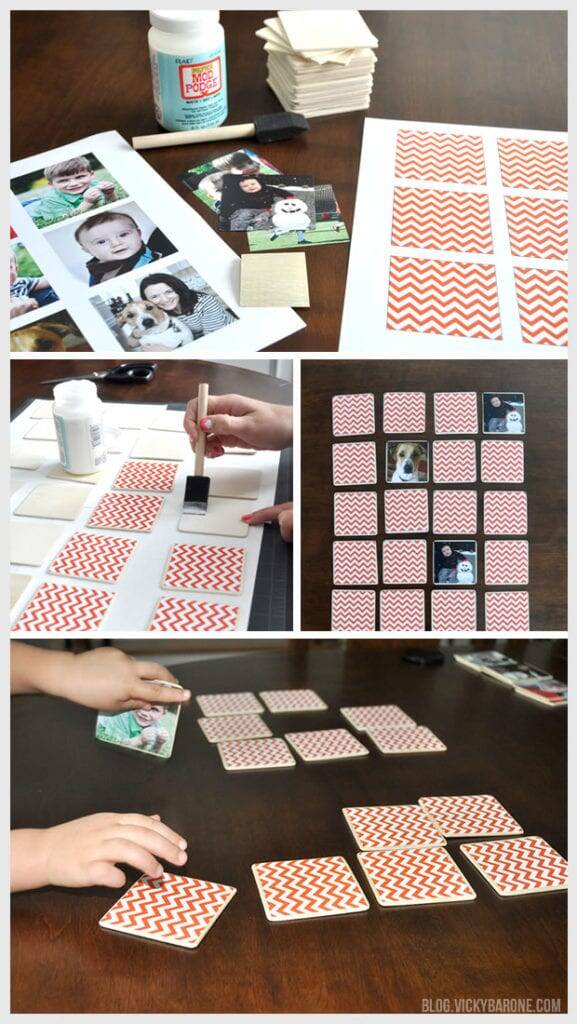 I want to make a few sets of these! My kiddos love matching games, and they love pictures of our family. This seems like a perfect combination! Tutorial found here.
Bath Bombs
My daughter loves making these for gifts. To make them extra special, she puts a little trinket inside so that when it dissolves there is a little gift for the child.
Here's the recipe they follow–It is a video from The King of Random
Bath Bombs
Ingredients
1/4

Cup

Baking Soda

1/8

Cup

Epsom Salt

1/8

Cup

Cornstarch

1/8

Cup

Citric Acid

1

Tsp

Water or Witch Hazel

1 1/2

tsp

Castor or Vegetable oil

12 to 15

drops

Food coloring

20-40

drops

Essential oil
I Hope You Found Some New Ideas for Handmade Gifts for Kids!
Pin for later!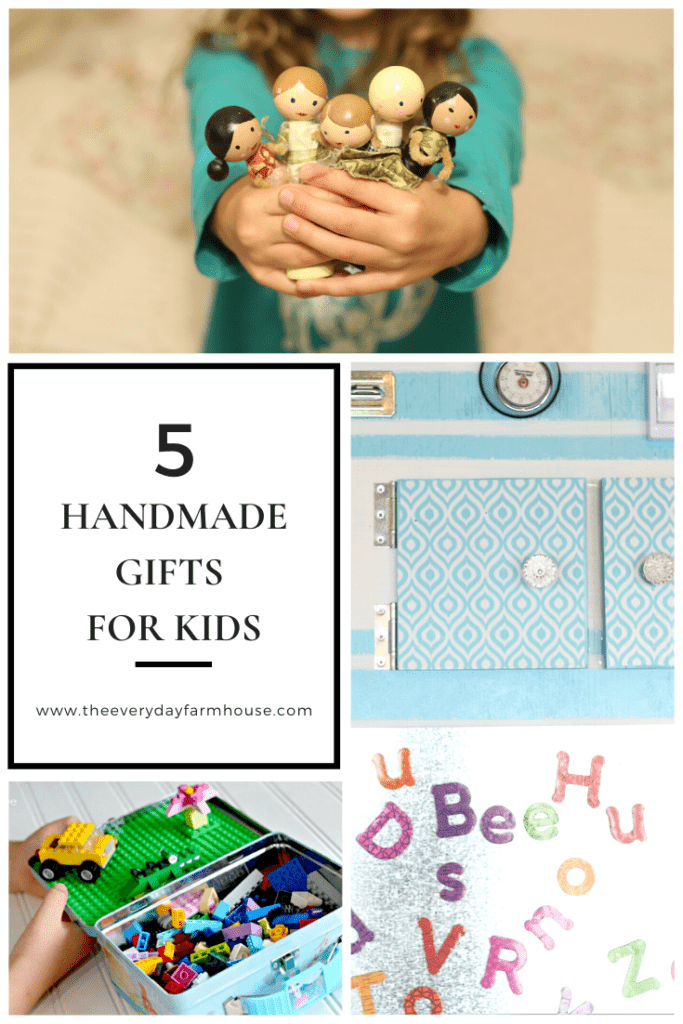 Supplies