Five Things Friday, September
Goodness, it's been quite a while since I've done a Five Things Friday! Keeping up with the blog at all has been a bit of a challenge during this season! I have been working on different projects behind the scenes like a new soap recipe and wool dryer balls, plus we are updating the now vacant bedroom upstairs. However, sitting down at the computer has been reserved for updating all of the planners and calendars in my shop! So here is a bit of random for you this Friday!
This post contains affiliate links
1. James 4:1
"From whence come wars and fighting among you? Come they not hence, even of your lusts that war in your members?"
The following is our Bible lesson from today. It really struck me that as mothers, knee-deep in training and teaching our children, we may feel like we cannot really fight the craziness going on in our world. However, if we truly want to change the world, it starts right here in our homes! Teach our children to seek righteousness and raise up people that will serve others and not their own flesh! It sounds simple enough and day to day it may not feel like we are accomplishing our goal. Keep it up though! You will see the fruit of your labor eventually! This lesson was for our children, but as usual, it applies to me as well!
We talked yesterday about godly wisdom from above bringing about peace and being full of mercy and it being easy to be entreated. We saw that the fruit of this wisdom in a person's life is righteousness and the seed of that fruit is peace. Exercising this kind of wisdom does not make war with people because everyone can understand that it is not self-seeking and it is only an act of loving-kindness. To take this idea further, James asks the readers, where do wars and fighting among us come from? Do they come about as we follow after righteousness that is sown in peace? Answer…no! What does he say? They come about because we are acting on the lusts of our own flesh that are warring among our own members. They come about because we are responding to the lusts of our flesh that died with Jesus! They come from selfishness and the idea that you are being done wrong by someone else. They come about because of the exercise of worldly wisdom! Again, worldly wisdom centers upon the person performing the acts of "kindness," right? It focuses on what good you can get from choosing to help someone else. Godly wisdom centers on the other person and only on what good they will get from you acting, and that is a very large difference that can be felt and seen by others. No one responds very well to being used or taken for someone else's selfish gain, and this is what produces the fighting and warring among people. Selfishness is the key to all of this, as it is the ultimate work of the flesh. The flesh is basically selfish at its core, as it is all about satisfying itself and cares nothing for anyone else, so when we act in the flesh, we are absolutely taking part in what makes for a good fight. And this is a universal truth that works in every aspect of life. Do you think this is true when you find yourselves fighting? I can assure you it is. Someone's upset and throwing a fit because you won't play the game their way and everyone else refuses to listen to what they want to do, and all parties are being selfish at that point. This for sure is the case at work and in marriage and any other family relationships too. I think the best thing we can possibly do with this information is when we feel a fight starting, we need to take a step back, look at our own actions, ask ourselves if we are being selfish, and if we are, then figure out what it will take to compromise in a way that both parties win. Then you are not just giving in to someone else's selfishness and encouraging them to act that way again, and you are not encouraging yourself to either. The important thing to gain here though is that all wars and fighting come from a place of fleshly lusts, so if we keep the fight going, we are doing nothing but participating in the lusts of the flesh. Nothing about that is godly wisdom. So, learn to stop, think, and then act in kindness and love to come up with doable solutions.
2. Camping and Sleeping in a Tent
We took our kids on a quick overnight camping trip this last weekend! We went to a place that we hadn't been to in many years, one of our absolute favorite places. We went to Watkins Mill State Park, here in Missouri. It was refreshing and exhausting all at the same time! We met a really neat family and we were blessed by the conversation.
The only real negative about camping for me is sleeping in a tent on the ground….ugggh! This year though we acted like spoiled big kids and brought our mattress topper to sleep on. We bought this mattress topper when it was on sale last year, I think we paid around $260 for it. Our mattress is about 11 years old and it was showing its age, however, a couple thousand for a new mattress was not in the budget! We bought this topper and it totally refreshed our bed! It is so comfortable! So we brought it camping and it was way better than an air mattress!
3. All New Planners in My Shop!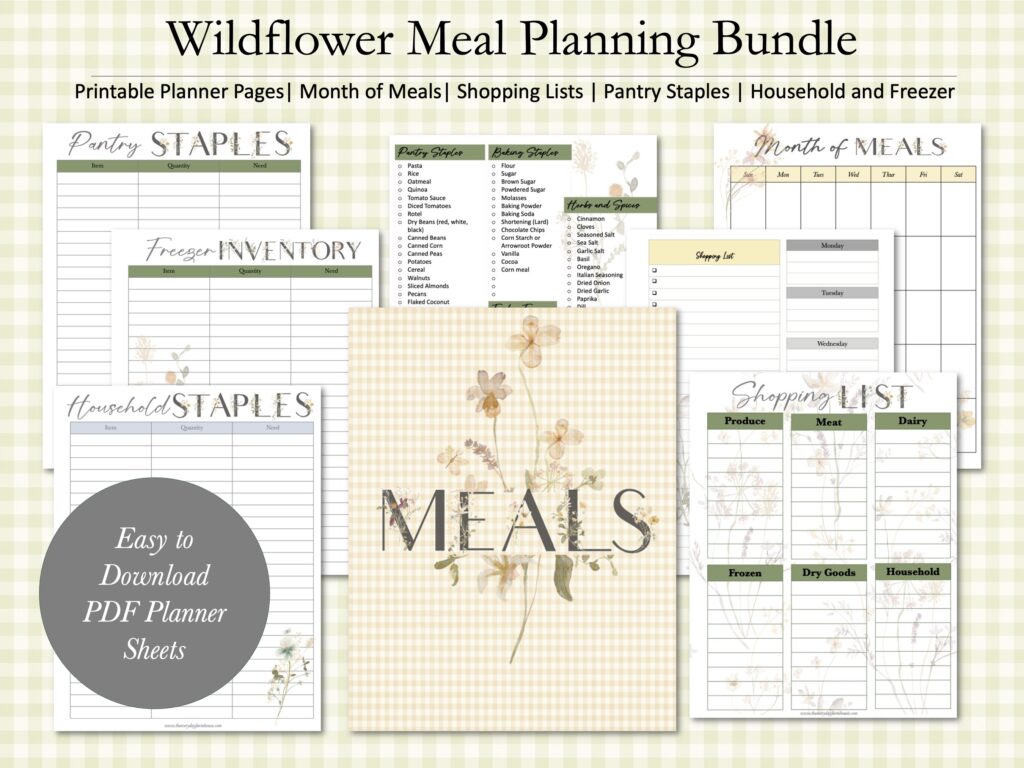 I refreshed all of my planners and put them in my shop! I absolutely love the sweet delicate wildflowers in this set! They just make me smile! Plus I love gingham and buffalo checks (check out my buffalo check dining room here)! So, if you are thinking about getting organized for this next year or through the holidays, you might spend a few bucks and make it happen!
Holidays At Home
Also, speaking of things in my shop, I am participating in a bundle deal! I've never contributed to a bundle before, so when this group invited me to join, I jumped at the opportunity! This bundle is all about the holidays, it's full of e-books about organizing for the holidays, decorating for the holidays, family traditions, and more! There are some amazing bloggers in this group and I am thrilled to be included with them! I've contributed my Christmas tags and my Thanksgiving planner! I'll keep you posted, and you should be receiving an e-mail when the sale opens on Tuesday!
Handmade Home Challenge
If you have been here for a while then you may know about the #handmadehomechallenge However, if you are new here, then maybe you don't know about it! Every month for the past two years we have been learning a new skill or have been learning to make something for our homes! Here is a list of the projects from this year so far! I have one more that I will be adding this weekend…wool dryer balls, I'm almost done with the post!
January- Sourdough Starter Recipe | Simple Easy Sourdough Starter Step by Step
February- Candle Dipping | Hand-Dipped Beeswax Taper Candles
March- How to Sew a Cloth Napkin | DIY Mitered Corner Napkin Tutorial
April- Beginner Soap Recipe
May- Whole Wheat Artisan Sourdough Bread Recipe
June- Garden Obelisk Wooden | Step by Step Plans
July- Homemade Liquid Dish Soap Recipe | From Scratch Real Soap
August- How to Make a Vegetable Trug | Flower Trug | Garden Hod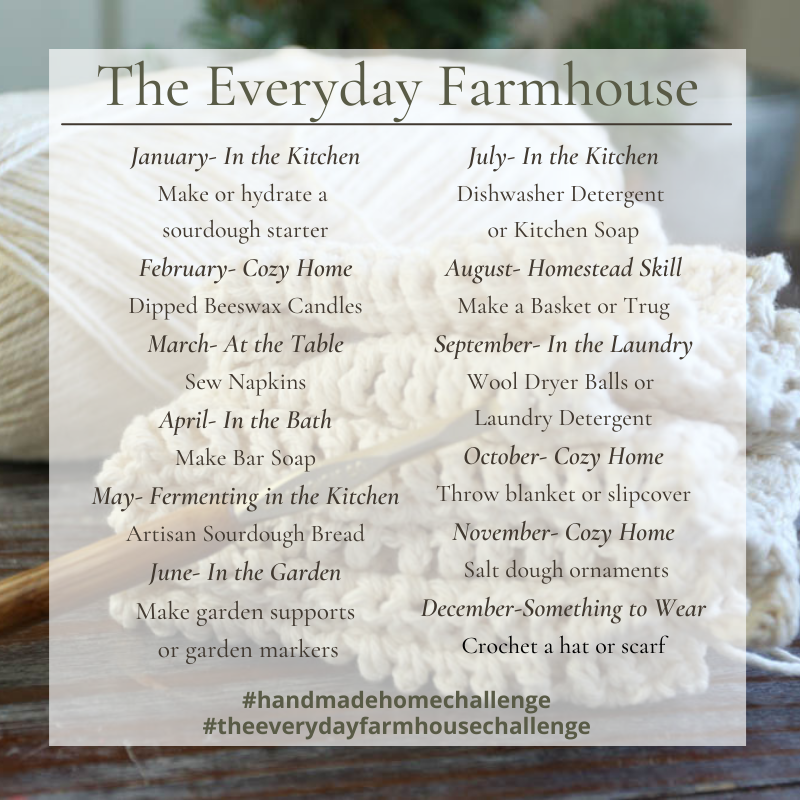 That's all for today! Have a great weekend!