Homemade Liquid Dish Soap Recipe | From Scratch Real Soap
This homemade liquid dish soap recipe makes a legitimate real liquid dish soap. This hot-process liquid soap will please you with its simple and straightforward instructions and ingredients! Just four ingredients and you are ready to make soap!
There is a video below if that interests you!
This post contains affiliate links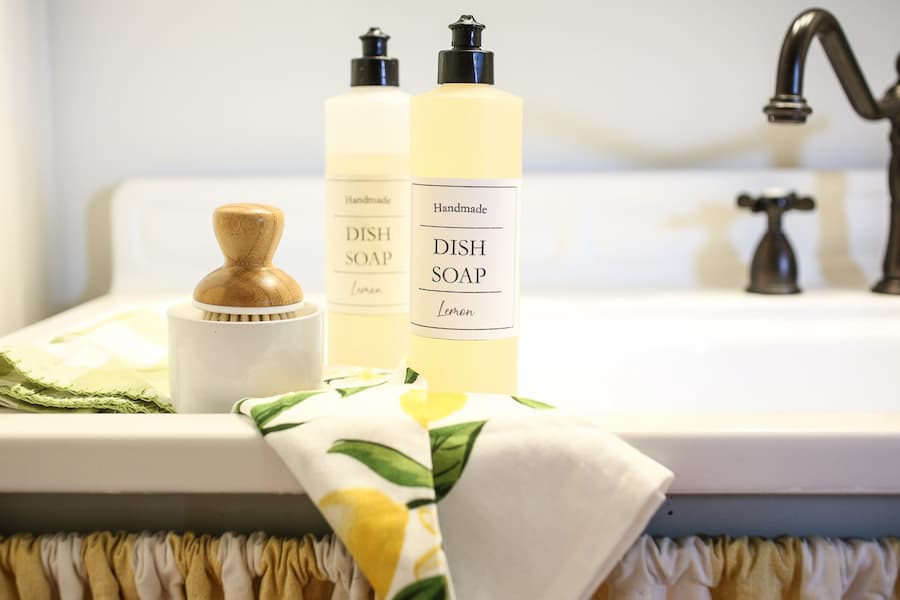 Why Make Your Own Liquid Dish Soap?
I mean really? Why complicate everything right? Well, for me I love to make stuff, it brings me joy! Knowing how to make an everyday item or product is fulfilling, helps you live more sustainably, and can actually save a little bit of money in the long run! Plus you know exactly what goes into the product you are making! No weird preservatives or detergents!
One thing that I like is that you can just refill bottles over and over again, eliminating so many plastic bottles going in the trash!
This post is also part of my handmade home series where we are making a new handmade product for our homes every month of the year! You can check out the whole series here!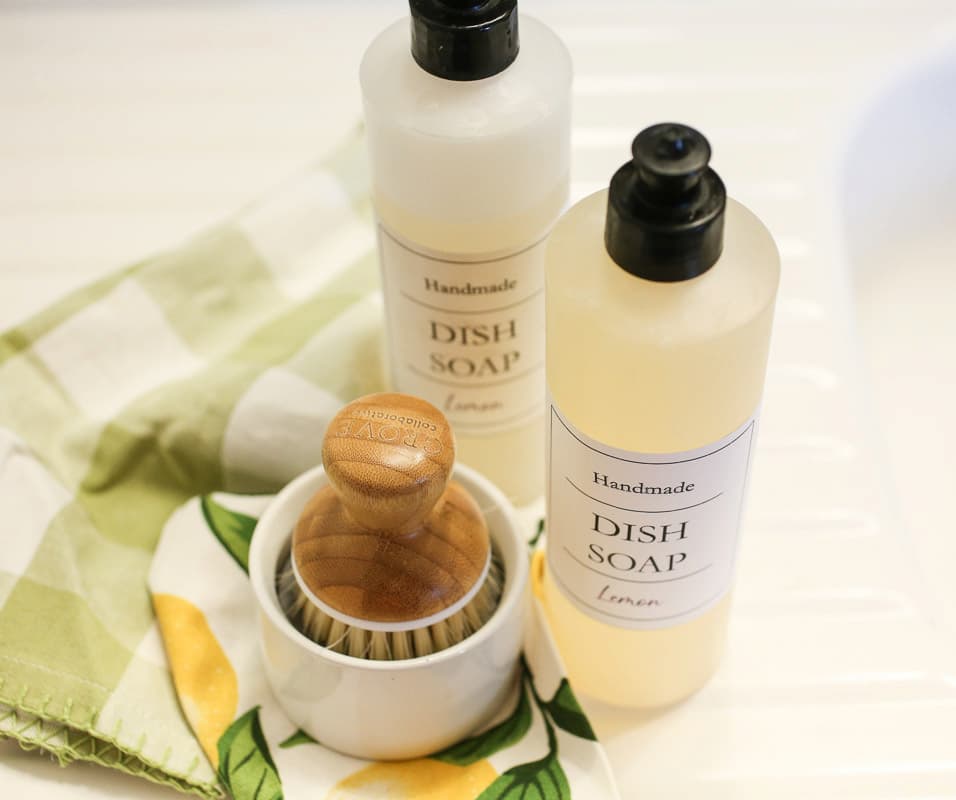 Will You Save Money Making Homemade Liquid Dish Soap?
Well….I am not a math person, but for you all, I did some super complicated math to figure out the cost of each bottle of soap! Ok, it wasn't really super complicated, places like Sam's Club and Amazon give you the cost per oz of most consumable products that you buy!
So here's the breakdown of the cost of making a batch of this soap.
Cost per ingredient amount
Coconut Oil- 17.5 oz= $2.80
Potassium Hydroxide- 4.75 oz= $2.09
Lemon Essential Oil- 1.5 oz= $3.70
Total Cost of a 50 oz Batch of Liquid Dish Soap
$8.59 for 50 oz of Liquid Dish Soap. I divided this up into three 16 oz bottles of soap which makes the cost for each bottle $2.86/ per bottle.
Clearly, you are not going to make this soap just to save money! If you compare the price of this soap to say Dawn dish soap, you will come out about even, the cost is close to the same. However, if you usually buy Mrs. Meyers or one from Grove, you will be saving at least $2.00 per bottle.
Obviously, the largest cost of this soap is the lemon essential oil. You could certainly eliminate that but I do believe you would lose some of the grease-cutting ability and of course the lovely fragrance!
Liquid Soapmaking Procedure and Ingredients
17.5 oz Coconut Oil
4.75 oz Potassium Hydroxide
4.75 oz Distilled or Filtered Water for making the soap paste
35 oz of Distilled or Filtered water for dilution
1.5-2 oz lemon essential oil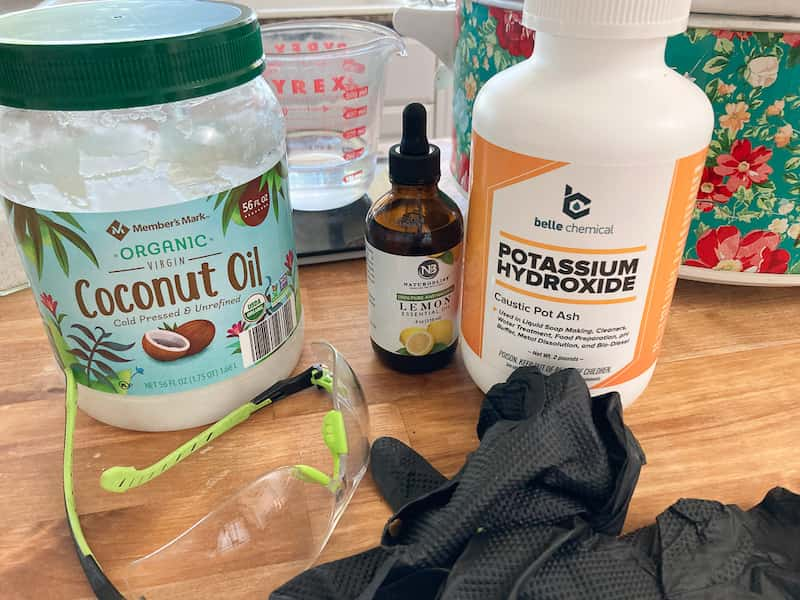 If you are new to liquid soapmaking, it may seem confusing at first. To make liquid soap, the process is different from making bar soap. Bar soap can be made with the cold process whereas liquid soap requires the hot process due to the difference in Potassium Hydroxide (what you need for liquid soap) and Sodium Hydroxide (what you need for making bar soap).
For liquid soap, you must use Potassium Hydroxide as it will allow your soap to be a liquid. Sodium Hydroxide wants to be solid. So be sure you have the right ingredients!
The process involves melting the oils and then combining the water and potassium hydroxide, then combining the two and cooking it until it is a thick paste. After you have made the soap paste, you will then dilute it with more water until it is a liquid.
The finished product will be a clear liquid soap that is slightly thinner than commercial soaps but thicker than water.
Equipment Needed for Homemade Liquid Dish Soap
A measuring cup
A Rubber Spatula
Rubber Gloves (I like nitrile gloves)
Always consider safety when making any soap with lye. You are using a caustic ingredient and you can burn yourself with it. Potassium hydroxide does get quite hot and it puts off plenty of fumes. It also pops and gurgles when you mix it with water.
Do not let this scare you or deter you from making soap! Just wear eye protection and gloves when you make the soap!
Step 1
In a double boiler, in the microwave, or directly in your crockpot melt the coconut oil. While the oil is melting, measure the potassium hydroxide and the water separately.
Slowly, a few ounces at a time pour the potassium hydroxide into the measured water and stir until it is completely dissolved. Do not be alarmed as the solution will pop and gurgle and put off fumes. It is best to do this in a well-ventilated area.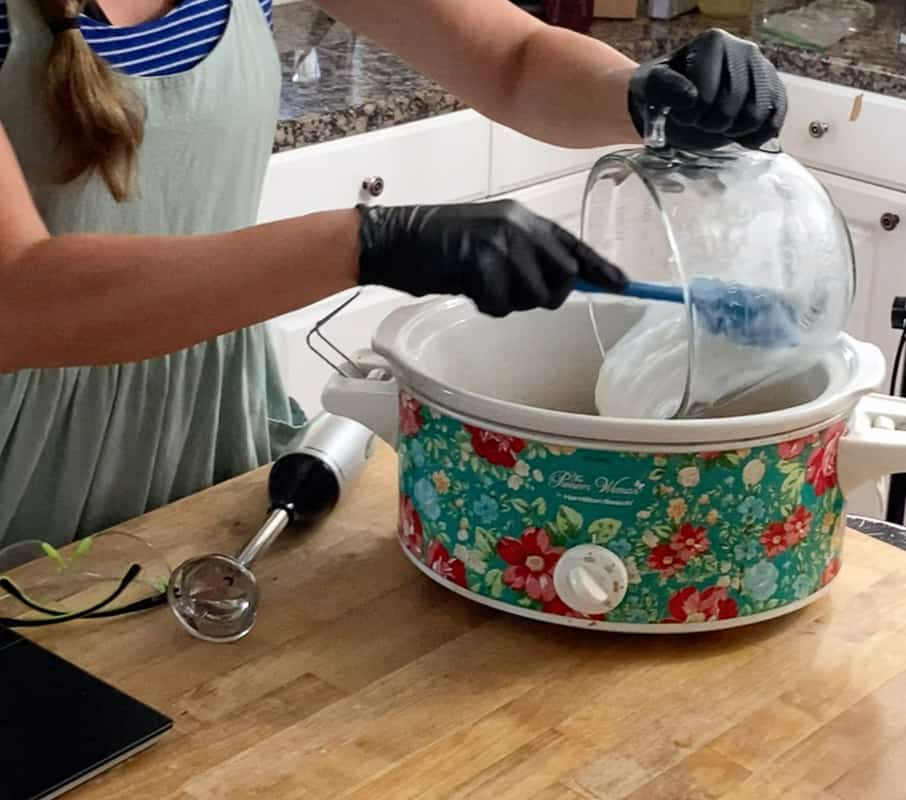 Step 2
After the potassium hydroxide is completely dissolved in the water, you can pour it directly into the warm coconut oil, no need to wait for it to cool or anything like that.
Using your immersion blender begin to mix the oil and lye solution together. You will begin to see the mixture change as you blend. It will quickly come to trace which you will notice if you have ever made cold-process bar soap. However, for this soap, you will mix beyond trace until the mixture resembles instant potatoes.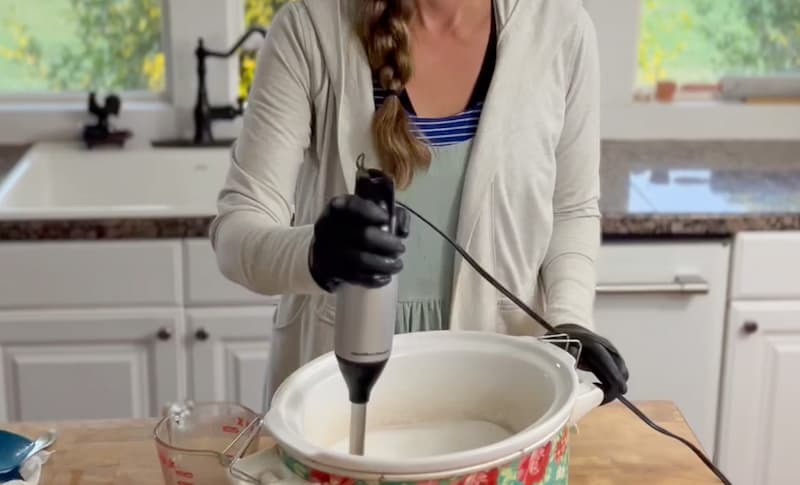 Step 3
After you have reached the potato consistency, give your soap paste another stir, put the lid on the crockpot, and allow this to cook for about 2 hours. You should check on it and give it a stir every 30 minutes or so.
What you are looking for is a thick soap paste that has a glistening look similar to petroleum jelly, it will be clear-ish and glossy.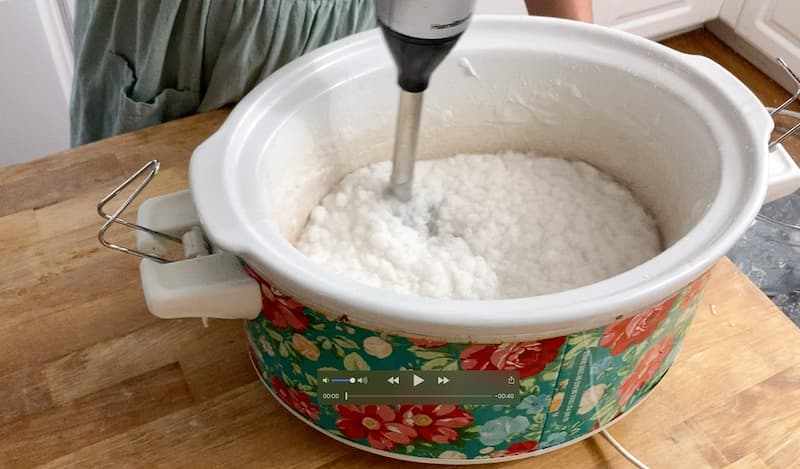 Step 4
Perform a clarity test. To ensure your soap paste is ready to be diluted, you should perform a clarity test. This is quite simple, you just measure out 2 TBS water and heat it up a bit. Then mix in 1 tsp of the soap paste. Stir until it is completely dissolved, the solution should be clear, not cloudy or milky. If yours is clear, then you can now add the water to dissolve the soap paste.
Step 5
Leaving the soap paste in the crockpot, you should now add 35 oz of distilled or filtered water to dissolve the soap paste. Leave this in the crockpot on low to dissolve for approximately 6 hours or so. You can stir it from time to time but that isn't absolutely necessary. After it is completely dissolved, you need to let it cool.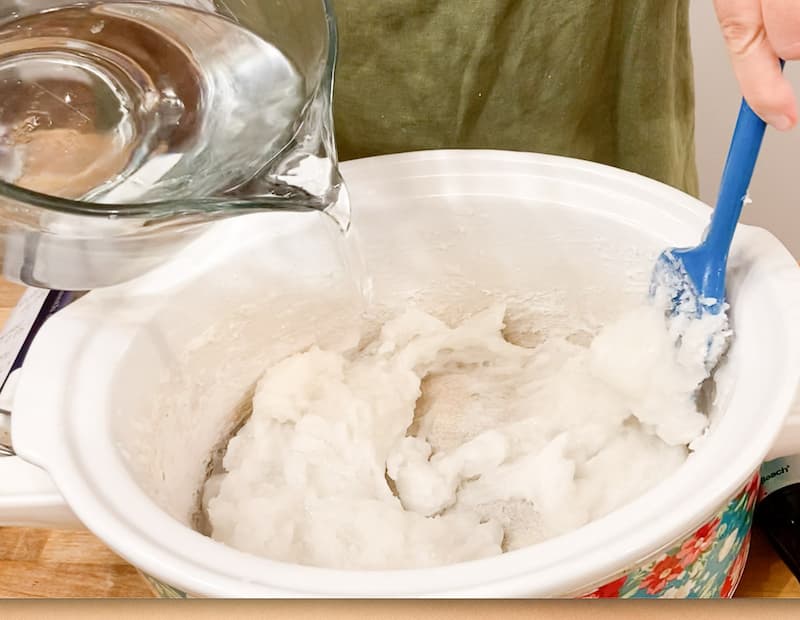 Once the homemade liquid dish soap is cool, you can add in your lemon essential oil. This may make it look a bit cloudy at first, but don't worry, it will clear up again within a day or so.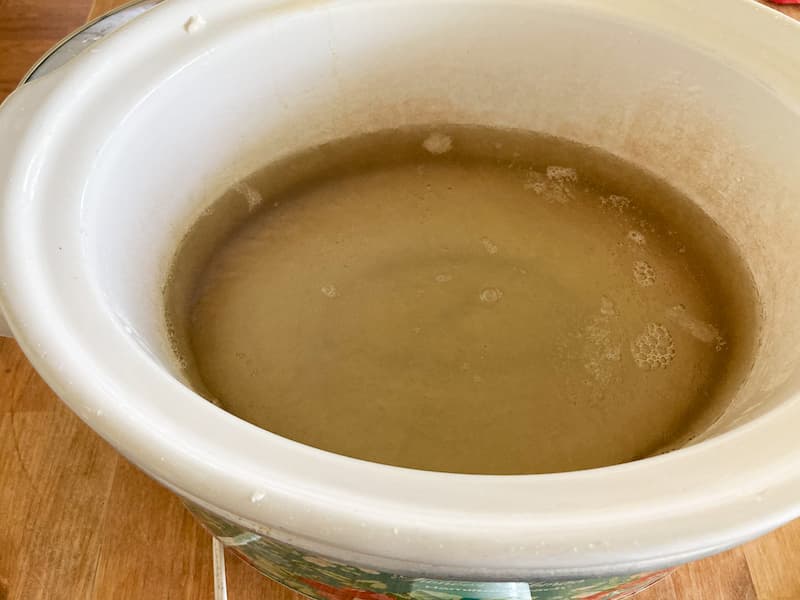 Now you can bottle up your homemade liquid dish soap and wash those dishes!!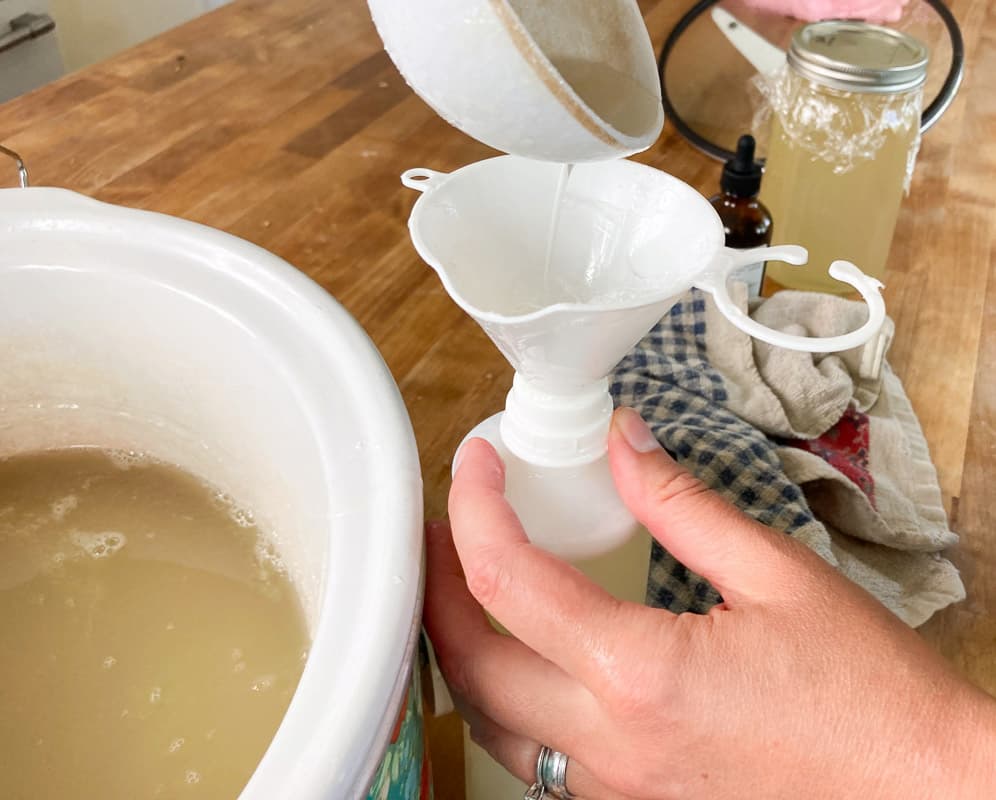 What is the Difference Between Sodium Hydroxide and Potassium Hydroxide?
Sodium Hydroxide and Potassium Hydroxide are two different compounds used for making two different types of soap.
Sodium hydroxide (NaOH) is typically used in making bar soap. When mixed with water it makes lye. Potassium hydroxide (KOH) also makes lye when mixed with water but is usually referred to as potash or potassium hydroxide lye.
Planners, aprons, pillow covers, and kitchen towels!