DIY Simple Natural Foraged Fall Wreaths
Simple natural foraged fall wreaths for your home. Making home decor from things in nature is a great way to decorate for the seasons. Check out the end of the post, where I share a few other fall wreaths!
This post contains affiliate links
Simple Natural Seasonal Decor
I don't know about you, but I love the countryside. There is nothing that can compare to God's creation. We are surrounded by pasture land I love observing as the landscape changes with the seasons. Each season has its own unique characteristics. Taking this inspiration from nature and bringing the outside in is one of the loveliest and least expensive ways to decorate your home.
Natural Wreath Project Disclaimer
I will say there was a moment or two in this project where my daughters and I were laughing at what a pathetic-looking wreath this was. I was pretending to do a Pinterest fail video, and wondered if this really was a fail! After leaving the mess laying in the yard for a couple of days, ( it even got rained on) I went back to it and spent a little bit of time on it, and now I love the way it turned out. Let's make a natural fall wreath.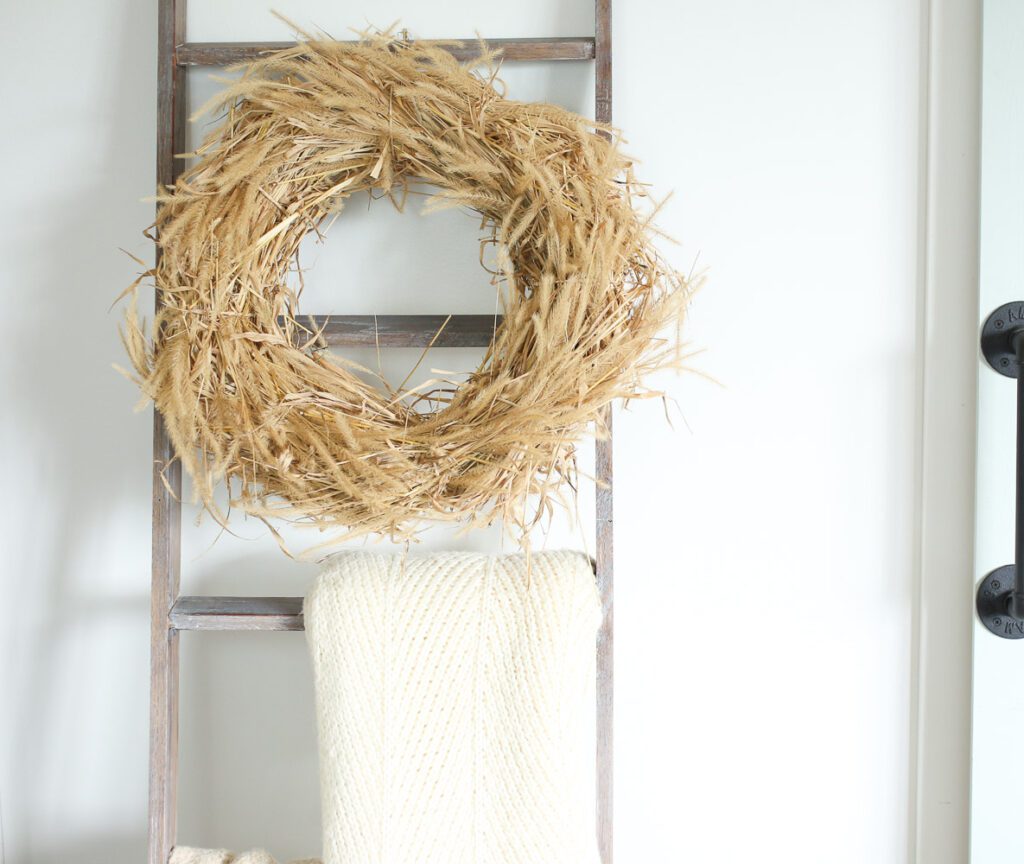 Materials Needed for a Foraged Fall Wreath
This grass that I used is actually from last fall. I found this beautiful dried grass, I don't know what kind it is, but it had obviously gone to seed. I intended to make this wreath last season but never got around to it. These huge bunches of grass laid on our garage floor all year. I pulled it all out along with the wreath form that was broken and was surprised to find that the grass was just fine. It wasn't falling apart or shedding terribly. I had about six bunches.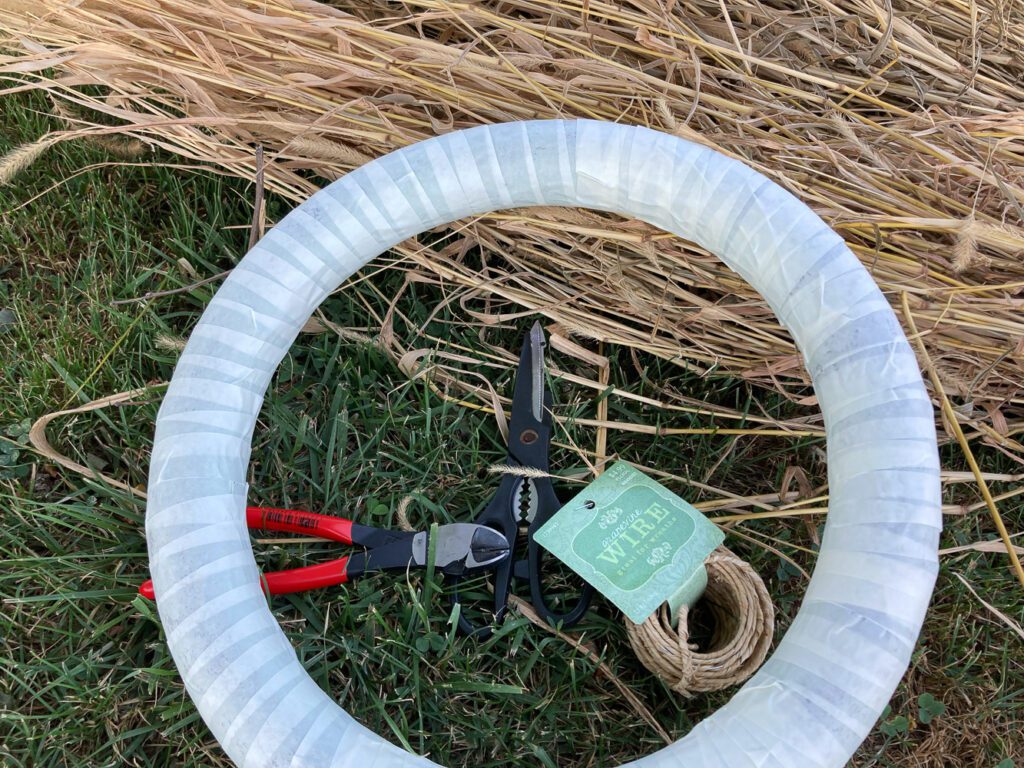 The wreath form was a cheapie from Dollar Tree. It is 15″. Here is a similar one, but check your Dollar Store, they are way cheaper there.
What made this project so easy was this grapevine wire. It was kind of expensive at $4.99 for the roll, but it blended so nicely with the grass that I'd say it was worth it! Here is some from Amazon and it is similar.
Steps for Making a Dried Grass Wreath for Fall
Prepare Your Wreath Form
Since my wreath form was broken in one spot, I decided to wrap the whole thing in masking tape to hold it together. You may want to do this anyway since the wreath foam is green and might show through. The masking tape blends in nicely with the grass as well.
You could also use a straw wreath form, that color would blend so well. A grapevine wreath or a wire wreath form would work as well. I just used what I had on hand.
Cut The Grass into Manageable Pieces
I cut the roots and excess grass using kitchen shears. I tried to keep the pieces manageable, but they were still around 12″ long.
Wrap and Twist
Holding the grass onto the wreath, use a 9-10″ piece of the grapevine wire and attach the grass to the form. Work your way around and make a base of the grass. Next, do another layer on top of that building it out to the sides. Do this until the wreath form is covered. It may look like a mess at this point. You can give up like I did and walk away for a while! Or you can go on to the next step!
Just keep wrapping the wire around any areas that are sticking up and acting unruly. It works best to kind of overlap the layers.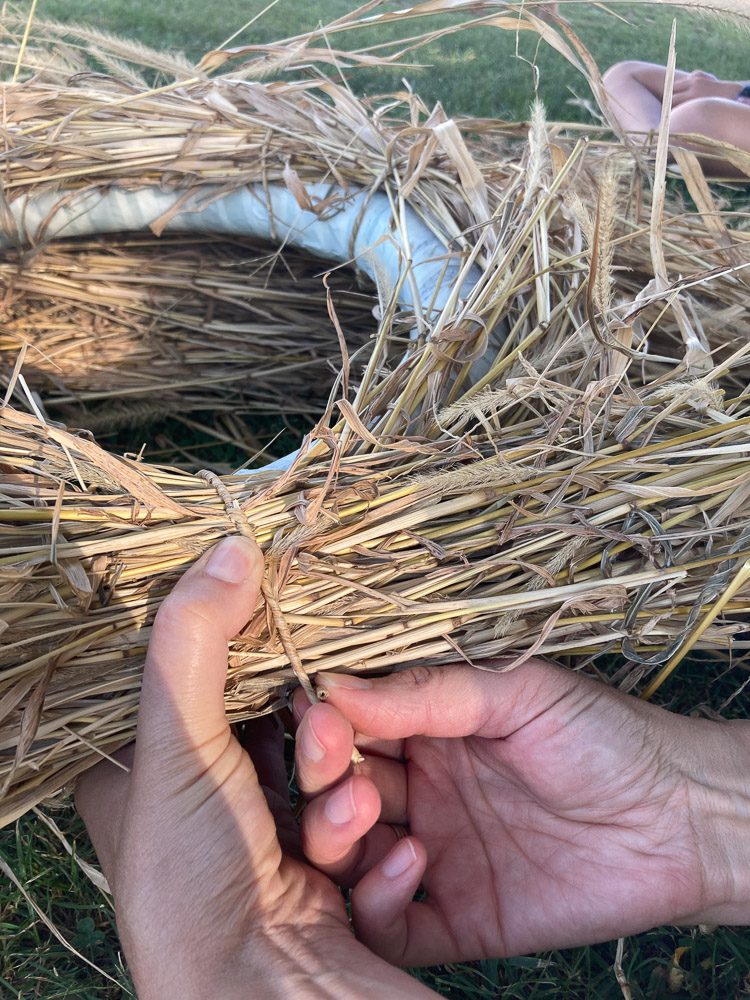 Cut only the seeded tips and fill in
Next, I cut just the seed tips with a bit of stem and started filling in with the little bundles. I just tucked them into places where the grapevine wire was. I made them all go in the same direction. Fill in with these until the wreath has a nice full look and a uniform shape.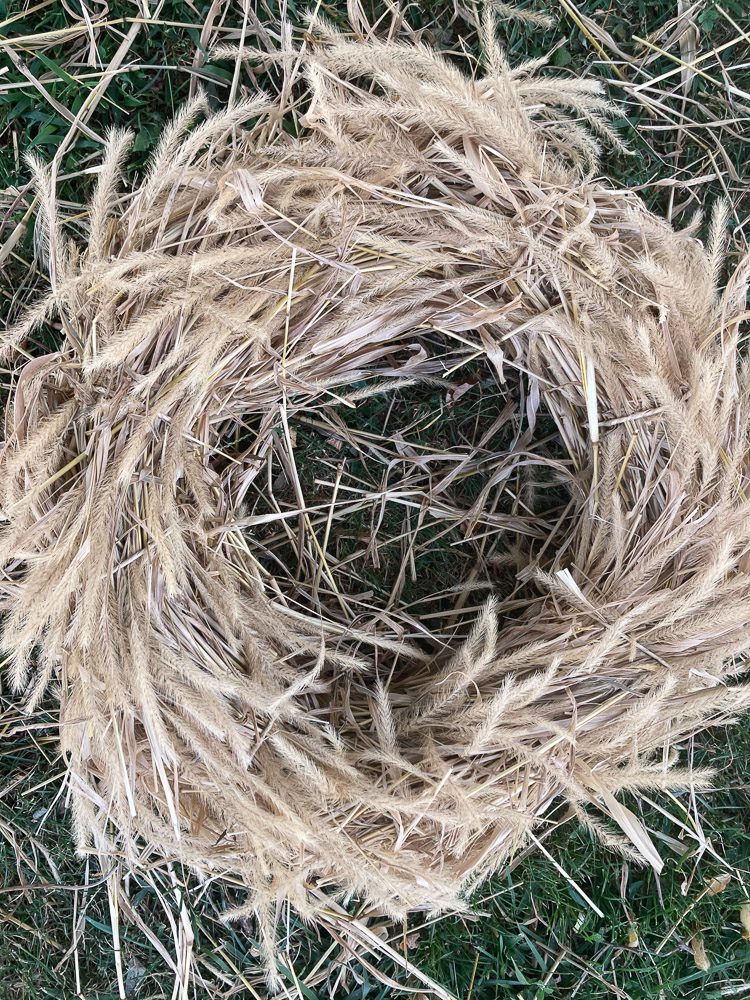 What Do You Think of this Natural Fall Wreath?
I kind of like the natural unruly look of the wreath. If you are a super orderly person, this may not be your favorite!
Don't Want to DIY a Foraged Fall Wreath? Shop Similar Looks
I rounded up some of my favorite Natural Fall Wreaths below. I hope you take a minute to check them out!

This bundle is free for my subscribers and it's in my Printable Library! The library is password-protected, when you subscribe you will be sent the password for my library and for my free e-books! If you aren't yet a subscriber, you can fix that right here!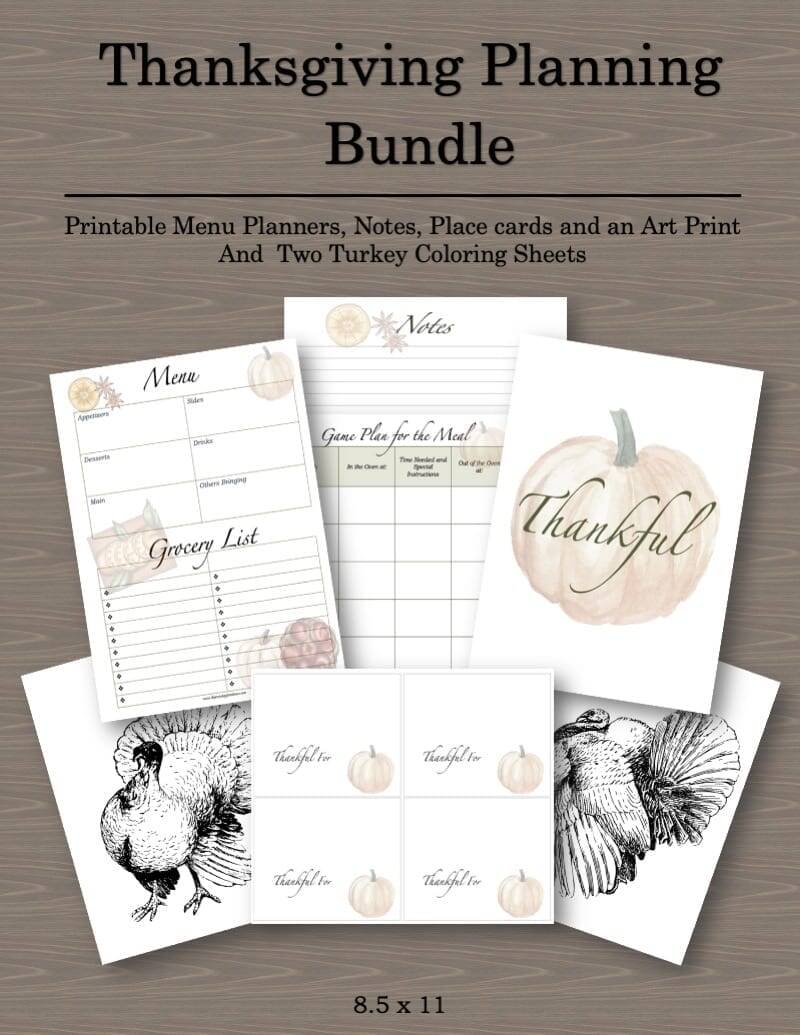 Other Natural Fall Wreaths
Jennifer from Cottage on Bunker Hill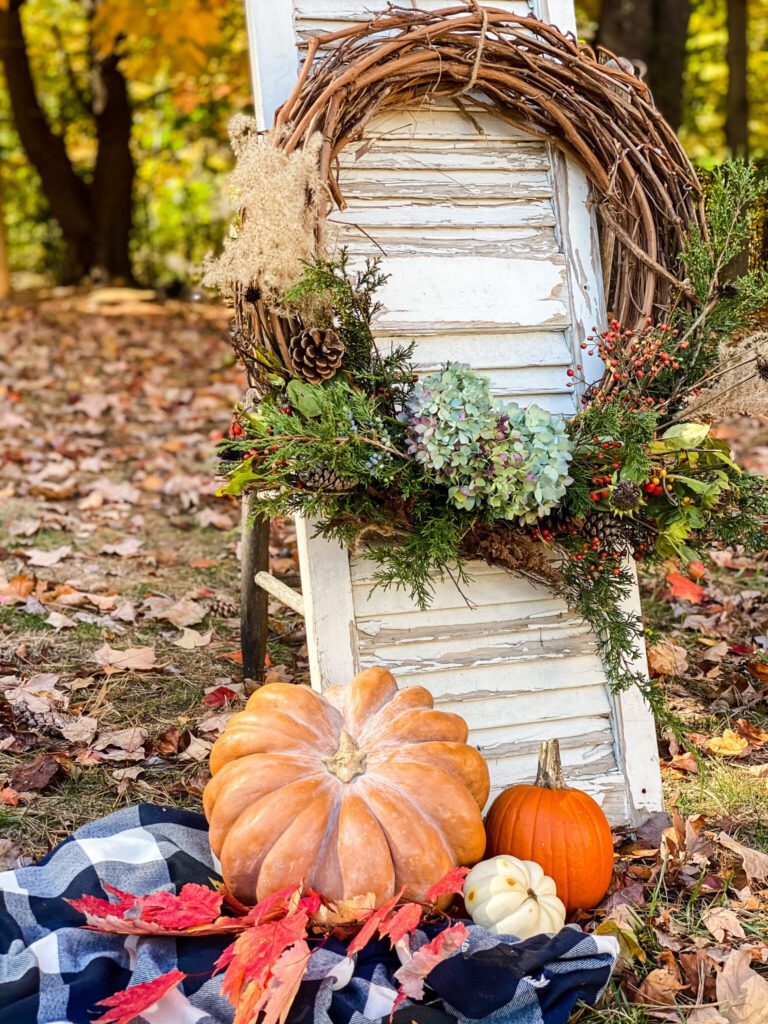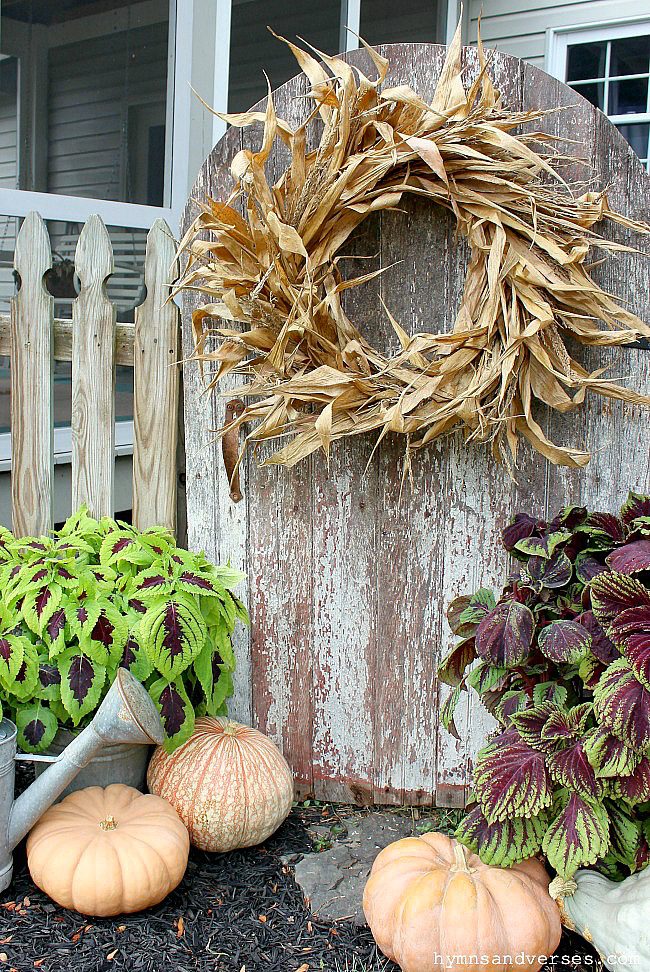 Pin and Share!