Tips for Homeschooling Through Times of Transition
In this post, I will share how we handle homeschooling through times of transition or change. This can be a move, a job change, illness or a new baby. We have moved during home school, but the main transition for us has been the birth of a child. Anything that kind of turns your world upside down for a time! This post contains affiliate links.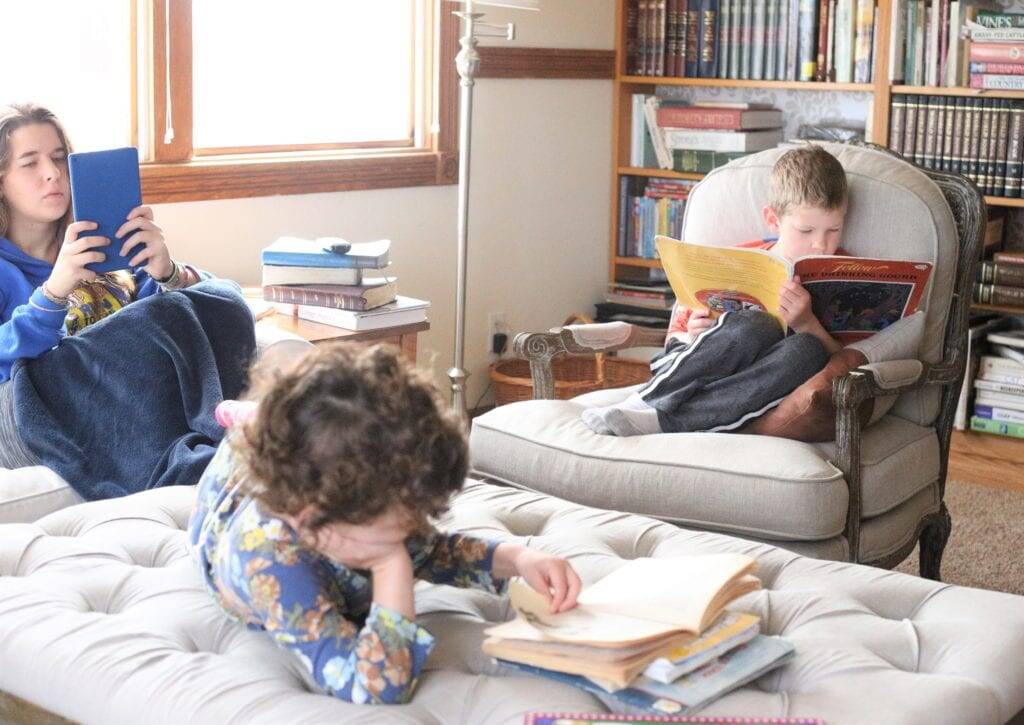 We are a Home School, not a Public School
So, this is our philosophy…"Teach our children to read, and teach them to love learning." Sounds simple enough, right? We are not trying to mimic a public school, not in format, content or approach. We are simply helping our children to realize that there is a huge world out there with lots and lots to learn about. Then we give them the tools they need to explore that world.
This makes life so much less stressful when it comes to learning. The pressure is not there for us to follow a strict curriculum or a super tight schedule. Of course, we do some workbook work, and the children are required to learn math. However, there is no one pushing us to meet certain "standards" by a certain time.
So, here are a few things that we do to maintain our flow of learning–to keep the kiddos on task and to prevent a chaotic free-for-all from ensuing. This is how to continue homeschooling through times of transition.
For the Older Children–Weekly Reports
We implemented Weekly Reports a couple of years ago. This has been such a fun addition to our home school. The older four children participate in this. They each take a week to pick the topic. The topics have ranged from predatory animals, to historical figures, to vaccinations. They will also choose to write a short story on some weeks. They are allowed to research using library books, encyclopedias and the internet. I help them find materials that are useful. It's pretty easy to get lost on the internet and find misinformation there as well, so I try to help them weed through it all.
Then on a chosen night they give their report on the topic. It has been so fun to see how the different personalities approach the same subject. Short stories are always fun to hear! If any of the younger children have something they want to share, like a reading lesson, or something they have learned during the week, they are welcome to stand up and share as well.
We do not maintain this during busy times like basketball season. Guess what? That is perfectly ok. We can come back to it whenever we please. Basketball will be ending soon, and we just had a new baby, so this will be a perfect time to pick this up again. This gives them something to work on without needing much help. I can focus on the new baby and they are still learning.
For the Little Ones- Five in a Row
I have sung the praises of Five in a Row here before, and I will continue to do so. I love using this with our little ones. During times of transition, the older children can take over and read the books to the little ones. They are usually even more fun and willing to do some of the extra activities or science projects with them. Each older child takes just one week, then it's not an everyday project for just one person. They take turns teaching for one week. Allowing them to pick which book they want to teach from makes it more fun as well.
I love this, especially after we have a new baby that is nursing a lot. I can go to my bedroom and nurse the baby without utter chaos breaking loose outside the door! Or how about if you are sick? Allowing the older children to take the lead is good for them as well, and it gives you some rest! This is an excellent way to homeshool through transition.
YouTube Education
Of course you have to be careful with this one. However, you can learn so many things on YouTube. How about pushing the curriculum aside for a time and focus on learning a new skill? Do you and your girls want to learn to crochet or knit? This blog is a great resource for crocheting and knitting, and she has a YouTube Channel. How about learning a musical instrument? Now just might be a good time! Maybe you just moved. Take a break from the chaos of unpacking and arranging and spend an hour together learning something new! This gives you something to look forward to and is a nice mental break from the work. This is also great after a new baby comes. You can sit and rest and nurse the baby while watching a tutorial with your other children. It may sound crazy to add something new during a time of transition, but it might just be the breath of fresh air that you need.
How about sewing or even hair tutorials? My kids entertained themselves for an entire afternoon and part of the evening watching hair tutorials and then playing hair salon. I call this "life skills class." How helpful is it to have children that can fix their own hair or their siblings hair? When you have five daughters it is mighty helpful!! Plus, maybe one of them will have their own salon one day. Allowing them to explore different interests promotes entrepreneurship! (Don't ask me how many times I had to try to spell that word!)
Have a Routine in Place
I wrote about our routine for our kids here. We don't have a "schedule" per-se, but we do the same things at around the same time every day. The same expectations are in place everyday, and the children know what they should be doing. This doesn't mean they don't need reminders or direction…believe me–they do! However, having a routine will certainly give you some help during a particularly chaotic time, especially something like moving.
Lower Your Standards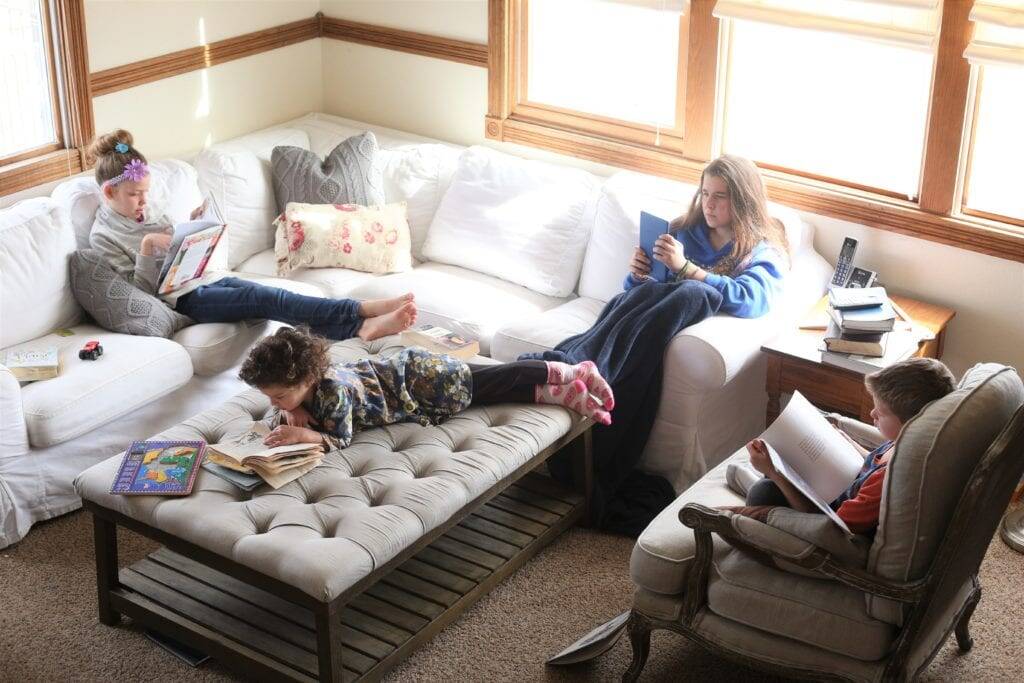 During chaotic times like moving or when you are sick, sometimes your standards need to be adjusted. Your house will not look like it is ready for company…just be ok with that!
Homeschooling through times of transition may look like everyone lying around reading. That should be a-ok as well. Let go of the curriculum and allow your kids to just read what they feel like reading. Reading good books is still learning.
Last week my husband was home with the kids while I recovered from birth. There were days where they colored and drew for HOURS! He didn't put any pressure on them to get out work books or to "do school" he just let them use their imaginations and draw whatever was in their little minds.
He also read to them for hours as well. The Little House Books are so enjoyable to read as a family. I also think they are super educational! Opening your kids eyes to the way people used to live and all the skills they had to have is an excellent change of perspective for them! Plus the books are so entertaining!
Allow some educational videos. We don't watch a ton of movies (about once a week) and we never watch TV. However, during a time of transition, allowing some "educational" videos might be just what you need. There are lots of documentaries and historical things to watch for the older children. We keep some great science DVD's on hand and the younger children love those. A little extra screen time for a short period is ok! We love Creation Proclaims. Also Incredible Creatures that Defy Evolution, I just noticed that this series is available to watch on Prime Video!!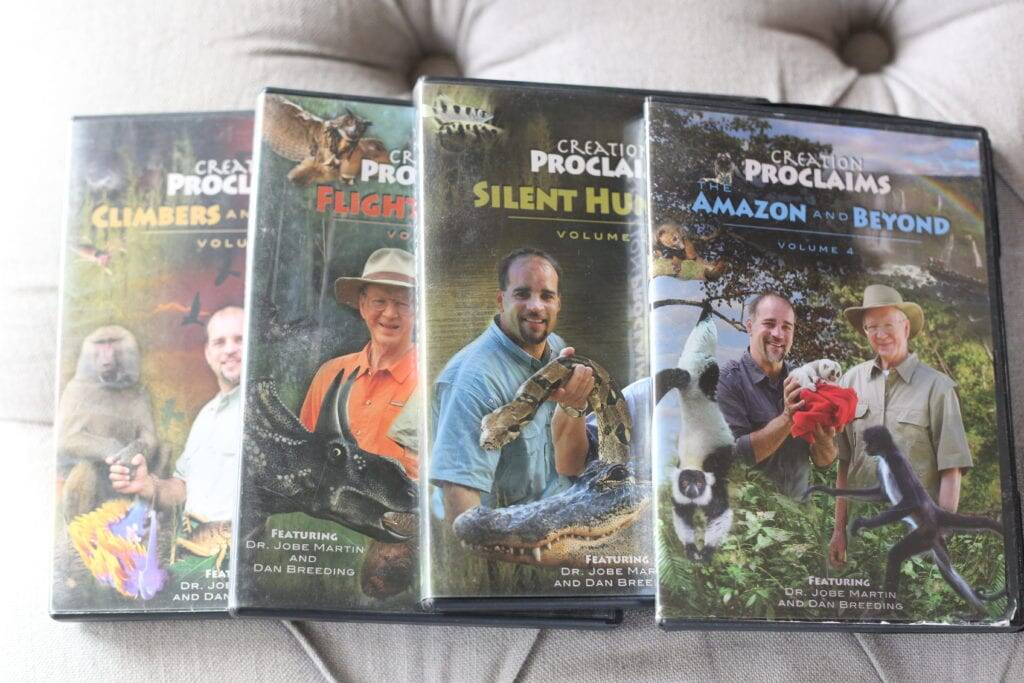 Learning While Cooking or Cleaning
Another thing I heard my husband do last week was lead some rhyming games for the little ones, and spelling games for the older ones. So, while the older kids were cleaning up from dinner he would quiz them on spelling words. Of course he made it fun and promised extra time holding the baby to the winner!
For the little ones, they had some dollar store rhyming flash cards that I gave them for Valentines Day. He would just play a game with them where he would shout out a word and they had to come up with as many rhyming words as they could. Simple, I know, but when Daddy plays the game, it's super fun! He also did this while they were emptying trash or wiping the table, so they didn't even think about the fact that they were working (;
Nothing Revolutionary Here
I know that this post didn't contain anything revolutionary. Sometimes, I just need a nudge to move in a different direction. I need to hear that someone else is doing something different, in order to give myself permission to do it too! I hope this helped you to relax and continue to homeschool during a time of transition and allow your children to learn, even if it doesn't look formal!
Pin for Later