Are Children REALLY a blessing?
In this post I share with you some personal news about our family. We also talk about why on earth we have so many kids. And I hope to answer the question "Are Children REALLY a blessing?"
Let's make it 10!
So, as you may have guessed we are expecting another baby! This means that if all goes well, we will have ten children living in our home come February. Ten children living in our home, eating our food, using our towels and sheets and beds. They will make messes and track mud through the house. The children will be loud, they might scream when things don't go their way. There will be squabbles and fights. They won't pick up after themselves and they will at times seem ungrateful. Wow! Doesn't that sound pleasant?
You see what I just did? I just focused on the negative? I listed out all of the things that people might think of when they think of a house full of children. The truth is, there is another side to this. There is a beautiful side that not many people get to see or that many understand. I hope to show you that the positives of a large family far outweigh the negatives.
What about you?
What is your reaction to a person announcing they are expecting their sixth or seventh or tenth child? Are you happy for them? Are you disgusted? Do you feel confused? Are you curious? Do you feel the need to tell them about birth control? Do you gasp and shake your head? Perhaps you congratulate them? Be honest, how do you really feel about children?
I will be honest, there was a time when I would have been disgusted. It just sounds too messy and needy. In the back of my mind I equated large family with welfare and dirty and way too hard. I am not one of those people that just loves children in general…that may sound strange coming from a mother of many, but it is the truth though. I absolutely adore MY children, and I believe that is a grace that God has given me. However, when it comes to children in general I don't long to be in their company and I didn't long to have children prior to having them.
There, now you know what a horrible person I am! My point in telling you this is so that you understand that apart from God I am just a totally normal flawed human. No special super powers or gifts of patience or sainthood lie within me. Just an average woman willing to follow God as He leads her.
So, what's the truth about children?
Well, for me I find truth in the Bible. If I want to know what I should really believe about something I go to the Creator of the universe and see what He has to say about it.
If you look through the Bible you will be hard pressed to find a single verse that speaks of children in a negative way. Every verse you find speaks of children as a blessing…a heritage. There is no use of the word burden or life-sucker. If you are a see-it-with-your-own-eyes type, here are a few verses from the Bible regarding children.
Psalm 127:3 Lo children are an heritage of the Lord: and the fruit of the womb is his reward.
Proverbs 17:6 Children's children are the crown of old men; and the glory of children are their fathers.
Mark 10:14 (Jesus said) Suffer the little children to come unto me, and forbid them not: for such is the kingdom of God.
What if instead of telling you I was expecting number ten, I told you I got $10,000 extra dollars!
What would your reaction be then? Would you be disgusted? No! You would probably be like…"Hey! Good for you! How did that happen?
Do you think that maybe we as a society have it wrong? We put money way up there on a pedestal as the best, the most worthy, the goal. Where as children are the money suckers, the burden, the wrench in our plans. Do you know what the Bible says about money?
1 Timothy 6:10 For the love of money is the root of all evil: which while some coveted after, they have erred from the faith, and pierced themselves through with many sorrows.
Ecclesiastes 5:10 He that loveth silver shall not be satisfied with silver; nor he that loveth abundance with increase: this is also vanity.
Proverbs 22:1 A good name is rather to be chosen than great riches, and loving favour rather than silver and gold.
There are three verses, there are many more. Sure, money makes life easier, no doubt about that. However, it doesn't bring true joy or fullness to your life. Am I glad to have enough money to buy food and clothing and a home? Yes, of course I am, but it's the LOVE of money that is the root of all evil, not money itself.
My point is that perhaps there is something better than chasing after money. Maybe instead of chasing things, we could spend our time investing in the future. Raising up men and women that could have a positive impact on the world.
How did we decide to have a big family?
Well, we didn't exactly. When my husband and I were first married, I was on the pill. We were brand new Christians. We had both given our lives to Jesus the previous year. My husband was sold out! He was ready to do whatever God asked of him and he was ready to truly live out his faith. I on the other hand was a bit slower. When the alarm would go off on Sunday morning, I was kind of like….so we are really going to church EVERY week?
However, I loved and trusted my husband. I wanted to do what he did. So, I followed his lead. When we had been married for about three months, he approached me about this idea that God had laid on his heart. Ben (my husband) told me that he really believed that God was asking him to allow God to plan our family. He wanted me to stop taking the birth control pill. He believed that it was an issue of trust. His belief was that if we can trust God with our Eternal Salvation, our souls, then we can also trust him to know what is best for our marriage.
You must be kidding…right?
What? Are you kidding? I mean I was thinking we would do the American thing of be married for two years, do some travel, live it up and then settle down and have a few kids. To say I was reluctant at first would be an understatement.
My husband didn't pressure me or badger me though. Actually I don't even remember him saying any more about it. Do you know what he did do? He prayed. Way more effective! How do I know? Well, God changed my heart…mostly! I would be lying if I didn't have the thought of "I'll go along with this for a while, but letting God plan our family could look an awful lot like having ten children." (Ha! Jokes on me!)
So, here we are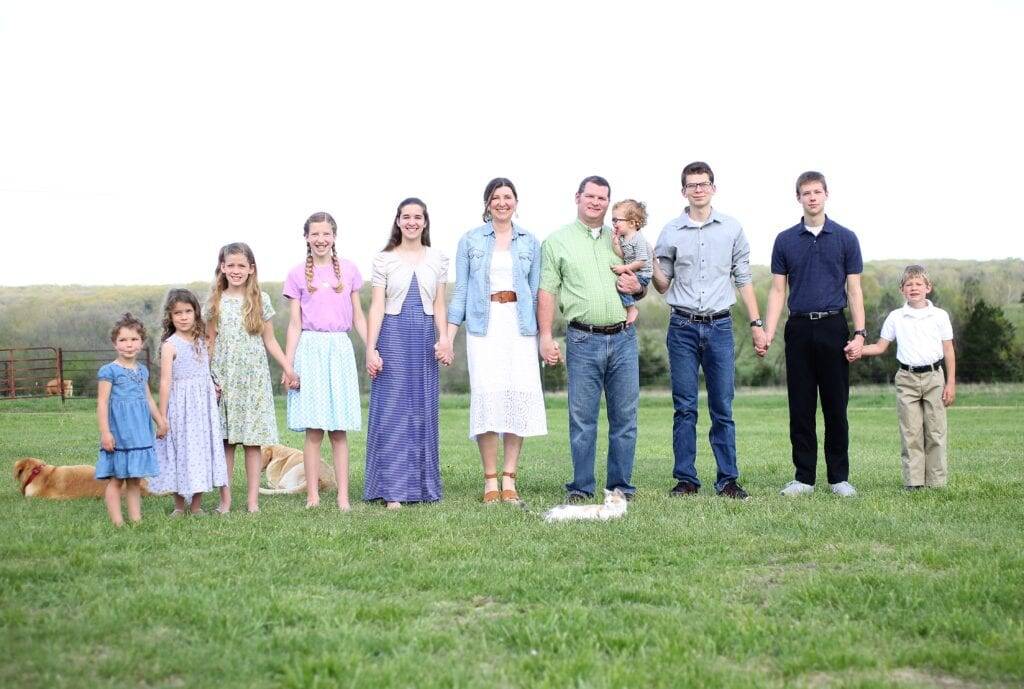 Yes, here we are nearly 18 years later. Our oldest son is almost 17, our youngest is 18 months and we are expecting our tenth…oh, and I'm 43! God has changed my heart. It didn't happen all at once, actually I think it is still happening.
You see, I don't love to be pregnant. I resent it at times, I want to whine and complain and be frustrated by the limitations. Having children into my 40's was also not one of my plans! However, with each new life that God has given us I am in awe at his love and patience with me. This ungrateful woman! I can remember specific times through this journey when I have internally declared "I am done" This is our last. I will have to somehow tell Ben that I don't want to do this anymore.
When I think of the fact that I could have got my way, I feel so sad. One of the times that I was "just done" was after our sixth was born. If I had pushed and got my way, I wouldn't know these other three amazing people that now live in our home! Each soul that God has entrusted to us is so special and unique and enjoyable! I can't imagine our life without any of them.
Anyone who has children knows how wonderful it is to see the world through the eyes of their child. It is like getting to live life again with a new perspective. All of those firsts, the first time they focus on your face, the first time they notice the light, the first smile, the first step, the first everything! I could go on and on! Do you ever stop to think what a privilege that is?
What about sacrifice?
Is there sacrifice? Absolutely? Do we ever want a bit more freedom…sure. Could we have a bigger house, nicer clothes, more money in the bank if we didn't have so many children? Maybe…or maybe God has blessed our trust with just what we need? More money, more vacations, or a bigger savings wouldn't be a good trade-off. I wouldn't even trade it for more freedom to do just what I wanted. If I only did what I wanted, I would just be a selfish, self-centered, boring person. Nobody likes to be around one of those! I am thankful that I have limitations!
So, are children REALLY a blessing?
I answer with a resounding YES! Our life is so full! There is joy in the simple things everyday. We just have to take the time to notice and reflect on all the wonder in the everyday. A child learning a new skill, or figuring out a problem. It is such a gift to partake in that experience. Also, the relationships between the children are the sweetest blessing of all! Really! There is nothing that swells my heart more than a teenage boy that is absolutely in love with his baby brother or sister.
There is also the bigger picture. How about changing the world for good? Who doesn't want to do that? When I was a young mom, I remember feeling like I wasn't doing anything really big for God. I mean I wasn't a missionary, and I couldn't even volunteer like I used to. Just recently it hit me though. We sent three of our children off to be volunteers at a camp. This camp serves underprivileged kids. Most of the children have one or more parents in prison. So, as I sent them off I realized the three of them are going to serve and reach three times the amount of people that I could! All these years we have been training them to go reach others. To serve outside of this home. To change the world!
So, remember that young mama! You are doing a mighty work at home with your babies. You are bringing up world changers! Isn't that truly more satisfying and fulfilling than a shiny new something!
In February, we will welcome this new little life into our home. It will be with joy and wonder and delight. Our hearts will grow with even more love to share. Plus this little one will receive 9 times the welcome that our first received. He or she will be held and stared at and marveled over, no less of a blessing than any of the others.
One last thought
You may be wondering do I think everyone should let God plan their family? Well, I would not be the one to tell you that! That is personal and between you and God and your spouse. I will say, that letting God plan your family may not look like a lot of children, it may look like no children, or perhaps two or three. It may look like adoption or foster care.
It may be really hard to say yes to trusting God if there are health concerns. However, we are not called to trust only when it looks like smooth sailing and fair winds!
When we decided to trust, we also didn't say "send us all the kids!" Not at all! We said "we will welcome whomever you have for us." We don't see the amount of children as some spiritual thing, it's simply the attitude of trust. God calls us to believe some unbelievable things really. I mean a man as God in the flesh born of a virgin, coming to die for our sins? It takes faith to believe that! It may also take some faith to believe that children are a blessing, and that welcoming many of them can be a great joy!
I will say, if your reasons for limiting your family size have to do with money or stigma. You may want to pray and really ask God what He wants for your life. Truly evaluate if you believe that children are a blessing like the Bible says. Trusting God to plan your family also means trusting him to provide for your family. If you feel like God has been prompting you to trust him in this area, you will never have peace unless you do.
Thank you!
Thank you for stopping by the farmhouse today! I know this subject is personal and controversial. I hesitated to even touch it. However, I share the topics that I share here because I think them to be valuable or helpful in some way. Whether it be a post on contentment, or a lip balm recipe. This is our lifestyle and that is what I am here to share!
Please feel free to make this a conversation, even if you don't agree with my point of view. It would be nice however, if dissenting comments were left in a spirit of love and kindness.
Pin for later!