Simple Shirred Sundress How To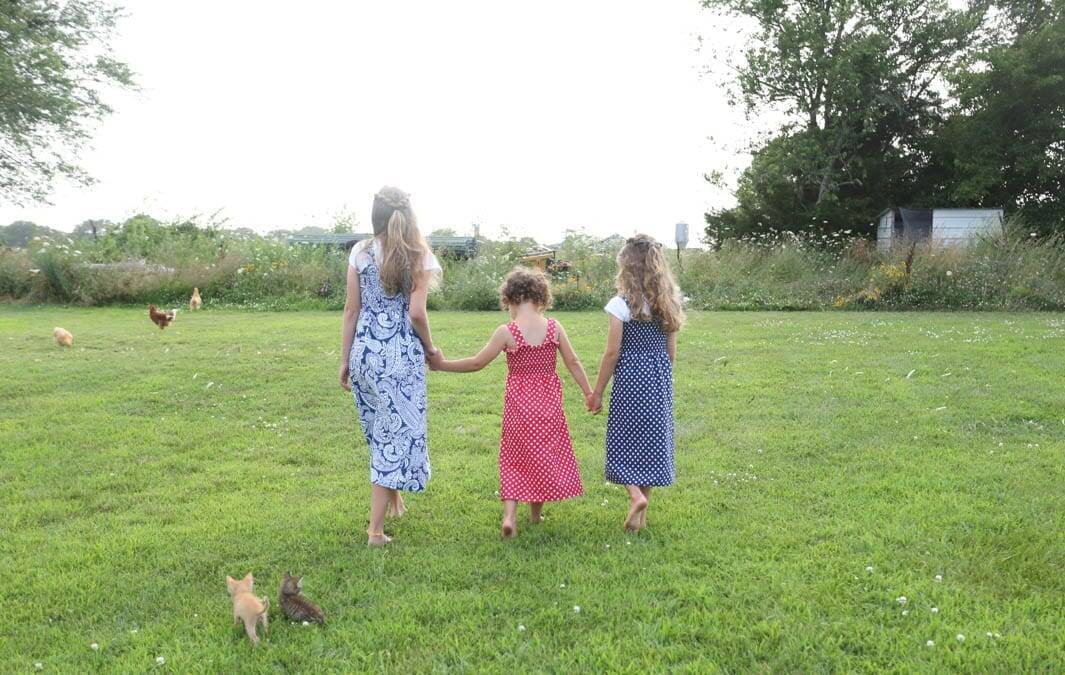 A shirred sundress is simple to make, even for a beginner sewer. Follow this step-by-step guide with video to make a shirred sundress for your daughter, grand-daughter, niece or even for yourself! This post contains affiliate links.
Shirred Sundress Video at the Bottom of the Post
I was never formally taught how to sew. Honestly, it wasn't until after I was married that I had a real desire to learn some of the arts of homemaking. My husband and I had been married for about three months when we found out we were expecting our first child. We were living on a squeaky tight budget, trying to pay off foolish credit card debt that yours truly brought to the marriage. We bought NOTHING unnecessary. It was loads of fun!
Really it wasn't too bad, we had fun for free, stomping around in the nearby creek and going on lots of walks together. However, I was quickly outgrowing my regular clothes. Maternity clothes were anything but cheap, and the ones at the thrift stores were so terribly un-stylish. Floral tents is what I remember thinking…all of these clothes look like tents covered in flowers. So, what was I going to do? The answer was clear, I needed to make my own clothes!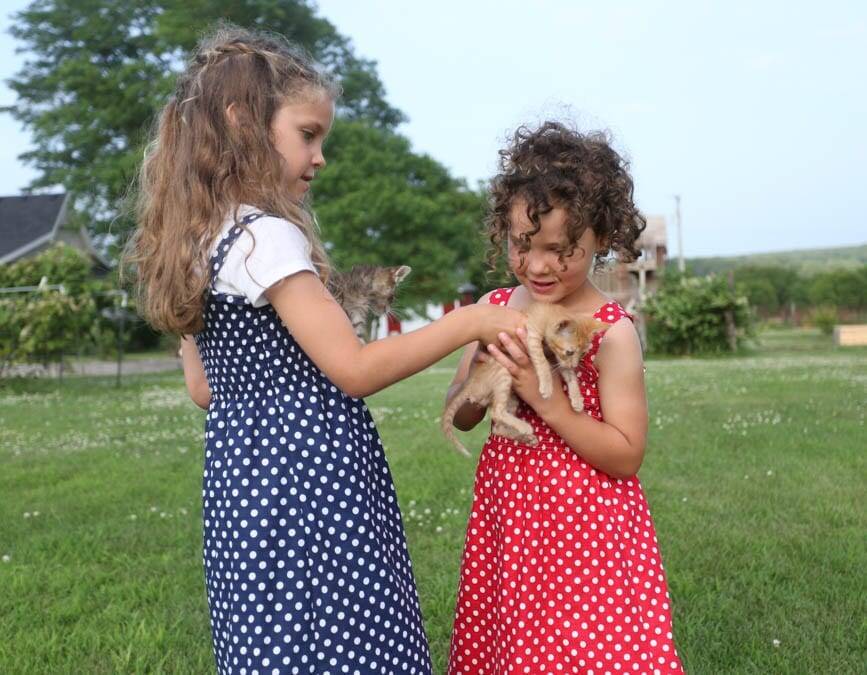 A Dear Friend
A dear friend came to the rescue. The wife of one of my husband's co-workers took me under her wing. She was an older woman, who believed in praying for and teaching younger women. She gave me an old sewing machine and one or two lessons on how to use it. What a gift she gave me!! She helped me to meet an immediate need…clothing, plus she gave me a skill that I could work on developing for the next 18 years! Here I am now using that skill to sew pillow covers, napkins, and clothes for my little girls! You never know how a little bit of time invested in another person can impact their life!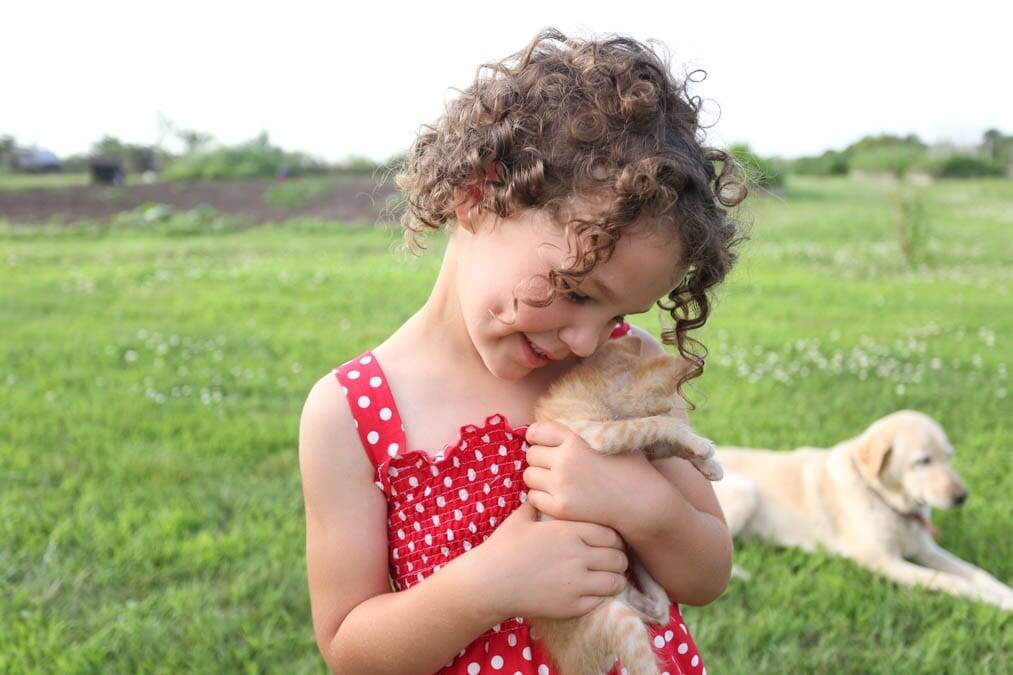 Shirring
So, what is shirring and how is it different from ruching or smocking? Well, ruching is more of a gathering of fabric through pleats. Maternity clothes will often have this on the sides. Smocking gives a similar look to shirring, but uses more of an embroidery stitch over a straight stitch. What I am showing you how to do today is called shirring. Although I often refer to this type of dress as a smocked dress, I am incorrect in calling it that!
I first learned this method about a year ago. Lisa from the blog Farmhouse on Boone did a tutorial for making a shirred maternity dress. I was expecting at the time, so I made my own version from her tutorial.
Here's What You Need
A sewing machine. Mine is the Singer Heavy Duty 4423, it looks like it is out of stock on most websites. If you can find a similar one, I highly recommend it!
All purpose thread in a coordinating or contrasting color
Fabric–for a toddler or small child, you may only need a yard to a yard and a half. You will likely need two yards for an adult.
Scissors or a rotary cutter.
A Cutting mat–This of course is not a necessity, however, a rotary cutter and a cutting mat have helped my straight cutting challenged self to have more precise work!
An acrylic cutting guide/ruler
Choosing Fabric
I will make a dress or pillow out of anything! I made my own shirred dress out of a tablecloth. Look for a tighter weave and make sure the fabric is not too sheer. I made one of these dresses from a stretchy knit. It. turned out very well, however knit can be tricky. It likes to roll up while you are working with it and the hem often flips up when you are all done. I used to buy fusible interfacing to make it behave better. A linen blend would be really nice as well. Quilting fabrics are so pretty, but often thin and too light to make a dress without needing to line it.
For the dresses in this post and video I just got the fabric from Walmart. They have the Waverly line of fabric. One of these was for sure meant for interior decor use, but I liked it so I used it. The weave on it was a bit more open and the weight was heavier overall. You just have to adjust your settings accordingly. Playing around with a scrap is the best way to make sure you have the settings right.
One more note: It is best to prewash your fabric. This will allow for shrinking. I did not prewash my tablecloth first. It was a green and white check and the green bled onto the white! That was rather disappointing! I think a cup of vinegar in the wash is supposed to prevent bleeding colors.
Step 1–Measure
You will need to measure around the chest, and from the shoulder to where you would like the hem to fall.
Now, a Little Math
No worries, it's not too bad! To allow for the fabric to bunch up, you will need to take your around the chest measurement and add 1/2 of that length. For example: My daughter was 24″ around, so I needed 24″ plus 1/2 of that which is 12″. That means I needed a total of 36″ of fabric to go around my daughter. Therefore you will need to cut two pieces of fabric 18″ wide.
I made one of these dresses from a stretchy knit fabric, and I didn't bother to cut it into two pieces. I just seamed it up the back and left it straight down. It was so easy, and very cute. No one notices that the seam is up the back because of the way the fabric gathers.
Next Cut
Now, you need to cut your fabric. I wanted a bit of an A-line shape for these dresses. I wanted a longer length, and an A-line shape gives a little more leg room for running. If you are using a stretchy knit, you may not need to allow for that.
To achieve the angle, I cut my fabric to the desired length, plus an inch for seaming. Then I cut the top the width I needed, which was 18″, however I only went down about 10″ on the bodice. I then angled my cutting guide to angle down to the bottom hem. I cut it the same on both sides….obviously!
Stitch the Sides
Now, you will stitch your side seams together, using a 5/8″ seam allowance. Easy peasy.
Press
Next, you will need to iron down the top hem, and you may as well iron the bottom hem at this point too. No need to stitch the top, the shirring stitches will hold it in place just fine. If you like, you can go ahead and hem the bottom if you want, or you can save it for later.
Wind Your Bobbin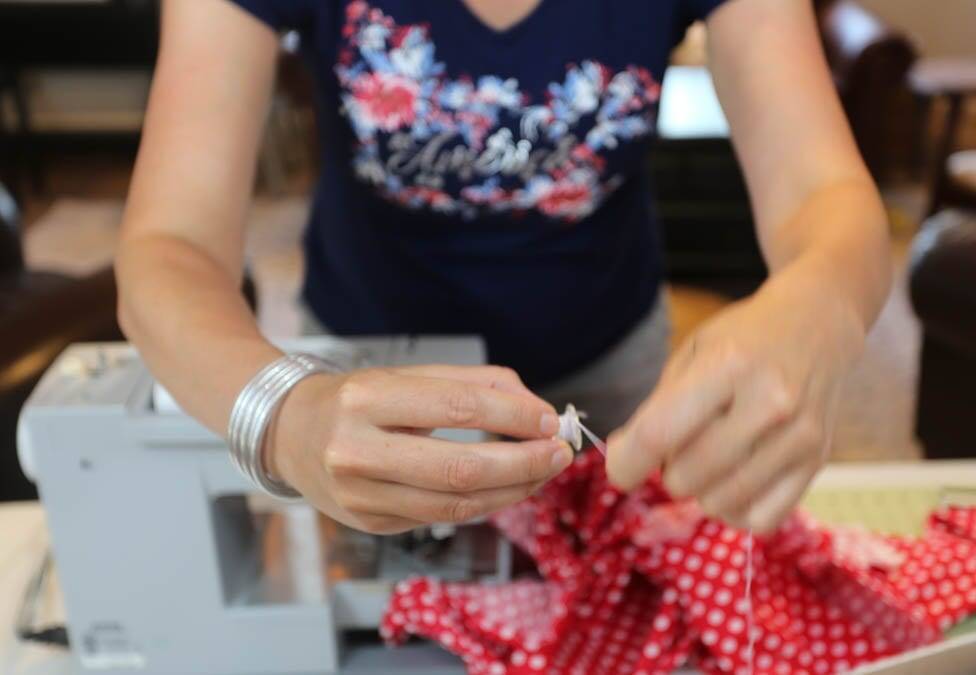 Grab your elastic thread and start winding the bobbin. This must be done by hand. If you wind it on your sewing machine, your results will not be good. The machine winds it too tightly. As you wind it by hand, you are only giving enough tension to make it smooth, you are not pulling it hard.
Machine Settings
Now, you can load your bobbin. Go ahead and pull the bobbin thread up. Now, check your machine settings. You should grab some scrap fabric and play around with the settings. I will tell you where my machine was set, but the weight of the fabric along with different machines will yield different results. My width is set at 0. The length was set at 3. The tension was set between 2 and 3. The stitch is a straight stitch.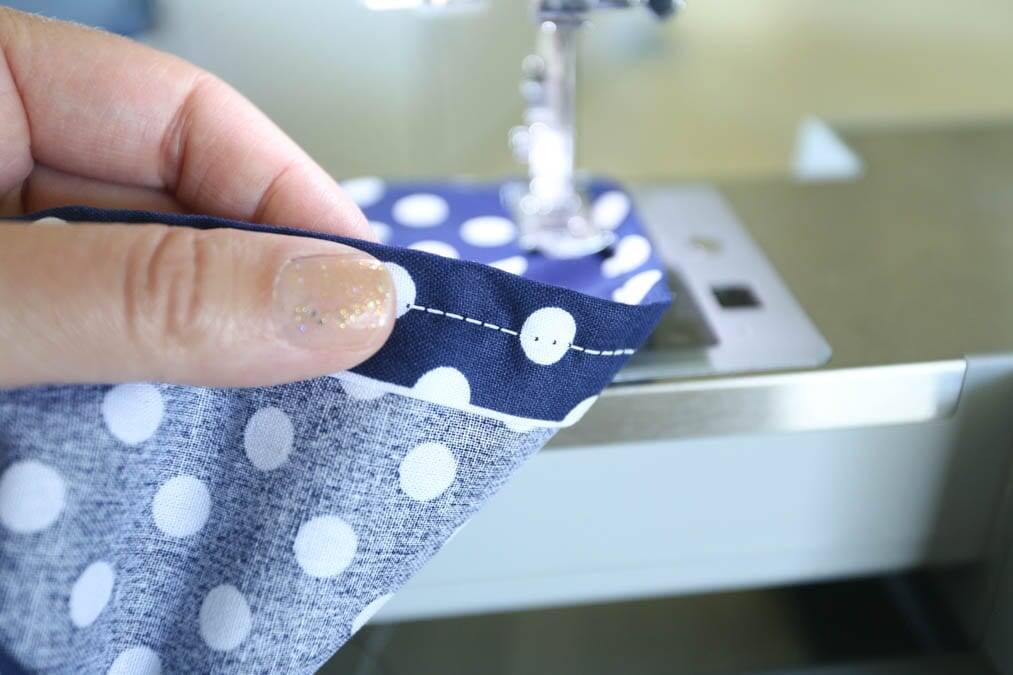 One thing I noticed was that at the top of the dress where I was sewing through a double or triple thickness at the top hem, the shirring looked a little wonky underneath. When I got past that first row and started sewing a single thickness, it looked better.
Start Sewing!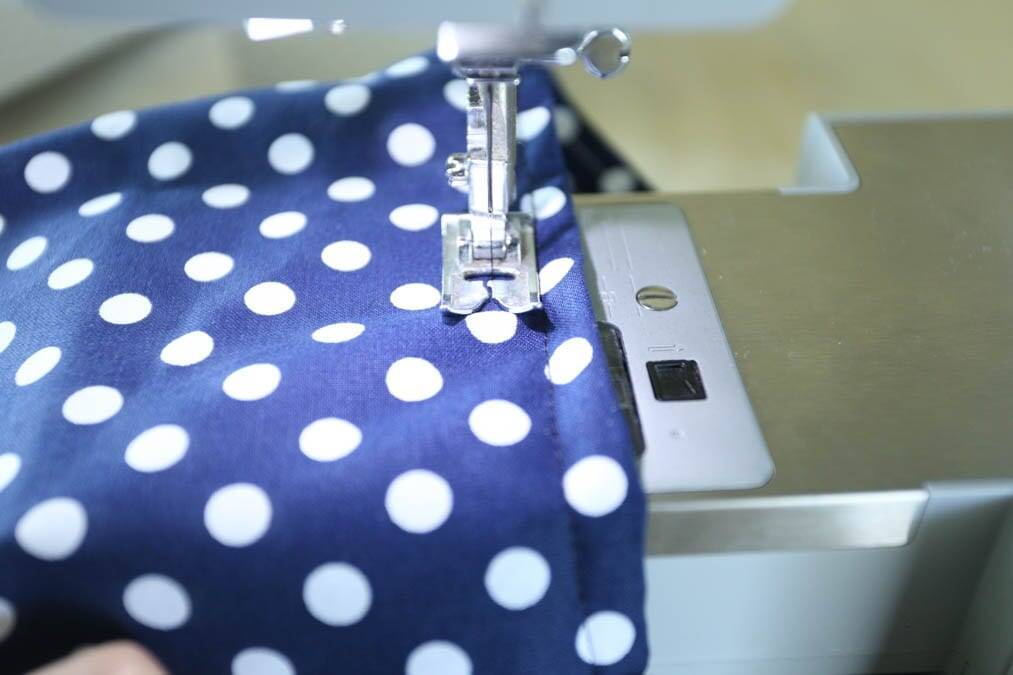 Now you get to start sewing around the bodice. I used my presser foot as a guide for the space between rows. When I got to the point where I started on the first row, I simple angled down and started on the next row. No need to stop and move down, just angle it a bit, and then you will find it kind of corkscrews down the rest of the bodice. If you do this at the under arm area, you will not even see that first row where it angles down.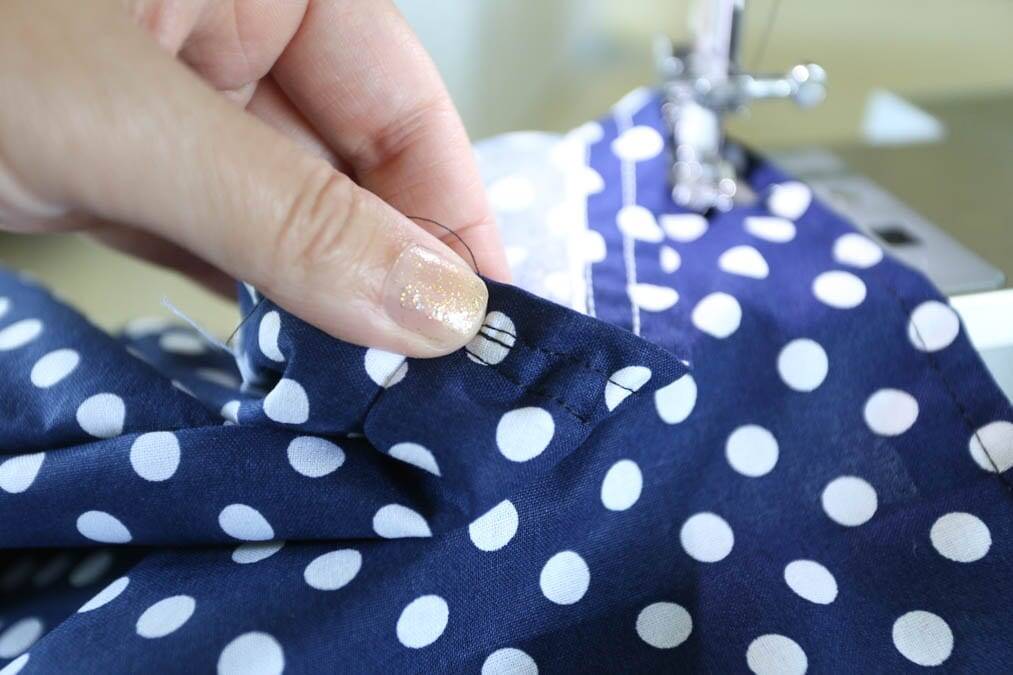 Keep going, even if it looks like it's not working! It may take up to six rows before your fabric starts to pucker. If you do two or three rows and it looks like it's not going to gather up at all, just keep stitching! The tension will build and you will begin to see it all gather.
For my dresses, I did about 20 rows of stitches. You can of course do more or less. This took up the 10″ that I allowed for the bodice.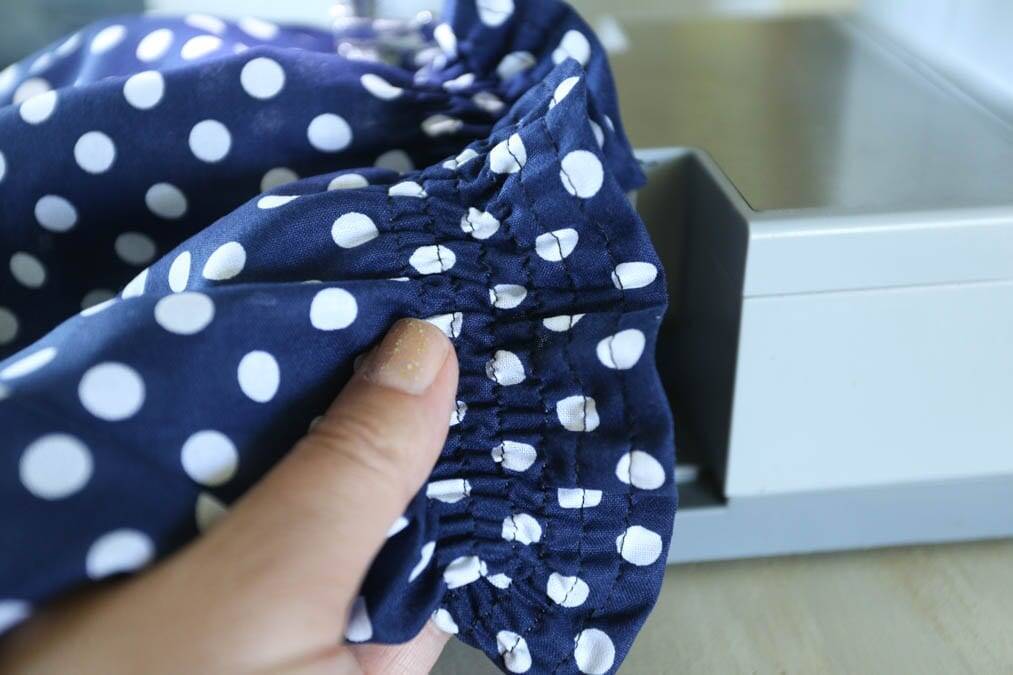 Finish
To finish the stitching, you will need to just angle back up and stitch into the last row. It won't be noticeable at all.
Straps
For the straps, you can just measure with the dress on your person. This will give you a good idea of how long the straps should be. I cut mine about 11″ long and 3″ wide. You then press the fabric down the middle and stitch it together. Next, lay it flat and press it out so that the seam is on the bottom.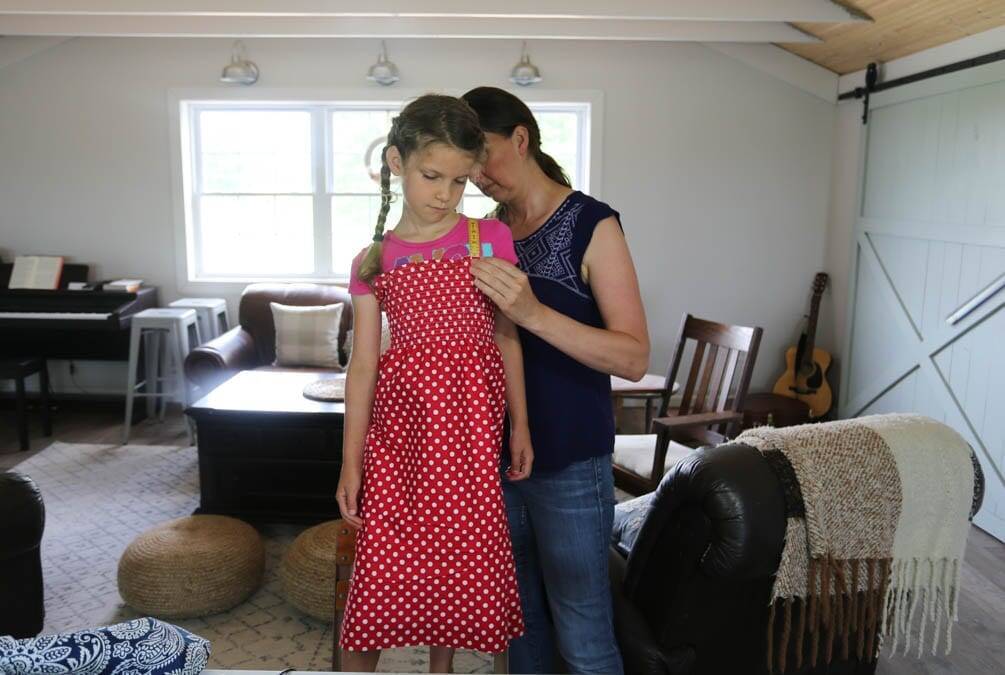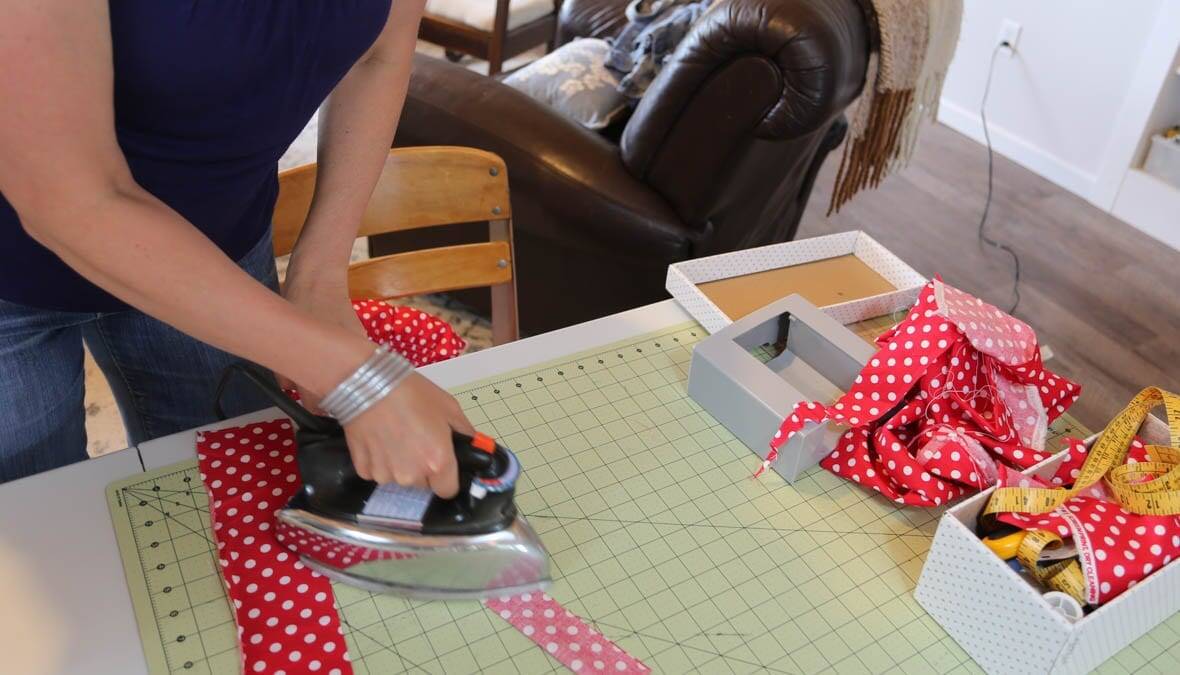 Now, you just turn the strap right side out. Lastly, stitch it on your dress. Try to line up your stitch to be hidden in one of the rows of shirring.
Clean it up
Now, you just need to grab your scissors and clean up all the stray strings. You could also finish your inside seams of the dress, and the ends of the straps with a zig-zag stitch. It just prevents the fabric from fraying, and gives a more finished look inside.
All done!
Now you are finished!! Enjoy your sweet new dress!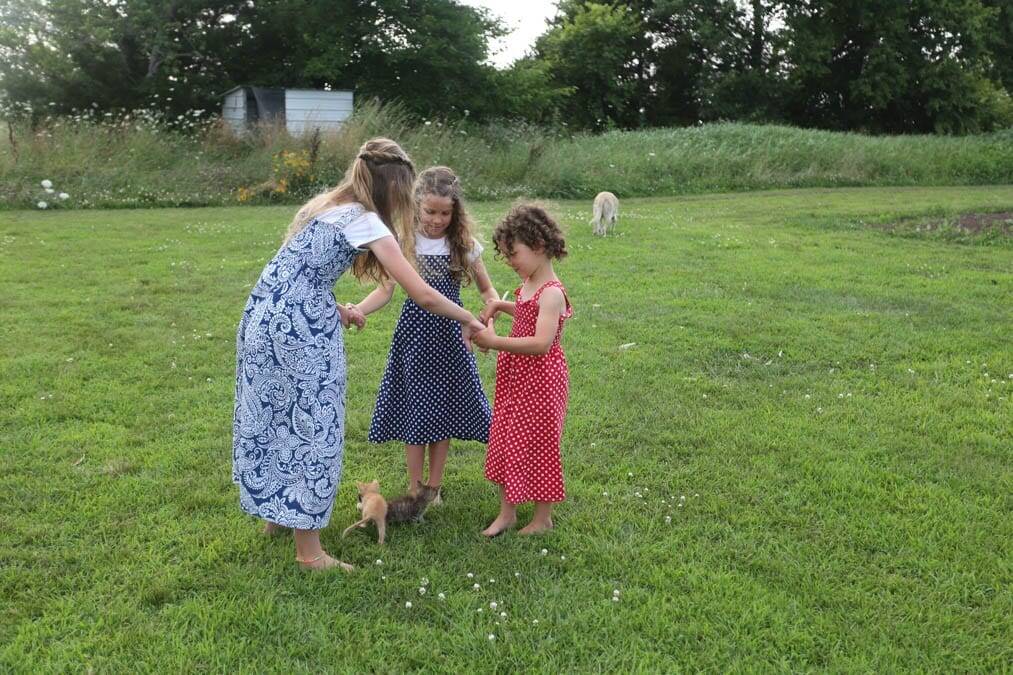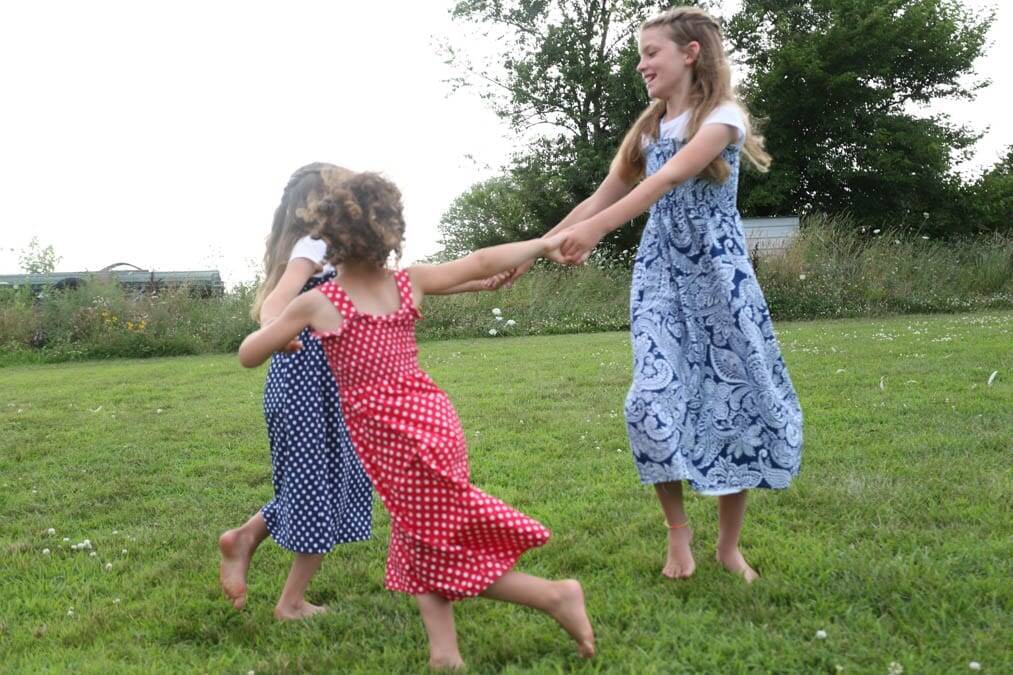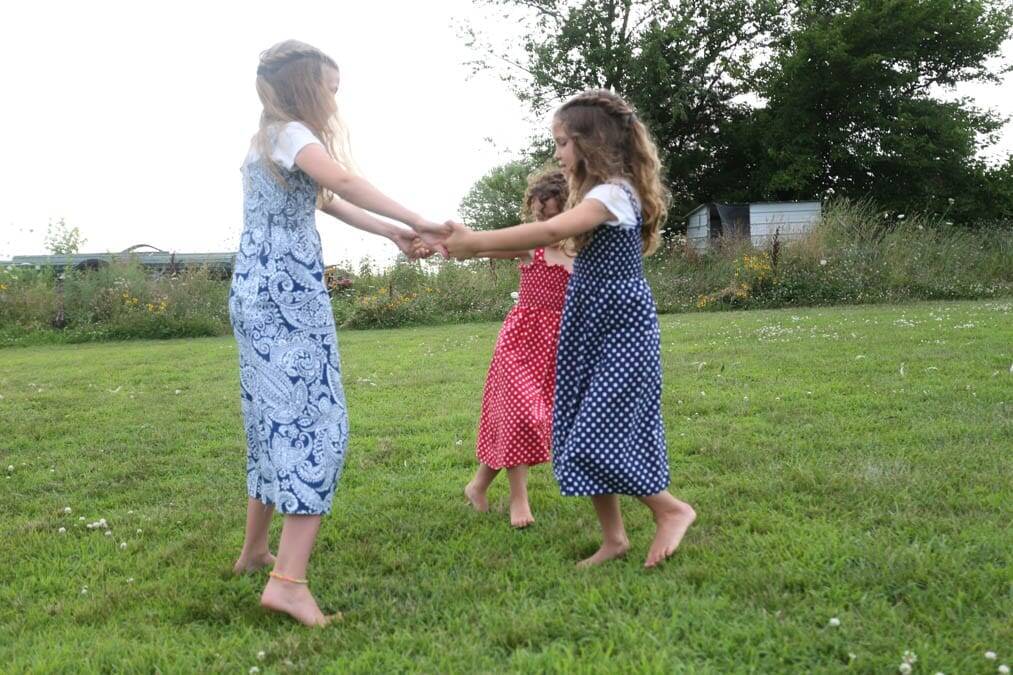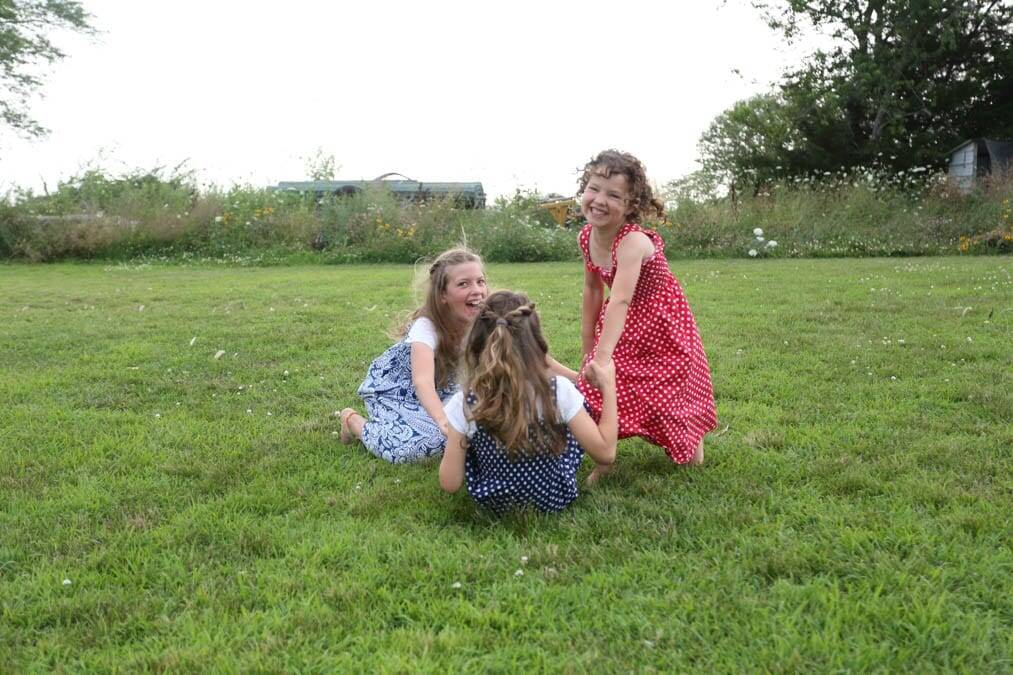 Shirred Sundress Video
Sharing is Caring!