Lard Soap Recipe with Extra Bubbles
Lard Soap recipe with extra bubbles. Soap made with lard is affordable and nourishing to your skin. Lard is an easily accessible fat that makes a wonderful bar of soap! While lard is definitely an old-fashioned soap ingredient, this recipe has a bit of a modern take with coconut and castor oils for extra bubbles!
This post contains affiliate links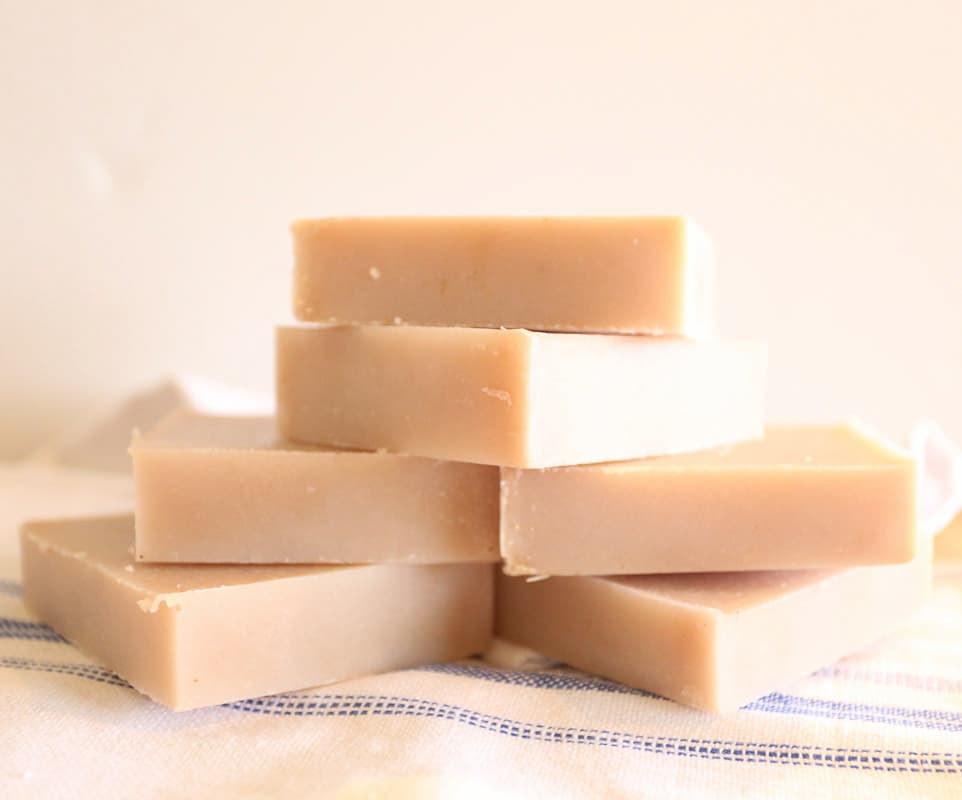 What Is Lard?
Some people get lard and tallow confused. The difference is actually very simple. Tallow comes from cattle, deer, or sheep whereas lard comes from pigs. Lard is actually rendered pig fat meaning it has been heated and purified to remove any impurities, it is softer than tallow and is considered a grease. Tallow is rendered leaf fat (fat around the internal organs and kidneys) from cattle. Once cooled from rendering it is a very solid and hard fat.
Learn how to render tallow here. You can follow the same process for rendering lard.
Lard for Soapmaking
Using lard in soap is an age-old practice. Our grandmothers and great-grandmothers made soap with lard for the sake of convenience and availability. We can use this ingredient for the same reasons. Lard can be considered a sustainable by-product.
Lard is cheaper to source than palm oil and likely more widely available. When you use lard you are ensuring that what may be considered waste from the animal is actually used. If you are a homesteader who raises your own meat, you know the sense of honor that you feel for the animal. Most of us desire to use as much of the animal as we can, waste seems irreverent and practically sinful.
Rendering Lard
You can actually follow the same process for rendering lard that you would for rendering tallow. The instructions for rendering tallow are here. You should use the wet method and purify it several times if you plan to use the lard for soapmaking or any other beauty or skin products. This ensures there is no odor.
Benefits of Making Soap with Lard
Lard is moisturizing and nourishing to human skin. It is a mild cleanser that is highly compatible with the structure of our skin cells with a similar pH as well. Oil dissolves oil which means lard soap can actually be good for cleansing your face. It won't clog pores or damage your skin.
Lard actually has a comedogenic rating of 2 which is lower than coconut oil! Curious about comedogenic ratings for various oils? Check them out here!
Lard is also widely available and affordable, bringing the cost of soap making down considerably!
Essentials for Making Cold Process Soap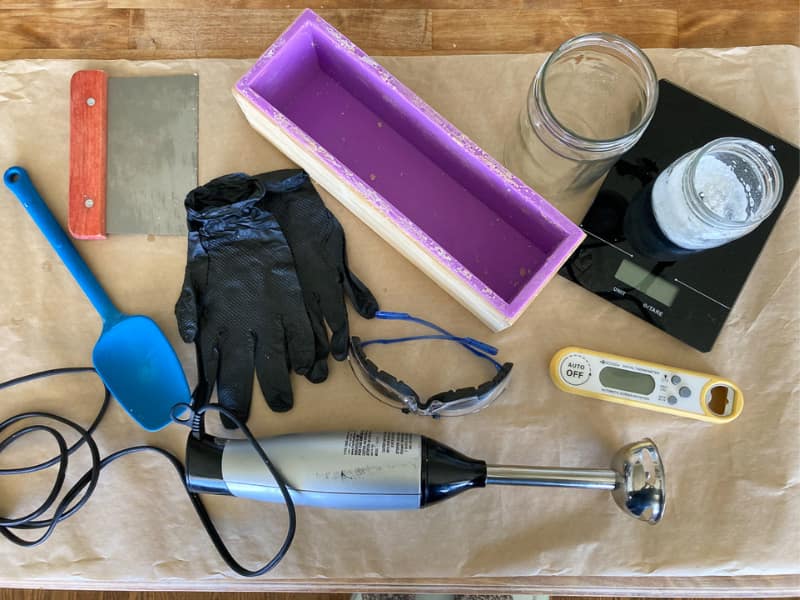 A soap mold-you can actually get very creative with this and use things that you have on hand, plastic containers work well. This post shows how to use a cardboard box to make a soap mold!
Gloves – I like nitrile gloves, they are stronger than latex and better for use with chemicals
A Rubber Spatula
Measuring spoons
Glass bowl or measuring cup for oils
Extra spoon or spatula for mixing
Lard Soap Recipe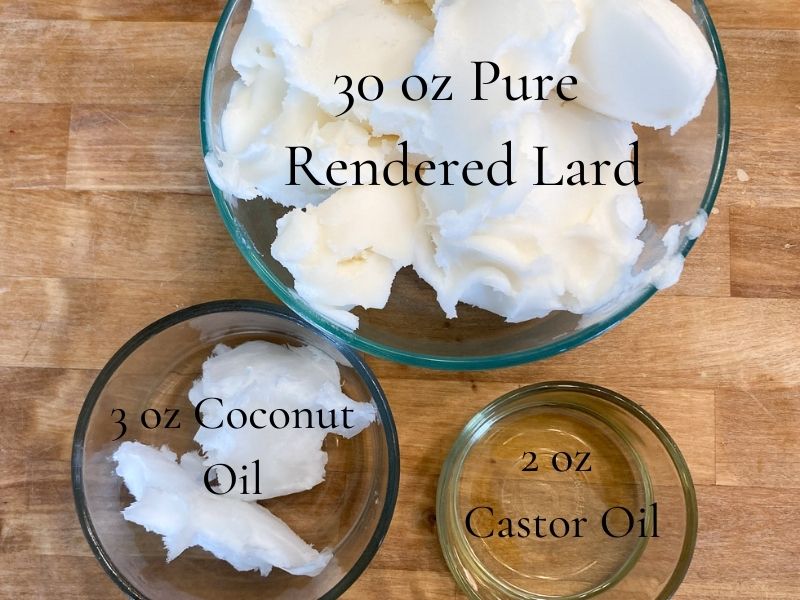 Basic Cold Process Soap Instructions
Safety for Soapmaking
Safety: Wear long sleeves, rubber gloves, and goggles or safety glasses
Set up your area and prepare your mold. Clear away anything not related to soap making. Gather everything you will need. Get your immersion blender, your scale, gloves, goggles, and your rubber spatula, bowl, and an extra spoon.
Set out all of the ingredients. You may find it helpful to measure all of the oils and put them in a bowl then put the containers away, just to keep your workspace clear.
I like to put down some cardboard or thick newspaper to protect my counter. I have a butcher block island top and I have burn marks from where I have dripped lye. Plus your spoon from mixing the oils will make a mess too.
Melt Your Fats
In a medium saucepan, melt the fats and oils together. Once melted, set aside to cool.
Mix the Lye
As the fats are melting, measure your water and sodium hydroxide in separate containers using a digital scale. After measured, slowly pour the sodium hydroxide over the water and gently stir. Set this aside to cool in a safe place.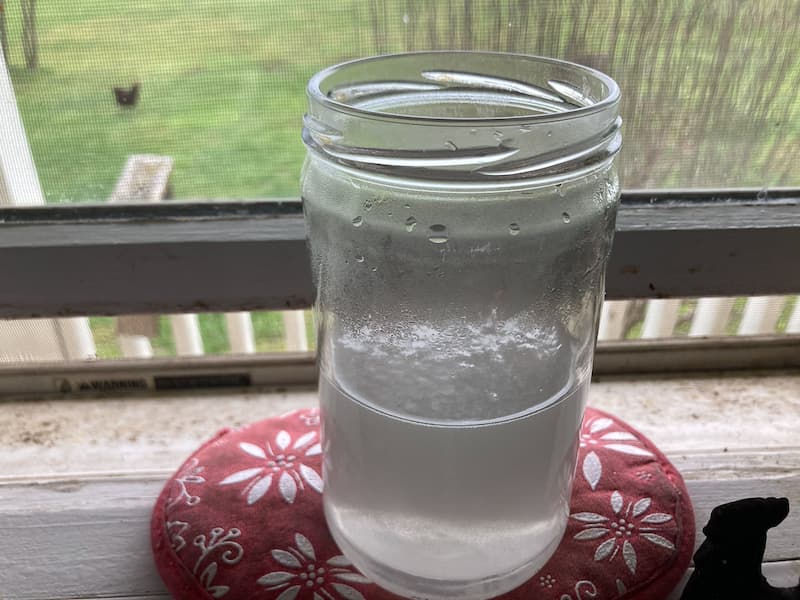 Mix the Lye and Melted Fats
Next, once the lye and the melted fats are cooled to around 115 degrees, or at least within ten degrees of each other and 120 or below, mix the two together. You will do this by slowly pouring the lye into the melted fats, and mix together using an immersion blender.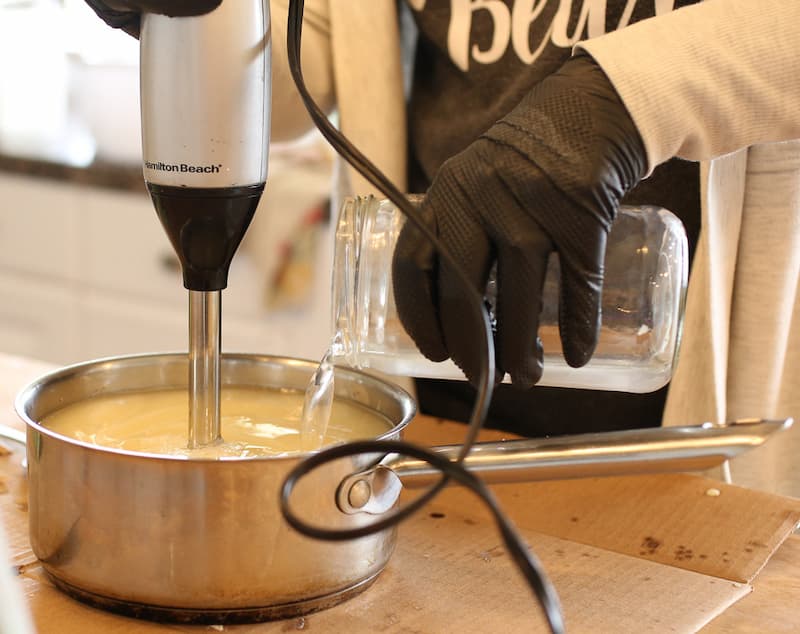 You should mix with the blender until you reach a thin trace, then add any fragrance oils or colorants that you desire. Mix a bit more and then pour into your mold.
To Gel or Not to Gel?
Next, once the soap is in the mold you can cover it and set it aside for 24 hours. There is a personal preference in soap making regarding whether you should allow or force a soap to go through what is called the gel phase. From my experience gel phase is only necessary for making the color of your soap more vivid. If you are adding color to your soap then forcing your soap to go through the gel phase may be desirable. To do this, you would either wrap your mold in bath towels to insulate and keep the temperature up, or you could put it in the oven at a low setting like 120 degrees.
I think this is a great post on the gel phase.
Personally, I rarely add color to my soap so I do not force or even allow my soap to go through the gel phase. I have had my soap get too hot and crack and I just do not see the benefit. It is absolutely not necessary for making soap. When I make soap with milk, I put the mold directly in the freezer to keep it from overheating and burning. You can do the same with any soap recipe, or you can simply cover it with parchment paper and set it aside on your counter to cool for 25 hours.
Cutting and Curing Your Lard Soap
Lastly, after 24 hours your soap should be hard enough to remove from the mold and cut. Once cut, you simply place the bars of soap on a rack or cookie sheet lined with parchment to cure.
Lard soap is fully cured at 3-4 weeks. Some people say you can use it after 10 days. That again is a personal preference. The longer it cures, the harder the bar will be and the longer it should last as more of the water will have evaporated out of it.
Either way, the bars should be turned from time to time to ensure they dry completely. Airflow around the bars is important.
Lard Soap Video
Printable Lard Soap Recipe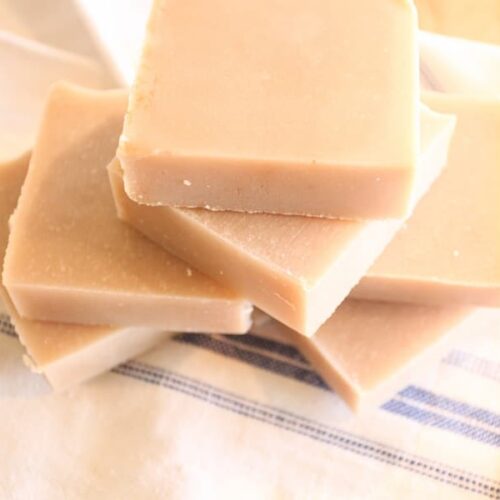 Lard Soap Recipe with Extra Bubbles
Equipment
1 Immersion Blender

1 Digital Scale

1 Digital Thermometer

1 Soap Mold

1 Sharp Knife or Soap Cutter

1 Rubber Spatula or Spoons

1 Cardboard
Ingredients
30

oz

Lard

3

oz

Coconut Oil

2

oz

Castor Oil

10.63

oz

Filtered Water

4.75

oz

Sodium Hydroxide (lye)

2

oz

Fragrance or Essential Oil

Optional
Instructions
Melt the lard, coconut oil, and castor oil in a medium saucepan. At the same time, measure the filtered water and the sodium hydroxide.

Wearing protective gear, pour the sodium hydroxide over the water. Slowly stir and set aside to cool.

Once the fats and oils are melted, set the saucepan aside to cool along with the lye.

Once the lye and the fats are cooled to approximately 115 degrees or within ten degrees of each other, you can then mix them together.

Slowly pour the lye into the fats. Using the immersion blender, mix the ingredients together. The soap batter will begin to lighten in color and thicken. You are looking for a thin trace. When you reach a thin trace, add the fragrance or color if you are using that.

Once you have reached trace, you can pour the batter into a mold.

Spray with 99% isopropyl alcohol to prevent soda ash from forming.

Let sit in the mold for 24 hours. After 24 hours you can remove the soap from the mold and cut it into bars.

Lastly, let the bars cure for 3-4 weeks.