Cold Process Goat Milk Soap Recipe With Oatmeal | Dr. Squatch Deep Sea Goat Milk Copycat
This goat milk and oat soap recipe is perfect for a nourishing daily soap bar. It's another Dr. Squatch Copycat Recipe too! The fragrance is perfect for a man or a woman and the soap has just enough grit to be lightly exfoliating.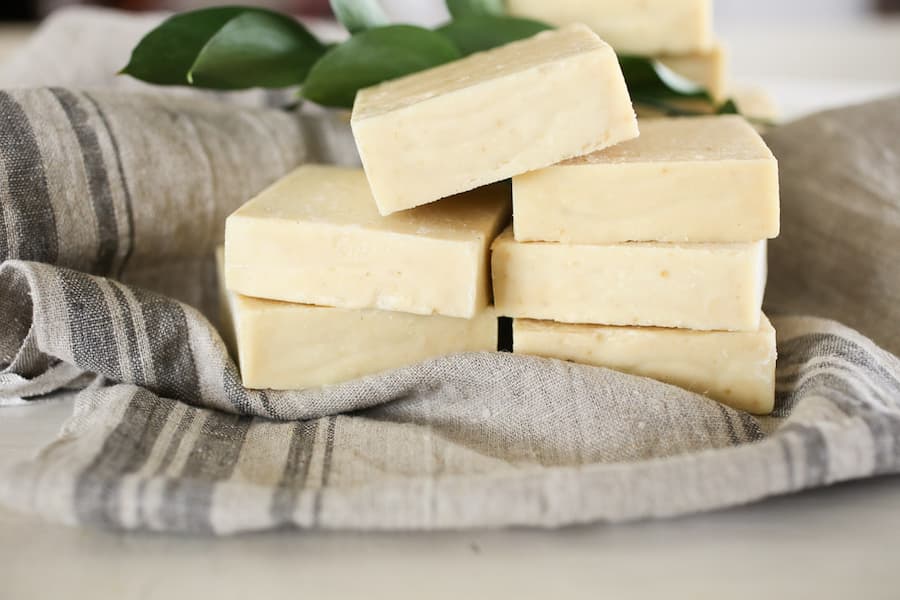 Benefits of Goat Milk Soap
Goat milk is high in lactic acid and can act as a gentle exfoliator in soap. The ph of goat milk is close to our PH. It is said that goat milk can help fight acne and reduce the signs of aging on your skin! High in B vitamins plus vitamins E & C, goat milk makes a smooth nourishing bar of soap that feels wonderful on your skin!
Can You Use Cow's Milk in this Soap Recipe?
Yes! You sure can! I used cow's milk in my first batch of this soap as it is readily available to me. However, I did purchase some powdered goat's milk for my subsequent batches.
Technically you can use goat's milk, cow's milk, almond milk, herbal tea, or even just plain water in just about any soap recipe. Just always remember to freeze the milk first so that it doesn't scorch when you add the sodium hydroxide.
Tips for Using Milk in Soapmaking
Always freeze your milk to keep the temperature low when adding the sodium hydroxide. This will prevent the ugly color and disappointing results of scorched milk.
Check the temperatures of the lye mixture and your melted oils before combining them. The lye mixture may be cooler than you are used to. Try to keep the oils and the lye mixture within 10-15 degrees of each other.
Always anchor your fragrance oils or essential oils with kaolin or bentonite clay. Mix the oils with about a TBS of clay. This will help the soap to have a lovely fragrance that does not dissipate. Milk soaps will often have a bit of an unpleasant smell at first. Adding the clay helps immensely! The unpleasant odor usually goes away after approximately 10 days of curing.
Why doesn't milk spoil in soap? The PH of the soap ensures that the bacteria are neutralized and won't allow the milk to spoil!
When using full-fat milk like cow's milk in soap, you may want to superfat at a lower level. The fat in the milk will not have a lye partner to pair up with leaving more superfat in the soap! For this recipe when using cow's milk I lower the superfat to 3%.
After pouring the batter into the mold, cover with parchment paper and pop it in the freezer. This will prevent it from going through gel-phase which will keep it from burning and turning a dark brown color.
Switching Palm Oil for Lard
I typically use lard for my soap recipes, however, I have had people complain or ask why. My reason for using lard is that it is readily available to me. We raise hogs, and always render the lard. We have an abundance of it, and I like to use as much of the animal as I can.
For this recipe, I used Palm oil just to make it friendly for all, well probably not all. (Some people don't like palm oil either, I believe this one was sustainably sourced). However, you can switch the palm oil out for lard, you will just need to decrease the ly to 4.59 oz and keep the liquid at around 10.35 oz. Not much difference at all! However, I hesitate to say just switch them out. You should never just switch out ingredients without running your recipe through a lye calculator.
Benefits of Oats in Soap
Oatmeal in soap can reduce skin irritation and itching. Likely because it is a natural exfoliator. It soothes the skin and is a natural cleanser as well. Oatmeal absorbs excess sebum from the skin which helps if you have breakouts. Oatmeal soap can also help to moisturize the skin without clogging pores.
DIY Goat Milk Soap
Ingredients
14 oz Olive Oil
7 oz Coconut Oil
2 TBS Oats (finely ground)
1.5 TBS Sea Salt
Instructions for Making Goat Milk Soap
First, measure out your goat's milk and pour it into an ice cube tray. Let this freeze until it is solid. If you don't want to wait that long, you can use it before it is perfectly solid, but it should be quite slushy.
Next measure and melt your oils. While your oils are melting, chop the oatmeal until it is very fine. Measure the 1.5 TBS of Sea Salt as well.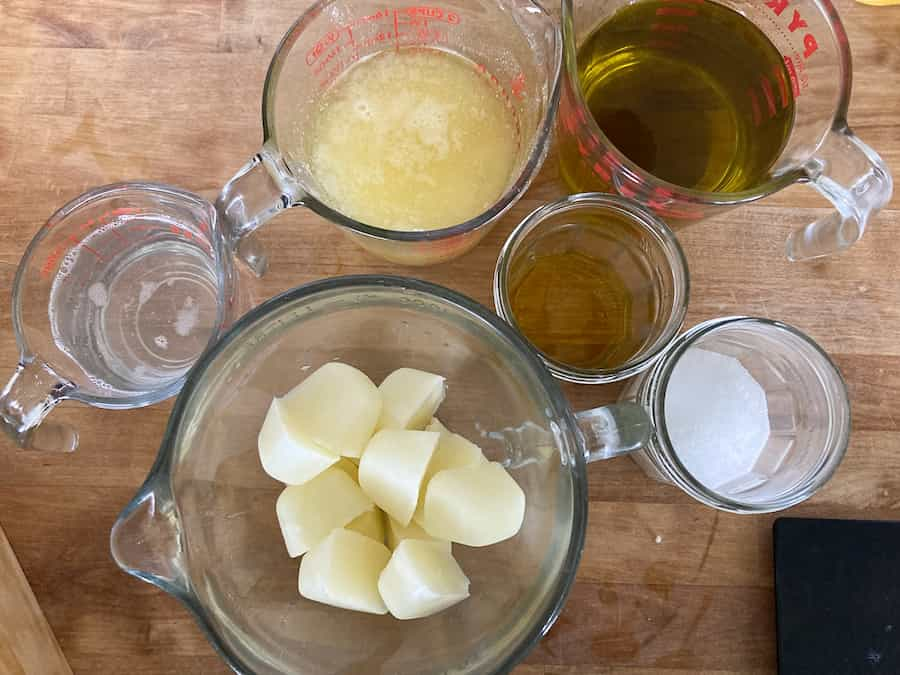 Mix the kaolin clay with the fragrance oils or essential oils so that it is ready to go.
Wearing long sleeves, gloves, and eye protection, measure out the sodium hydroxide.
Place the frozen milk in a medium-sized measuring cup. Pour the salt onto the cubes. Gently pour the sodium hydroxide over the milk. Always add the sodium hydroxide to the liquid, never the other way around. Begin to stir until the ice melts and the solution is smooth without any lumps of dry lye.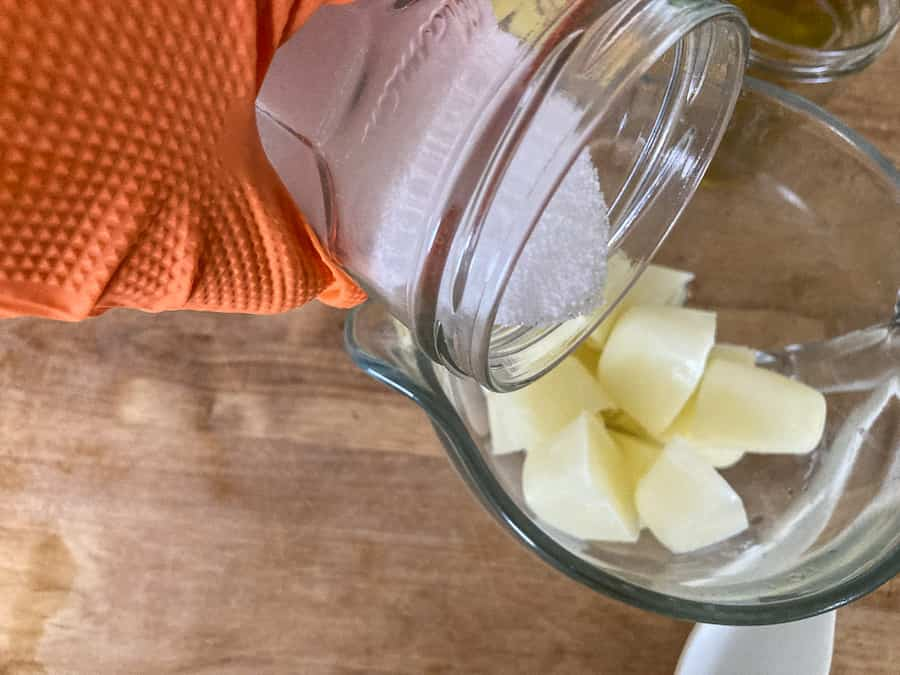 Temperatures are Key
Check the temperature of your oils. Check the temperature of the lye solution. They should be within 10-15 degrees of each other. The range should be anywhere from 90-120 degrees F. If it is cooler than that you should be fine, I like to soap at a lower temperature with milk soap.
Using an immersion blender begin to mix the oils and the lye solution together. Do this by pouring the oils into the lye mixture. Blend until it comes to a very light trace. Add the clay mixed with the fragrance oils and add the oats. Blend with the immersion blender until it comes to trace.
Pour the batter into a mold, cover and pop it directly in the freezer.
Remove from the freezer after 12-24 hours. Allow to come to room temperature and then remove from the mold and cut into bars.
Let cure for 4-6 weeks for a hard long-lasting bar of soap.
Where to Source Goat's Milk?
If you don't live near a goat farmer or if your local grocery store doesn't carry goat's milk. You can usually find powdered goat's milk at your local store or at Walmart. That is what I did for my soap. Simply follow the instructions on the package for mixing the milk.
What Size is this Batch of Soap
My mold is a pretty standard size. It holds 42 oz. This means I need around 32 oz of oil in my recipes. This allows space for my lye solution.
What Fragrance for this CopyCat Dr. Squatch Soap?
When I looked online to see what the fragrance of this Dr. Squatch Soap, the ingredient list stated musk fragrance. I bought a bar for myself and I would describe it as a very light musk, not a deep heavy musk.
For this recipe, I tried two different fragrances. Some people prefer essential oils and some are fine with fragrance oils. I have given you both options.
Both my husband and my daughter really liked the smell of the Arabian Musk. The essential oil blend below was also very nice! The Arabian musk is definitely closer to the fragrance of Dr. Squatch Goat Milk Soap.
Will You Try This Goat Milk and Oat Soap Recipe?
I hope you give it a try! Let me know how it goes and if you think it's a close dupe!
Here is my other Dr. Squatch Copycat Recipe: Pine Tar Soap Recipe | Dr. Squatch Copycat Recipe