Hey there! Today I thought it would be fun to do a quick Five Things Friday post for fall. I will share five things that I am liking, or that is making my life better this fall!
Fun Fall Printable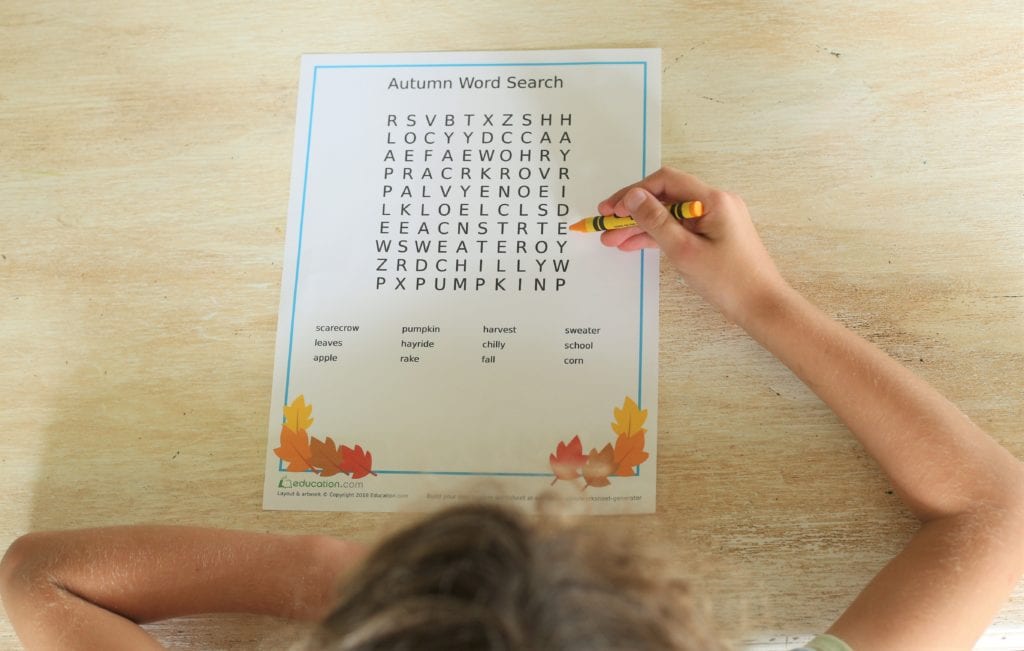 This week, I had a website reach out to me and offer a free printable to my readers. This is for your kiddos. It's a simple little word search with a cute fall theme. This is from education.com. They have lots of themed worksheets and printable helps for educators. There are also online games and lesson plans. Some of the resources are free, but it does have you sign in to download them. It looks like there is also a membership for more resources. Here is their description: Enjoy all autumn has to offer as you find the words in this cute themed worksheet! Check out Education.com for more fun reading resources.
If you'd like to print the word search, here is the PDF. The first download is the search, the second is the answer key.
Clothing
I am not a fashion blogger, but I will share a great clothing item from time to time. These jeggings were purchased last winter after I had surgery. I knew my tummy would be tender for quite a while, but I didn't want to live in yoga pants. These promised to look like jeans. I had no idea I would wear them as much as I have! They were perfect for after surgery.
I have also enjoyed wearing them for these first 20 some weeks of pregnancy! They are comfy, the waist band is wide, and the legs fit very snug. I like this right now because I have horrific varicose veins in my left leg; they really give me grief during pregnancy, so the added support is welcome!
For reference, I am 5'9″ and around 145lbs. pre-pregnancy. I bought the small long, and I think they fit perfectly.
Jean/Jeggings
I also tried these jeans. They are similar, but are definitely a jean material more than a jegging material. They have also been a great purchase.
These also run true to size. I at first sized up to an 8 in these, because I was pregnant when I ordered them. However, I exchanged for a size down. The legs don't fit as tightly, and they twisted around in the bigger size.
A Flowy Top
I got this top to wear for our anniversary date. I have worn it quite a few times, although it is not a maternity top, it is very forgiving! At 20 weeks now, it is getting a bit tight in the belly. There is a lining underneath the flowy part and that's what is getting tight. I bought the pink, but would love to get the green for fall….perhaps in a bigger size. Paired with a cardigan, it would get your through the fall.
For reference, I bought a small and medium. The medium went back because it was too large under the arms. I typically wear a medium, so I would say it is generously sized.
Lemon Balm Tea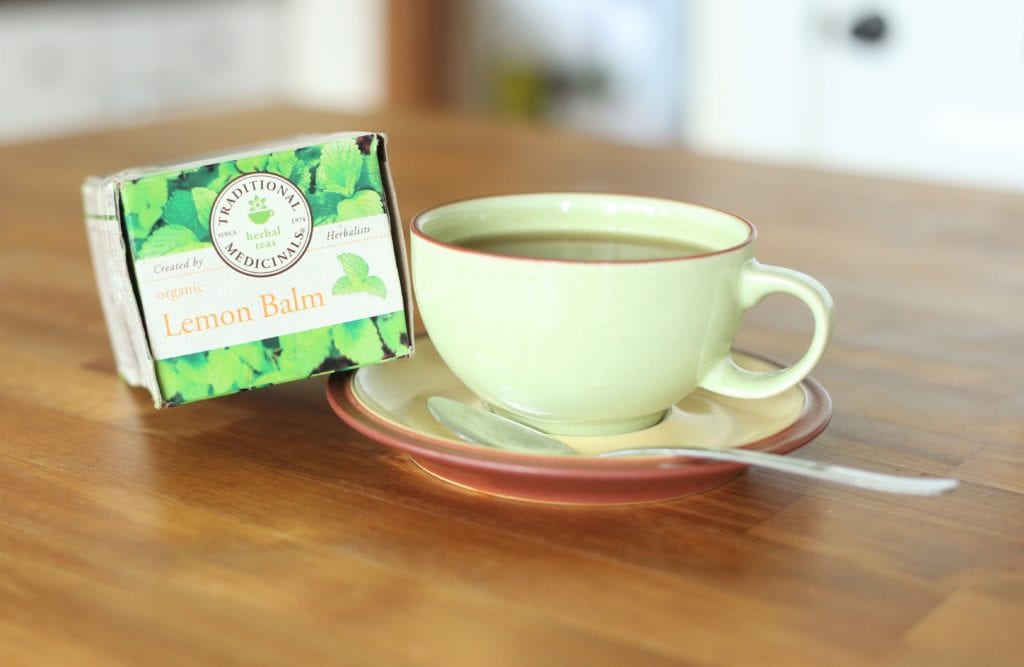 Even though it is still hot and humid here in Missouri, I want to live like it's fall. After dinner I have been wanting a cup of hot tea. The other night when I was searching through the tea drawer, I found a box of Organic Lemon Balm Tea. The warning said to check first if you are pregnant or nursing. So, I did a quick google search and read about lemon balm.
Turns out it is safe during pregnancy and also has many benefits. My husband always teases me when I tell him about herbs. He says every herb sounds like a cure-all for everything. I get that…but I also believe that herbs do have numerous benefits. Not everyone will have the same positive effects, because everyone's body is different. For me, I have fallen asleep more quickly and slept more soundly. Is it a fluke? I don't know, but if you have trouble winding down at the end of the day…you might give it a try!
Here is what lemon balm claims, found on euphoricherbals.com
The benefits of drinking lemon balm infusion:
*Lemon Balm Tea can be used to fight insomnia and sleeping difficulties.
*Lemon Balm Tea can be used to treat nerve pain.
*Lemon Balm Tea helps in alleviating disorders of the digestive tract and gas problems.
*Lemon Balm Tea may help in the treatment of thyroid-related problems, though caution should be exercised by those on thyroid hormone treatment.
*Lemon Balm Tea may help in strengthening memory and other brain functions.
*Lemon Balm Tea may help in enhancing and improving the mood.
54th Street Grill Avocado Ranch Dressing
I don't think this restaurant is nationwide. I think it is just Missouri and Texas? We don't have one near us, but there is one near my midwife. The last two times I have gone to visit her, I have ordered their fried chicken salad with this dressing…it is so good! I was there the other day and ordered a pint to go. I am rationing it on my dinner salads! It isn't too ranchy, but it is cool, creamy and delicious. If you are near this restaurant, you should try it! I rounded up a couple of recipes that look like they may turn out to be similar. I think I will try them out!
Avocado Ranch Dressing here on Real House Moms
Creamy Avocado Ranch Dressing here on The Kitchen Girl
Downton Abbey Movie
I am not a movie watcher or a movie goer. I don't have the attention span for it. About 30 minutes in I start feeling like I want to get up and do something else. My husband and I haven't been to the movies in over ten years! We only went then, because my kind brother gave our family movie passes. We took the kids to see a documentary on gorillas or something! My 13 year old told me she was so disappointed at the time because she thought we would see a cartoon! She did end up liking it though! We are super fun parents by the way! Ha ha!
Anyway, in the last two years, for stay-at-home-date nights, my husband and I have started watching period dramas. We started with Downton Abbey, and it took us almost a year to watch it all! However, I kind of got hooked on these Masterpiece dramas! So…tonight we are going to the movies!!! Wild and crazy the two of us! I hope it's worth all the effort!
Thanks for stopping by! I hope you found something new to try!