Pole Barn Loft–Ideas With Pictures!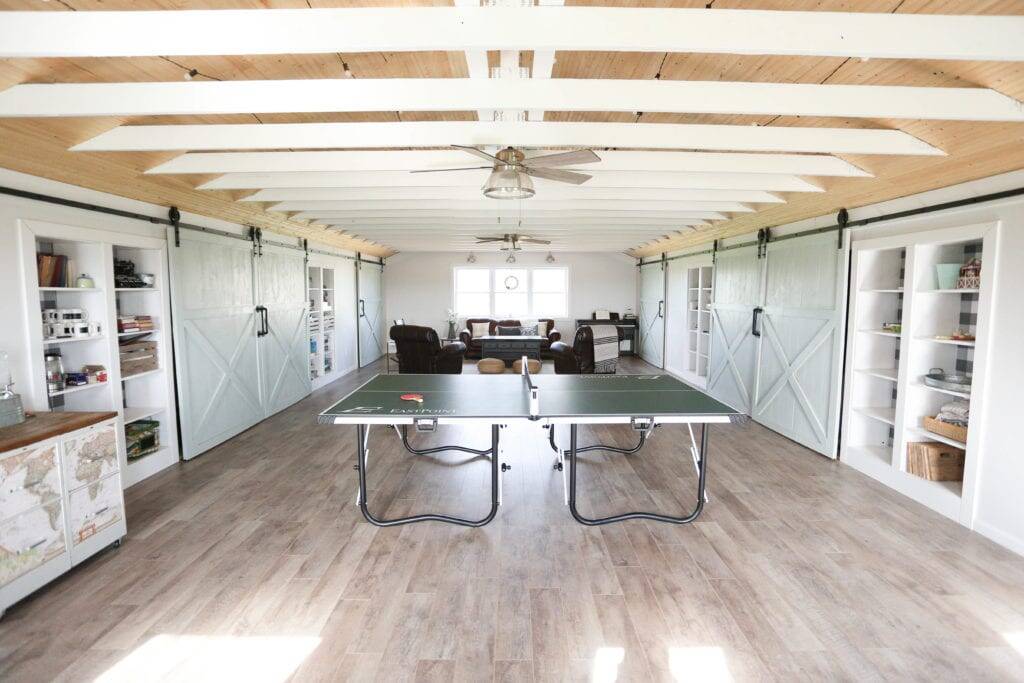 In this post I share an update on our barn loft. I take you on a video tour as well to share about what we love, and what we would have done differently.
Seven Months in Our Pole Barn?
It's hard to believe, but we have been using the upstairs loft area for around seven months now! I think taking your time and seeing how you actually use a space is so helpful for furnishing it. It has taken me every bit of the seven months to really have a vision for the space. I have tried various arrangements, and none of them really felt just right. What we have going now feels pretty good in this barn loft.
How will we use this Barn Loft Area?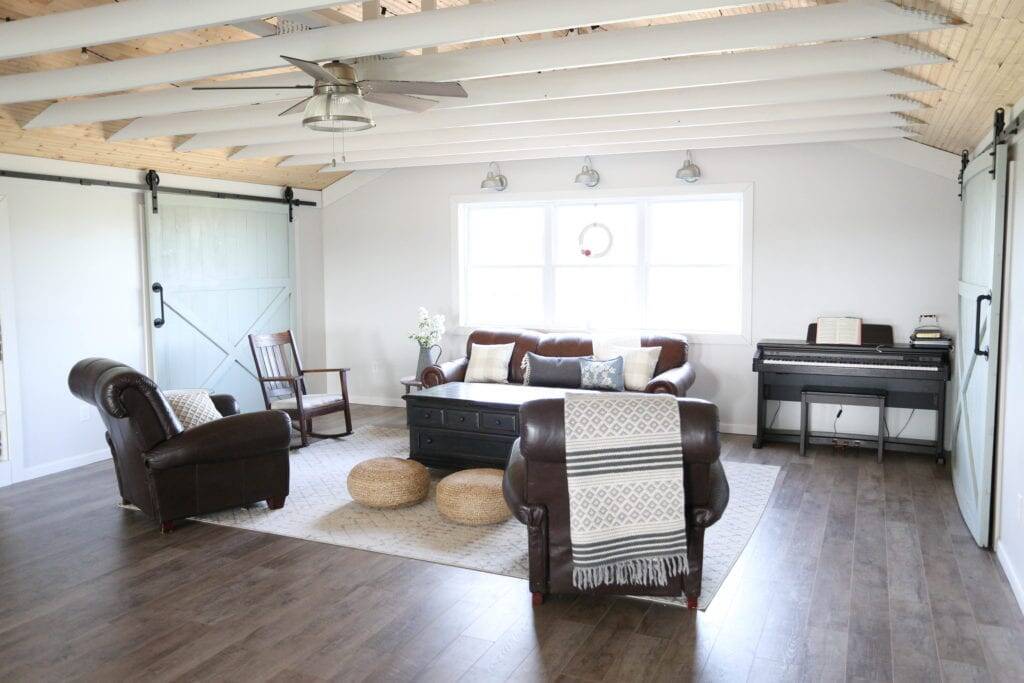 Barn Loft Storage and Apartment Area
The first question is, how will this barn loft be used? For us, we knew we wanted a some storage. I laughed a few weekends ago when my husband and I finally got all of the tubs of clothing moved from the basement in our home up to the barn. One of the things that we wanted so badly was a dry non-musty area to store clothing. Our basement is always wet and smelly! However, it took us seven months to finally sort through all of the clothing and get them moved. It sure feels good to have it done though!
Ideas for Recreation Area in A Pole Barn Loft
Our house is not huge (2700 sq feet). We don't have a basement, other than the aforementioned small, wet, musty, smelly area. A place for the kids to go on rainy days to play games was a dream we had for years. We keep all of the board games and card games up here now. This has freed up shelf space in the mudroom/laundry room as well. We also have a ping-pong table up here. It can be folded up and put away when we need the space for other things.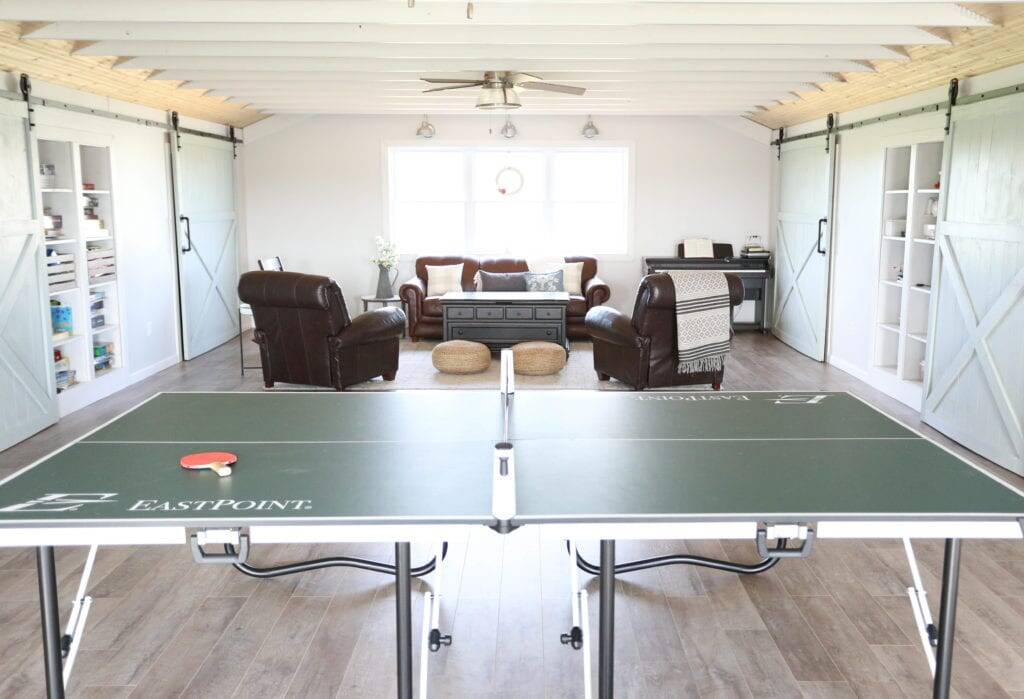 Barn Loft with Guest Quarters
The sofa is a fold-out bed. This has let us use this space for guests as well. When Ben's parents visit they can have their own space.
This barn loft has also been used for holidays. We keep plenty of folding tables and chairs up here for feeding lots of people! We also keep plenty of teenagers on hand for setting up and taking down tables and chairs 🙂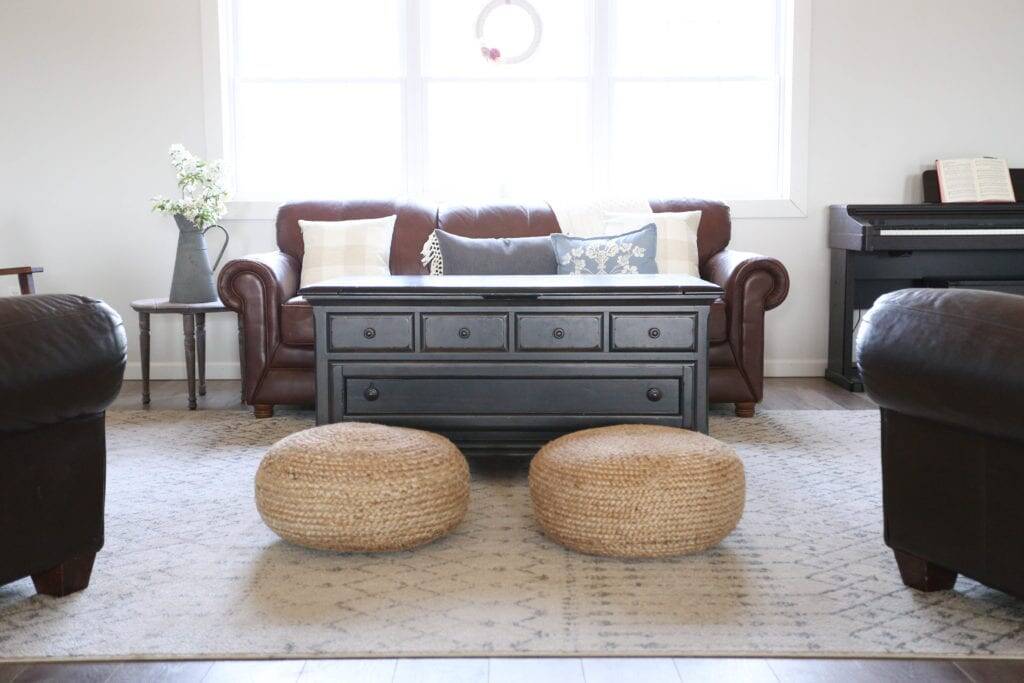 Sunday Meeting in the Barn Loft
We have a home church as well. This space has been sooooo nice for that! We no longer have to cram into our family room or crowd around our dining room table! The only complaint is you have to hike into the house to use the restroom. A small price to pay for more space though!
Furnishing a Pole Barn Loft
As fun as it would be to run out and buy all new furniture for this area, it's not in our budget. Plus that's just not my style. I'm a craigslist/marketplace shopper. The recliners are super old CL purchases. I would like to replace them with swiveling chairs, but can't find any that I really like. These from World Market are pretty nice, but it's not an actual slip-cover. So, that makes them not very practical. I found some on Marketplace for half the price of new, but if I can't wash the covers, then I would just worry about the kids ruining them all the time. That's not very fun!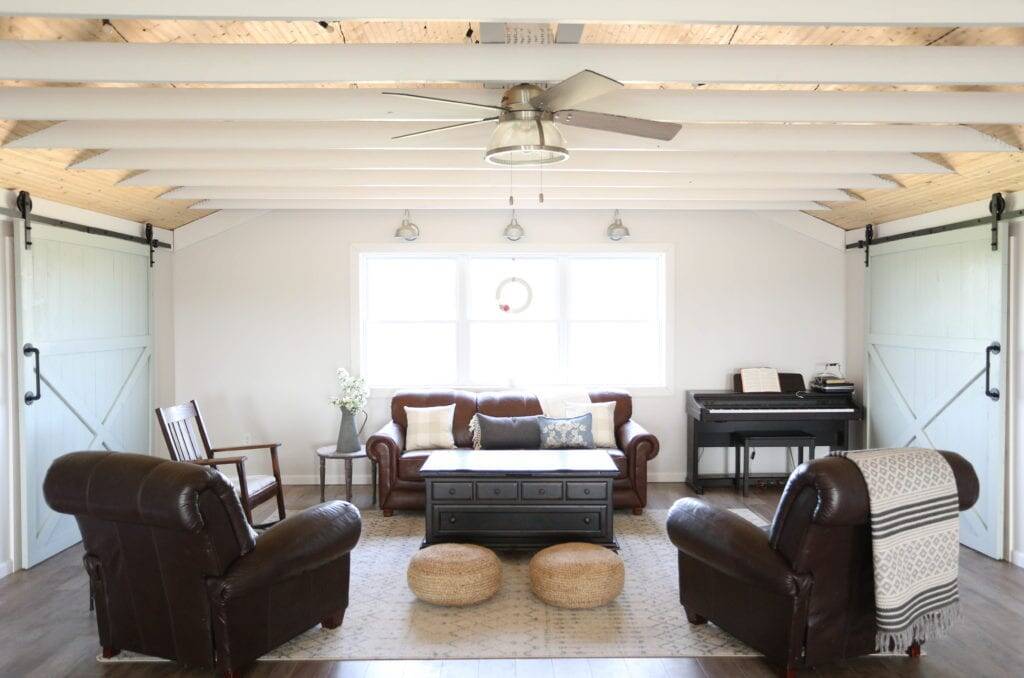 The coffee table is a great size and gives good storage. It could use a refinishing, but I don't have a vision for it! Any suggestions?
These poufs are so fun! I love the texture and the size is perfect for little bottoms to sit on. Extra seating that doesn't take up much space is a huge bonus!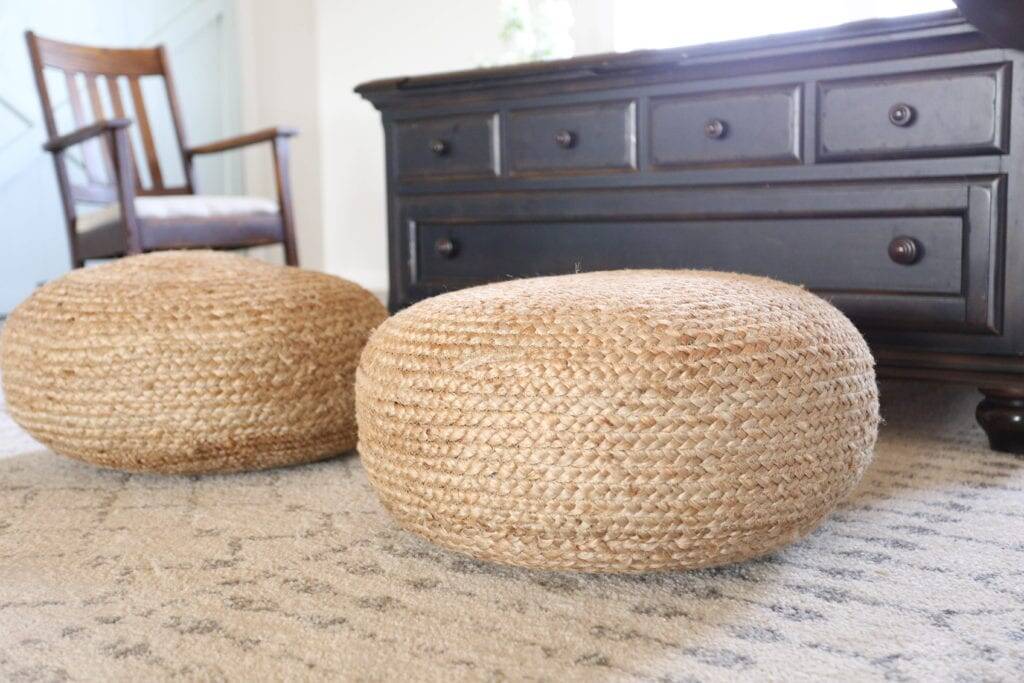 This is the rug I bought for the space, I got it on sale for Black Friday. You can also find it here on Amazon. With the high wooden ceilings and the hard flooring, it can get quite loud up here. I have put a couple of rugs down with the hope of it helping with the acoustics a bit! When lots of people are talking, it can be difficult to hear one another! Anyway, the rug is soft and comfy, and resists stains very well! I highly recommend it!
Disappointments with Finishing a Metal Pole Barn
So, as with any major project, you are bound to make mistakes. We made a couple of mistakes along the way and I will share them with you.
Barn Doors in the Barn Loft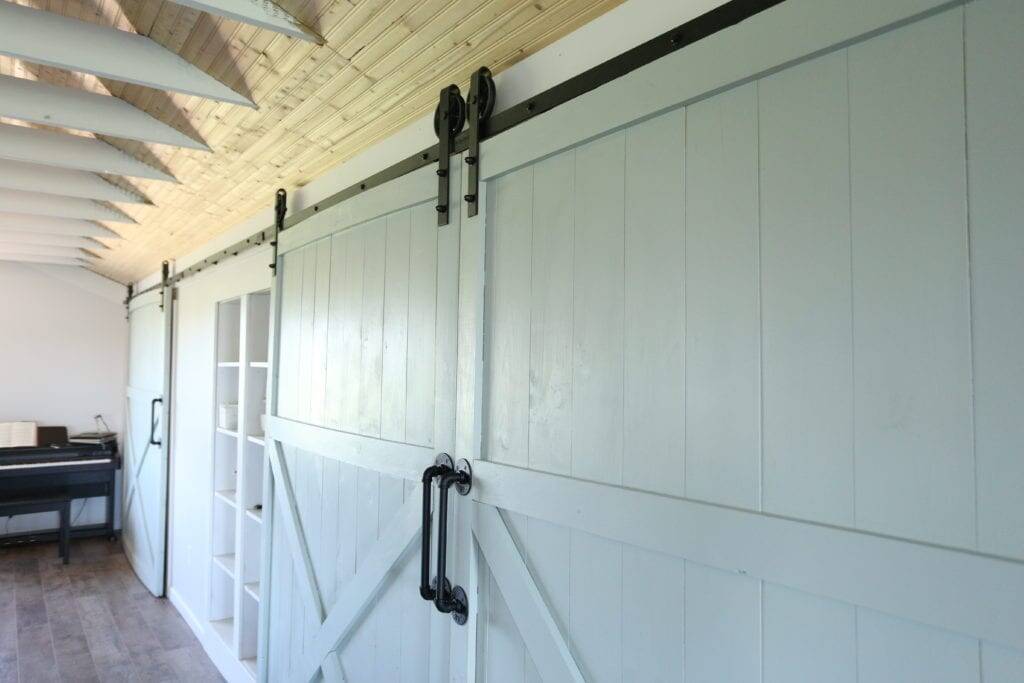 My husband built all eight of the barn doors. They are amazing and they cover the storage areas very well. The doors are huge and they were a pretty time consuming project. The only problem has been that they have warped or bowed. We started noticing it shortly after they were hung. We were very discouraged. All that work, and now they were bowing so much that we feared they would pop off of the tracks! Honestly, we didn't know what to do! We realized that it got worse when the heater was running. The heat would dry out the air and the loss of moisture would cause the bowing. So, we started running humidifiers up here. This would help, as long as we kept them filled and running!! Uggh who is going to remember to do that?
Make Sure You Paint Both Sides of a Barn Door
Thankfully my father-in-law had an idea. When he was here for Thanksgiving he looked at the doors and pointed out that we only painted the front side of the doors. He has learned over the years that if you build doors or do any other project like this, you must paint or stain both sides of the wood. This allows the wood to react to the air flow and moisture evenly and should prevent warping. Our plan is to take them down this summer when there is plenty of humidity, lay them flat and paint the back side. Now that the weather is warmer and not so dry, they already look better.
The Flooring
Initially I sang the praises of this flooring. I still think it looks amazing. I love the color and the way it looks with the paint on the doors. They are easy to clean, and they were super easy to install. However, we have had two mishaps with them. We use old school chairs with felt pads on the bottom. At Thanksgiving time when the chairs were being put away, a couple of them stuck to the floor. Whoever was putting them away did not pay attention to why it was sticking and just ripped it up. Unfortunately, the felt pad had slipped to the side and the adhesive from it stuck to the floor. When it was ripped up, it pulled up a chunk of the top of the flooring. This happened in two different places.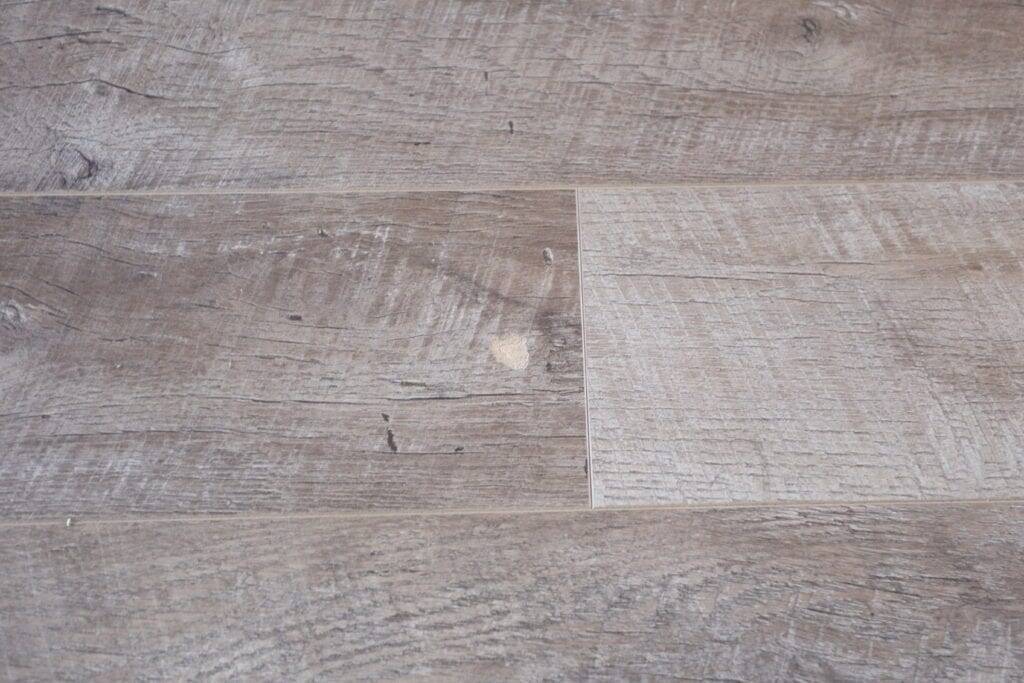 The flooring has a warranty, however when I contacted the manufacturer, they would not cover that problem. The warranty was for fading and scratches, from normal wear and tear. So, in order to "repair" it, we will have to pull the flooring out and put a new plank down in those areas. Sounds like a lot of work! We do have a few extra planks, but we aren't too excited about doing that job! So, I don't know that I would recommend these floors after all!
Video Tour
More Barn Posts!
Thank you for stopping by! If you are interested in reading more about this space, I have several other posts about building and finishing the barn and the barn loft. Part 1, Part 2, Part 3, Part 4
Pin Our Barn Loft Ideas!