Hey there everyone! I'm so glad you are here! How has your week been? Are you in full-on Christmas mode? We finally got our tree up last weekend, it was such a fun time! Well, I mean aside from my husband having to drag it up the barn stairs and then back down the stairs, and then back up the stairs. His wife is unreasonable sometimes…poor man. We started putting our tree in the barn last year, and it has been so nice to have the mess out there and not in the house. We can see the lights in the window and enjoy it that way! No constant chasing the baby away from the tree…life-changing!
We put our tree in a washtub (unreasonable wife idea). Ben (my saintly husband) had the tree all cut and shimmed and in tree stand, ready to plop into the washtub. However, after he plopped it in, it just wasn't right…it was about three inches too tall. Simply put, it just didn't look right. He tenderly tried to convince me that the ornaments would pull the branches down and all would be well. Then he looked at my face and lugged the tree back out to cut more off of the bottom. If that isn't love I don't know what is! Ha!
We also didn't have enough matching lights so we had to send the teens to Walmart to buy lights. Other than that it was smooth sailing! Haha! I am sure you all can relate. Next year I am considering a fake pre-lit tree!
I have collected Precious Moments ornaments ever since the first year my husband and I met. We have continued the tradition for each of the children and they think it's really special. I love spending time as a family, the beauty of my 18 year old son helping my two year old is not lost on me. I realize I have something pretty special going on here. I also know these years are fleeting and it won't be this way for too many more years. It gives me a bit of an ache in my heart.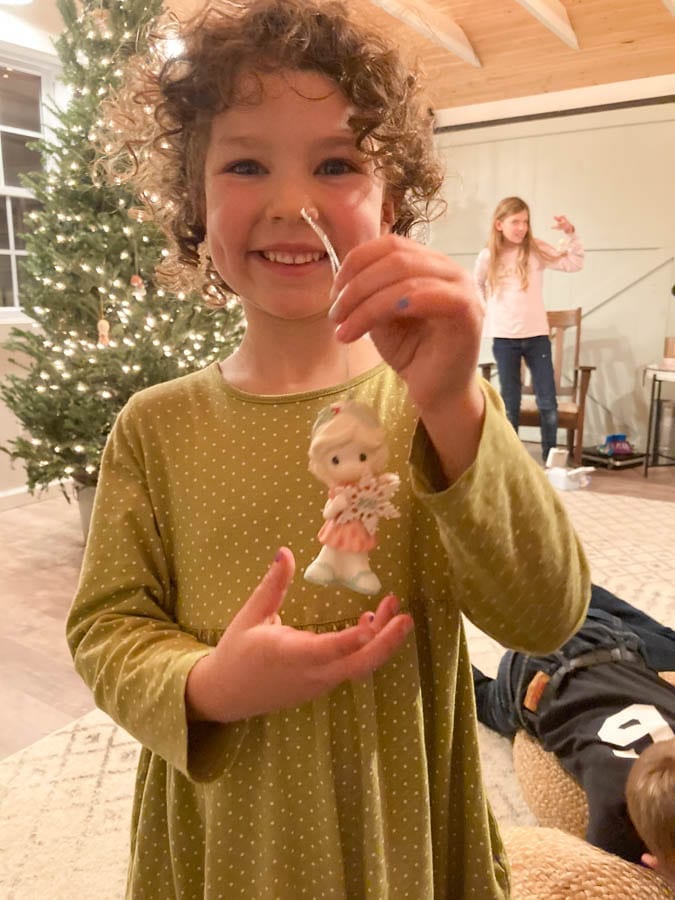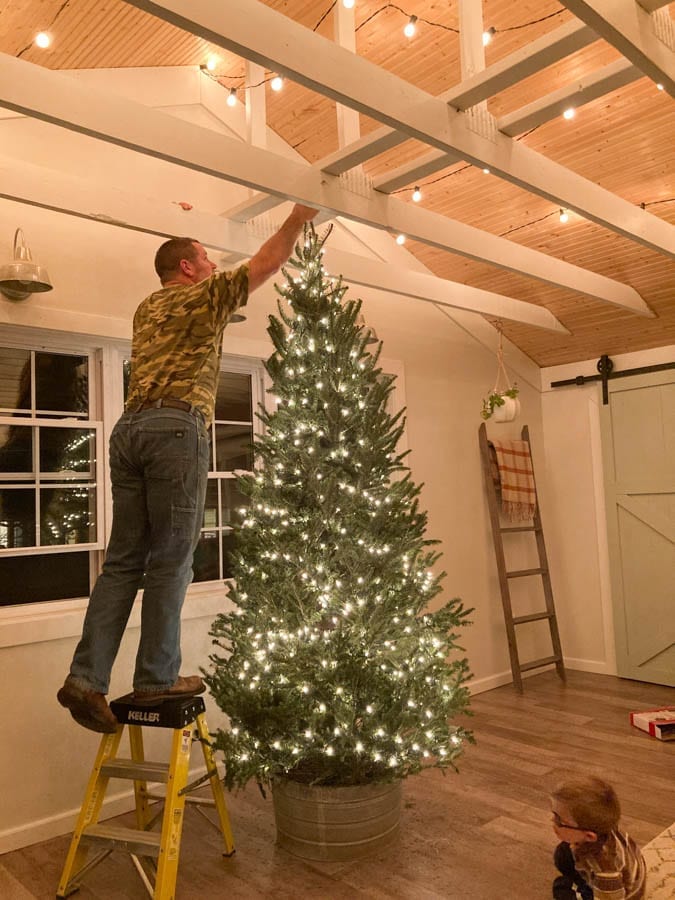 On to the link up!
Welcome friends, to the Embracing Home and Family link-up!
Embracing Home and Family link-up party will go live every Friday at 8:00 a.m (PST), and is a place for you to link-up family-friendly posts related to homemaking, homeschooling and homesteading. Let's encourage and inspire each other by linking them up on the Embracing Home and Family link-up party!


Meet your lovely hosts!
Show Jenn from The Everyday Farmhouse some love by visiting her blog today!
Stay Connected with Jenn- Blog |Instagram | Facebook | Pinterest | Etsy Shop
What Cherelle's been up to this week on The Inspired Prairie…
Show Cherelle from The Inspired Prairie some love by visiting her blog today!
Stay Connected with Cherelle- | Blog | Etsy Shop
Embracing Home and Family's Featured Posts This Week are…
Easy DIY Coastal Christmas Ornaments
Homemade Marshmallows
Creamy Chicken Alfredo Casserole
DIY Stamped Christmas Ornament with Clay
Congratulations to those who were featured! Be sure to grab the "I Was Featured" image and showcase it on your blog!
Simply right click the image below, and click save-as.
Simple Guidelines for the Embracing Home and Family Link-Up:
You can link up to three family-friendly posts that pertain to homemaking, homeschooling and homesteading. Let's encourage each other with helpful and uplifting posts, and keep your linked up posts clean and family-friendly. Anything inappropriate will be deleted.
Show some support to your hosts and another blogger who has linked up.
We will choose 4 features each week and each feature will be pinned to Pinterest!!
By linking your blog posts on Embracing Home and Family, you are giving us permission to use your images to showcase your post if you are chosen as a weekly feature.
Please, no repeats within a 6 month period!
Embracing Home and Family link-up party begins on Fridays at 8:00 a.m PST and will end Tuesdays at 8:00 a.m PST.
Let the fun begin!