Let Not Your Heart Be Troubled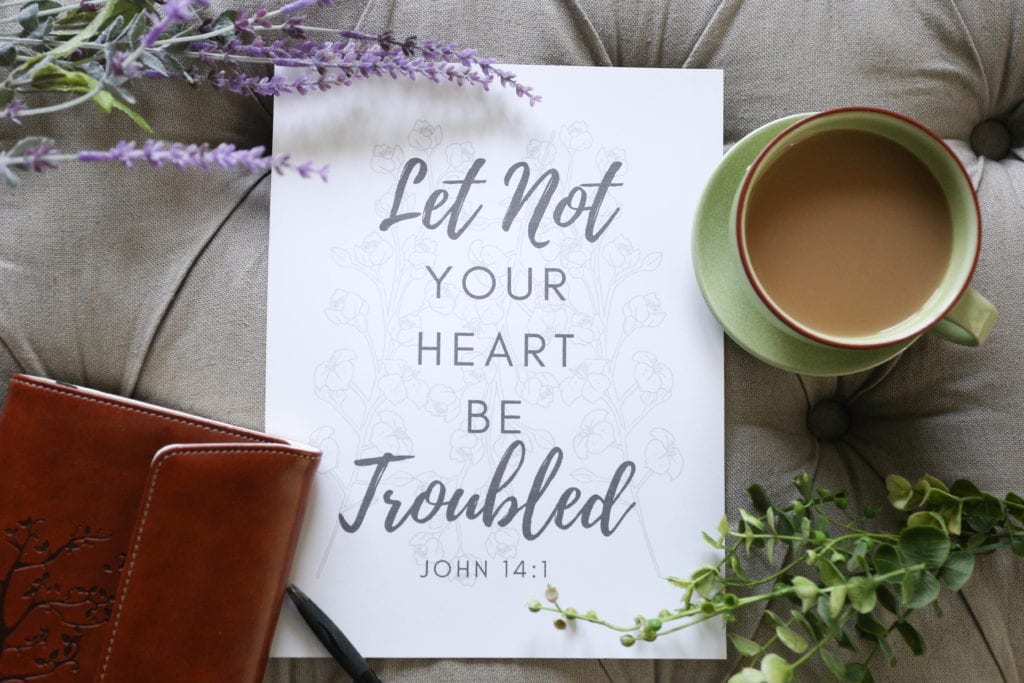 In this post I share a free printable to remind us not to worry.
Are You a Worrier?
Not a warrior…a worrier? Truthfully? I am, or rather, I can have the tendency to be one. The strange thing is I don't worry about rational things. My mind immediately goes to worst case scenario, improbable, freak accident kind of worry.
I'm hard to figure out sometimes…even for myself. I want to fully trust God and I think that I have given the everyday worries over to him. However, in the back of my mind I think I still give way to the unlikely, as if he somehow hasn't thought of it. Like, yes I trust you, but did you ever think about this one God?
What I am trying to say is during this time when most of the world is worried. I am not. Actually I think I am maybe on the side of not concerned enough. The truth is, right now I have complete peace. So, maybe I can share some of that with you! I truly with all my heart believe that everything is going to be ok. Maybe you can be there to reassure me when I am concerned about something that is highly improbable!
Reassurance
I shared on Instagram the other day that my husband leaves a Bible lesson for us every single morning. He has done this for as long as I can remember. Ever since our oldest was born, before he could even comprehend what was being said. This faithfulness has accomplished two very apparent things. The first is, my husband is firmly grounded in the word of God. He amazes me with his knowledge and handling of the word. The second is, this has given the rest of us a foundation in truth as well. When you hear about the faithfulness of God every single day for as long as you can remember, it shapes how you see the world and what you fear.
This verse came up in our lesson last week, and we all found it very reassuring. The truth is if you are a Christian, you have absolutely nothing to fear. What is the worst thing that you fear, is it death? Well guess what? If you die, on to glory for you!! You get to go be with Jesus! Pretty good deal really! If you face poverty or sickness, God promises to carry you through that as well. We can read many testimonies of just that! So, let not your heart be troubled!
A Printable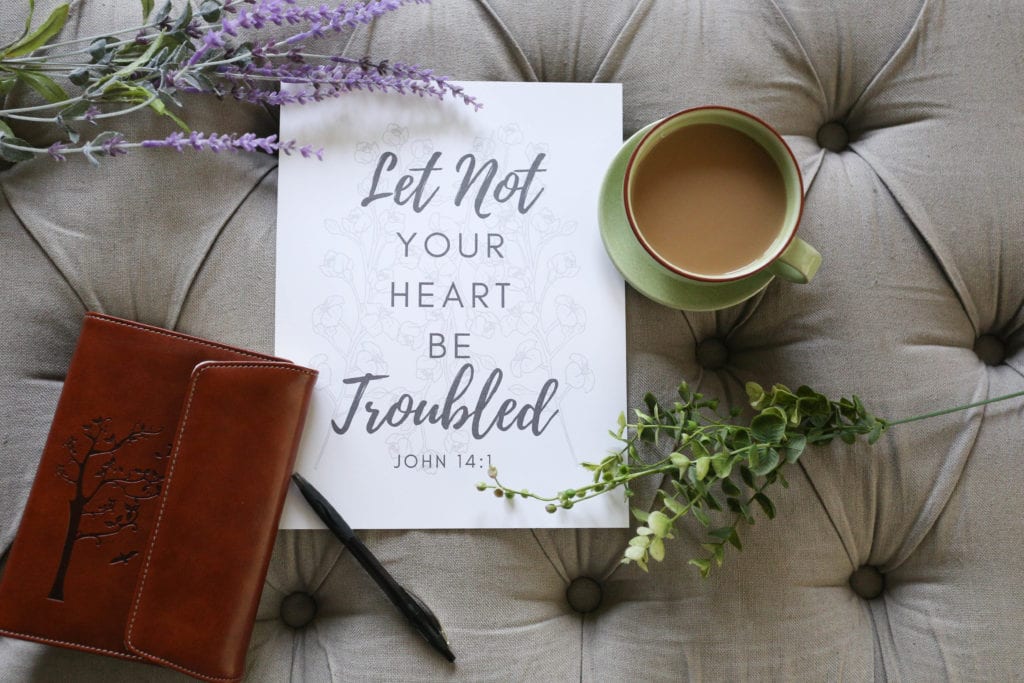 I'm a visual person, so I like to see an image. Maybe you do too. This little verse is a comfort to me and I hope it comforts you as well! So, when we are tempted to fear that things will never be "normal" again. Let's remember that God promises to work all things together for good! That is a truth that I need to keep calling to mind! I hope you enjoy this "Let Not Your Heart Be Troubled" printable.
I didn't intend for this to be a coloring sheet, just a printable that didn't use too much ink! However, after I printed it and made a few adjustments, I gave the extra copies to my little ones. They enjoyed coloring the flowers and embellishing it even more! Maybe you would enjoy that too!
This printable can be found in my Printable Library and other Printable Scriptures here
Pin and Share