How To Fabric Applique a T-shirt
Sewing a fabric applique on a t-shirt is a really simple sewing project, perfect for a beginner. You can embellish anything you like once you learn this technique!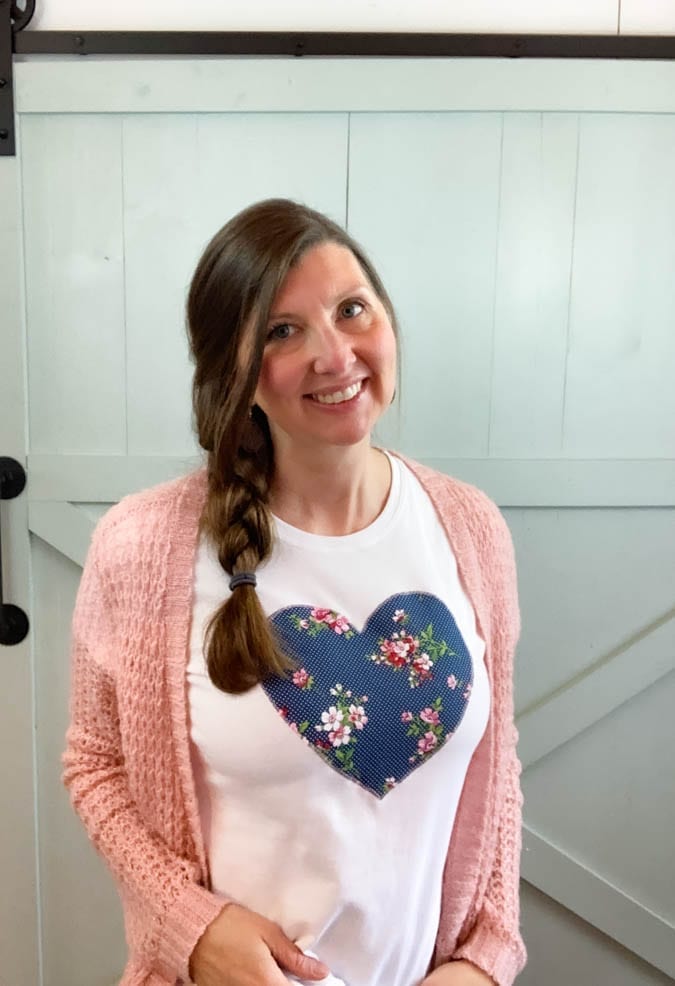 What type of T-shirt to use for Applique?
A high quality t-shirt without a lot of stretch is really the best type. I got this t-shirt at Hobby Lobby for a few dollars. For a white t-shirt it is surprisingly thick and not see through!
Stretchy fabric makes it a bit more difficult to sew on. If you use a stabilizer it is not impossible though! I'll explain more about what a stabilizer is in the instructions.
What Kind of Fabric for the Applique?
The best fabric for applique is one with a bit of structure. I like to use the fabric that you find in the fat quarters or quilting fabric. There are so many pretty prints and you can get something very pretty for only a few dollars.
You can choose a thicker fabric or even felt. Just make sure it is safe to iron.
How to Turn any Fabric into an Iron on Applique
There is a product called Wonder Under that can turn any piece of fabric into an iron-on. There is a rough side and a smooth side. You place the rough side against the backside of your piece of fabric. Then without any steam on your iron, you simply press down on the front side of the fabric.
After you have pressed over the entire front side of the fabric, you can then flip it over and trace your shape. Then you cut it out and peel the paper backing off of the shape. It is now an iron on.
If you have a cutting machine, this would be a great time to use it! I have one that I tried and I will say, make sure you peel the paper backing off before you press it to the cutting mat. If you leave the paper on, it will slide around.
How to Applique
Now that you have your shape, you place it on your shirt. Using a hot iron, again with no steam, press your shape onto the shirt.
Next select a contrasting or coordinating thread. You are going to do a zig-zag stitch all around the shape.
If your sewing machine has the option to remove part of the housing, and have a free arm, this makes it easier to maneuver the shirt around as you sew. Then line up the middle of the presser foot with the edge of the shape. Do a zig-zag stitch all around the shape. My machine settings were length-1 width-4 and zig-zag for the stitch.
The stitch not only keeps the applique from fraying, it gives a nice decorative touch to the piece.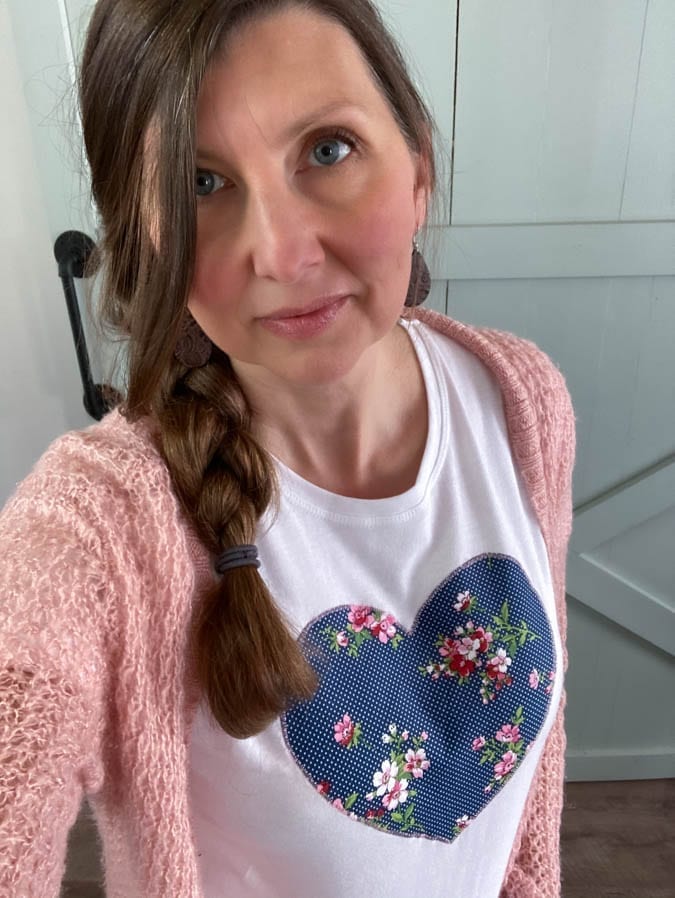 Stabilizer for Applique
One tip is to use a stabilizer for giving some structure to your project as you sew. This makes it easier to really have a neat stitch without the fabric puckering. They make a product specifically for this. However, I have always used a coffee filter. They are cheap, easy to keep on hand and work well.
I just place the filter on the inside of the shirt behind the fabric shape. When I am done stitching, I simply pull the filter off the shirt.
There it is, How to Applique a T-Shirt!
Easy peasy and the sky is the limit! You can do any shape, you could add layers, different decorative touches. Make it your own and go to town on it! I used to applique baby onesies and sell them at a local farmer's market.
Below is a post I did when I first started blogging. Another simple applique project.
How to Applique–Simple Valentine Projects
Sewing Machine that I use
Here's an Older Video Showing the Process
Pin for Later!