How to Make Fromage Blanc or Bovre Cheese at Home
Making Fromage Blanc or Bovre cheese at home is a relatively simple process and a great introduction to cheesemaking. This post contains affiliate links.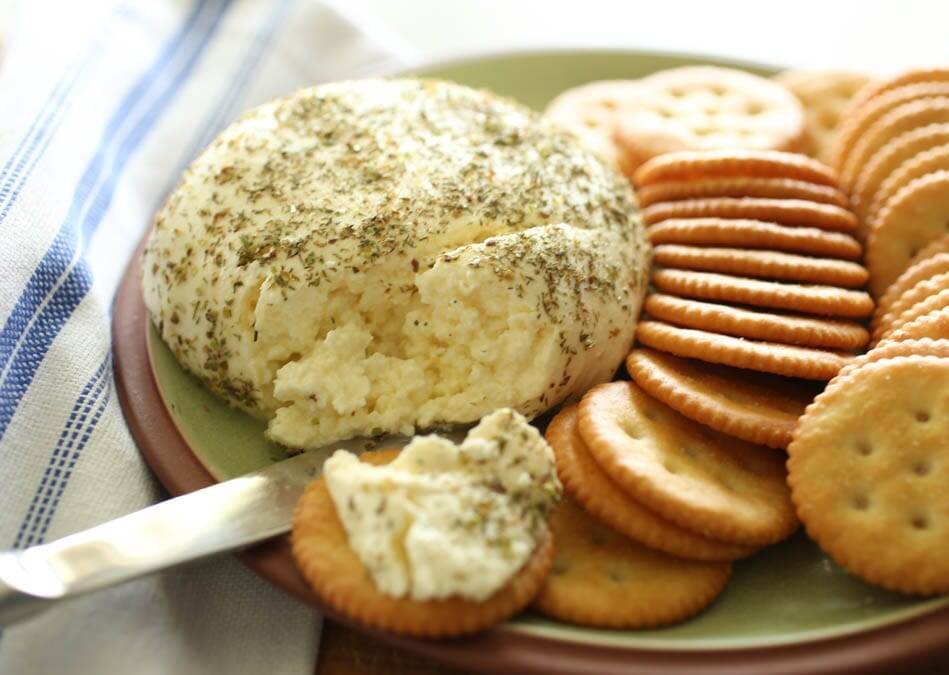 When you have a cow, people expect that you make all sorts of dairy products. You know what though? I had never made cheese until recently. I've tried plenty of homemade cheese, my whole family has…not one person in our home has ever asked me to make homemade cheese though. Our experience with it has been less than delicious. It is usually a bland rubbery excuse for cheese. Therefore I have never felt compelled to make it.
If we ever have extra milk, I share it with friends or I make yogurt. A few months ago a friend told me that she makes Chevre with her extra cow's milk. She told me it was super easy and yummy. I started looking into it and found that Chevre is actually a soft cheese made with goat's milk. If it is made with cow's milk it is called Bovre or Fromage Blanc. It sounded interesting and so I decided to give it a try. My family loved it! I have been experimenting with making it for the last several months and feel comfortable sharing my experience making it!
What is Fromage Blanc or Bovre?
As I said above it is a soft fresh cheese made with cow's milk. It isn't aged, so it is ready to eat in a day. I use raw cow's milk straight from that morning…strained of course. Depending on how long you drain it, it can be soft and spreadable or soft and crumbly. The longer you let it hang and drain, the dryer it will be. The texture is not quite as creamy as cream cheese. The flavor is a bit tangy, similar to yogurt.
What is Fromage Blanc in English?
It just means white cheese. Kind of boring sounding in English huh?
What Kind of Milk Can You Use?
You can use fresh raw milk or pasturized store-bought milk. You do want to avoid ultra-pasturized milk.
How To Make Fromage Blanc
First, you will need a culture. I have seen recipes for this using lemon juice. Although, I have not tried that method as some of the people said it left a lemony flavor. In Volume 1 of A Beginner's Guide to Homestead Living, (which is free in my resource library) a friend of mine shares how to make Chevre from goats milk using lemon. I will share two different ways to make homemade Fromage blanc.
The packets do not have clear instructions inside. I found the insert to be a bit confusing to be honest.
You will also need Cheesecloth.
Method One–Using Chevre Culture
This is a very simple way to make soft white cheese. You simply purchase this Chevre culture, I bought mine on Amazon, but it isn't there anymore. I just bought it last week, so I don't know if it is out of stock or if this one replaces it? The Chevre starter has everything in it that you will need to make the cheese. The culture includes a vegetable rennet mixed in the packet. No need to purchase the rennet separately.
For this method, you can use refrigerated milk and heat it up to 86 degrees F. If you have a milk cow, it is easiest to just use the morning's fresh milk. By the time I get it in the house and strain it, it is right about the perfect temperature. I like to make it 1/2 gallon or two quarts at a time.
The package contains four packets of starter, each packet in your Chevre package will culture 1 quart of milk. I used two packets for 1/2 gallon of milk.
Simply heat your milk, or use that morning's milk and pour it into a stainless pan. I like to pour one quart in the pan, sprinkle one packet over the surface, and then pour the other quart in and sprinkle the second packet over the surface. Then I take a wooden spoon and gently plunge it up and down in the milk.
Cover with a lid and wrap with a bath towel. Set on the counter for 12 hours.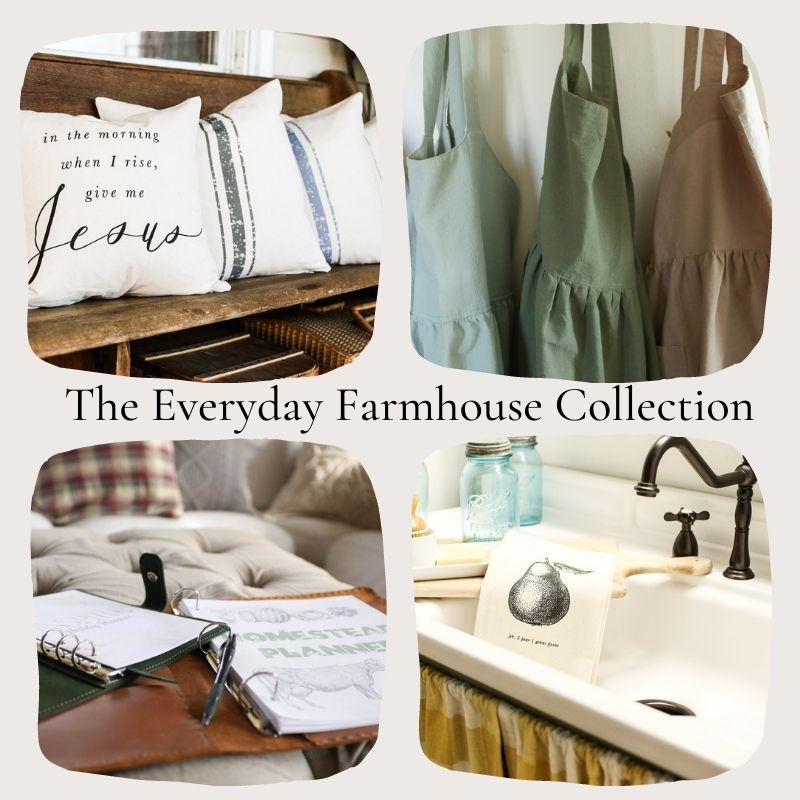 Method Two–Using Mesophillic Culture and Rennet
This method is also very simple, and nice if you don't have access to the Chevre starter, or if you make various types of cheese and want to keep this on hand.
The method is very similar. Again, the milk should be around 86 degrees F. Sprinkle the dry mesophilic starter over the milk. For 2 quarts of milk, I used 1/16 teaspoon culture. This time you will need animal or vegetable rennet. Either will work well. Dissolve 2 drops of rennet in 1/4 cup water. The package of culture actually had some rennet tablets with it, I did not realize that so I purchased the liquid rennet. I think the liquid is easier to use. If you have the tablets, dissolve 1/2 tablet in 1/4 cup water. 1 tablet will do a gallon of milk.
After the powdered starter has dissolved, add the dissolved rennet with the water. Take your wooden spoon and gently plunge it up and down. Cover with a lid and a towel to keep it warm and set it on the counter for 12 hours. It needs to stay around 72 degrees.
Draining the Cheese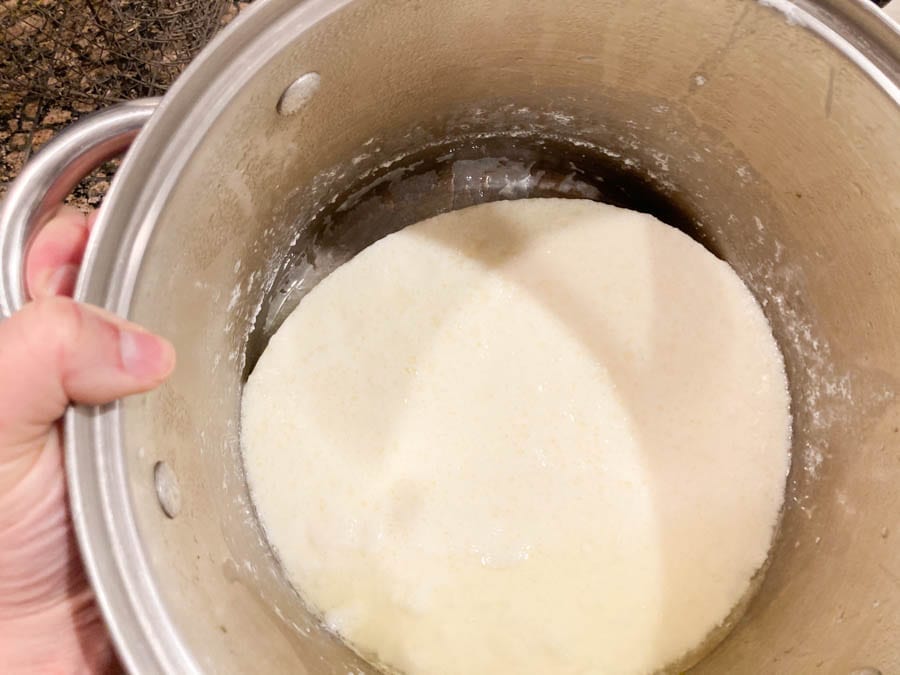 After 12 hours the cheese will look like thick yogurt. It should have quite a bit of whey separated and it should be pulling away from the sides of the pot. I think it is easiest to line a bowl with a cheesecloth or butter cloth. Then I simply pour it all in. Then I tie the top and hang it by the kitchen faucet or a cabinet knob to drain for 12 hours. If I leave it to drain overnight, the sink is a fine place. Of course, that wouldn't work during the day!
I like to let it drain for about 6 hours. This could be done in the refrigerator as well if you put it in a colander lined with cheesecloth and set it in a bowl. If you want it creamier you can drain it for less time. If you want it crumbly for sprinkling on salads, leave it to drain longer. What you are draining is the whey. Hold on to the whey, I will tell you how you can use this.
Uses for Fromage Blanc
We enjoy this cheese on eggs. It is yummy as a spread on crackers. We like it sprinkled on salads or side dishes. Anywhere that you would typically sprinkle cheese you could use this. It could also be used in place of cream cheese, although I cannot yet say how good it is. We haven't tried that yet!
You can use it in place of ricotta or cottage cheese as well!
If you leave it a bit creamier with more whey in it you could make a dip for veggies with this cheese.
Fromage Blanc Savory Spread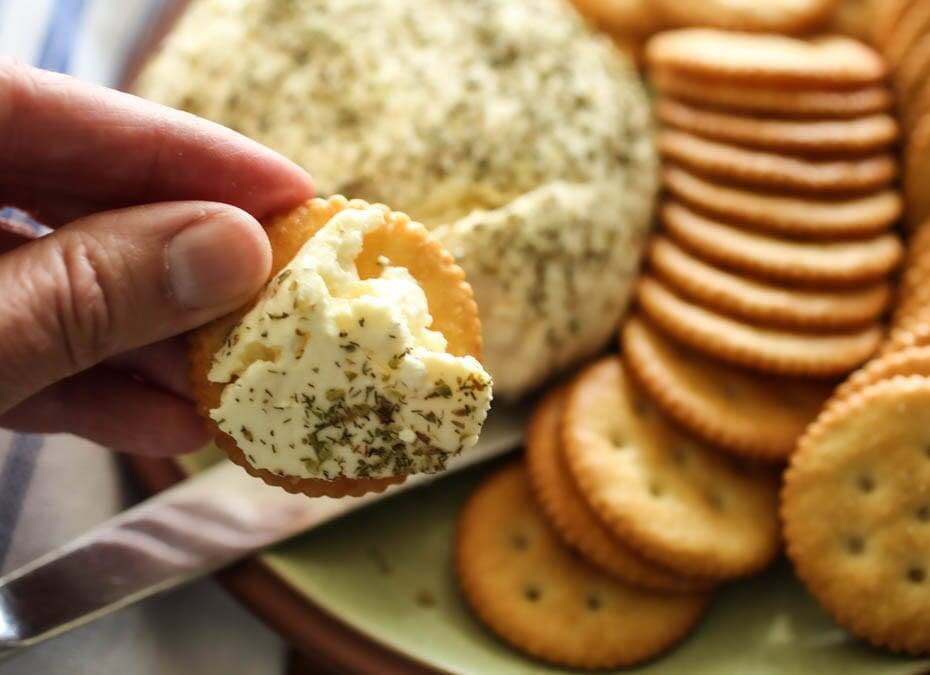 For this, I add 1/4 tsp Garlic salt, and using a fork I work the garlic salt into the cheese. You can wrap it back in the cheesecloth and let it hang for a little while longer. This will help more whey to drain out, and will also give it a nice ball shape. Then I sprinkle it with another 1/4 tsp garlic salt and also sprinkle it with dill and oregano. Any herb you like would work for this.
Fromage Blanc Sweet Spread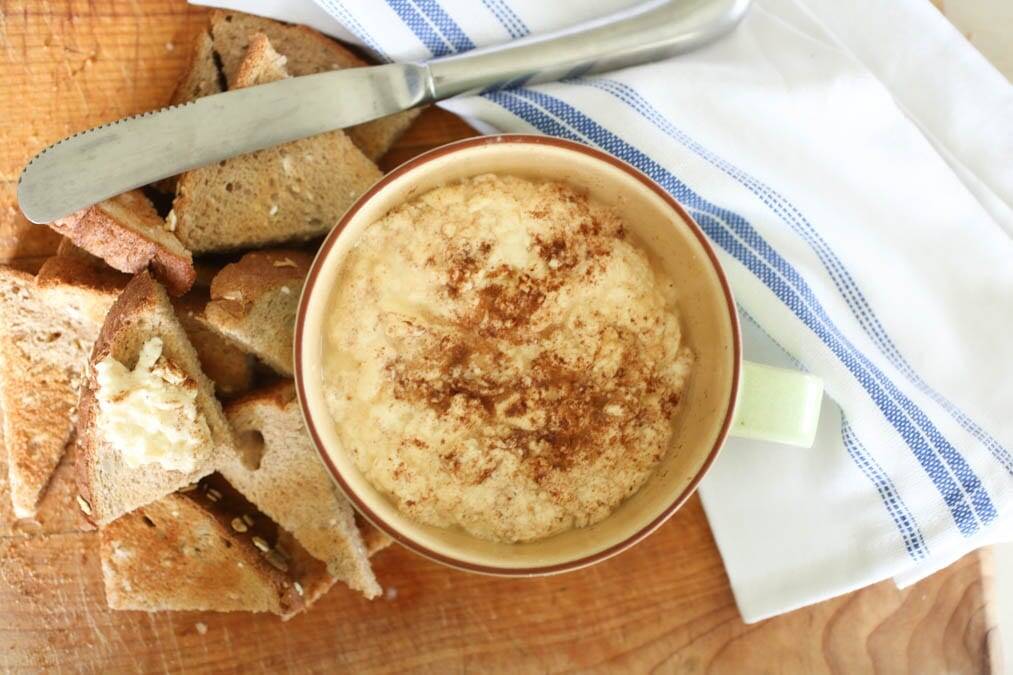 This was a suprise treat! Add two-three teaspoons of maple syrup to the fromage blanc. Then sprinkle with cinnamon. This was a crowd pleaser when spread on toast or graham crackers.
Uses for Leftover Whey
Now you have a bowl full of whey. What should you do with it? You can add it to smoothies. We often just feed it to our animals. The cats love it, and so do the chickens. It's so good for them too! Some people use it on their skin, to give a healthy glow.
If you are looking for a complete list of things to do with whey, this article is very thorough!
Love All Things Homesteading? Get All Four Volumes of Our Beginner's Guide to Homestead Living! Sign Up Below!
If You Found This Helpful, Please Pin and Share!
I hope this has inspired you to try your hand at making cheese at home!