Cranberry Harvest Pie–Perfect for the Holidays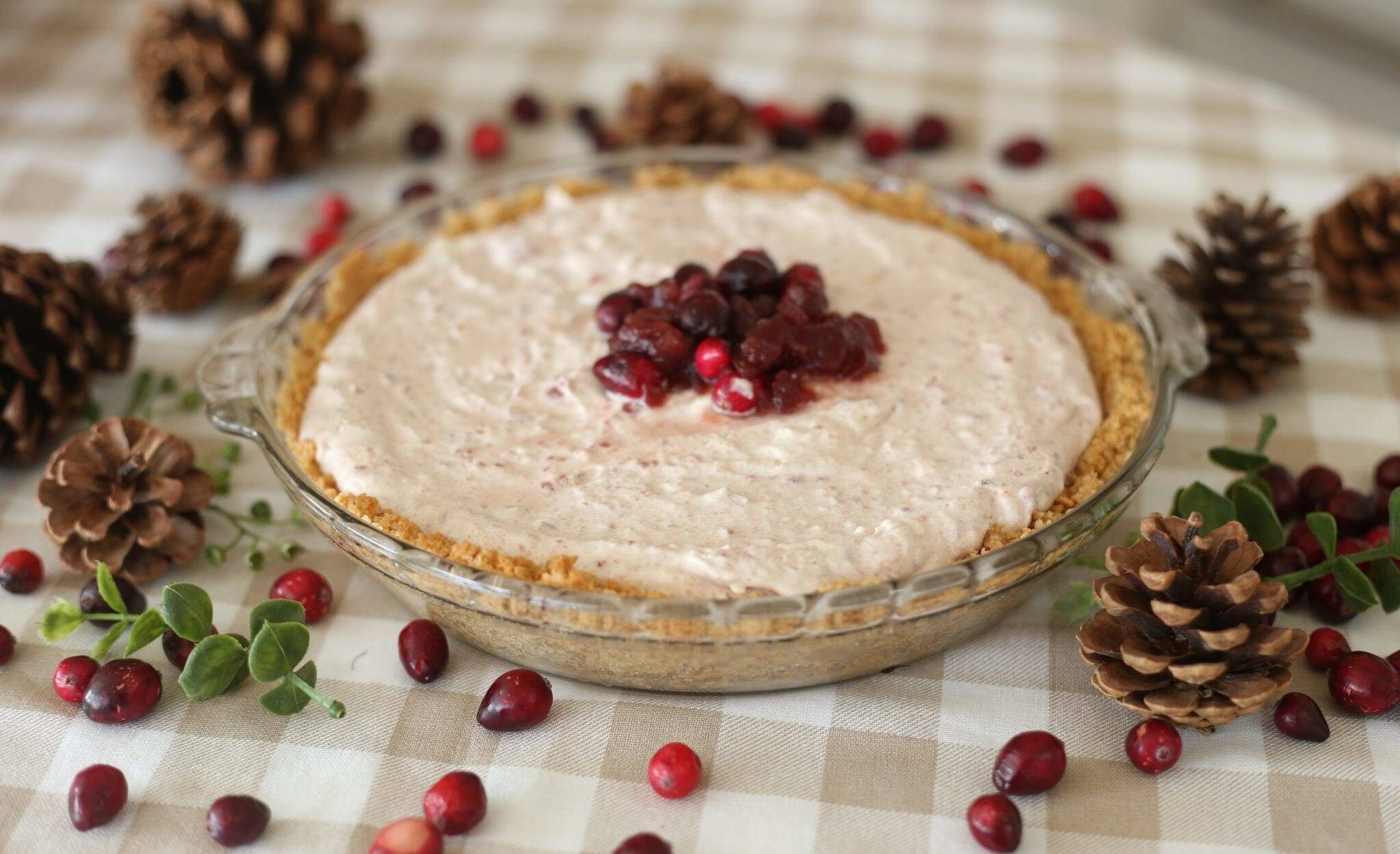 In this post I share with you a recipe for Cranberry Harvest Pie,. This recipe came from my friend, Cypress. This is a frozen pie, garnished with jellied cranberries, and served cold. It comes together quickly and it's just as easy to make two. A perfect dessert for Thanksgiving.
This post is also a blog hop! I have teamed up with several talented ladies to share our favorite additions to the Thanksgiving table. Scroll to the bottom to find all the links!
Thanksgiving Oven Space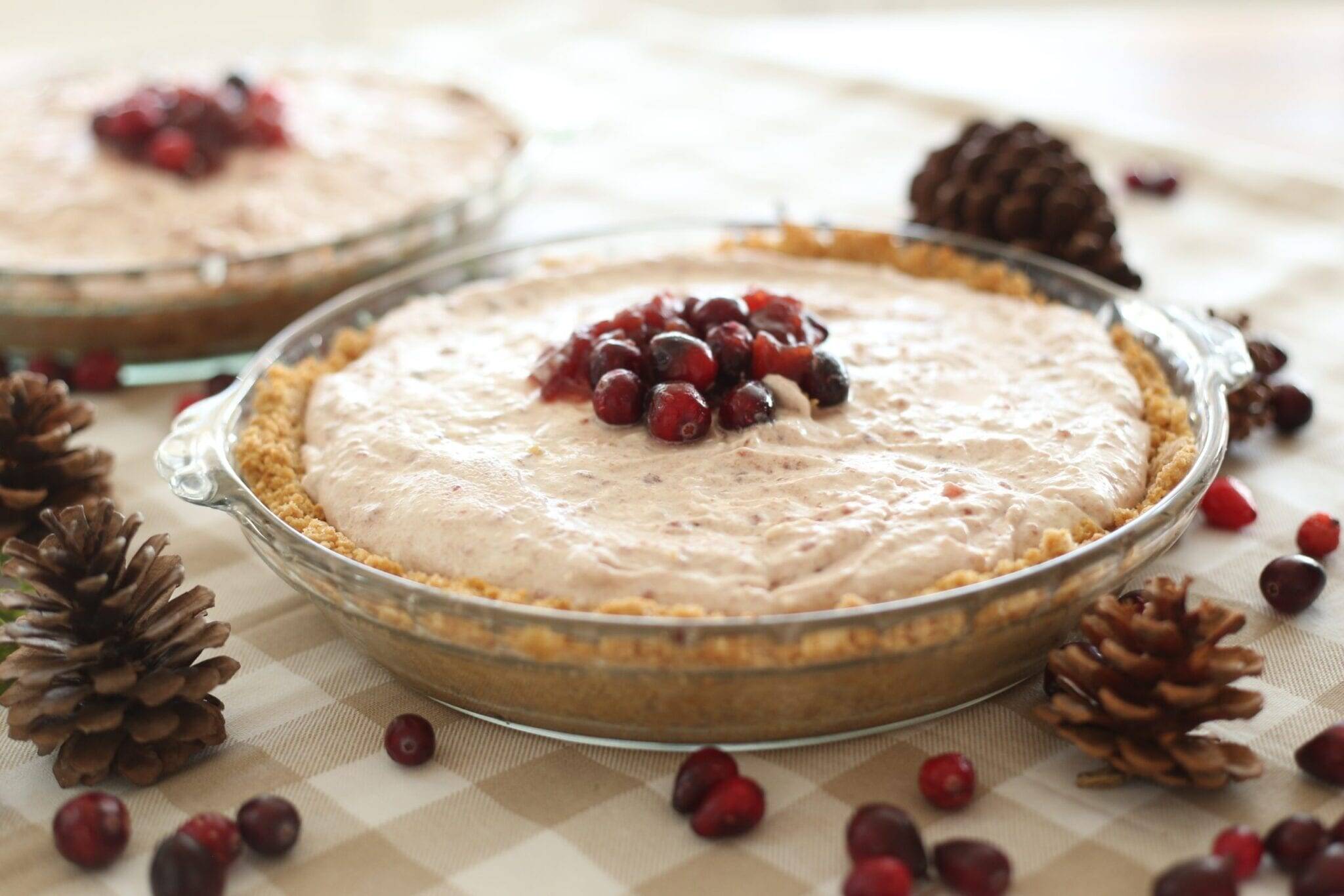 Isn't this the one time of year when you really, truly need a double oven? I know we do. It takes some real planning to make sure the oven is freed up for the precious turkey. Of course most desserts can be made a day ahead and be just fine. Since this dessert is frozen, it can be made a week ahead, freeing up that precious oven space.
Crust from Scratch
This pie calls for a graham cracker crust. The best crust on the planet according to my husband. You can easily pick up a pre-made crust at the store, but I highly encourage you to put forth the extra effort and make this crust yourself. It isn't difficult at all and really quite quick! All you need is a box of graham crackers (not to be snobby, but HoneyMaid Graham crackers are superior to any generic we have tried…really), 1/2 cup melted butter and 1/3 cup sugar…that's it!
Make your Own Whipped Cream
Another shortcut you could take for this recipe would be cool-whip or any other pre-made topping. However, not to preach, but those are really filled with nasty ingredients. If you have never made your own whipped cream, I challenge you to give it a try! I will give you some tips and I even share a video with this recipe to help you succeed
Here's How to Make the Pie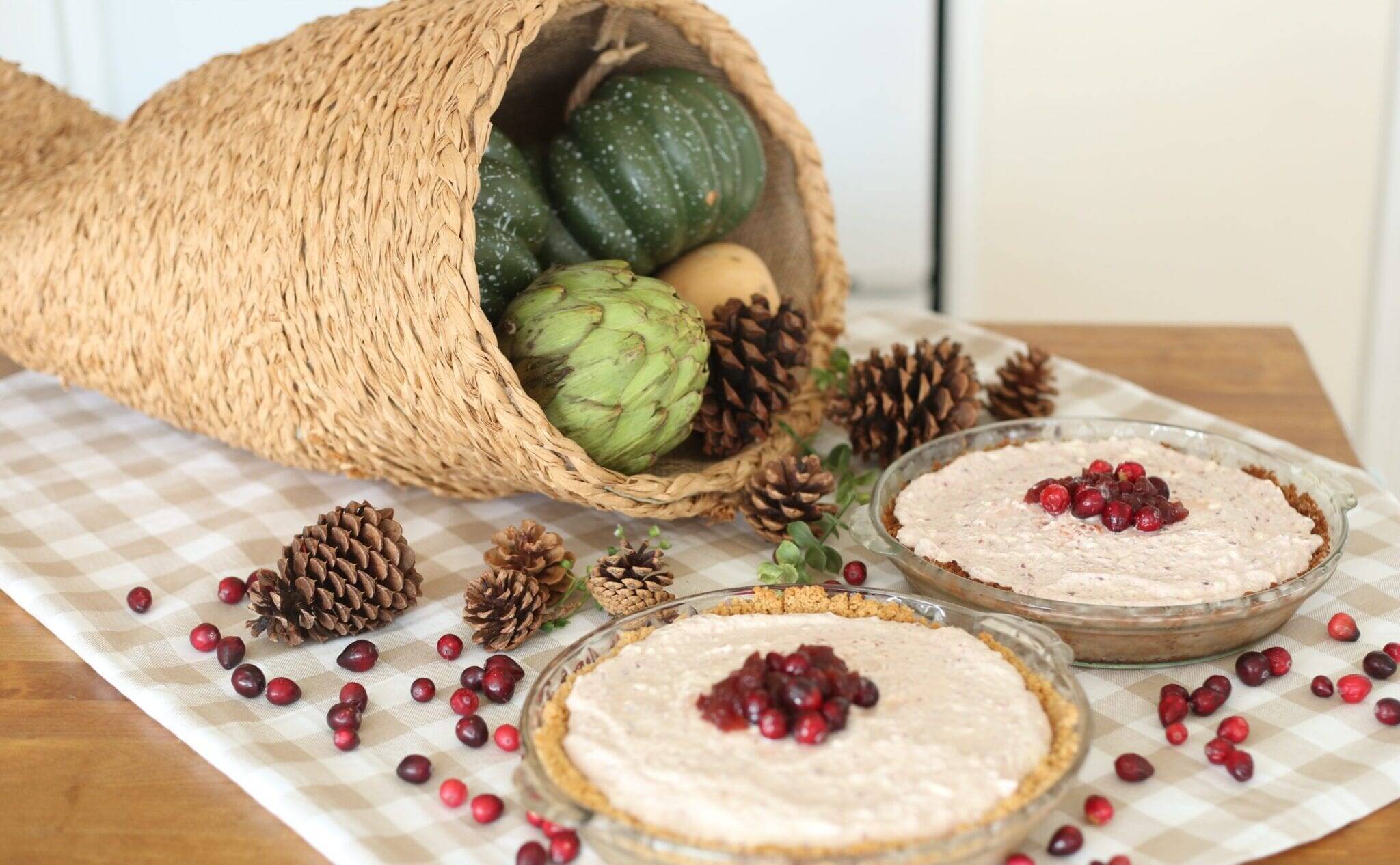 First, Make the Crust
2 Cups crushed graham crackers, I have found that one package from the box plus two more crackers is the perfect amount. To crush them, I use the food processor, but if you don't have one, put them in a bag and beat them with a rolling pin. Super fun!
1/2 Cup Melted Butter
1/3 Cup Sugar
I get my pie plate, and place the stick of butter in the plate. I put it in the oven while it pre-heats. When the butter is melted, pour in the crushed up graham crackers and the sugar. Then, stir it around with a fork. Next, take a measuring cup and press the mixture down to form a crust. Bake at 400 degrees for 5-8 minutes.
Next, Whip the Cream
This calls for 1 cup of heavy cream. The real key to making whipped cream, is to put your bowl (metal works best) and your beater in the freezer for at least 15 minutes prior to whipping the cream. This makes all the difference. Next put your chilled cream in the chilled bowl and add sugar and vanilla (optional). Using your chilled beaters whip the cream on high speed until stiff peaks form. This should take about 2-3 minutes. Watch it closely. If you beat it too long you will make butter.
Combine the remaining ingredients
Next, combine the cream cheese with the whipped cream, you can mix the cream cheese in a separate bowl and then combine the whipped cream, but I always do it in the same bowl…I'm lazy like that. After that is combined fold the can of jellied cranberries into the cream mixture.
Chill Baby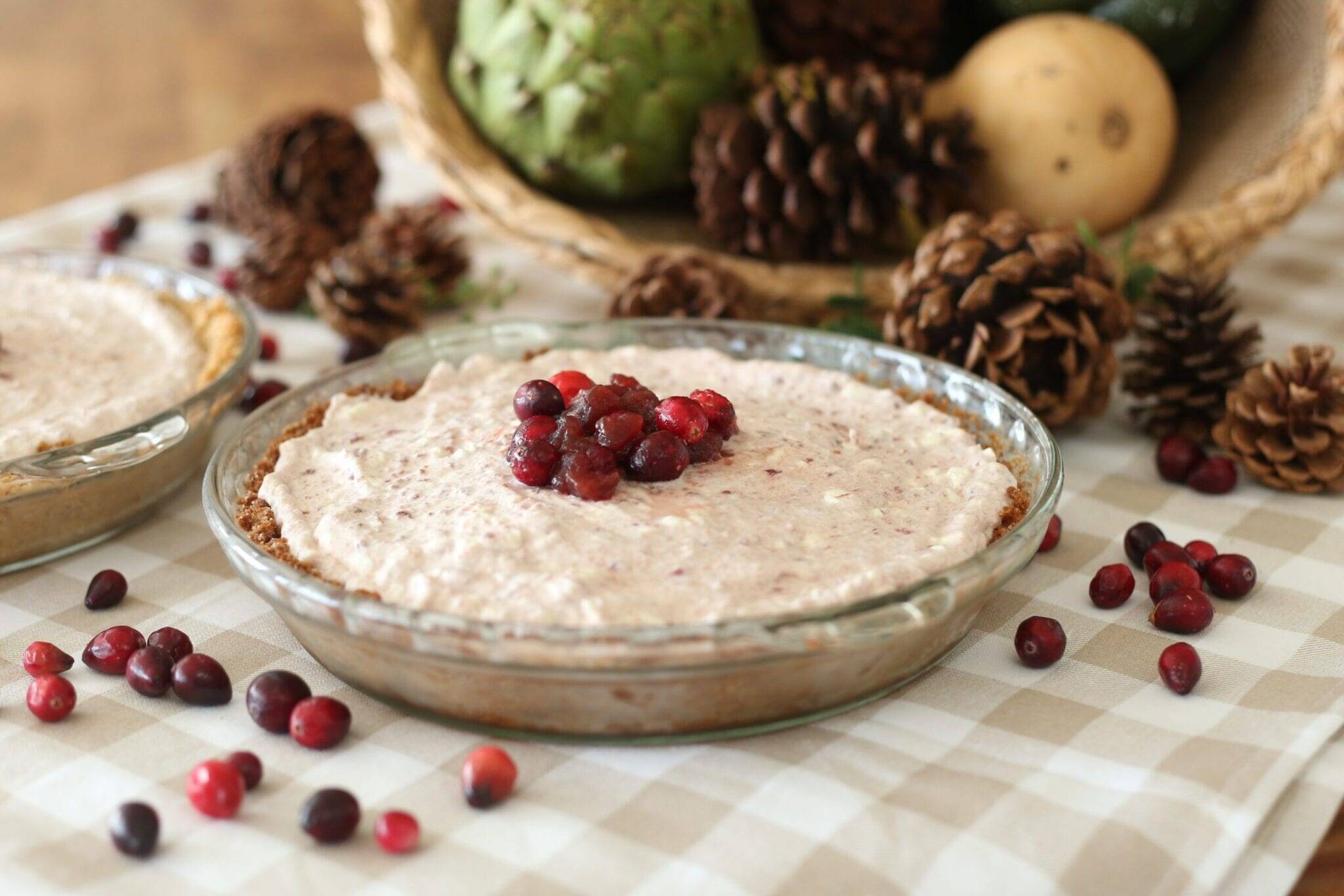 Now, cover the pie and put it in the freezer for at least two hours. You can make this up to a week ahead of time. However, you will want to cover it well with plastic wrap and foil. If your pie pan will fit in a gallon freezer bag, that is your best bet for storage.
Let it sit
Lastly remove from the freezer 15 minutes before you are ready to serve. Garnish with the reserved cranberries and serve!
Printable Recipe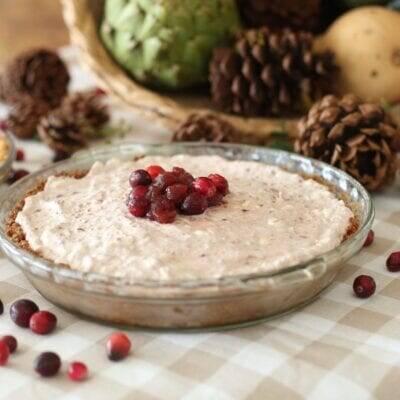 Cranberry Harvest Pie
A frozen pie perfect for Thanksgiving dinner
Ingredients
8

oz

Cream Cheese

softened

1

Cup

Heavy Cream (whipping cream)

1/4

Cup

Sugar

1/2

Tsp

Vanilla (optional)

This is optional

16

oz

Can Whole Cranberry Sauce

Use what you have if you don't have whole cranberry sauce, it will be fine
Graham Cracker Pie Crust
2

Cups

Crushed Graham Crackers

1 package plus 2 crackers

1/2

Cup

Melted Butter

1/3

Cup

Sugar
Instructions
Set the cream cheese out to soften. Place your bowl and beater in the freezer. Next prepare your pie crust. Place one stick of butter in your pie dish. Put it in the oven while it preheats, when the butter is melted, stir in the crushed graham crackers and the sugar. Using a measuring cup, press the crumb mixture into the shape of a crust. Bake this at 400° for 5-8 minutes. Set aside to cool.

Next, whip the heavy cream. Remove your chilled bowl and beaters from the freezer. Pour the chilled cream into the bowl. Add the sugar and vanilla. Whip on high speed for 2-3 minutes until soft peaks form.

Open the can of cranberries, reserve two tbs for garnish. Lastly combine the cream cheese and then fold in the cranberries. Cover and freeze for at least 2 hours, but up to a week, or possibly longer.

Freezing tip: To avoid freezer burn or the pie absorbing freezer smells, see if your pie plate will slide into a gallon freezer bag. This will protect it better than plastic wrap or foil. You may do a combination of all three if you plan to store it for very long.
Notes
After playing around with this recipe a few times, I have decided that the pie is smoothest if you heat the cream cheese in the microwave for about 45 seconds to really soften it.  You can also whip it some before adding it to the whipped cream.  This seems to give the smoothest results.
Pin For Later!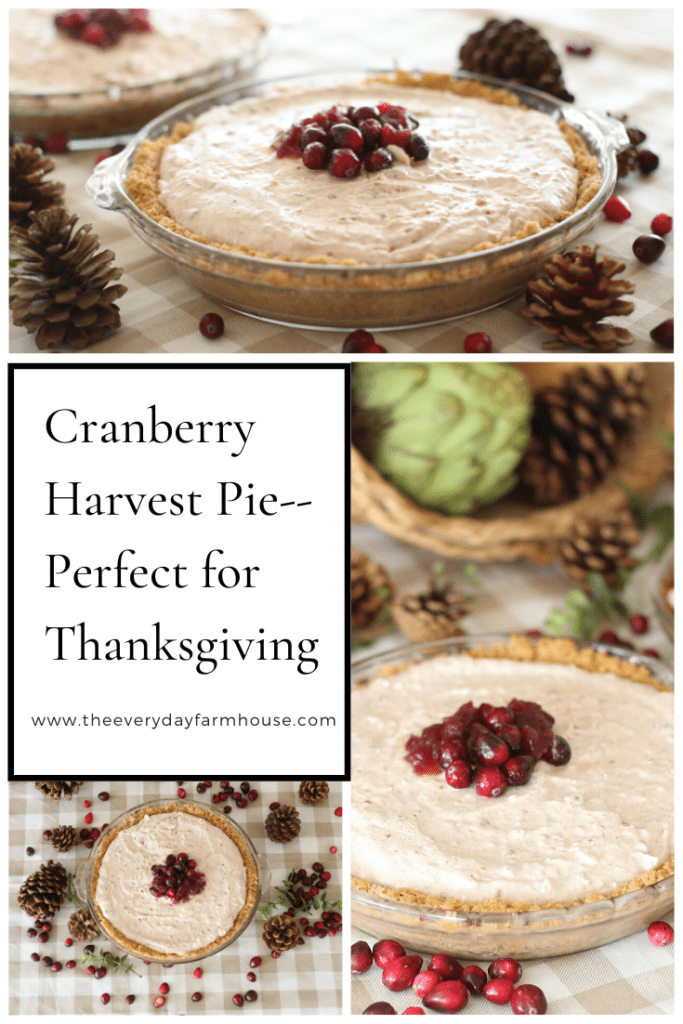 Thank you for checking out my Cranberry Harvest Pie–Need More Thanksgiving Inspiration? Here You Go!