Embracing Home and Family#25 & Five Things Friday
Hey there everyone! I hope you have had a good week! We enjoyed some snow here in the Midwest, naturally, our kiddos love the snow, so we've had a fun week. Today is supposed to be 50 degrees, so the remaining snow will be gone I'm sure. A couple of weeks ago I started Five Things Friday. Just five random things that I am thinking about this week. There are some affiliate links.
Do you ever have things show up at your house and you don't know where they came from? My husband cleaned out one of our bookshelves and found this book, Vinnie and Abraham. You all! Oh my goodness! This is a children's picture book and it is SOOOO Good! It is based on the true story of Vinnie Ream a small girl growing up during the Civil War. She had a big dream to be a sculptor, and especially to sculpt Abraham Lincoln. I won't spoil the whole story, but if you love a story about overcoming odds, you will love this one! The sentiment of working hard and being the best at what you do, no matter who you are on the outside is beautiful and something our modern world should ponder.
Bok Choy- What do you think of it? I don't think I've ever had it before, but it was in our produce box this week. I just chopped it up and put it in our dinner salad. Most of us really liked it. Some thought it was too squeaky. It's leafy at the top and kind of like celery at the end, but with a sweeter flavor and not stringy. We also tried celery root, I just chopped it up and roasted it with some other veggies. It's an unattractive root, but pretty tasty.
Have you ever used Method All-Purpose Cleaner? I got it in my last Grove Collaborative order. It is really good! An excellent de-greaser.
This verse really spoke to me this week: Now the God of patience, and consolation grant you to be likeminded one toward another according to Christ Jesus: That ye may with one mind and one mouth glorify God even the Father of our Lord Jesus Christ. Romans 15:5-6. In this day where we look for reasons to divide, this is such a good reminder that it's not all about us, it's about putting aside our differences in order to glorify God.
Did you know that we have a family milk cow? Did I tell you that she had a calf about a week ago? He is terribly cute! This is Penelope our milk cow, her new calf, and that is the rear end of her last calf, Charlotte.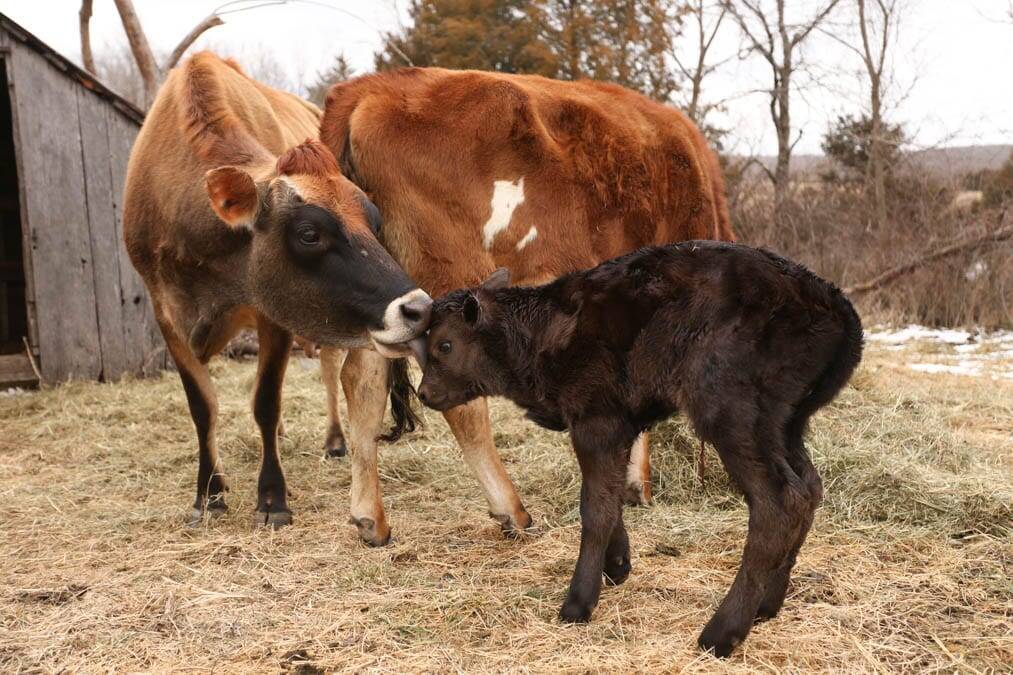 Welcome friends, to the Embracing Home and Family link-up!
Embracing Home and Family link-up party will go live every Friday at 8:00 a.m (PST), and is a place for you to link-up family-friendly posts related to homemaking, homeschooling and homesteading. Let's encourage and inspire each other by linking them up on the Embracing Home and Family link-up party!


Meet your lovely hosts!
Show Jenn from The Everyday Farmhouse some love by visiting her blog today!
Stay Connected with Jenn- Blog |Instagram | Facebook | Pinterest | Etsy Shop
What Cherelle's been up to this week on The Inspired Prairie…
Show Cherelle from The Inspired Prairie some love by visiting her blog today!
Stay Connected with Cherelle- | Blog | Etsy Shop
Embracing Home and Family's Featured Posts This Week are…
Farmhouse Style Stars
You're Not Enough (and that's okay)
Paper Rosette Wreath
Dollar Store Kitchen Organizing
Congratulations to those who were featured! Be sure to grab the "I Was Featured" image and showcase it on your blog!
Simply right click the image below, and click save-as.
Simple Guidelines for the Embracing Home and Family Link-Up:
You can link up to three family-friendly posts that pertain to homemaking, homeschooling and homesteading. Let's encourage each other with helpful and uplifting posts, and keep your linked up posts clean and family-friendly. Anything inappropriate will be deleted.
Show some support to your hosts and another blogger who has linked up.
We will choose 4 features each week and each feature will be pinned to Pinterest!!
By linking your blog posts on Embracing Home and Family, you are giving us permission to use your images to showcase your post if you are chosen as a weekly feature.
Please, no repeats within a 6 month period!
Embracing Home and Family link-up party begins on Fridays at 8:00 a.m PST and will end Tuesdays at 8:00 a.m PST.
Let the fun begin!